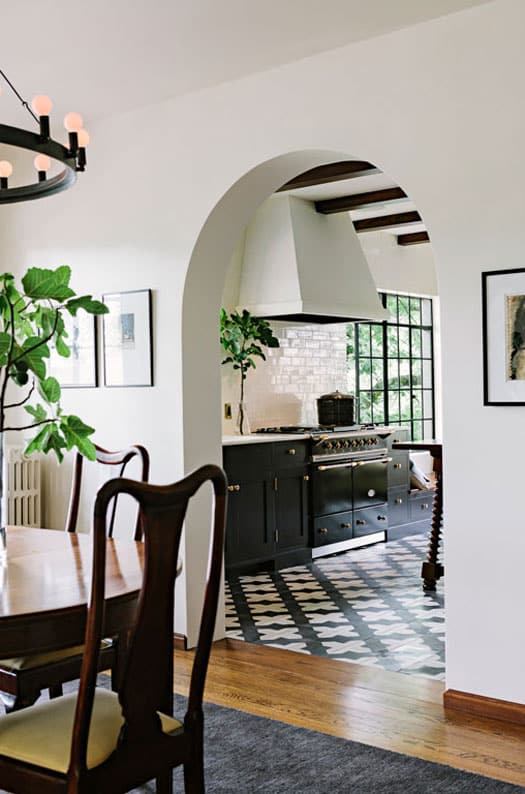 Jessica Helgerson Interior Design
I'm finally back to share more ideas for the dining room! So sorry for the delay, I was all ready to post and then BAM! Technical difficulties. Also, many of you might have missed a week or so of posts. If you receive my posts via a Comcast email address, there have been periodic glitches over the past year that occasionally keep your posts from being delivered and I don't realize it until someone emails to let me know. Hopefully you are back now!
When I shared about our dining room last week, I talked about the option of adding built-in bookcases. We are still very interested in the character that built-ins will provide, but we have several other options we've been thinking about as well, so I thought I would come back and share a couple more ideas with you.
While there are a lot of great ideas we might love, our main objective in this house will be to spend the least amount of money and get the most bang for the buck as far as additional charm and personality.
So my daughter Courtney and I had seen a photo of a dining room looking into a kitchen that really intrigued us. You can see it above. Of course, we love the kitchen in the inspiration photo. But what we also loved was the archway between the two rooms. An archway is always charming. We've lived in several homes with arched doorways between rooms, so we were instantly in love. In a house that is very boxy, a little curve could make a real difference in its cozy and friendly-factor.
At first we told ourselves you can't do an arch in a house like this. Perhaps you are thinking that, too. But then we said, WHY NOT? It's so easy to be derailed from what you would love and what would look great in a house by worrying what the "right" thing is to do, and fearing doing the "wrong thing."
Some of you may be purists who feel this home should have only straight openings for doorways. Certainly there are houses where you want to preserve architectural accuracy, but in our opinion this is not one of those times :). Our goal is to add charm, not create a time capsule. Interestingly when we looked around our house, we noticed that our interior doors all have a double arch moulding. We do love that another arch would tie together what is already a feature in the house.
But we really wanted to visualize it, so we brought in some painter's tape and framed out a new look for our doorway just to see what an arch might feel like. So while this is only one idea among many we have for this space, we instantly loved how much charm and warmth even just one arched doorway could bring.
We also put the table back into the corner to simulate a possible built-in banquette. What if we built in benches around the corner walls and slid a table up next to it? That idea was intriguing too, as it created a cozy niche to sit on a bench and look out at the water, or to enjoy a family dinner. Having a table in the corner also helped balance out the weight of the room and in real life it makes the room feel bigger as well! It's also a great arrangement for allowing plenty of space to walk through to the kitchen.
We could also include built-ins on the window side of the room to make it a very functional and cozy space.
Below are a couple of banquette inspiration pictures so you can get a visual of what it might look like to have a banquette (not necessarily the exact style, but more of the concept).
Studio McGee
Traditional Home

Right now we just have random furniture sitting around the room so all of that needs to go to streamline the space. If you missed our post with our kitchen window seat idea, see that post here! We think that window seat in the kitchen would be an adorable sight to see through the doorway (whether we have an arch or even just an opening).

A couple of you have asked for room measurements and floor plans so I'll try to get the room measured soon, so you can better imagine the space. It's a nice sized dining room. Not huge at all, but not too tiny either. But since you definitely have to walk right through the room to the kitchen and it does feel a bit tight when the table is in the center. A banquette would solve the space issue, plus of course add personality.
If we built in a buffet under the window (where that random sofa table is sitting) we'd have an extra surface and storage space underneath which would be really nice with a smaller kitchen.
There are lots of charming possibilities for this corner for character-building!
We have also thought about removing part of the kitchen wall in the dining room, perhaps creating a half-wall, to make the kitchen a little more open to the dining room. This was an idea I shared before we bought this house (above). It might not work due to the arrangement of our kitchen, but I always love this inspiration pic (below) so we aren't ruling out the option of removing all or part of the wall. In all likelihood though, we are going to preserve the layout of the kitchen which would mean living most of the wall intact. Thus, the appeal of the arch.
Crazy Mary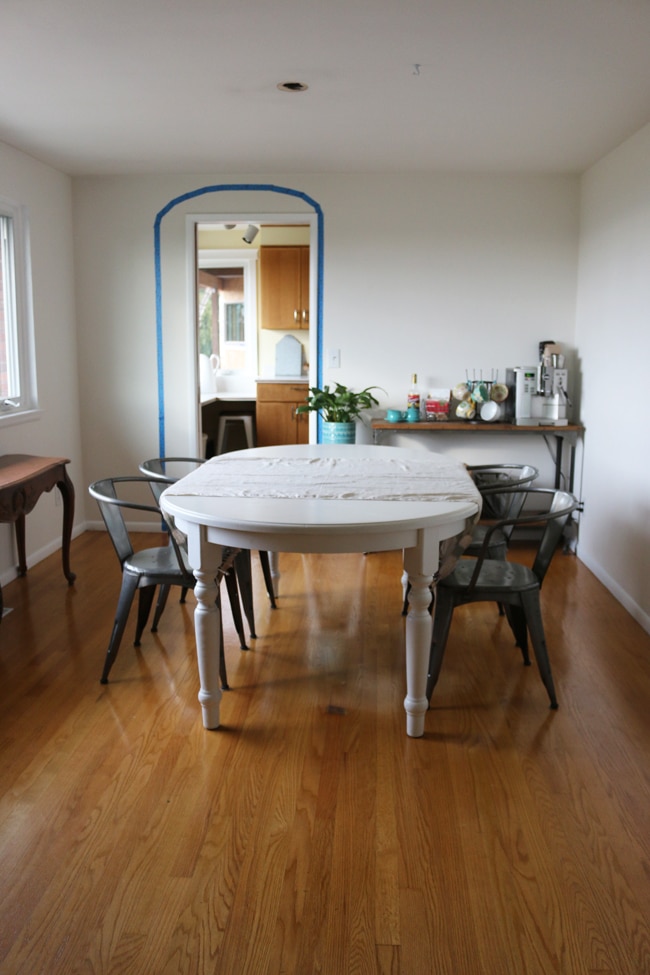 Another possibility is to keep the dining table in the middle and raise the ceiling, possibly even just the center part of the room like the ceiling in our old dining room. The ceilings here are normal 8 foot ceilings, but a little vault or a boxed ceiling with wood on it might be a charming addition as well. We have an attic above so we could do some sort of vaulted ceiling, but we aren't sure we will invest in that project, at least at this point.
You might have noticed that we removed our ceiling light fixture. It was too distracting to have it off center as we are moving furniture around, and we wanted to be able to better visualize our options! It really helps to take things away so you have less for your eye to have to compensate for as you reimagine your room.
So, those are a few more ideas that we've been tossing around. We have so many projects to attend to all over the house that we really want to weigh each option carefully to make sure we choose what makes the most sense, not only to our eye, but to our wallet :).
I love having a more clear vision for this house. I'm so excited that even a few simple changes could add so much personality and make it a very cozy and charming home!
Related Posts:
Catch up on all of our new house posts here!