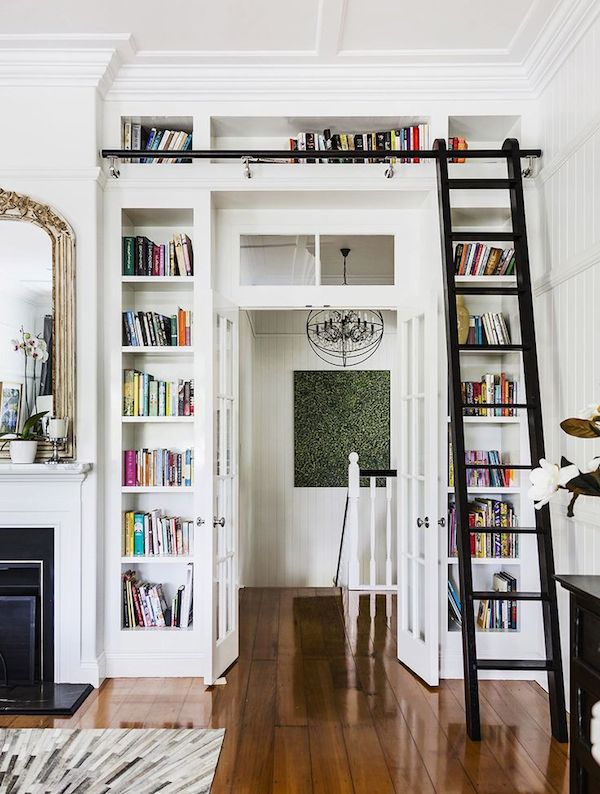 Homes to Love
Hello! Wow, what a week it was last week. My apologies for being a bit MIA. I missed you all! I'm so sorry, I didn't intend to go off the grid and not post, but sometimes I bite off more than I can chew and last week was one of those weeks! I'm beat, but I'm so excited to be back!
I had the pleasure of being a part of Bloom Bash in Seattle this week, a creative workshop designed for entrepreneurs, hosted by our very own Michaela Warner along with her friend and business partner Ashley Slater. It was an amazing, beautiful, inspiring event and I can't wait to share about it!
But for today…I have a few ideas to share for our new dining room! Prepare for PICTURE OVERLOAD :). For those of you just joining in, yes, I moved to this 1950s house in Seattle just a few weeks ago. So yes, that means we are staring over. Fun, and overwhelming at the same time. You can catch up on the scoop via the links at the bottom of the post.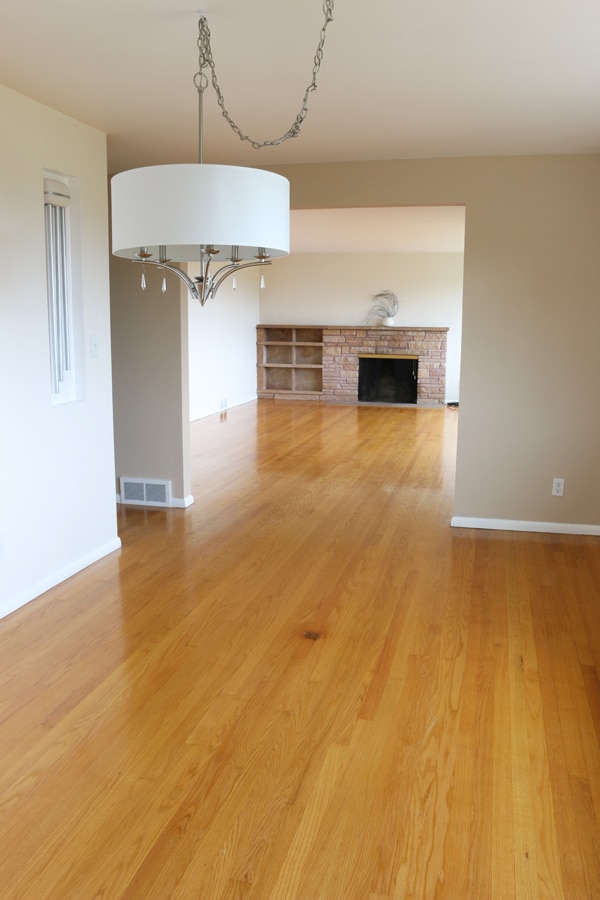 I've been so busy catching up on projects that all collided over the past few weeks (unrelated to the house) that I have not really made progress yet on actually doing the house projects I want to do here! But I guess I can give myself a little grace period for just moving in and being so busy with other things that I just haven't had time yet.
But I'm thrilled because we are about to shift into house mode. I'm SO excited I can hardly stand it! I'm already plotting what to do.
I have always believed it's important to take the time to actually live in your house before you charge ahead to making drastic changes, so I'm glad we've taken a little time. It has already paid off.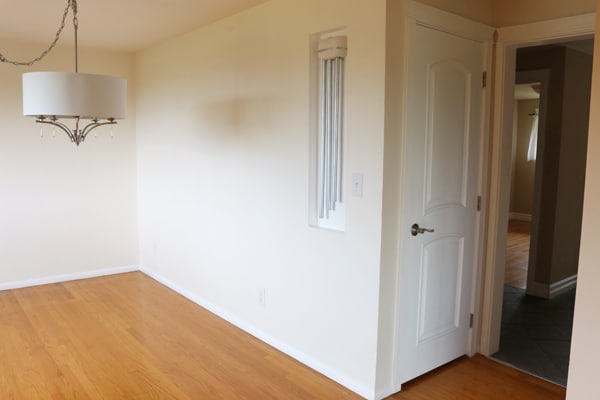 The longer we've lived here, the more we've been able to refine our ideas and see what this house really needs. Living here and observing it slowly has helped us to realize what's important to do as we understand how we actually live here, as opposed to how we imagined it would be when we first looked at the house.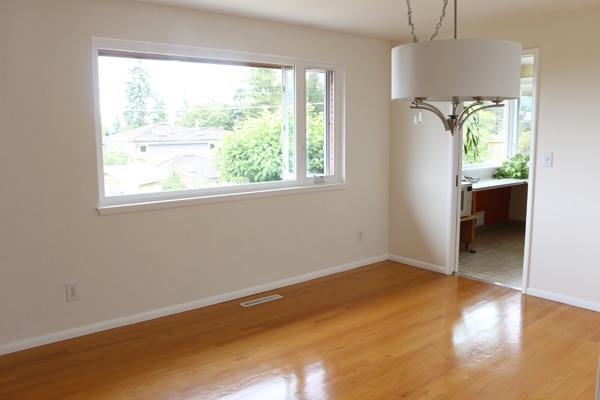 As far as what we have to work with and the considerations we have for this space, in many ways this dining room feels like a pass-through to get to the kitchen since it has three openings and to get to the kitchen you have to walk all the way past the table.
Compared to our previous dining room, this actually feels like a slightly larger space, but with a different layout and lower ceilings.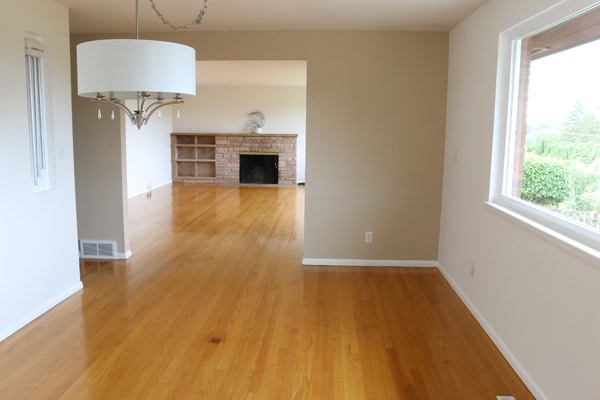 As you can see, the center light is hung on a chain off center currently, which doesn't work well with our table which is nearly in the middle (you can see our table in the room, below). While it is a nice light, we are checking out some options online that would help open up the space a bit, as this one does block the vision a bit.
Most of the room is already painted white, which we are fine with, but the wall leading to the living room is a tan color so we plan to paint it white to keep it consistent.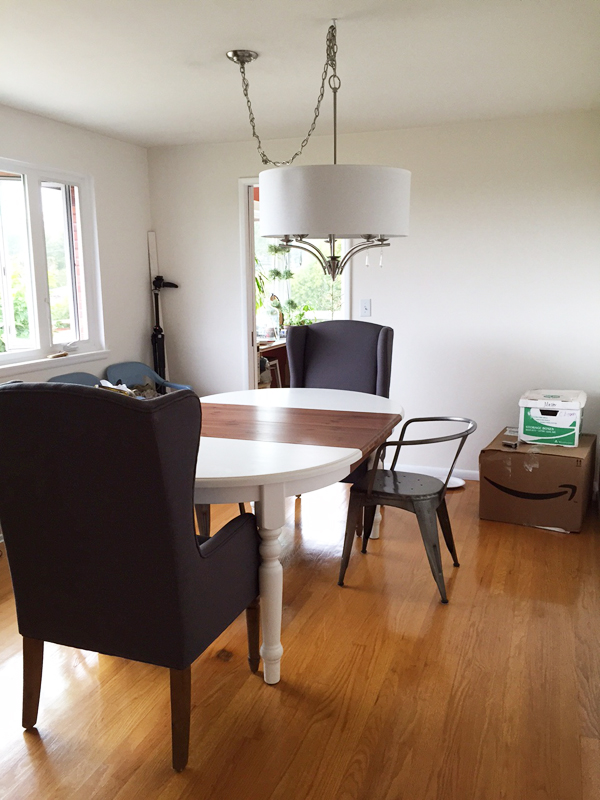 Above is how the dining room looked the day we moved in. It's pretty much the same now (minus the boxes and other random things) and we currently are using our World Market console table as a coffee station on that back wall.
When we first saw this house, we had contemplated opening up the kitchen completely to the dining room but we quickly realized that idea is not as easy or even as desirable as it might sound. Opening up the kitchen/dining room wall would cause us to have to reconfigure the location of the appliances, and there are a few complicating factors such as a stairwell (besides the added cost). I'll share more of the reasoning and ideas when we talk more about the kitchen.
We may open up the doorway slightly, though, to give a little more breathing room between the dining room and kitchen. We only have a few inches to spare though so if we do it will be slight. We'll get into more detail on that when we chat more about the kitchen!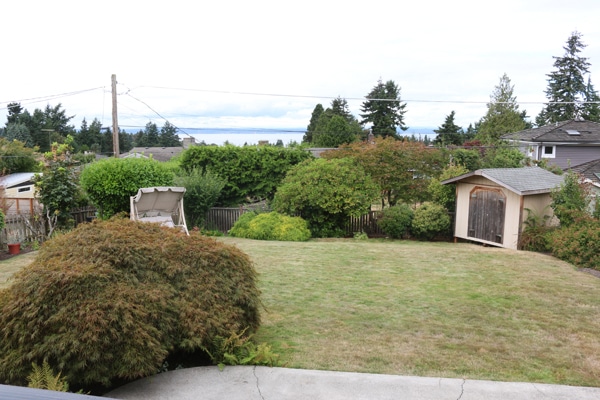 This is what we see when we look out the dining room window. Can't you just picture that little shed all fixed up and pretty?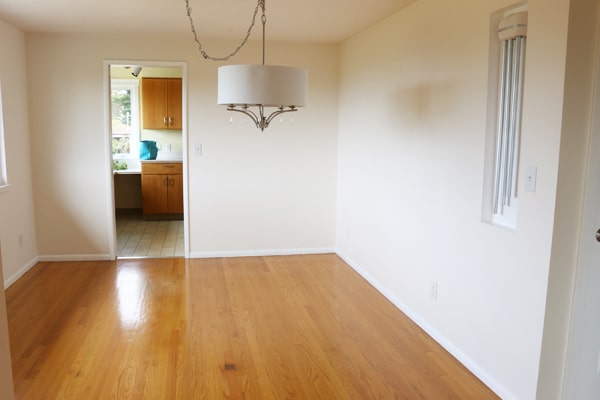 I really appreciate that this dining room is basically a blank slate with nice wood floors and that great view out to the water and all the glorious sunsets we experience! The large window lets in so much light, it's a very pleasant room to spend time in.
What I'm thinking right now is the idea of adding built-ins along the dining room wall where the kitchen is, so it would give our dining room a 'library feel" as well as add additional kitchen and dining storage. I'm not 100% yet, but it's fun to dream so I'll share a bunch of photos that might inspire you, too.
I think built-in bookcases would be be fabulous for adding character to the space and leading into the kitchen. I've always dreamed about a library dining room so it seems like a good solution for both the charm and the added storage for books, and possibly even dishes and accessories.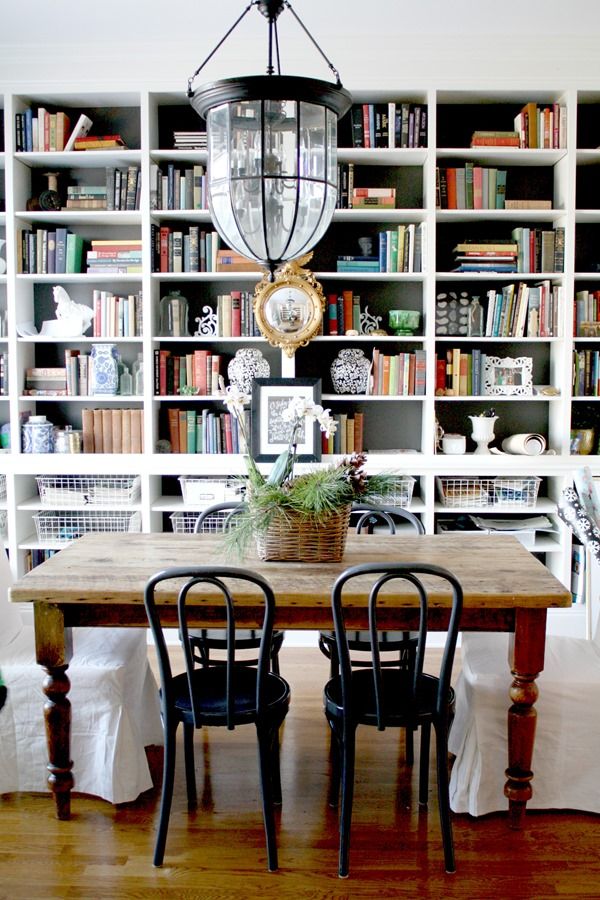 Emily A. Clark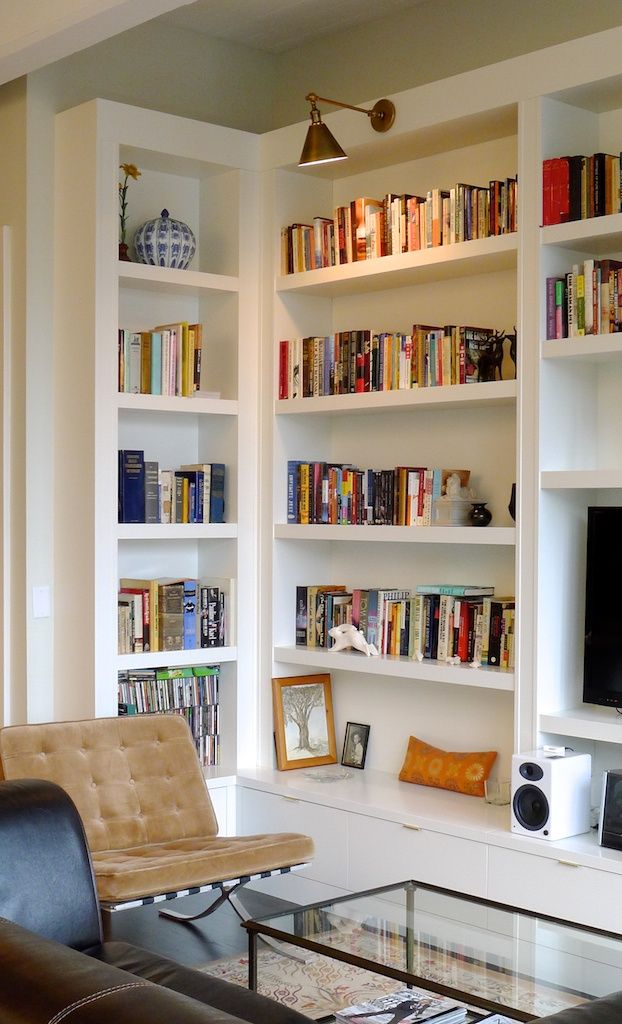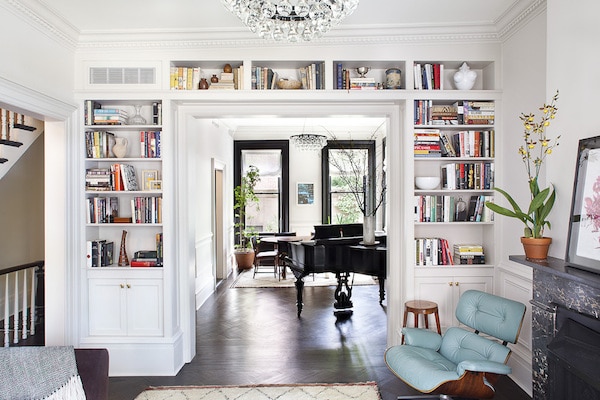 Blair Harris / Cobble Hill Townhouse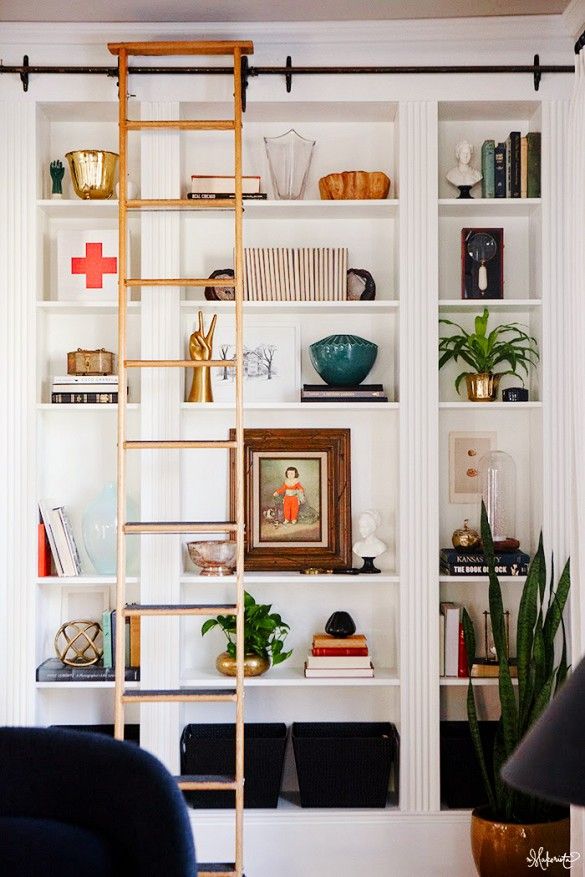 The Makerista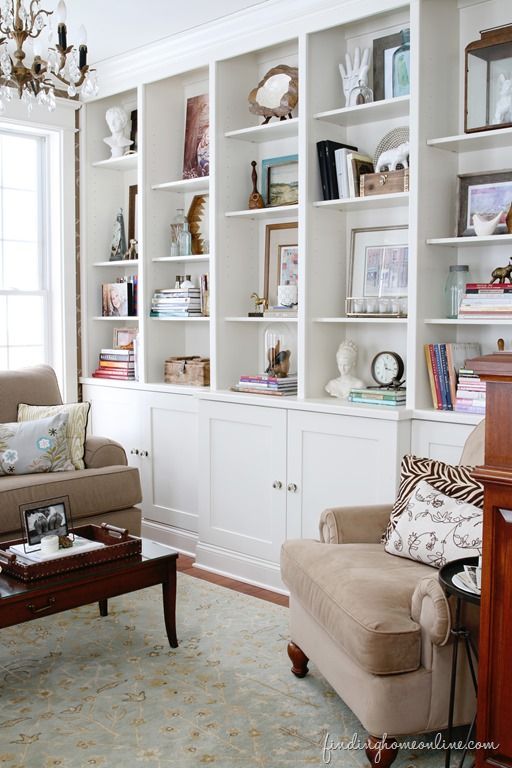 Decorating-wise we haven't quite nailed down exactly we want this space to look like. I have a few visions of it as a modern cottage, with color and warmth but still fresh and clean and nothing fussy (and even though some of the inspiration photos have various styles of molding and millwork, don't worry, we won't use anything fussy in this house. Just clean simple lines.)
I'll share more of the decorating vision in a future post since this is getting so long :).
Anyone have any ideas for the doorbell chimes? :) Taking suggestions!
Related Posts:
Click here
 and scroll back to catch up on all of the posts about my new house.
PS. My book release is in less than A WEEK! WHAT? I can't believe it. Tomorrow I'll tell you about a fun opportunity to share your 'inspired rooms'!