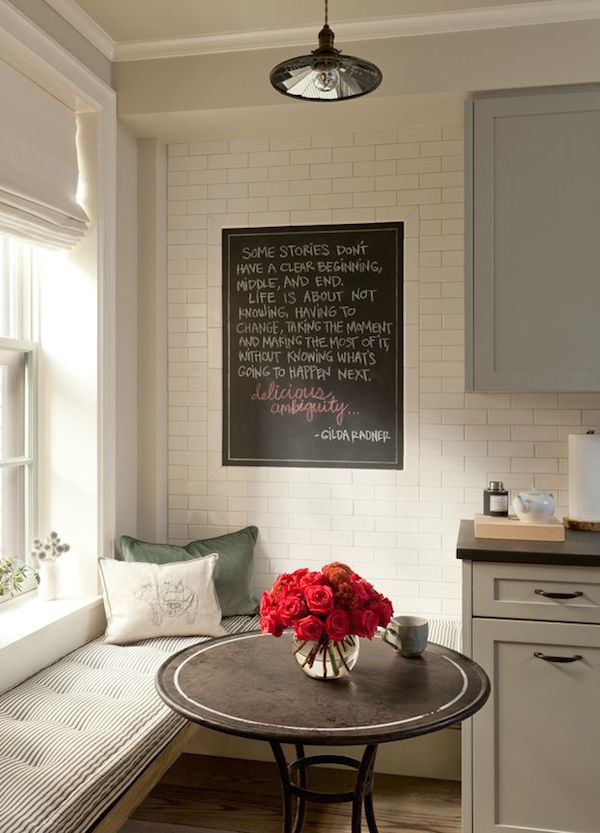 Jenny Wolf Interiors
******UPDATE****** October 2016 This post features the before photos of our kitchen and our initial design thoughts when we first moved in. We're currently in the process of remodeling, so be sure to scroll through and follow along with my new posts to see the progress here.
Greetings, friends! Hope you all are having a great week so far!
If you are new here or just catching up, you may be surprised to find out we moved from the house that we've lived in for the past six years, the house that is in my newest book! We loved so much about our house and leaving it was hard. We've only been away from it for a couple of months and there are so many things we miss.
But while it's always hard to close a chapter of your story, there's really so much to look forward as you turn the next page. Even if your home isn't your dream house, you just have to remember how blessed you are to be where you are and even though there may be work to be done or things you don't like, there's potential in every house! I'm excited about my adventure here and I'm glad you guys are along for the ride.
You can catch up on our story by scrolling back in these posts, and see the preview video tour of our new house here. *UPDATE 2016* scroll through these posts for the latest updates to this house!
So today I thought we would finally talk a little more about our galley kitchen in our little 1950's ranch. It's ready for some updates. I know the kitchen is the room so many of my readers always love to dream about. It's the room that I have been the most passionate about and love working on the most.
I'll share some before pics and some inspiration pics, but keep in mind that the inspiration pics aren't necessarily exactly right. The layout, style or colors or size might be different than what we have or will choose, but they do help us to visualize possibilities.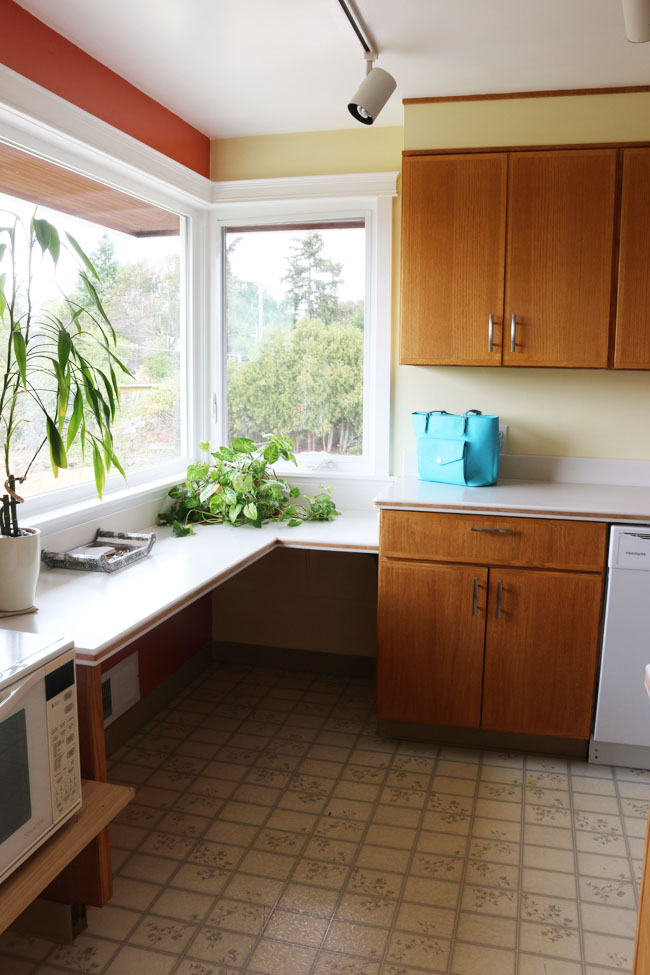 I've had a couple of tiny kitchens in houses before so even though this one is little, I'm just excited about the opportunity to work on another small kitchen! Sometimes little is the best of all. Yes, I miss my old kitchen. I loved the colors and choices we made. But it served us well for several years and I'm ready for a new challenge.
I gave a little preview of a project we are planning in this kitchen when I shared about the Dutch door. You might want to take a moment and read that post if you missed it. You will see in that post that our house really wants to be more of a cottage. She has big dreams of being spiffed up a bit, she doesn't want to be a time capsule house. I'm OK with that because I'm kind of an eclectic modern cottage girl myself so, we will get along pretty well. :)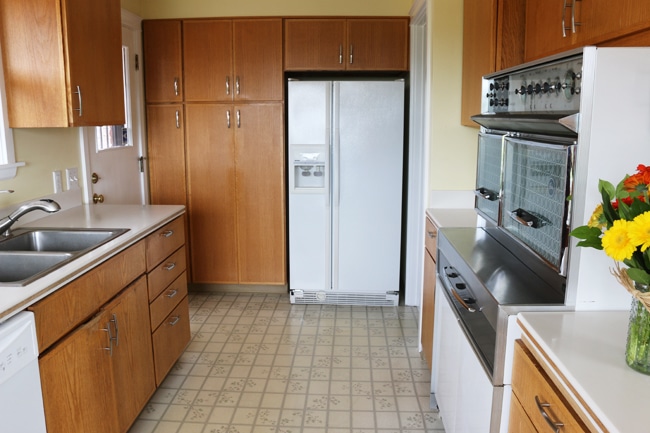 Even though this is a pretty small kitchen, I have a lot to say about it. I know, right now you are probably sarcastically thinking "What? You? Have a lot to say?" because when do I not have anything to say? Right? I DO HAVE LOTS TO SAY. That's why I'm still blogging. I'm not done yet. Ha. Anyway, that's a rabbit trail. What I wanted to say is that even though it's a small kitchen, kitchens are something you want to ponder and get right. You don't want to just slap one together and hope it turns out right and on budget. I want to create a kitchen my family will enjoy and any new owners down the road will have a crush on, too!
But in order to fit in all my ideas, talk about all the options and inspiration pics for the kitchen, we'll have to just take this one side of the room at a time. I'll show you my ideas and then we can ponder all the thoughts about other things in this kitchen over time.
You already know about the Dutch door, so now we are going to go to to the other side of the kitchen and talk about the view side. I can hardly believe I got a house with a view of Puget Sound! I'm still surprised, that was such an unexpected gift.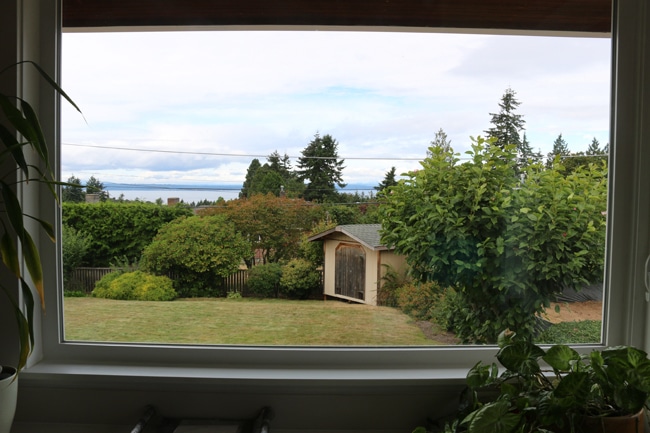 We have a nice large window looking out to the backyard, the water and the most glorious sky and sunset views. That's a big plus in this house, it has really lovely views all across the back of the house, which is where the living room, dining room and kitchen are located.
There is a lot of light coming from that kitchen window, the big corner window gives you a sense of being more open to the outside (which in a galley kitchen is a big deal) and of course there's the view! But, you don't have wall space when you have a window. And below that window is a counter that isn't the same height as the rest of the kitchen because of the placement of the window. The window is in the right spot, it matches the rest across the back of the house. It's just lower than the counters.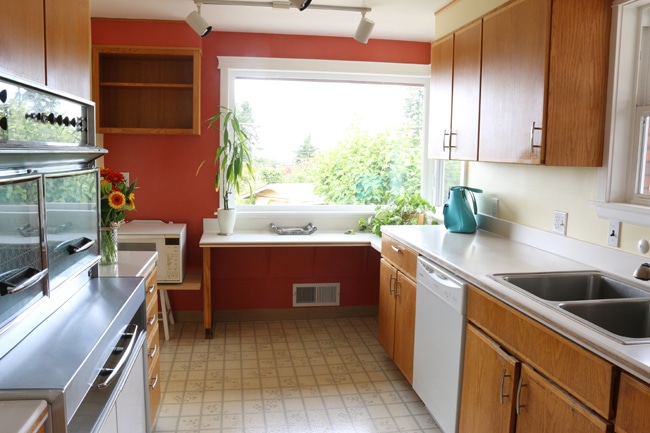 So essentially that counter in question is like a desk, too low to really work at unless you are sitting. As we've lived in the house for the past two months, we know something about that space now. It's a clutter magnet. Dog food, recycling, stuff that doesn't have a home, all the things end up there…on the counter and below. Remember what happens to clutter magnets at our house? We took out a breakfast bar in our old house because that's what it became.
The question in this house is, do we leave that shorter counter because it offers more counter space (perhaps redesigned to have built in storage below, so we don't see all the things under it), or do we do something else with that space, like add a bench seat with drawers below? Or do we just remove it entirely? It's not a big enough space to add a table, nor would we need that because we have a table right outside that dining room door.
We for sure will be removing the cabinet that is hanging on the wall to the left, and replacing it with some sort of useful built in cabinet and/or counter where the microwave is set (currently on a chair). Walls will be painted, floors changed, lighting, cabinets and counters all updated. And yes, we'll discuss the fate of the appliances in a future post. :)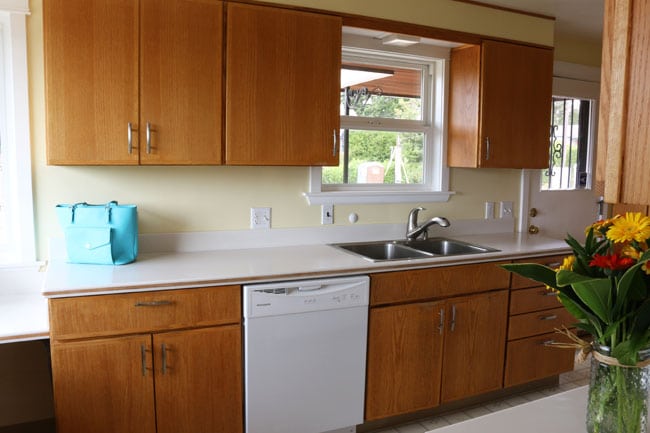 Whatever is in that corner under the window will be seen from the dining room (I'll come back and share the grand idea for the doorway and dining room that I alluded to in this post), so we definitely want it to look nice and be as streamlined and clutter-free as possible. Counter space in a galley kitchen isn't generally something to take away, but I just don't have a lot of patience for clutter magnets. I'd have to be convinced it was worth keeping because so far we haven't once used it as an actual space to prepare food. It's just another surface, I guess because it's too low to feel comfortable.
Jenny Wolf Interiors
Ultimately what we will do comes down to how we feel to live in it. You've got to take the time to live in your space to really know what will work best. I'm glad we haven't rushed into anything in the 8 weeks we've lived here because we have changed our mind a few times already! But I think we are zeroing in on a good direction and that is starting to make us so excited about making this house our home!
I'll be sharing more about the kitchen in another post, and we'll go back to the dining room next so I can tell you my idea :).
*UPDATE 2016* scroll through these posts for the latest updates to this house!