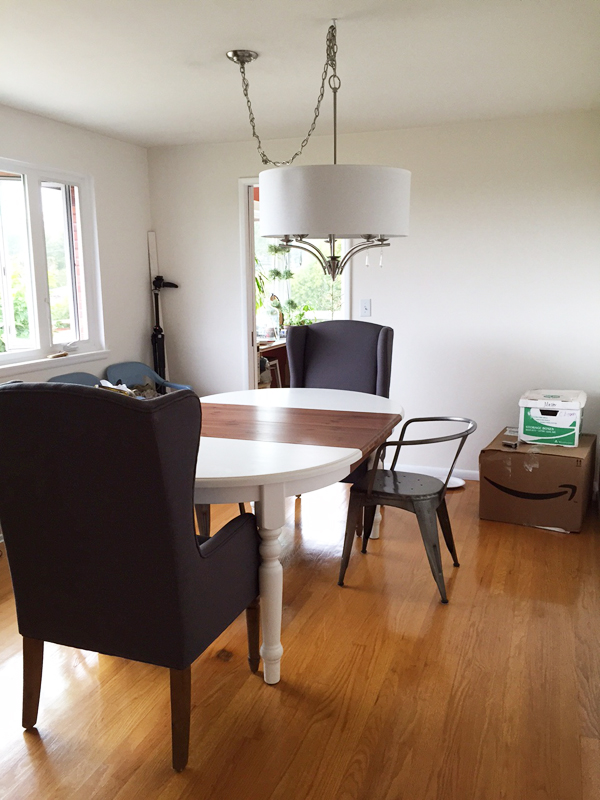 Thanks to PODS® for partnering with us on our move!
We are all moved in! I cannot tell you how happy that makes me to finally BE ALL HERE! Our beds are here! Our table and chairs are here! Our furniture is here! We are all here (see the video if you want the "before" house tour so you'll know where "here" is)!
If being ALL HERE sounds like we are all settled, we are not. Ha! As many times as I've moved you'd think I would know the secret to instantly being settled, but I'm not sure there is a secret to that. Is there? Other than just not owning anything so there isn't much to do, or maybe buying a bigger house, or one that is fully custom or remodeled for you so you just walk right in, set things down, and everything has the perfect home! Even then, you still have to unpack.
In a new-to-you house and/or one that you'll be remodeling or improving over time, everything will come together slowly, and a bit differently than it did in the old house. And isn't that part of the adventure? Making a house a comfortable home is a process, not an event.
Anyway, we were so excited to have our PODS containers delivered so we could see our furniture again! After almost a month without it, we were really ready. There's something comforting about having places to sit in a new home and familiar pieces to prop up your feet and rest a bit. Even the dogs were happily sniffing everything that reassured them that they are in fact, home. Once Jack's ottoman arrived, he was in heaven because he was able to look out the window again.
The experience with PODS was great, it was the perfect solution for us, especially knowing they could store our belongings in the same containers during the time we were without a house. That worked really well. We also loved that we could have one of the storage containers returned to us at a time, so we didn't overwhelm the street or ourselves!
We had a couple of movers help us again from Hire-A-Helper (who sent over Washington Moving Labor Services), which was wonderful! They were really helpful, we were so glad that PODS had referred us to these professional movers. They had packed our PODS containers so efficiently and effortlessly that we knew we wanted their assistance (and strong arms, ha!) to reverse the process. If you want to find out about hiring helpers in your area, click here!
This house was a breeze to move into, as we didn't have to haul furniture up or down flights of stairs. It's just a compact but open one level house with the basement family room you can access easily from the garage. The only container we unloaded ourselves was the one that held our outdoor furniture and even that was an easy shot for us right to the backyard.
To help us space plan and to assist the movers, we ran around taping paper plates to the wall to identify where we wanted our furniture placed. We couldn't find paper so in a pinch, you use what you have!
While we were right there to direct everyone, the plates on the walls still really helped us to make sure we had a place for everything and everything would find its place. Even so, there were a number of pieces we forgot about and had to think on our feet. And of course, many things that will feel a little out of place until we rearrange and get them settled in properly.
The furniture delivery was the fun part, but all the bins? That's where things are a little more crazy. Even though we had downsized so much over the years and felt pretty comfortable and organized in our last house, it is still kind of shocking to see all of your belongings out of cupboards and closets and stacked in front of you creating a maze-like wall of bins and boxes you have to navigate.
If the thought of unpacking all that stuff doesn't make you more determined to say good-bye to stuff, I don't know what will! This house has a smaller (much smaller!) kitchen (and my other one wasn't even huge, compared to some!), so there's another good reason for us to downsize further.
You know we will have to be very deliberate about what we keep and what we have to rethink! I don't mind though. Y'all know I love a good design and organizational challenge. Moving into a new house or a smaller space is like a puzzle.
As I mentioned before, we rented some plastic moving bins to use for packing, and we are so glad we did! We rented them from EZ Binz in Seattle, a wonderful company that services the Seattle area. I'd highly recommend using them if you're in the area. They dropped off the bins right to our house and will be picking them up for us too. It's not only convenient to not have so many leftover boxes around the house after moving, but it motivates us to get them all unpacked sooner than later!
We decided to leave a lot of the bins in the garage and downstairs so we wouldn't feel as overwhelmed right away. Nevertheless, we still ended up with a lot in the house (after these images were taken!). We will just work our way through putting things away, one room at a time!
If I had all day every day to organize, I'm sure I could be done in a shorter period of time. But I've got a lot going on right now with a new book project, so I'll just have to be patient and pace myself.
Fortunately in our old house we had acquired quite a few free standing console cabinets, dressers and bookcases that we were able to bring with us. We packed the contents of each and labeled the bins accordingly, so we can easily unpack them right back where they belong!
Yes, those are dog scratches you see on our (fairly) new leather couch. :) I'll do an update post on this sofa soon, we still love it even with the character Jack added!
Even though it feels a bit like someone took my house, shook it up and turned it upside down here, I know it won't be long before we feel like we are reasonably settled again. I'm really looking forward to putting our own stamp on this house and making it our home one step at a time.
So, now that we are finally moved in, I'll be giving you a closer look at each room in our house with a peek at what we are starting with, the pros and cons of each space, some inspiration for where we could go design-wise with the room, and the next steps we will take to make it more our home. I can't wait! I also will have more tips for those of you who are moving soon.
Have you moved much? What are your "settling in" tips?
Thanks again to PODS for their great service and support through our move.

Catch up with all of our moving posts here!