When we first found our house and started dreaming up ideas for the living room, we had a vision of incorporating a window bench on one side of the room. As we continued dreaming and planning, we started veering away from a built-in bench and leaning toward finding a free standing daybed that could serve as additional seating as well as a comfy spot for napping, reading and even function as a guest bed for our niece or nephew.
If you are new to The Inspired Room, this room's special feature and a focal point is the big windows that bring in beautiful light and offer a view to the backyard, the sky and Puget Sound beyond. In order to incorporate the view into the ambience of this space, we pulled our main conversation area away from the fireplace and located it more towards the center of the room.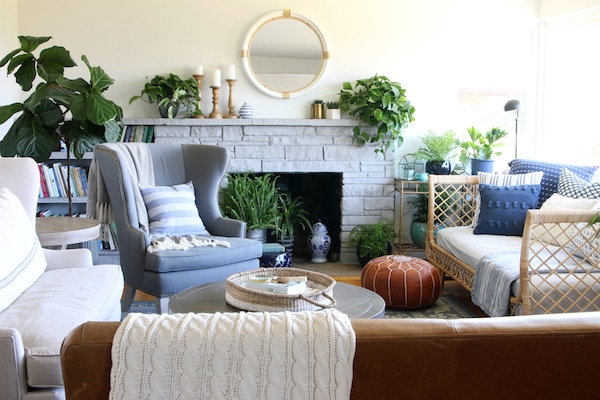 It's not a tiny room, nor is it a huge space, it's just right. Centering the smaller scale sofas in the room offers enough breathing room to move about easily, but also keeps the space feeling inviting, cozy and comfortable.
To arrange this room for now, we brought in the small wingback linen sofa (one we already had, at least for the time being) to face out the windows and pulled the leather sofa to face the center of the fireplace. This creates a nice balance for the conversation area and incorporates both focal points, the fireplace and the view. A chair angled by the fireplace toward the windows and new daybed rounds out the conversation area.
Bamboo blinds from Select Blinds will be hung above the windows (they won't impede the view when they are raised), which will bring a finishing touch to the room and nice texture and definition to the windows. (To order blinds or shades, you can get the best possible deal using my referral link here).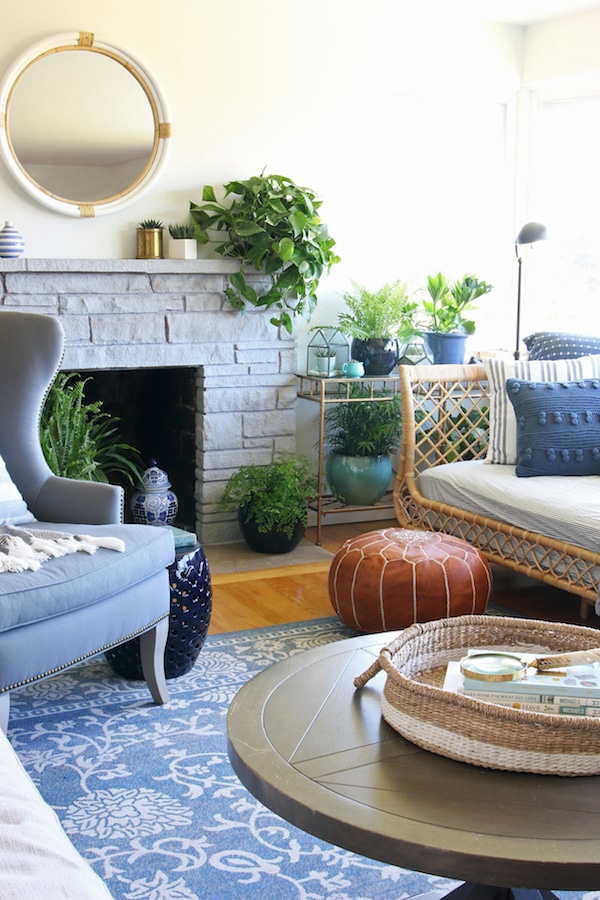 I love that the daybed is close enough to the furniture area to be included, but was able to sit just outside enough to feel like a you could relax there while other people chatted elsewhere in the room. It will also make the coziest spot next to the fireplace in the winter.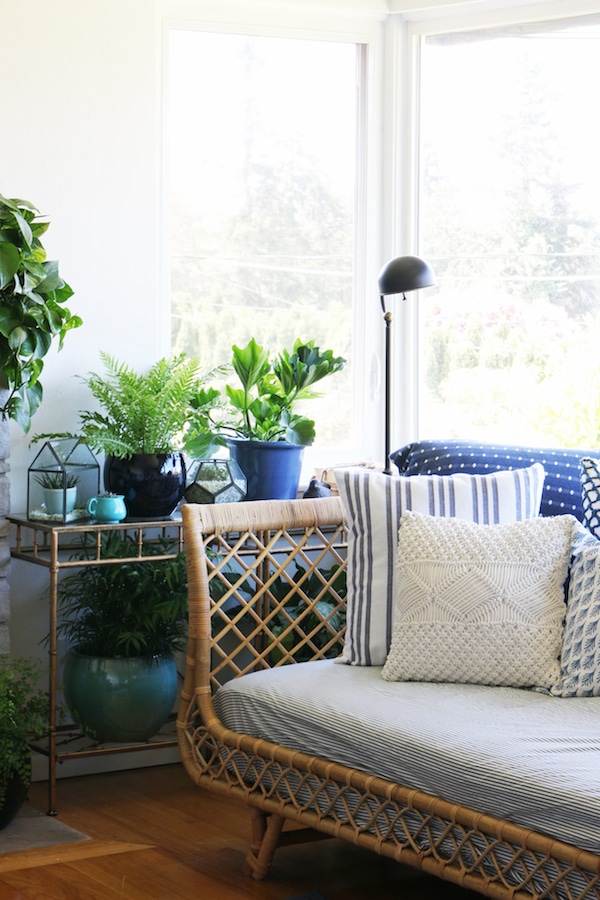 We shopped around for a daybed in a style that would not look too much like a "bed" nor did we want a formal living room sofa. We needed something somewhat airy so it would not feel like a big barrier in the room and yet it needed enough weight to feel grounded in that corner.
When we found this rattan daybed, we felt it was just the right piece for this room. Rattan has a bit of that classic "island texture" we feel suits this space, plus it seems to fit in well with the architecture of this house and blends really nicely with our existing furniture, too. It's open and airy yet solid and sturdy.
We held our breath for weeks until it was delivered, hoping but of course wondering if it was going to be just as we imagined it would. Our backup plan was to put the daybed downstairs, but we were beyond pleased that it was absolutely perfect for our living room.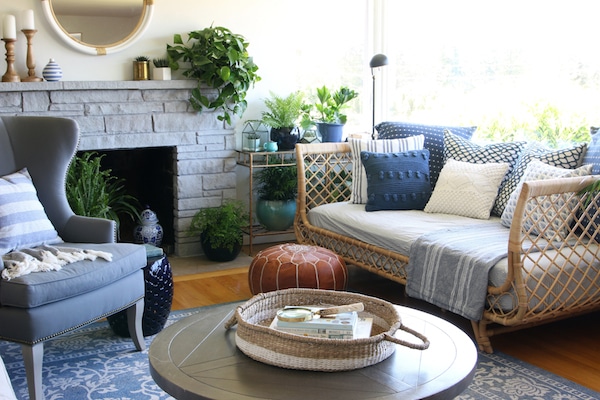 The brass and glass tables we had in our old family room happened to tuck right next to the fireplace, providing an ideal spot for a plant habitat. Plants add so much to a room and I'm pretty sure they will be very happy here soaking in the sunshine.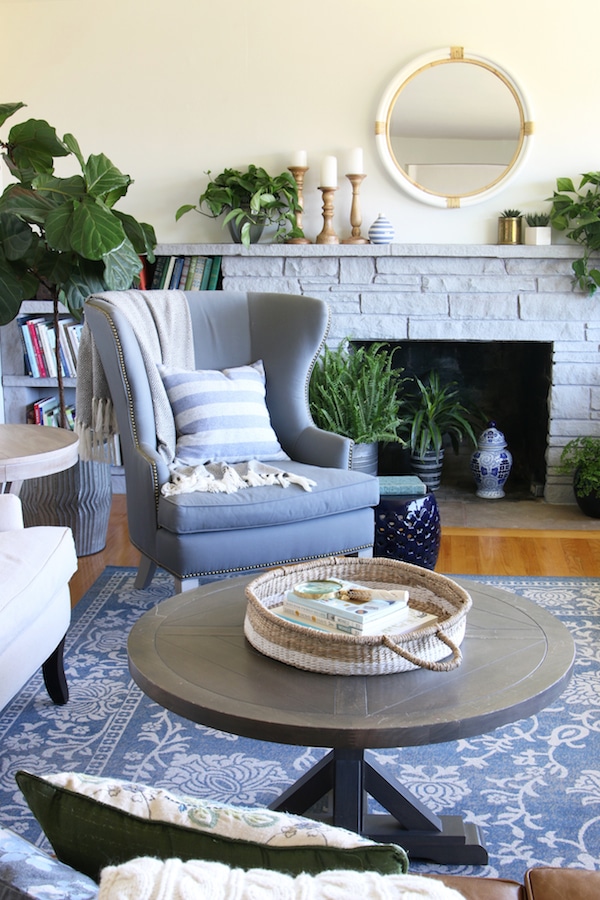 I moved the fiddleleaf to the other side of the fireplace as I think it might be just as happy in this corner during the summer.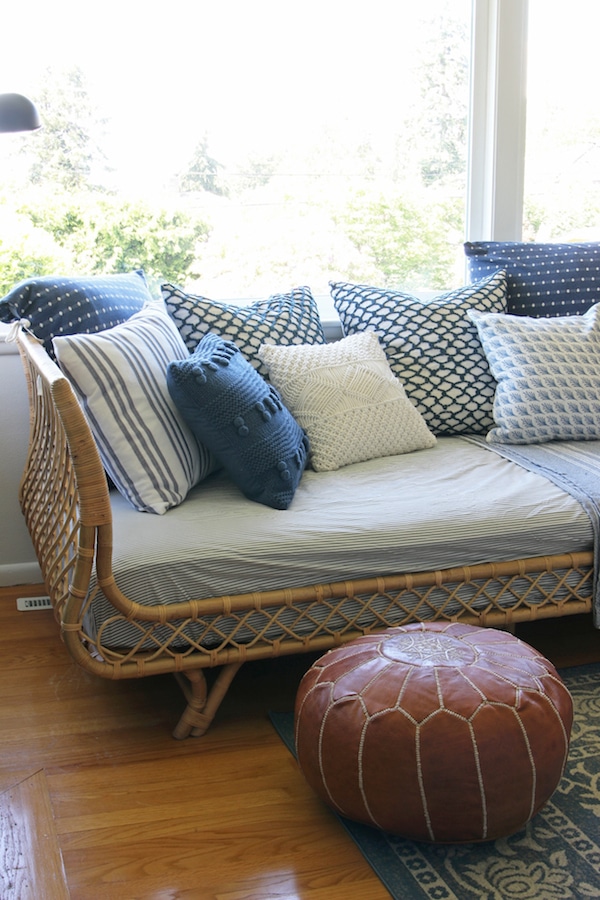 We used big Euro shams and pillows we already had and added a few new throw pillows to make it extra cozy, so it's not only really cute but it's an inviting place to hang out.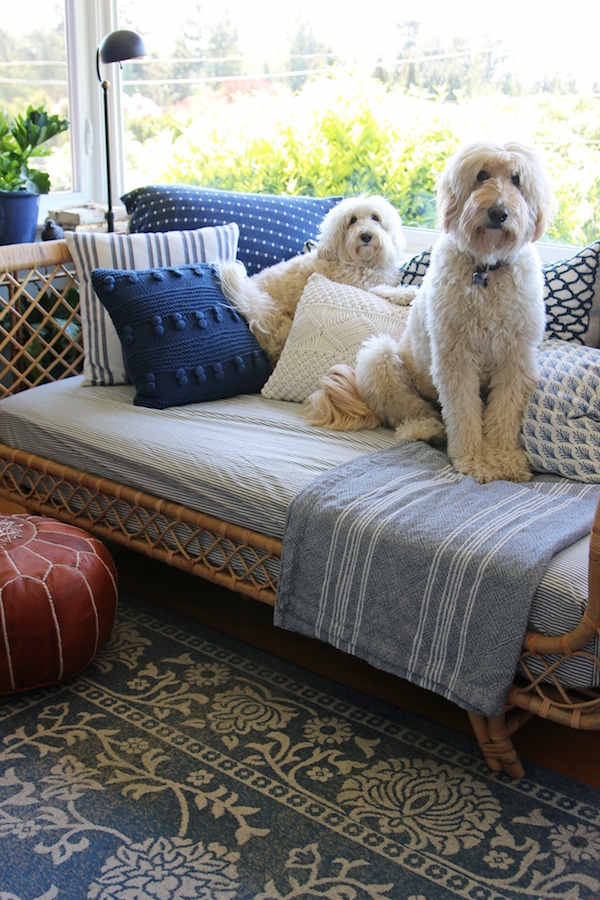 Jack and Lily immediately claimed this as their spot, and of course, we can't deny it is indeed the perfect place for them, too. We have extra sets of sheets and pillow cases to keep this bed easy to keep clean, too. The pups will enjoy many hours napping here and gazing out the window at the birds. And let's be honest, so will we.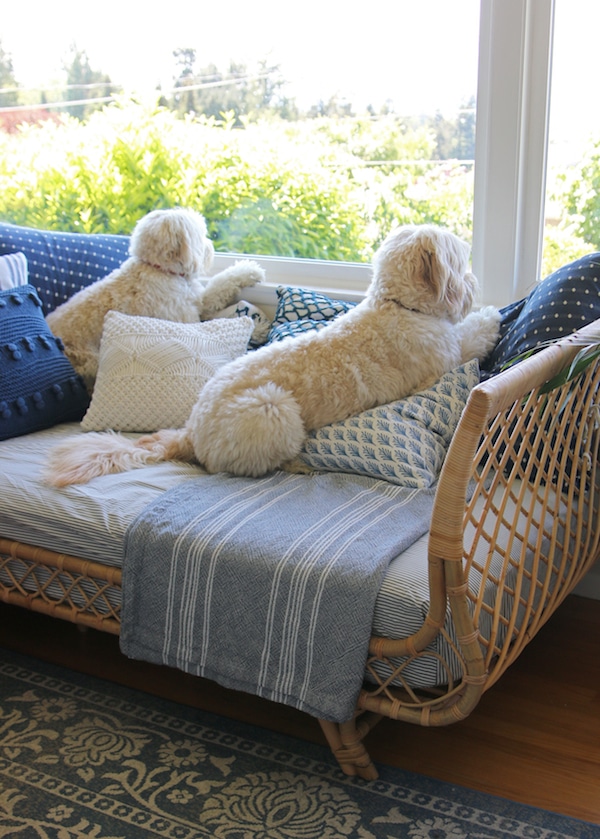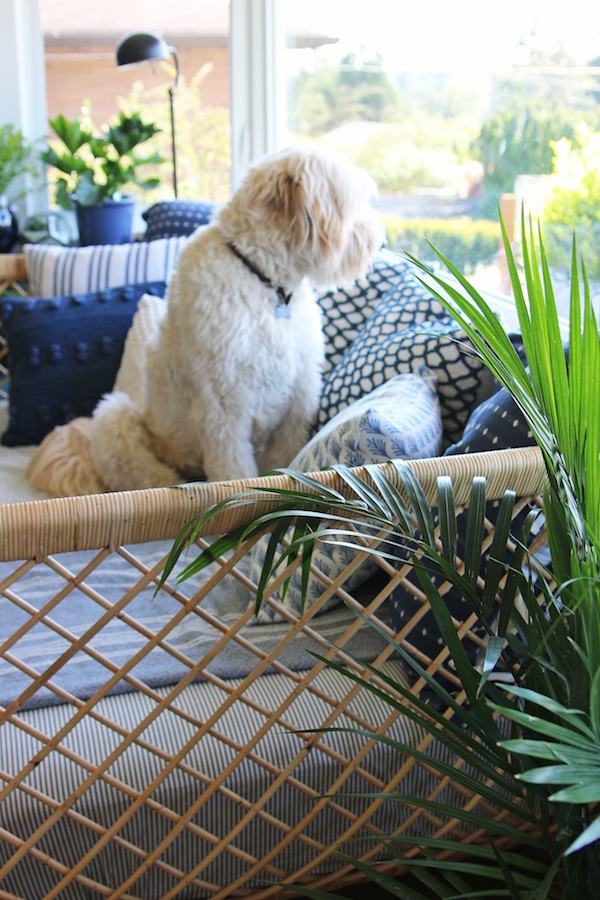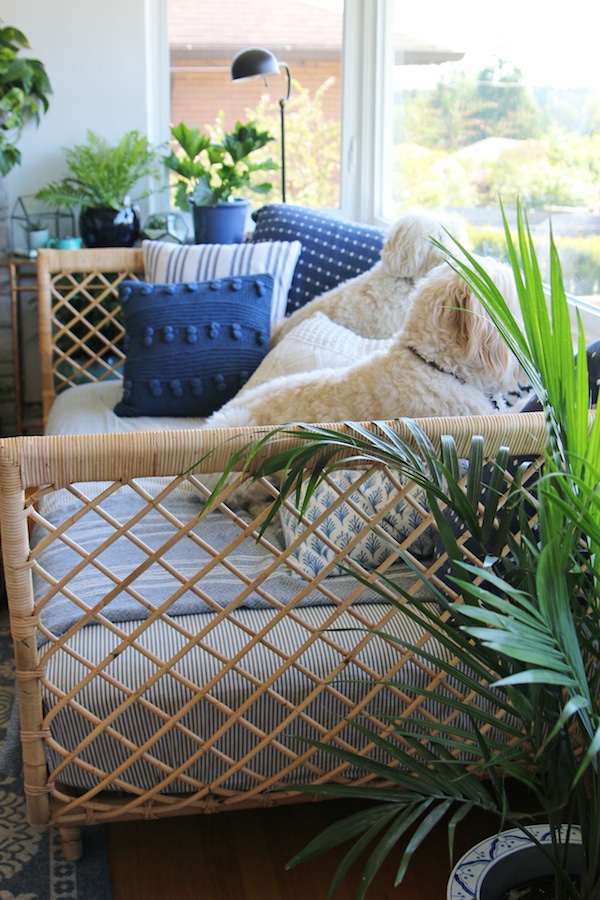 As soon as we get this room painted (yep, still waiting…story of my life) we'll show you other "updated" angles of the room. We have some adorable botanicals we can't wait to hang. We have already ordered bamboo shades for this room and cannot wait to see how they will help "finish" this space for now (of course there are always more updates and layers to be added in time!). More details to come! Thanks for following along!
Sources:
Navy pom-pom pillow (may be sold out)
Leather pouf (similar)
Coffee table (may be sold out)
Seagrass basket tray on coffee table
Blue and white painted striped vase
Brass tables as plant stands (may be sold out)
Set of 3 wood candlestick holders
Blue and white euro pillows with ties (may be sold out)
Blue and white knit square pillows (may be sold out)
Wall color: Swan White by Glidden