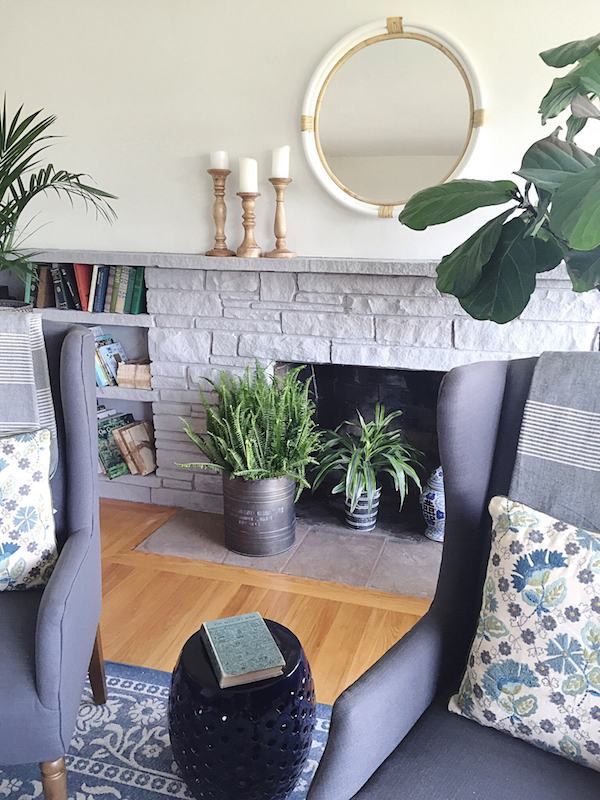 Painted stone fireplace makeover 
You all know I love a "better than it was" project! And I think my painted stone fireplace makeover certainly qualifies! As you also know, I've been staring at my fireplace for eight months, wondering how to fix it. The mauve grout, the dated color. The off-centeredness. We could rip it all out, but that comes at a cost of time, money and mess.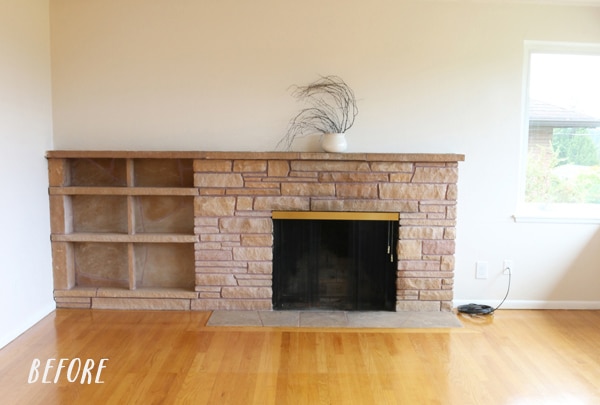 When you have other more pressing projects and are budget-minded, you can't help but wonder if this one you should even start on? And how much do you really want to invest on a fireplace makeover? If I just painted it, would I ruin it? Would it make a difference?
Questions continued to swirl around in my head with no clear answers. This fireplace was like a billboard, trying to get attention. It wanted to boss my style around and distract me from everything I wanted this room to be. It paralyzed me. I knew how I wanted it to look in my most perfect dream, that part was clear. I also knew there were simple changes we could make to improve it, whether it would be trim work or a mantel.
But finally I decided that I was tired of looking at it like it was and even though I do have a vision for what I want it to be someday, I wasn't ready to take the plunge with a remodel for it yet. Maybe in a few months. Maybe in a year. But not today. Even if I decided to add trim or built-ins to it in a few weeks, I didn't like the pink hue of the grout and stone so I had to start somewhere.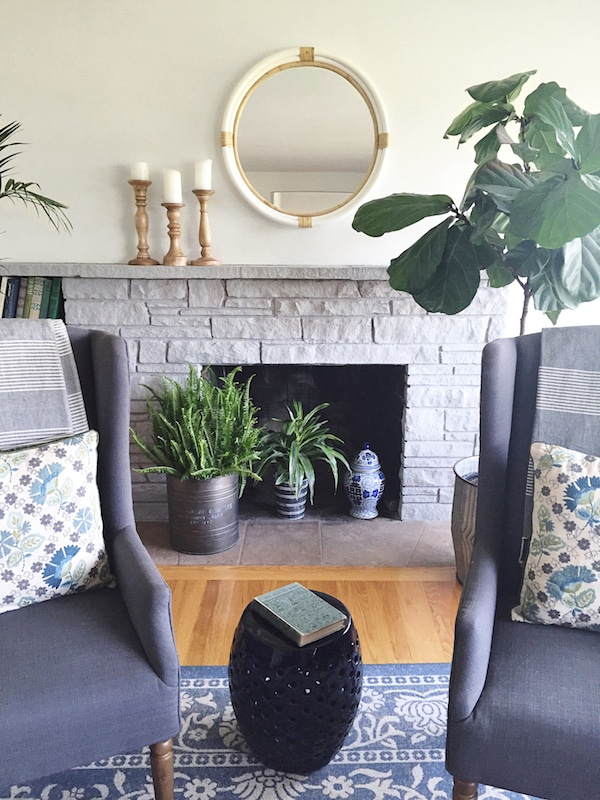 A painted stone fireplace makeover seemed to be the easiest solution for this project. And honestly, the worst that could happen was I still hated it. The best that could happen is I would like my room better than I did with it as it was, and even save myself time and money while we save for this project down the road.
Of course, even after I decided to paint it, more questions popped up. What kind of paint? Do I have to sand? Prime? Gah. And, the worst, I had to decide what color. At first I thought it should just be white so it would basically go away and be less noticeable. That made sense.
But I don't often like white stone unless it is done beautifully. And, I already had a white brick fireplace downstairs, so I finally just decided to go with gray. It's a safe stone color that blends in with all my neutrals and I can always go white later if I don't like it. Or I'll tear it all out and redo it later. Crisis averted.
Phew, thank goodness paint color isn't permanent or I might have waited another year wrestling over that one.
Once I made the decision to proceed with paint, I thought maybe I'd try that chalky type of paint that seems to adhere well to surfaces and would perhaps keep the stone looking more natural. It seemed liked the best choice for this project, so I bought a can of $35 Annie Sloan Chalk Paint to give it a try (I ordered mine online here).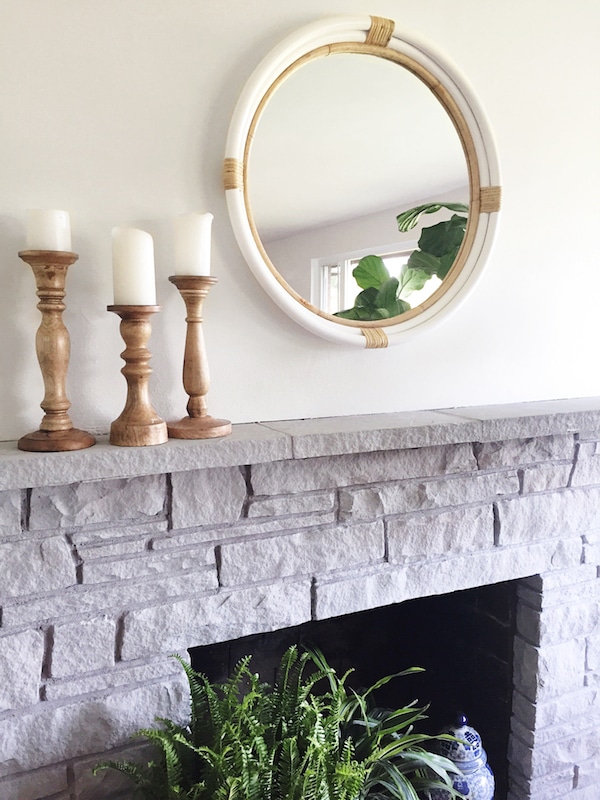 We only used a tiny bit of the paint, so truly this was a bargain makeover. I still have most of the can leftover to use for other projects! It was easy.
How to: We wiped off the stone to make sure it didn't have dust or cobwebs, mixed the Annie Sloan Chalk paint with water to dilute it so the stone would retain more of the natural look, rather than a heavily "painted" feel.
This part isn't scientific and you can definitely play with it for the right ratio of paint and water for the look you want for your fireplace, but for a cup of paint we used maybe only 1/4 cup of paint (or a little more) and the rest water to give it translucency and painted it on with a brush. One coat. DONE.
I'm still playing around with the room and considering how it might feel if we added planks to the walls or a mantel, but I love that I can look at my room now and like it and (to me) at least it feels better than it did. I'm very happy with how my painted stone fireplace makeover turned out!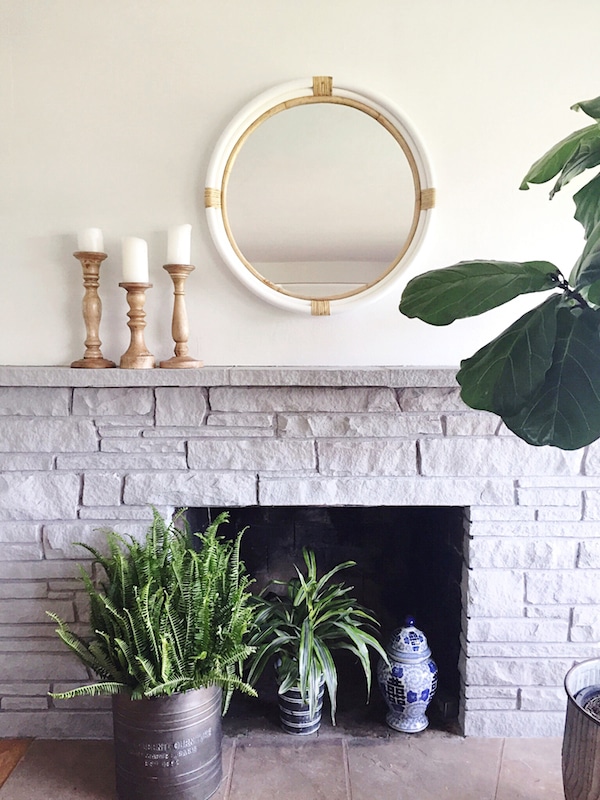 Fireplaces can be a focal point, but they don't have to be in glaring focus if you don't love it. If you have a fireplace you don't like, paint can lessen its design impact so you can redirect the vision for your room in other ways.

Don't let a dated feature boss your room around. Paint elements you don't love so they just blend in, or paint something to look better than it did. No shame in the in-between stage. You might even end up loving it! But you'll never know until you try!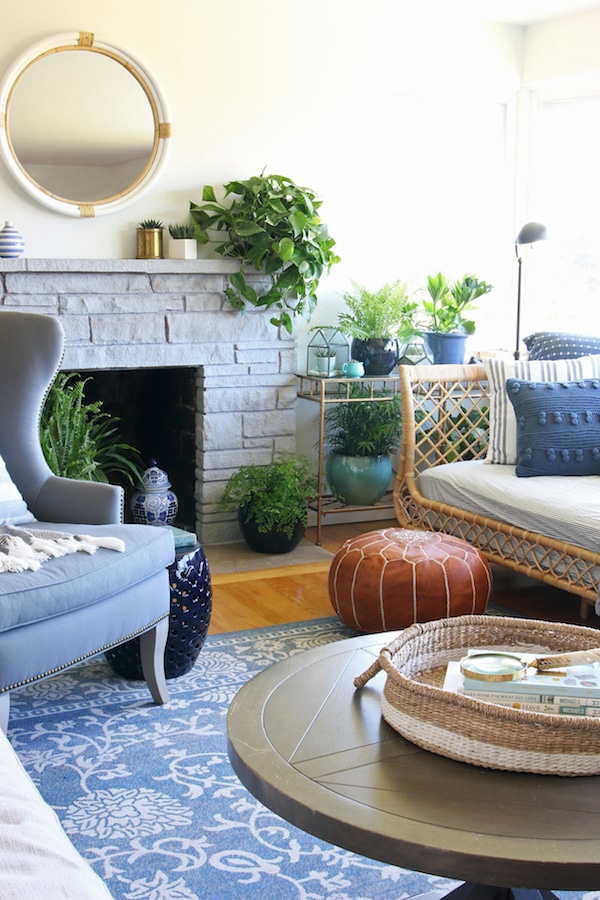 >> Update: Check out the latest update on this room here, and our new daybed here! <<<

Sources:
Chalk Paint – Annie Sloan Paris Grey
Paint Color: Swan White by Glidden
Room inspiration: Painted Fireplaces
>>> Update: Check out the latest update on this room here, and our new daybed here! <<<