My teenage son's bedroom
We've been busy bees around our house this summer with little projects going on everywhere. Maybe this summer has been like that for you, too. While we've relaxed, took a family vacation and plan to take even more time off this month, I'll admit it's been so nice to get some projects done, too! I'm excited that we made so much progress so we can enjoy our home even more this fall. Well, except for that we are still hoping to get started with our kitchen, so there's that.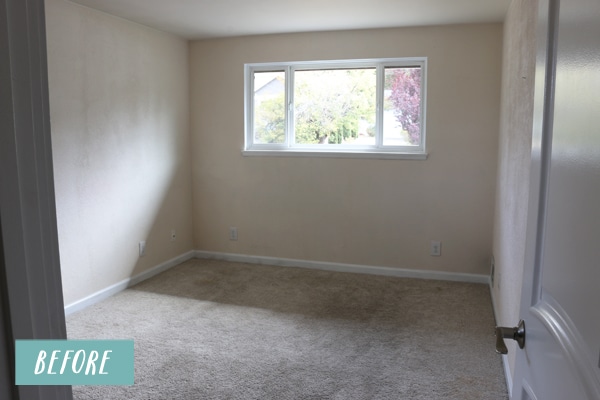 My son's bedroom before (we removed the carpet and found wood floors before we moved in!)
As I've mentioned, we've been painting our way around the interior of our house and it looks and feels so good to see fresh wall paint. I'll show you more of our son's room once it's finished, but I was really happy to see the color go up on his walls. It has the craziest textured plaster walls so I was actually a little nervous about how the paint would turn out. But I'm happy to say the color went on just fine and the color is perfect. We chose the color Night Sky Grey by Glidden.
In our old house we used Glidden Duo paint + primer for our walls, but the formula has now been replaced with a new and even better product called Diamond. Glidden Diamond is an acrylic paint and primer in one. It's affordable, easy to roll on and you can get away with just one coat, although we always prefer two. It's no VOC, so it's low odor. We love it!
Diamond is especially awesome for kids' rooms, kitchens, bathrooms and other highly trafficked or rough and tumble spaces because you can wash it and even scrub it!
If you are in the mood to spruce up your house this summer or fall, I'm excited to share that Glidden is offering my readers the chance to win 5 gallons of Diamond paint for your next home improvement project!
*****GIVEAWAY IS NOW CLOSED*****
Enter the giveaway with a comment on today's post.
What room do you most want to paint?