Hello lovely friends. When our family first looked at what would eventually become our house here in Seattle a year ago last fall, we had an unspoken inkling in our hearts that someday it just might be a magical little place to live. It may not have exactly looked like the house in my fairytale dreams at the moment, but that didn't seem to matter. It definitely had something undefined but special that drew us here.
This fall we had our brick house painted white and while the painters were here, we asked them to give a fresh white coat of paint to the formerly beige backyard shed, too.
When we saw that adorable shed peeking out of the fresh snow from our kitchen window yesterday morning, it confirmed what I didn't want to dare to dream or speak out loud when we first laid eyes on this house. It truly is a magical little place to be in every season. I really didn't expect that this feeling would come, but we are falling more in love with this sweet little home every day.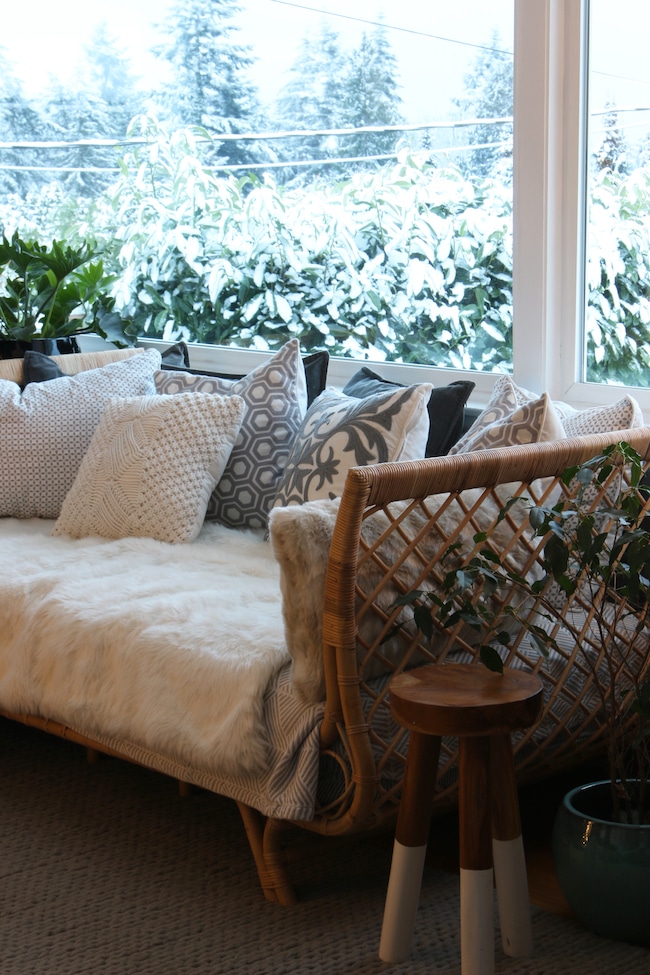 We are discovering there are so many gifts we can unwrap here in every season. It might seem on the surface like it was the white paint and fresh snow that caught my eye yesterday, but even more the changing season outside our window symbolized to me that we already had everything we needed to live happily ever after here.
This is our home, for better or worse. It's our home when the snow perfectly blankets the backyard and the reflection of twinkling lights in the window make it all feel so magical. It's our home in the summer when the moles tear up the grass and make our yard all lumpy and weird looking from their tunnels. It's our home right now when I wash my hands in a Pepto-Bismal pink sink just as it will be our home in January when I wash dirty dishes in a sparkling new farm sink.
This is our home. We feel a certain peace, like we are right where we are supposed to be in this season in our life. It's not just a feeling that has come from finally having completed projects like fresh paint on the brick and new countertops in our kitchen, although we do feel so grateful to be on the precipice of being able to cook a proper Christmas dinner in a new oven.

Get the "It Is Well" sign above HERE for 20% off with the code "THEINSPIREDROOM20"
There are still plenty of projects and imperfections to keep us dreaming, busy, broke, saving or patiently waiting for years to come. But it's those imperfections and less-than-ideals that are my daily reminder to slow down and just be grateful for what we have right now.
A house won't ever turn into a dream home if it is only through the projects we get to complete or the day we have the perfect setting or season in which to be feel grateful. A house is transformed from the inside out through the gifts we choose to see and open with grateful hearts.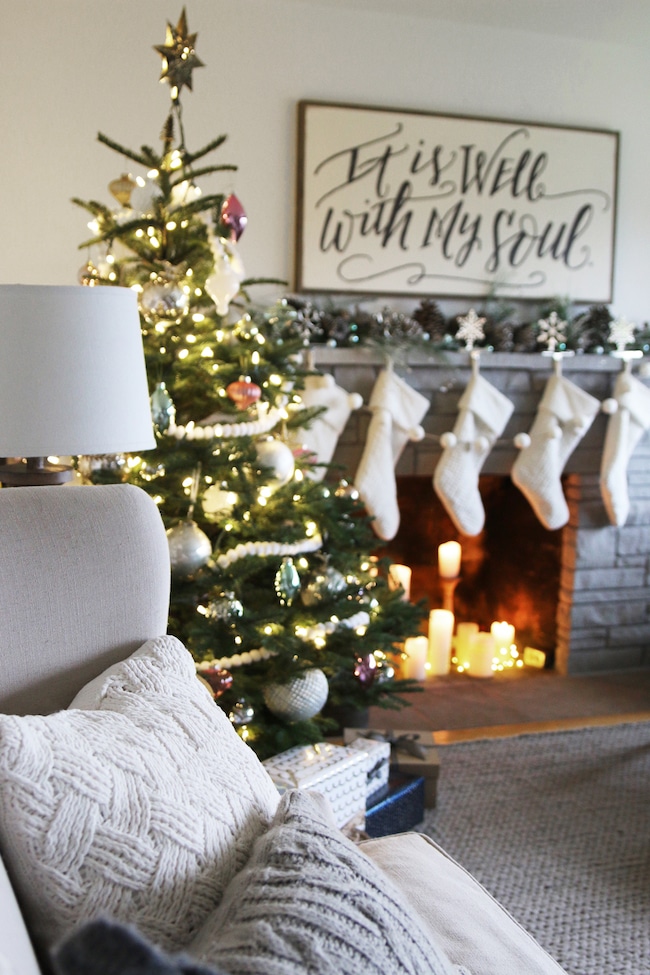 I'll be honest, it's easy to be grateful for things you have always dreamed about when you finally have them. It can be flustering when people say they are feeling so #blessed and you see what they have and think, gee, I would feel blessed, too, if I lived in that amazing castle on the hill or whatever they have that you only dream about. It's OK to be grateful for what you have, even if you are a princess feeling grateful for her castle. I try to remember that so much of what any of us have, however humble or imperfect we might think it is, is likely to be just a dream for someone else.
The real test of our ability to find contentment and gratitude with where we are is can we feel grateful for what we have and content in it, even if it isn't at all what we dreamed about? I love our little house and I am grateful for what we've been able to do so far. But I'm mindful that I need to be just as grateful for its quirks and less-than-perfect qualities, too.
There is a season for everything. A season for the clouds and rain and sun and snow and wind and soft breezes to blow through. A time for transitions and a time for settling in for awhile to find joy with what we've already been given. But no matter the season or house we find ourselves in, love should always shine from the inside out. Like the little twinkly lights strung around a home at Christmas time, it's the love glowing on the inside that creates a truly magical place to live.

>> CLICK HERE TO SHOP The Inspired Room Christmas Shop <<
My Christmas shop is filled with my favorite Christmas decor finds! Stockings, ornaments, garland, accessories, wreaths, trees, you name it!!! Check it out!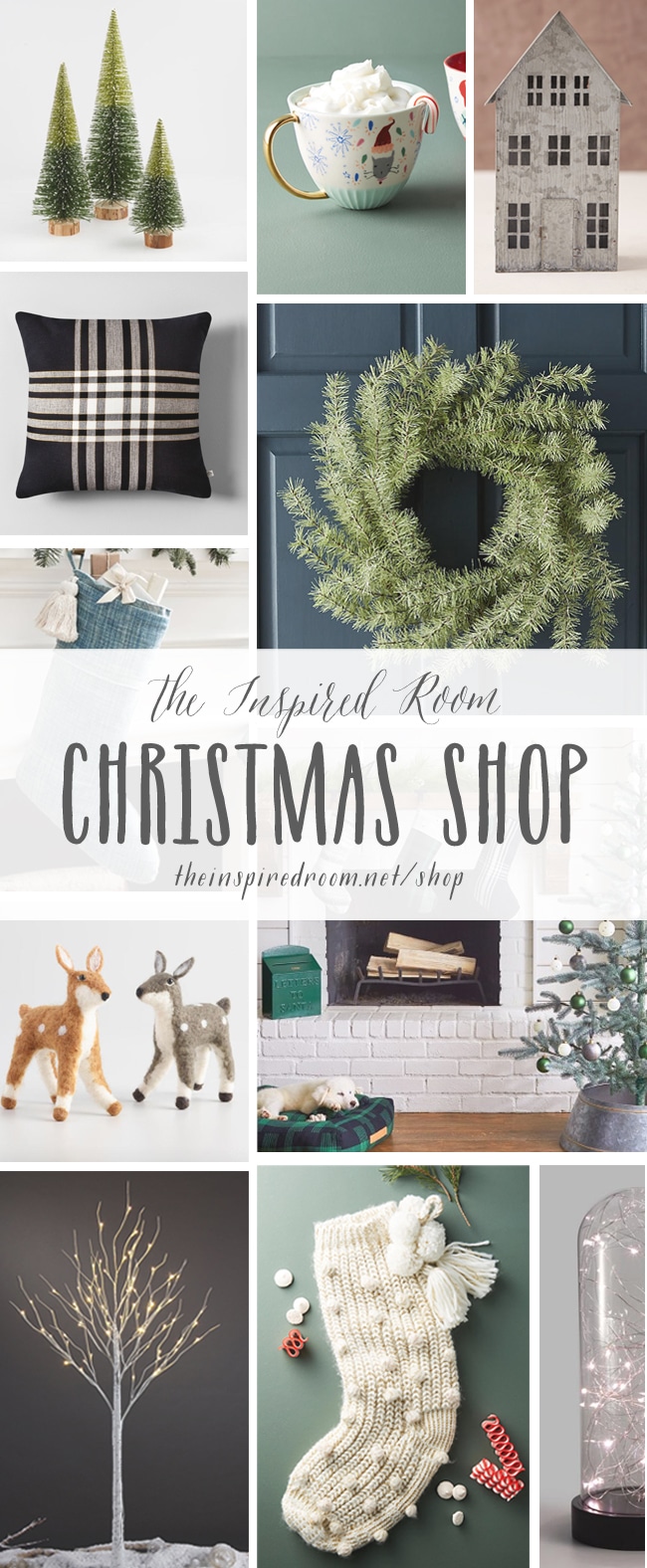 >> CLICK HERE TO SHOP The Inspired Room Christmas Shop <<