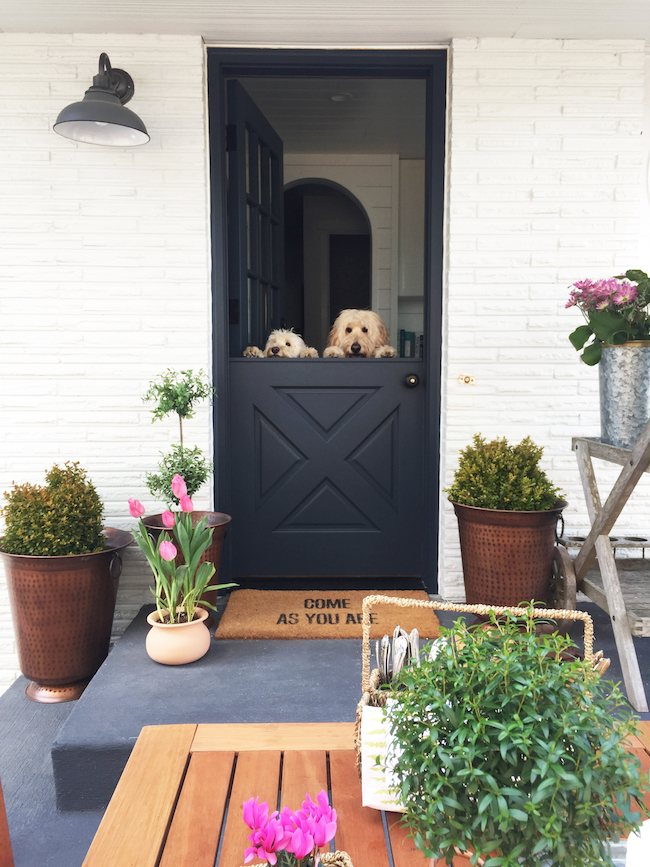 This post is in partnership with Birch Lane.
The products featured are new from Birch Lane, so scroll to the end for direct source links!
Hey, hey! I'm so glad you're here. I can't wait to give you a little peek at the before and progress photos of this side porch area of my home (just outside my newly remodeled kitchen) as well as share some tips for refreshing your own outdoor space.
With spring just about here (it is, isn't it?), now is the time to start planning a few outdoor projects so you can enjoy every bit of upcoming sunshine. That's exactly what I intend to do.
Remember when we first moved in? Our porch looked like this:
The side porch just didn't feel as welcoming as I wanted it to be (clearly even neighborhood cats weren't welcome here, either, hahahah). I knew with a few cosmetic changes, the porch and our home would have a modern coastal cottage vibe that would suit it and our location well.
For those who are new here, our home is on the west coast in the city of Seattle, overlooking the salty waters of the Puget Sound (as well as the Olympic Mountains on a clear day!). With our brand new Dutch door installed, the now painted white brick, new charming light fixture and stained concrete, we've made quite a bit of progress already! We still have lots more to do, but even though it's been slow, I feel like we are on the right track.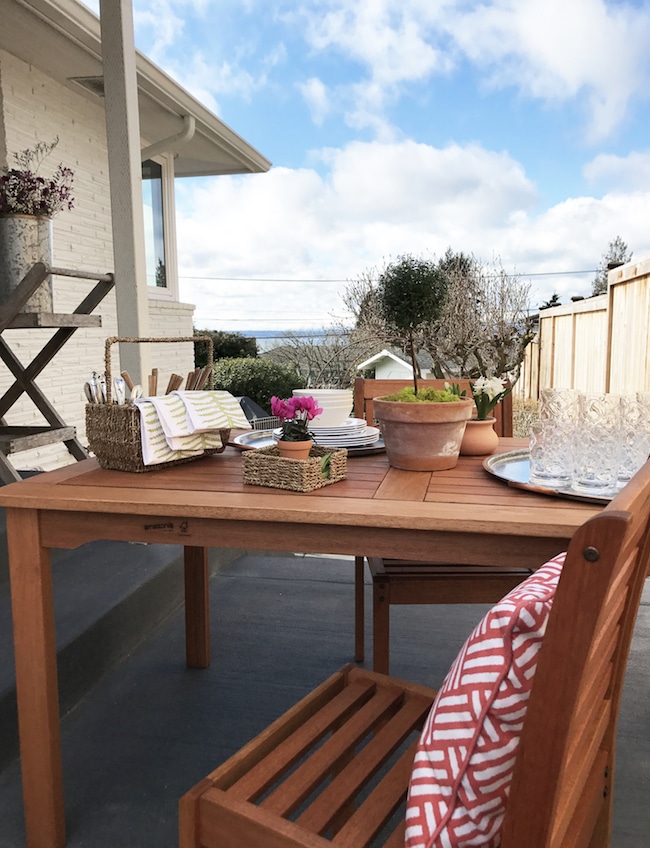 I'll let you in on a little behind the scenes craziness from this day we were taking these photos. There were a few sun breaks (which have been almost non-existent since October!), but don't let a glimpse of pretty blue sky fool you.
It was freezing. And super windy and rainy most of the day. We had to remind ourselves that spring would indeed arrive and by summer we will actually really enjoy being outside in this space.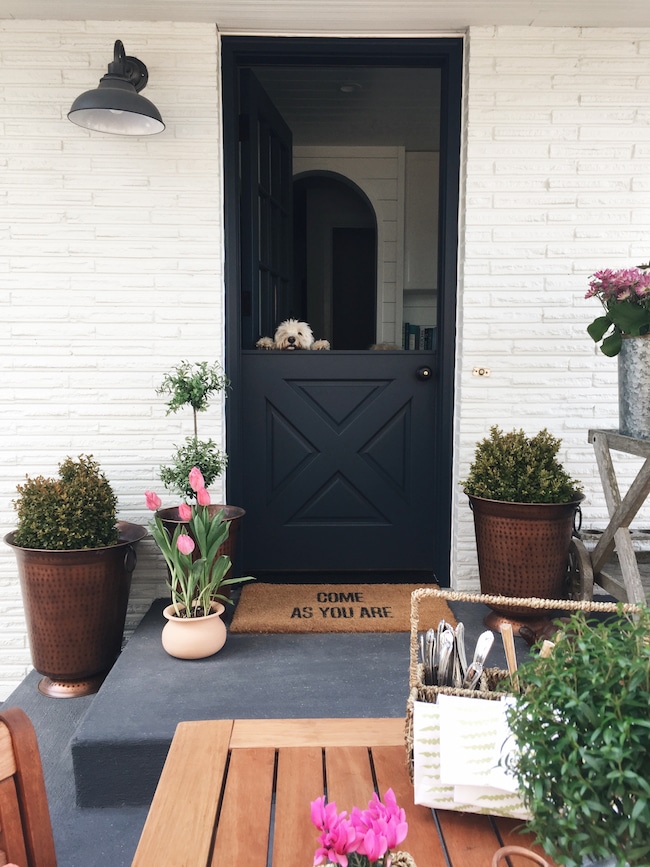 As we were trying to set things up (in between wind gusts and rain drops) our dogs started hopping up on the Dutch door trying to see what we were doing. Our day was made. That is exactly what we dreamed might happen some sunny day if we had a Dutch door. It's the little things that give us inspiration and make the effort all worthwhile, right? Dreams can come true.
I have pictured for a very long time about how we would use this outdoor area. Besides wanting a convenient and clean path to carry and unload groceries into the kitchen, I really wanted a table out here that we would use on a regular basis. I envisioned a charming spot to have morning coffee as well as a convenient place to set up plates and food for outdoor entertaining.
This lovely teak table and quality chairs from Birch Lane are just perfect for outdoor gatherings or quiet mornings. I can't wait to set it up for our first get-together in this space.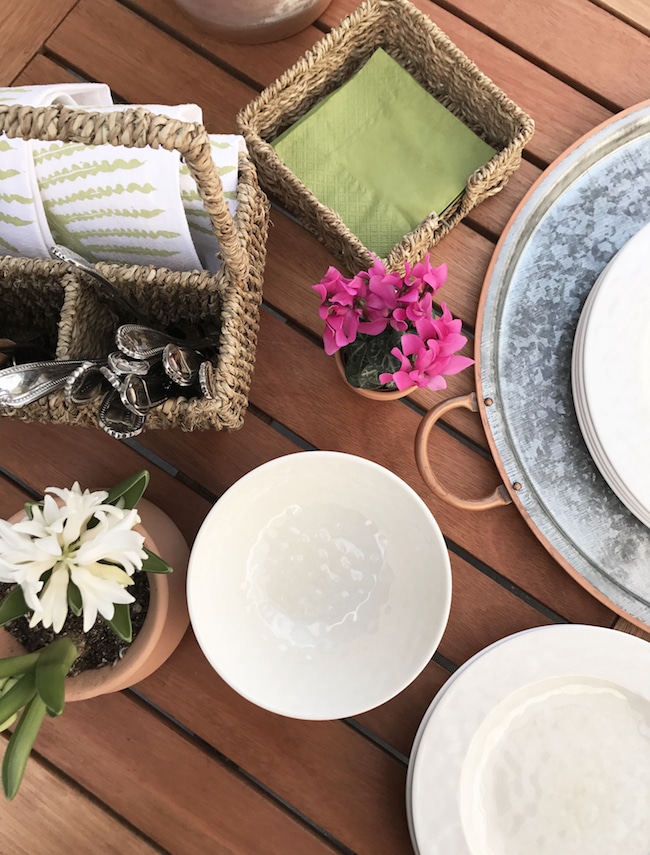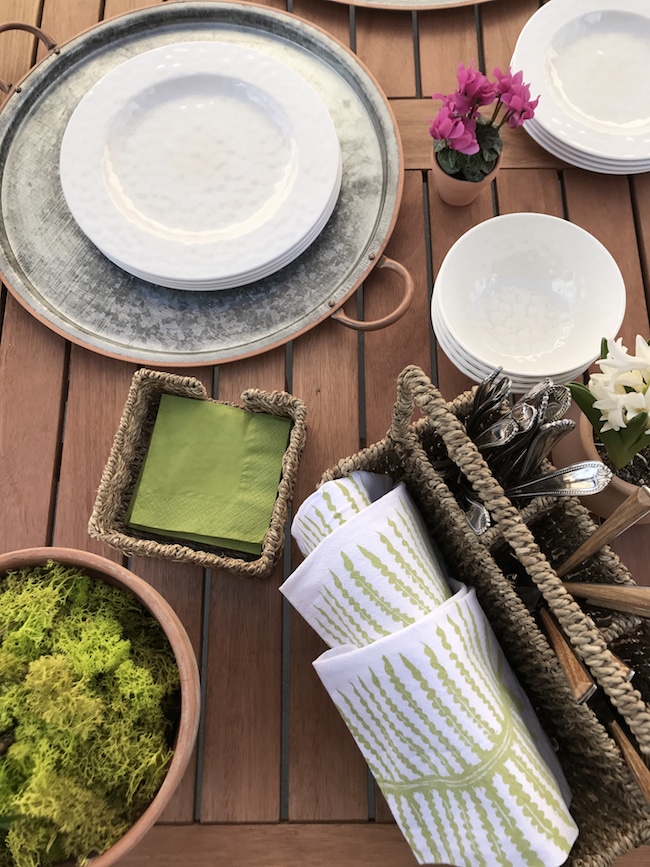 I'm pretty casual when it comes to how I set up outdoor parties (or indoor parties for that matter), but I do like to have pretty things on hand to serve with. It's fun to make spring and summer parties feel more special without stressing out trying to make it all perfect.
Besides a table to gather around, having a conveniently placed table can make a helpful landing spot to bring things out from the kitchen, too.
Birch Lane's melamine plates are ideal for outdoor entertaining with a little more class than paper plates. I love the copper edged trays, too. Since our backyard is down a few steps, being able to transport food to the BBQ is important so I'm excited to put these trays to good use.
The serving baskets are also really cute.
They make it easy to transport utensils and napkins, as well as keep everything together and handy for guests.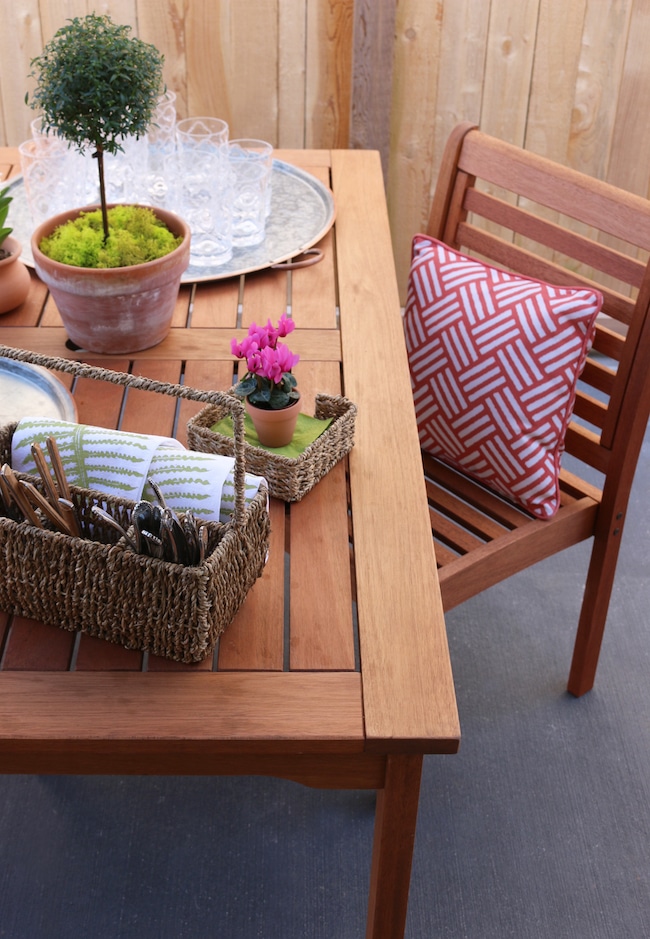 A set of melamine glasses let you serve your beverage with flair (and another benefit, they are heavy enough that they won't be as likely to tip over as paper or plastic cups!). I love the design on this set.
I think with creating outdoor spaces for entertaining, it helps to think through everything you'll need in advance so you can be prepared and less stressed.
But on the day of an outdoor event, you just have to go with the flow! Case in point, it was so windy when I was taking these photos that my paper napkins kept blowing away. Small potted flowers to the rescue.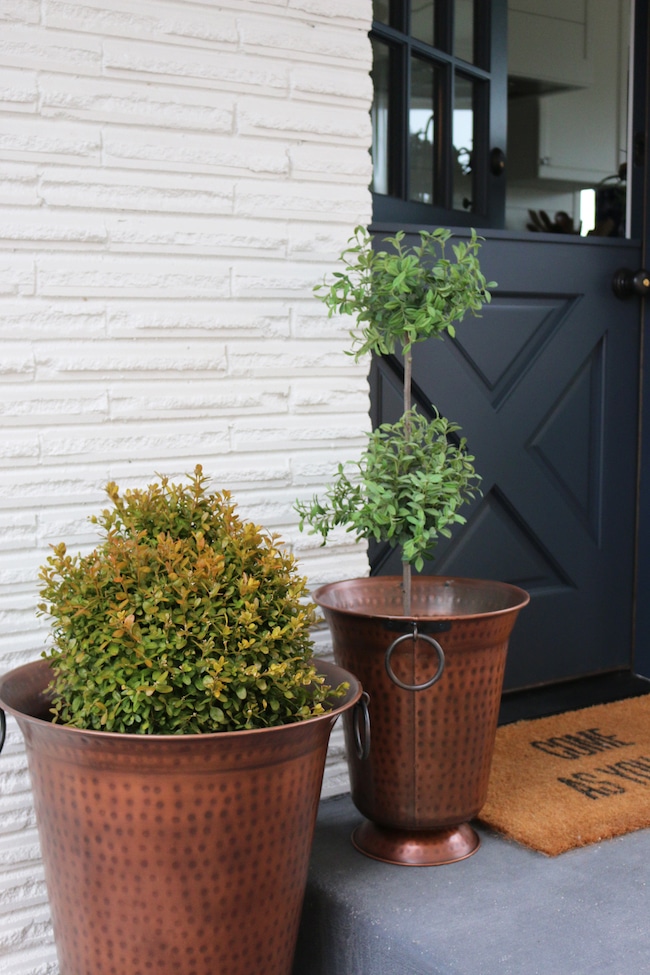 I knew from day one that I would want copper accents to add warmth to the patio and porch. These gorgeous hammered copper planters were exactly the style and additional texture I dreamed about.
I can't wait to shop for plants and flowers that can fill our porch and side yard with the lush look I picture for this space. Not only will I love sitting out here surrounded by green, but I will be so happy to finally see plants from inside the kitchen. Plants can really transform a patio!
But don't worry, you really don't have to have a green thumb to add some plants to your outdoor table. Look at these adorable little succulents. Have you ever seen such adorable little faux plants? You guys, THESE PLANTS WON'T DIE! These are perfect to have ready for decorating your outdoor tables. They'll never shrivel up and will thrive season after season.
Our yard is filled with birds in the spring-time so I like to add a few accessories to create little outdoor destinations, a place where you or your guests can go to just relax and enjoy nature. I adore this little bird feeder! It would be so cute peeking out from spring flowers, too.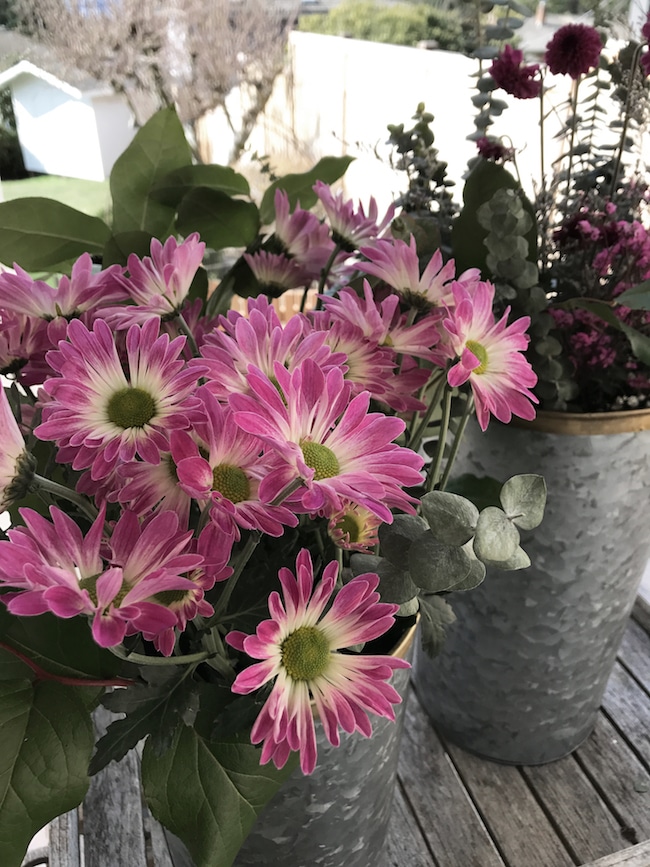 Even if you don't have blooms in your yard, you can enjoy cut flowers from a farmer's market or grocery store. We have a local farmer's market near us every Sunday. We love picking up a seasonal bouquet!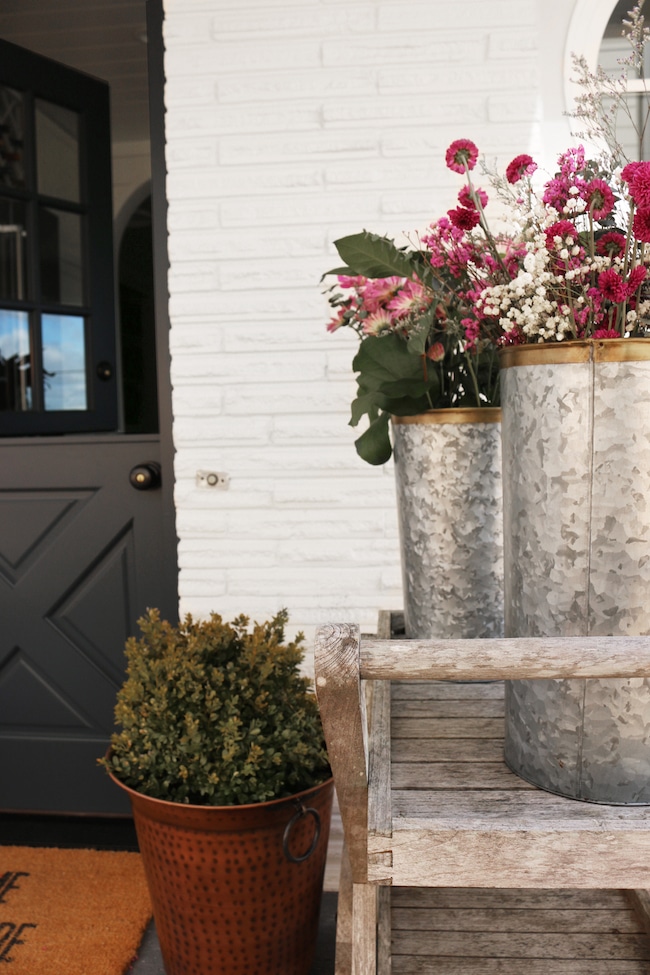 Don't stress about creating perfect arrangements, though. I love the casual rustic feel of these galvanized containers for effortless summer bouquets.
This cute little turtle is a good reminder of what summer outdoor spaces should be all about. It's all about slowing down and having a place to really smell the flowers, right?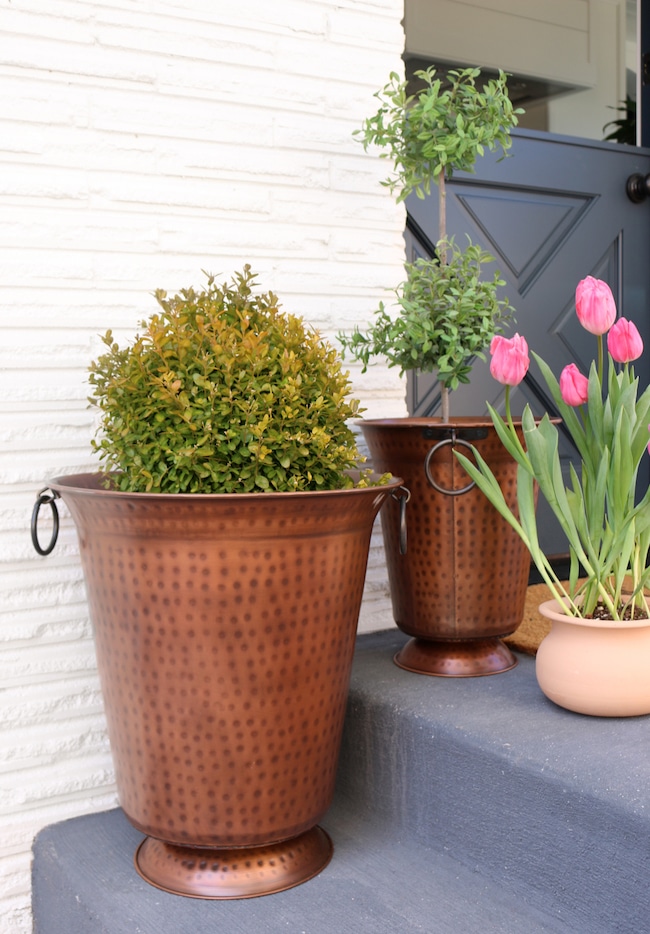 Birch Lane offers long-lasting, high quality items that are well-priced, so I'm always impressed by their products. I have several pieces in my home and they have held up beautifully!
Birch Lane makes it easy to shop online and they offer free shipping on orders over $49, so you can get all the accessories you need to be ready to up your outdoor space. You can shop from items you saw in today's post via the links below.
Sources: (update 2021 many of these are sold out but click HERE fo the latest products from Birch Lane!)
Table (similar)
Seagrass Cocktail Napkin Caddy
Seagrass Flatware Basket with Handles
Galvanized Planters (similar)
Faux Mini Plant Pots (set of 8)
Be sure to check out more of Birch Lane's wonderful outdoor options here!
Other sources from our porch and home can be found here.
Now that you had a peek at what I've been up to in this part of my home, you're invited to visit two other bloggers who joined me this week in sharing their tips for outdoor spaces with Birch Lane!
These ladies are so talented at creating swoon-worthy outdoor spaces, so be sure to pay a visit to both Dear Lillie and French Country Cottage. You'll be inspired!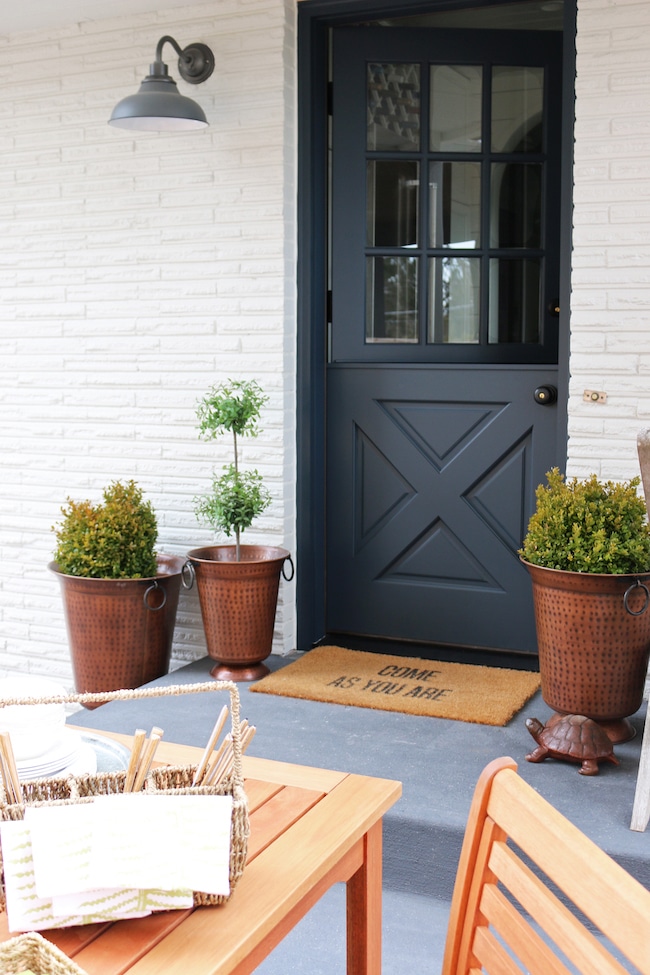 I can't wait to show you more of this space. I have a few more updates to show you in future posts (like the new concrete patio, brand new fence and the double gate to our backyard!). Of course we also have a list of projects we hope to get to this year (installing the porch railings and a front gate, potting plants and hanging string lights for a lovely courtyard ambience in the evenings!), so stay tuned this spring and summer for more developments!
What outdoor areas are you hoping to work on this season?
PS. I'm over on Birch Lane's Instagram sharing tips today, I'd love if you came to say hi!