Hey there! It has been awhile since I've done an official progress report on our dining room. I've shown bits and pieces as things developed, but I've been wanting to catch up in one post with all that has changed in here since we moved in. So, today's the day.
We still have quite a few more ideas for future updates, but I am so happy we've made enough progress that we feel so much more comfortable in this room now. So let's take a look back at where we started and see what we've done so far, shall we?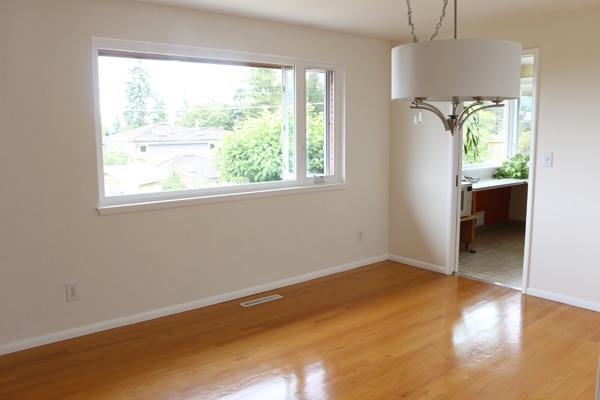 While this room had lots of great light and a view at the window, the room itself did not particularly speak to me as it was :). The window and light were off center, the doorway to the kitchen (before the kitchen was remodeled) was just kind of small and uneventful. The floors were pretty orange and shiny from some sort of new finish coating. They've actually started to mellow out a bit since then, but we are still probably going to refinish the floors at some point.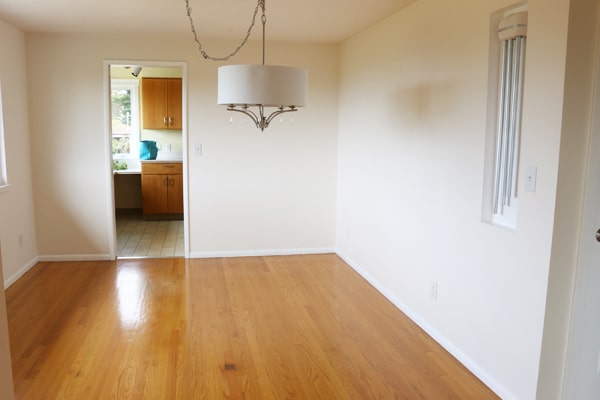 We decided since it isn't a large or grand formal dining room (and not a grand house), we might as well embrace it for what it is and work on a cozier breakfast room vibe.
While we still plan to add larger baseboard moldings, we already installed a planked wood wall on the right side of the room. We wanted to bring a little more architectural interest to that wall and to cover up the doorbell we weren't going to use.
The whole room is painted a fresh white (Simply White by Benjamin Moore). We sampled all sorts of other colors and neutrals just in case something else felt right, but nothing looked as good as Simply White with our architecture or natural lighting.
Since our table didn't fit comfortably in the center (it made it feel too crowded all the way around and didn't leave any walking path), we decided to pull the table under the window to give it more of a "banquette" layout. We were really drawn to want to sit there, so we just knew it would feel like a bright and inviting place to eat!
For a "banquette" we found the perfect pinstriped upholstered dining bench from Ballard Designs. It was exactly the right height to fit under the window sill and long enough to seat several people. It's firm so you don't feel like you can't sit up straight at the table, but soft enough to be super comfy.
It's called the Bristol Bench (ours is 72 inches long). There are lots of wonderful fabric options to choose from; we fell in love with the Navy Vintage Ticking Stripe.
Good Housekeeping Woven Wood Shades in Bali Abaca (find discount code at end of post!)
We installed cordless and lined woven shades for those super bright afternoons. The shades are not fully raised in these photos, so you can see what they look like when they are partially down. We lower them often to cut down on some of the glare, but when the shades are totally up they don't cover any of the window at all. We left them all the way up most of the winter!
We hung the blinds directly on the wall (outside mount) above the window, the shades have a great bracket system that made it really easy to install and also makes them really sturdy. (You'll find a discount code for SelectBlinds window coverings at this end of this post!)
The shades offer great texture and along with a long black rod and our funky Anthro barn owl curtain panels, they add personality and cozy up the dining space. Not only can curtain panels make a less than stellar window feel more substantial and complete, but it's easy to change your mind and switch out panels anytime you want a different look or even remove them entirely.
We really had to stick to a small budget for this room, so we are mixing and matching furniture we already had with our new bench. We've had our table forever (it holds a lot of family memories!). While it's a bit old and rickety and we may replace it someday, it still works well for our family. We actually love the oval shape and size and the ability to add or remove leaves.
You might remember our rattan chairs from old dining room. Not only do we still love the chairs, but we decided the low backs are nice on that side of the table.
The vintage cane end chairs actually belong to my daughter (they are on loan, ha!). We originally thought we'd use our parsons chairs in this room, but they are happily residing downstairs instead for now.
The other new addition to the room was our ombre beaded light fixture, I love the color and the coastal/island twist it brings to the room. To save money on rewiring the location of the light (and to keep it flexible) we decided to just hang a hook in the ceiling and loop it over. We like that casual look, anyway!
Striped pillows
With the banquette bench holding down one side of the room, our buffet cabinet adds weight to the planked wall side. Right now we have a seagrass rug in this room to ground the space and help pull together the seating area.
Last, but not least, the arched doorway! So many of you offered advice when we were trying to decide what to do with our dining room and the kitchen doorway. While I wasn't sure what you guys would think of the idea of rounding the doorway into an arch, the overwhelming consensus was to go for it! And we did!
We didn't have enough room in the kitchen remodel to make the opening bigger or to remove the wall entirely, but the soft curve changed everything both from the kitchen side and the dining room side! We didn't install any trim around the door on the dining room side to keep it simple and similar to other openings in our home.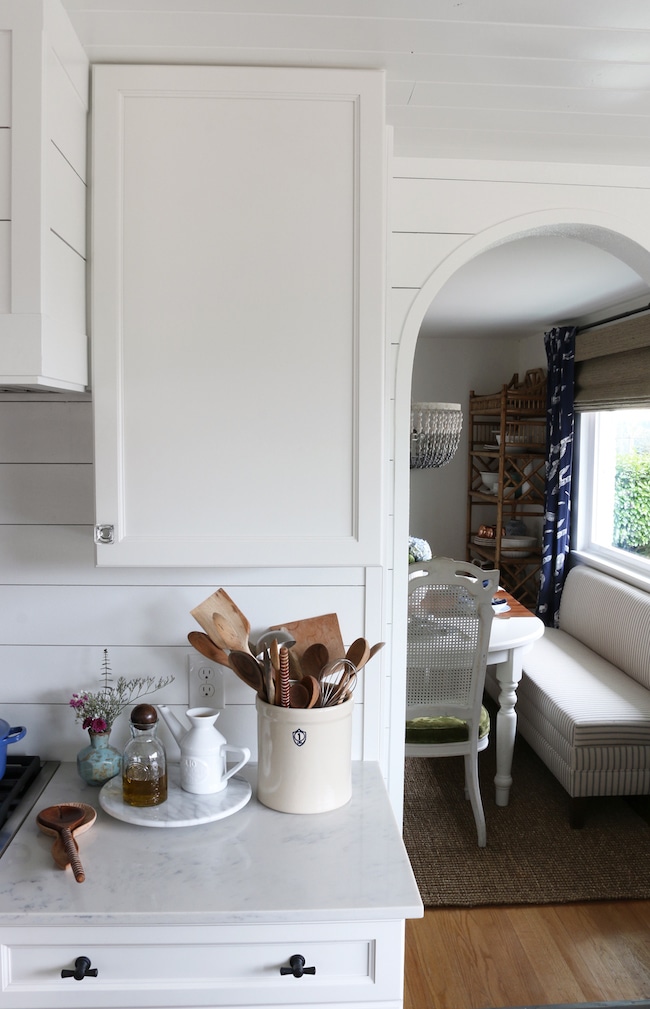 Kitchen Tour with sources
I love the personality the rounded doorway brings to the dining room and it is a really nice addition to the house overall. There is a second rounded doorway in the kitchen, so it's fun to see the repetition!
All in all, we feel like for such simple changes it's come a long way!
I know we'll do more, but it's great to feel like we can call it "done," at least for now (however long this phase of "finished" lasts, ha!).
Do you tend to decorate in phases over time? My house is always evolving, but I do love when a room finally feels "done enough" to call it finished, even though I know it really isn't :). 
Room sources:
Bristol Bench from Ballard Designs (Navy Vintage Ticking Stripe) – many fabric options and size options
Blue and white dishes – Ballard Designs Bunny Williams Campbell House Dinnerware Collection
Light Fixture or this similar one (multiple sizes)
Glass door cabinet in antique taupe
Rattan chairs (out of stock) or these similar ones
Gray and white stripe pillow covers
Rattan shelf – flea market find
Wall color: Simply White Benjamin Moore
Woven Shades: SelectBlinds (Bali Abaca). To order any window coverings from Select Blinds, be sure you use my special link HERE to ensure you'll always get the best price available. If you use my link when you order and my discount code INSP1RE5 you'll receive an additional 5% off the very best price offered anywhere!