I am pleased to say that I absolutely love my dining room layout and vision now! So, I am moving forward with a plan to make this room come together. This post will offer you some inspiration for dining chairs in similar styles to new chairs I ordered, which I will talk about in a minute.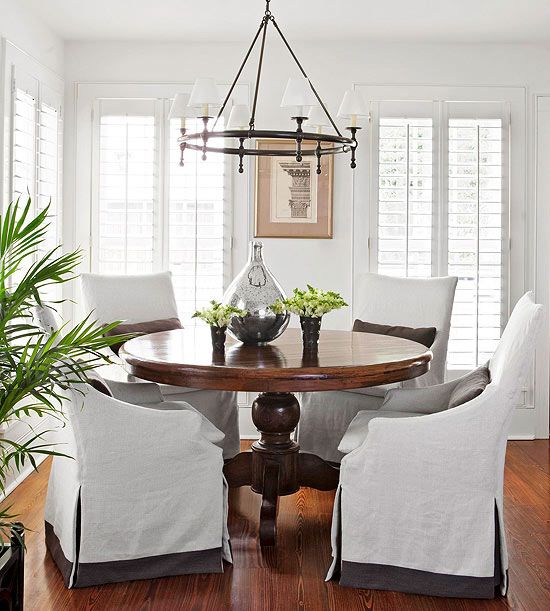 BHG
I am SO glad we pulled our furniture around and set it up this way so we could live with it for awhile. I think the buffet cabinet on the wall really helped solidify the arrangement, too. The "breakfast room vibe" is definitely a winner! We already feel so drawn to this space already and can't help but want to sit at the table to soak in some vitamin D.
In case you are wondering about what we decided for the doorway, at this point I'm planning to leave the walls where they are but still open up this room a bit more to the kitchen with a slightly wider but arched doorway. More updates and details to come soon on the kitchen plans…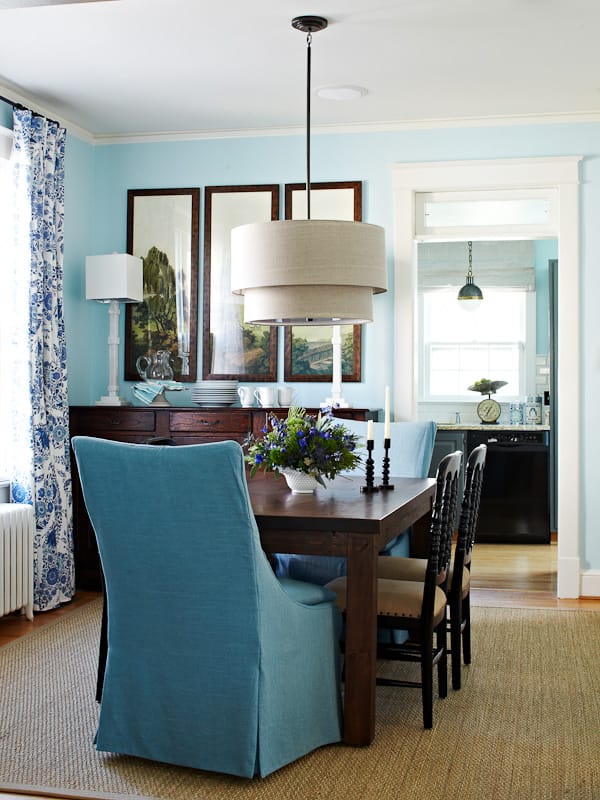 Lauren Liess
My plan is to use three chairs around the round table and then have a longer bench under the window. We would keep the table pulled up to the bench so it could act as the fourth seat (although the bench would actually hold two or three people for when we add the leaves to make the table oval.)
Happily, I discovered we already have a bench that is likely to work, at least for the time being, so it looks like I just saved myself from having to buy a new one or building one in by shopping in my own garage (but you can see my round up of banquettes here). :) Sometimes it pays to hold onto things, right? Someday we may do something different but it is SO nice to not have to spend more money than necessary right off the bat.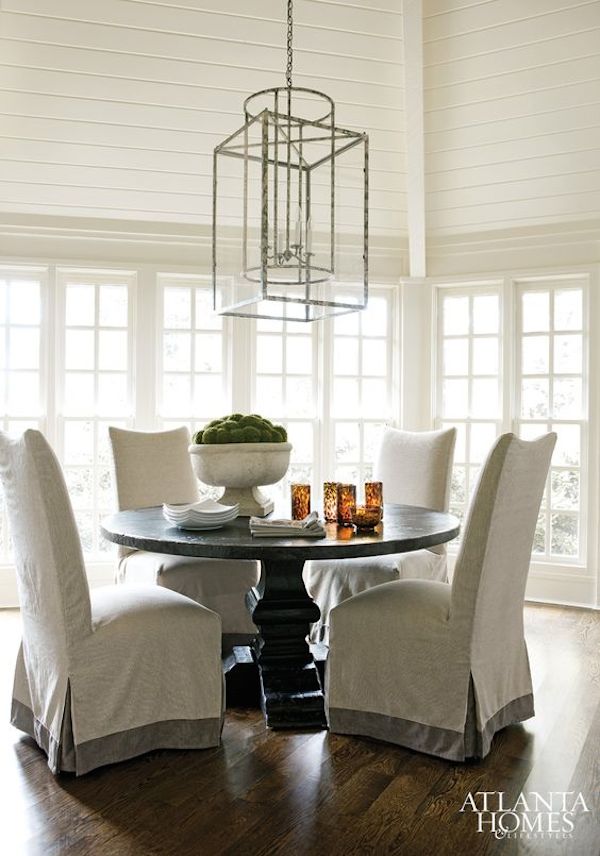 Atlanta Homes
We will also be using our same old table (the one we have had forever) for now. It still works for us so we can save some money there as well.
We are just about to get the living and dining rooms painted so we can have a refreshed backdrop. The existing paint on the walls is too creamy, like vanilla ice cream (yum!), and the ceiling paint is kind of blush pink (swine rosé?). We tried several new samples just in case we might get inspired by a different hue, but in the end we decided to paint the ceilings and walls the same fresh Swan White of our entry. New paint will make the entire space feel clean and fresh and with such great light streaming in the windows, we want to keep the backdrop pretty simple to keep the focus on the view.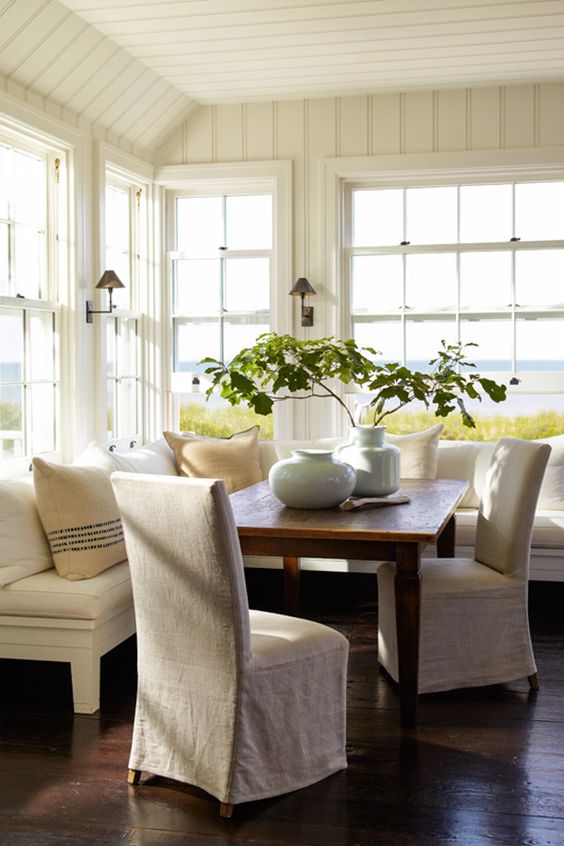 Residence in Wainscott by Sawyer Berson
But now, back to the chairs! :)
We still really like our metal cafe chairs (we got ours at World Market) but this room is a pass through and not very big so those chairs take up too much room since we can't push them under the table. Also, since we will be spending a lot of time in this room beyond just breakfast and dinner time, we thought it would be fun to get some extra comfy chairs. We will save the metal chairs stacked elsewhere for extra seating when we expand the table. We will use our two wicker chairs elsewhere as well.
I knew I wanted really simple, matching understated classic chairs in this room. Modern chairs can really update a look, but I really didn't want three trendy chairs. We already have a lot of wicker and bamboo in our house so I ruled those options out as well. No chairs seemed just right until I thought about Parsons chairs with tailored but casual linen slipcovers. I think they kind of throw a relaxed but still modern French country vibe into the mix, which I love. Plus they will soften the room!
Restoration Hardware Parsons Chair (not sponsored)
I scoured stores and online for just the right look. So many of the slipcover styles were just not right or even felt a little too dated for the look I was going for. I didn't want a overly cottagey vibe or too much of a pleated slip. I wanted the linen to be the right color and good quality and the slip to be relaxed but tailored. Picky much? Yes. After scrutinizing every Parsons chair and all the slipcovers I could find, the Restoration Hudson Slipcovered Side Chairs in Belgian Linen Sand won me over.
There are so many great options for Parsons chairs out there. To test a couple out, I actually went to the store and sat in my top two choices, the RH and the Crate and Barrel versions. Both were great, but RH won because I loved the look, weight and quality of their slipcovers as well as the comfort of their chairs (the backs of the RH chairs have a gentle slope which felt very comfortable on my back and the seat height was even comfortable for my short legs!). But I liked the look of both, as well as several others I found online. I really loved the style with the sloped arms, too, but we needed them to easily slide under our table so didn't think those were ideal for us.
HGTV Dream Home 2015
Below are six of the chairs we were checking out (all great options!), and #2 is the chair we ordered. Many of these come in different fabric options as well! You can click the numbers below for more information about each chair.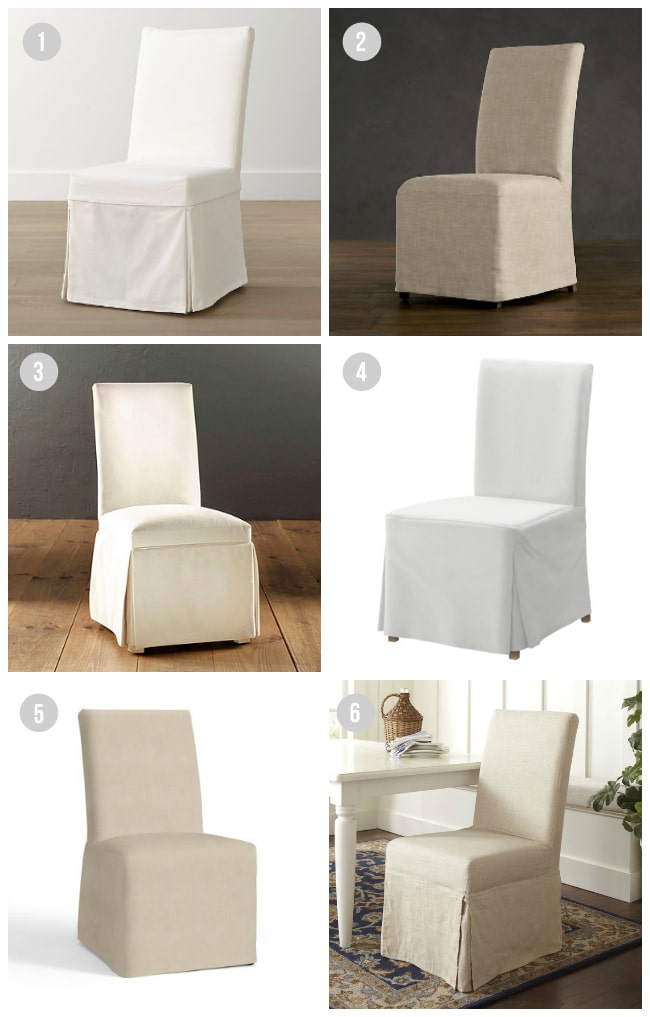 Parsons Slipcovered Chair Sources: 1 // 2 // 3 // 4 // 5 // 6
One other fun update will bring the whole look of the dining room together. I also ordered a new light fixture that has so much personality but will set the same understated, classy but casual look I'm going for. I am head over heels in love with it and can't wait to show you, but you'll have to wait to see it once we install it in the room :).
Now we just have to get these rooms painted, order our blinds (details to come) and await our new chairs and light fixture! We've been saying we are just on the PRECIPICE now of having our living and dining rooms finally pulled together to where we feel really happy with them, it won't be long now!