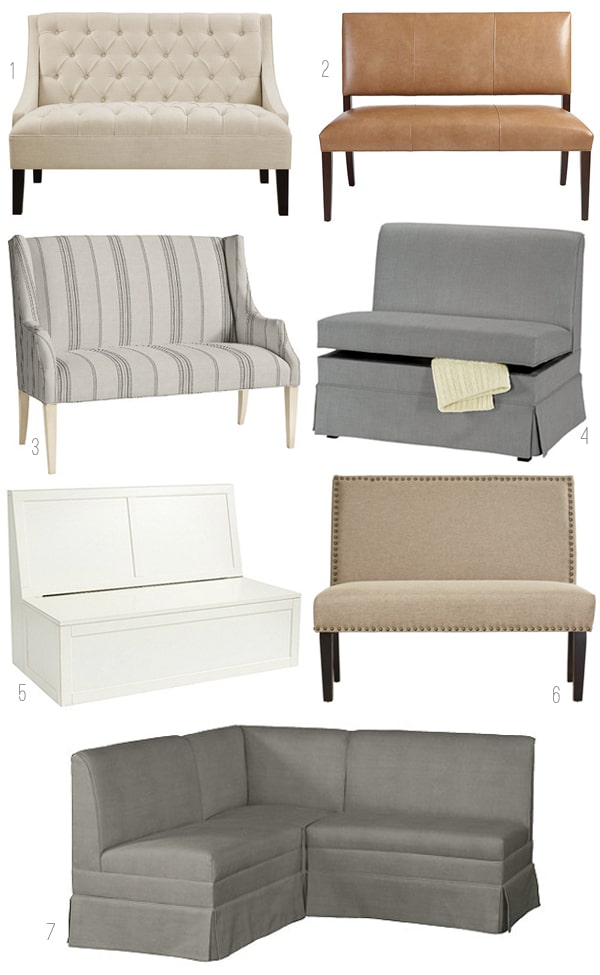 1 // 2 // 3 // 4 // 5 // 6 // 7
I've been looking around for a charming free-standing bench, sofa or banquette to fit under the window next to my dining room table. In my dreams I will find the perfect piece so I could have it delivered to my house this week. Once I get a 'bee in my bonnet' I get kind of impatient, ha!
The reality might be that it will have to be custom to fit just right under the window and at the table, but I'm holding out hope that I'll find one that is less fuss and ready to go. The sofas, benches or settees I've tried with tables in the past usually have too low of a seat height, or the back of the settee/sofa is too angled to fit snuggly against a wall. It isn't always easy to find just the right thing.
We did find a few great options online to share today, even if they don't work for us, because I know some of you might be looking for something similar now or down the road! Many of these particular choices come in different colors and even different sizes, which is nice. And…#4 and #5 are have storage underneath the bench!
Happy Monday!
More Inspiration:
See the "before" of my dining/breakfast room here