Give me all the flickering candles and a cozy ambience right now! It's been a crazy year and I don't know about you, but I need all the mood boosters I can get. :)
Awhile back I added some metal candle sconces to my fireplace wall (as well as a couple of other areas of my home). I use them every single day now that it's dark mid-afternoon : (. We enjoy the candles so much that I decided to add a unique set in my dining room, too!
Originally I had thought about installing wired in sconces, but once I spotted these darling star candle holders, I couldn't resist. They are PERFECT! So charming, affordable and very easy to hang.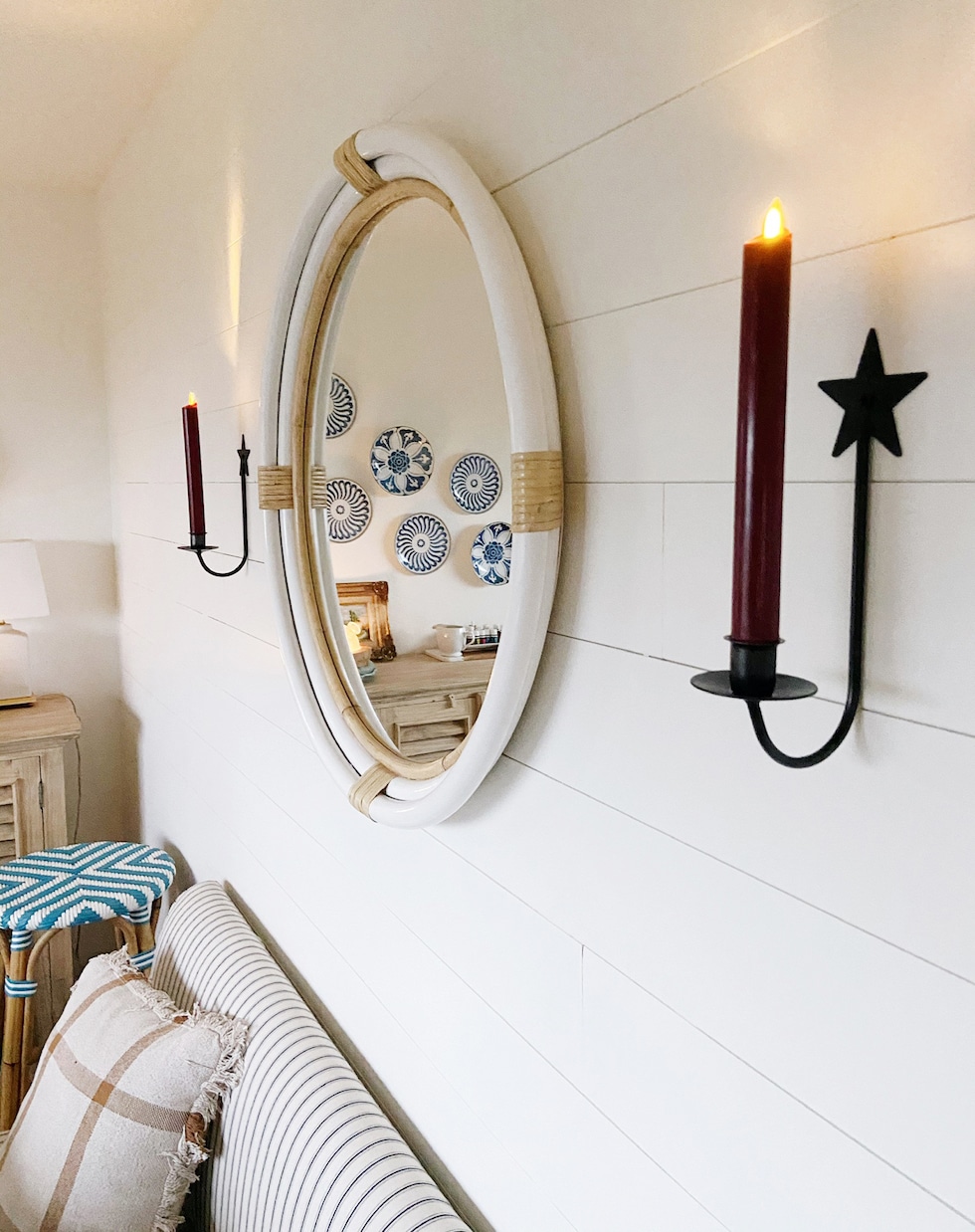 I'm obsessed with flickering candlelight this time of year. For health and safety reasons, we use battery operated candles (and when we want a scent, we use essential oils rather than synthetic fragrances). I found what I've determined are my absolute favorite taper candles. I love them because of the realistic way the flame flickers and they operate with a remote control. Right now I have red candles in the sconces, but they are not a bright or glaring red. I also bought a set of black and ivory taper candles so I have options around the house.
Every evening (and any time on a dark day!) I go around the house turning on our lights and candles. The mood is so cozy, comforting and romantic!
What's something you're doing to make your house cozy this time of year?
PS…Have you always wanted wall sconces, but don't have electrical outlets or wiring for them? Do you hate the look of a lamp cord running across a counter or dangling off of furniture or running down the wall? Same! I have a clever solution to share with you HERE.
The Light-Changing Magic of Rechargeable Bulbs for Sconces + Lamps!

Similar candle sconces (scroll and click thumbnails below):

---
Similar dining sources (scroll and click thumbnails below):

My red battery-operated taper candles
Related Posts:
I shared details about our plates hanging on the wall here.
See my candle sconces in the living room here.
The Light-Changing Magic of Rechargeable Bulbs for Sconces + Lamps!
I also used battery lights above our hallway cabinet makeover, see that here!
Changing a square door to an arch: before and afters
Click here for all posts about my dining room