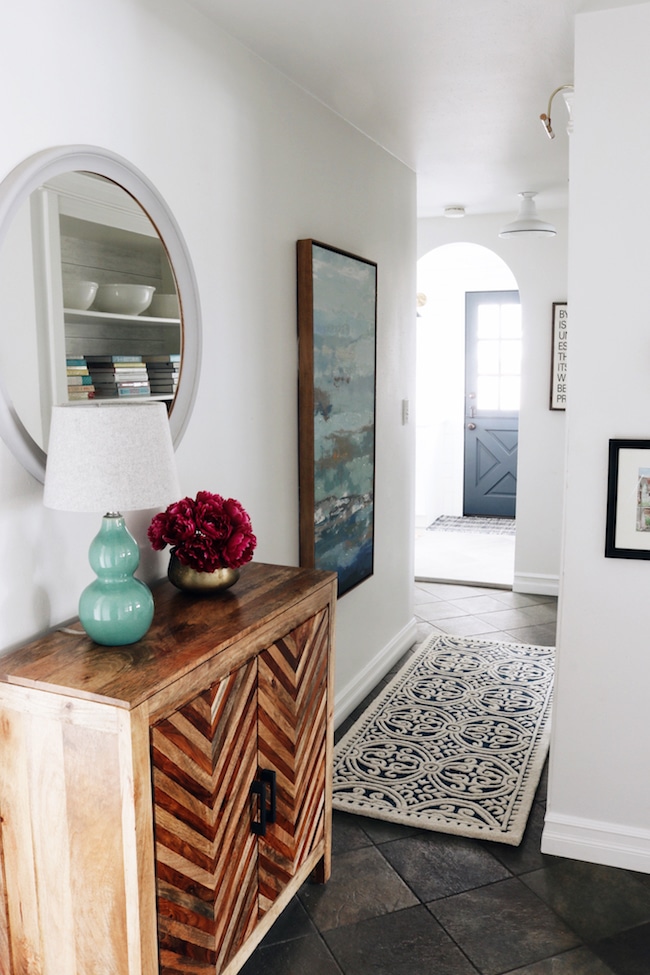 I love to find manageable and affordable ways to add more character to a space. This past weekend we made two more new fun changes to our little hallway that I think took it to a whole new level of charm!
This built-in cabinet is in a small but well-used area between our kitchen, bedrooms and other rooms of our home. Kind of like a butler's pantry…if you want to pretend with me that it is a little fancier than a regular hall. ;-)
When we moved in three and a half years ago, we had all kinds of grand (and expensive) ideas for how we could update this hall! But over time we've found that making progress in the simplest ways has actually had a big impact on how this space feels.
Besides the previous updates such as fresh paint on the walls and cabinet, removing the sliding cabinet doors and new black hardware, this past weekend we added two battery operated library-style wall sconces and some peel and stick paper to add the feel of wall planks to the back of the open shelving in the cabinet.
Both items were SO simple to install, I'm so happy with how it all came together!
I've been looking at library-style wall lights for a long time, but they are usually far more expensive than I want to spend.
I happened to run across these little battery-operated lights and did a double take at the price (around $30????!!) and then rushed to place them in my cart.
Bonus, the lights are DIMMABLE so they truly help create a mood.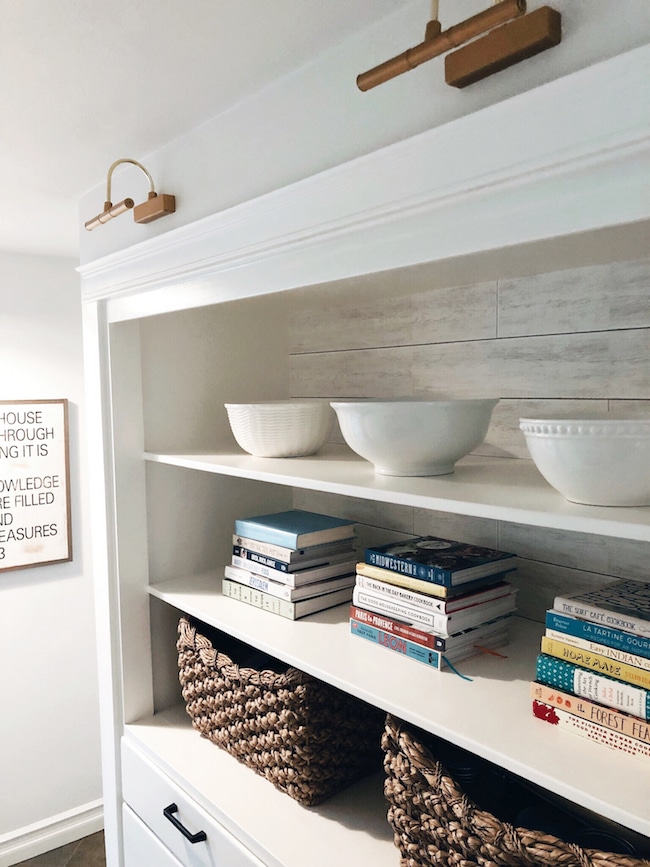 Similar Baskets / Proverbs Wood Quote Sign
When I opened the newly delivered box to take a look, I questioned them. I didn't love the not-brass finish or size, but decided that for this purpose and price, they were worth a try!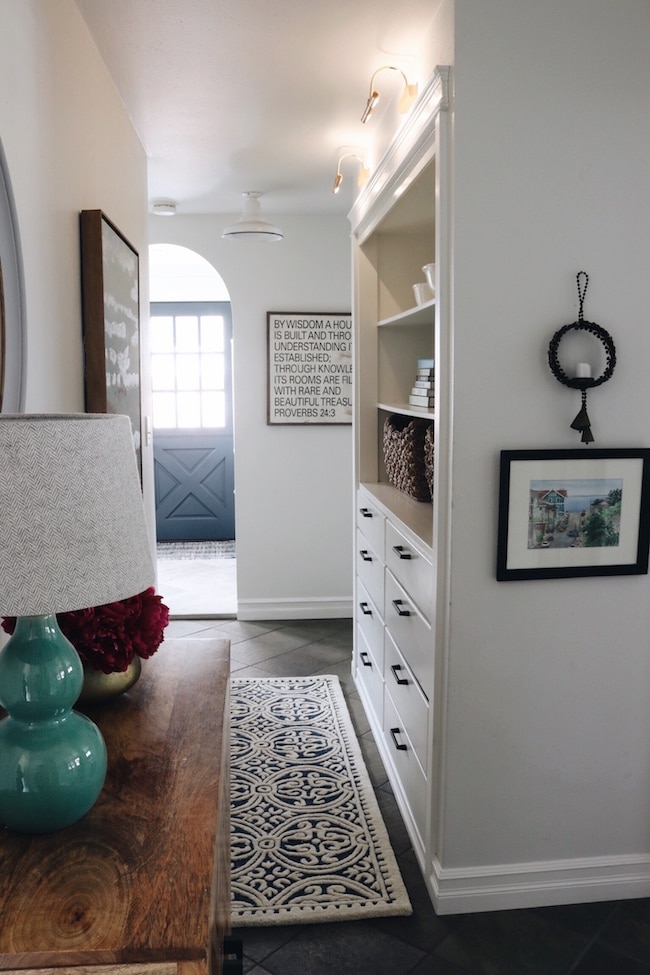 The lights were easy to install (just like hanging a picture). Once we hung them, they created just the overall mood I was hoping for! It's easy to get stalled or become too fixated on "one element" you aren't sure of right away. What really matters is the overall look or mood of the space. Give changes a try and then step back to look! You just might be surprised how good it might look as a whole.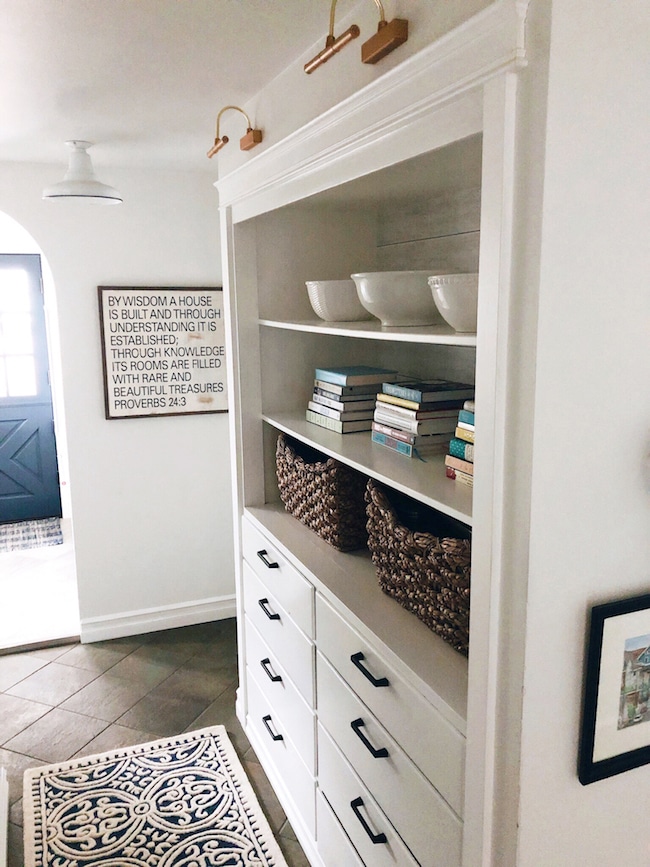 The same thing happened with the peel and stick wallpaper. I just wasn't sure if it was what I wanted! But since it was a low-risk update, it was worth trying. Once it was up, it just felt right. But both of these elements would be super easy to remove if we ever decided to make another change, too, so we could enjoy getting creative without a lifetime commitment or major expense!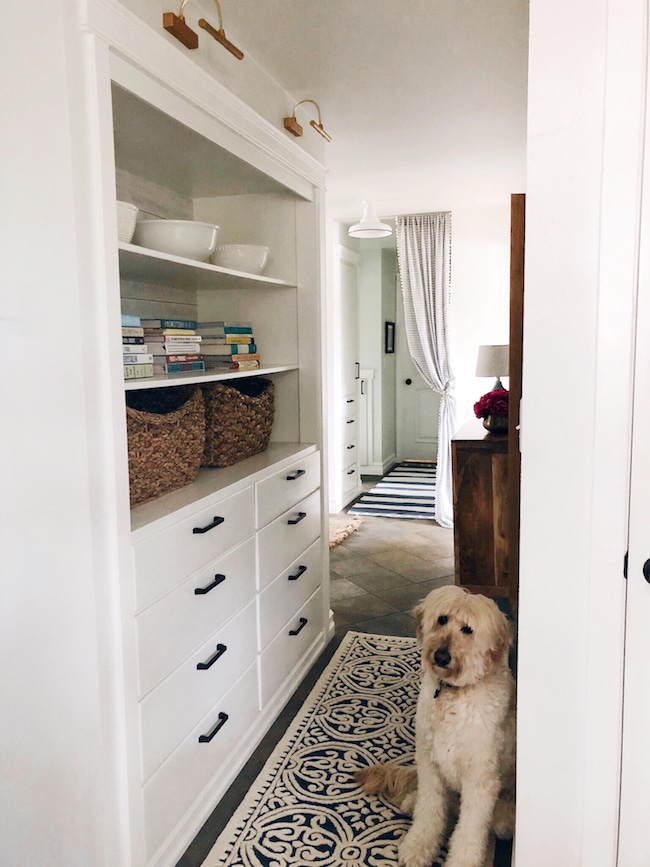 For awhile we used this cabinet as a "catch all" space and it worked great with baskets on all the shelves, but now I'm loving the open functional shelves for my cookbook collection and plenty of space for large bowls.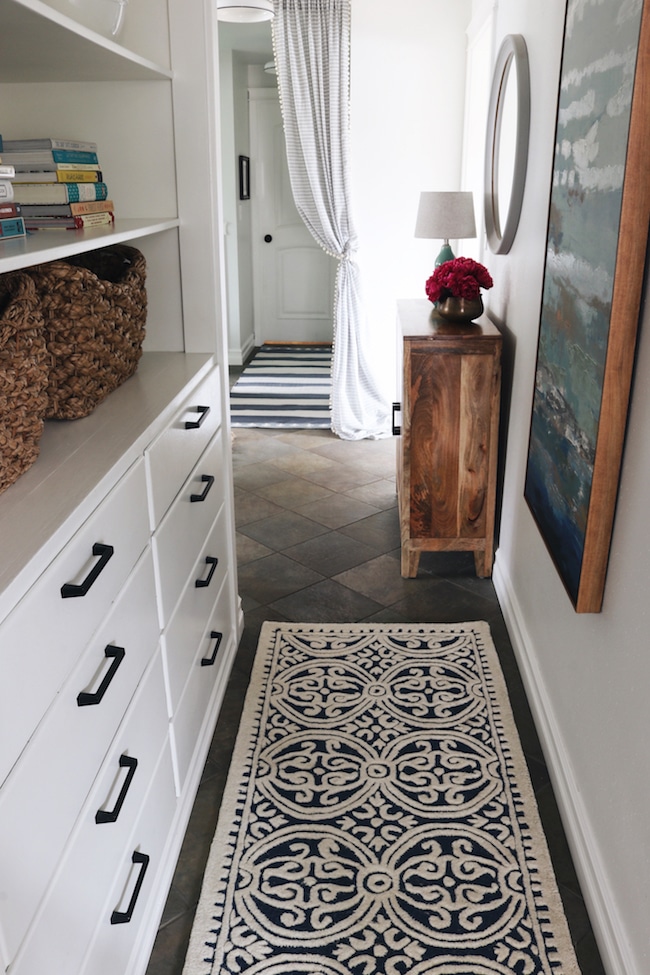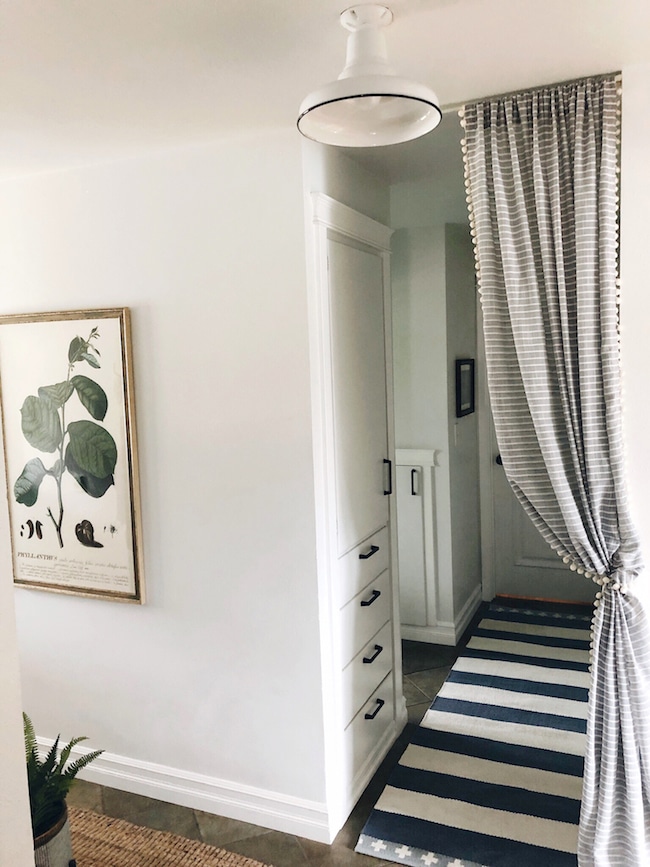 This hall has become a very happy place in our home!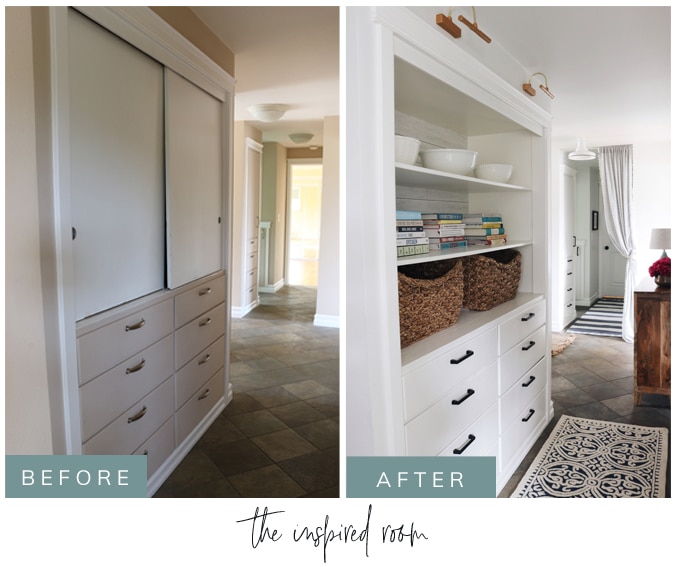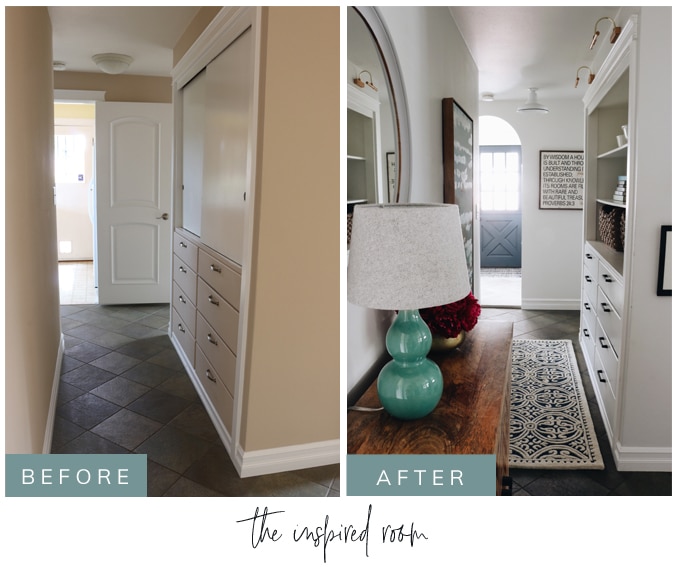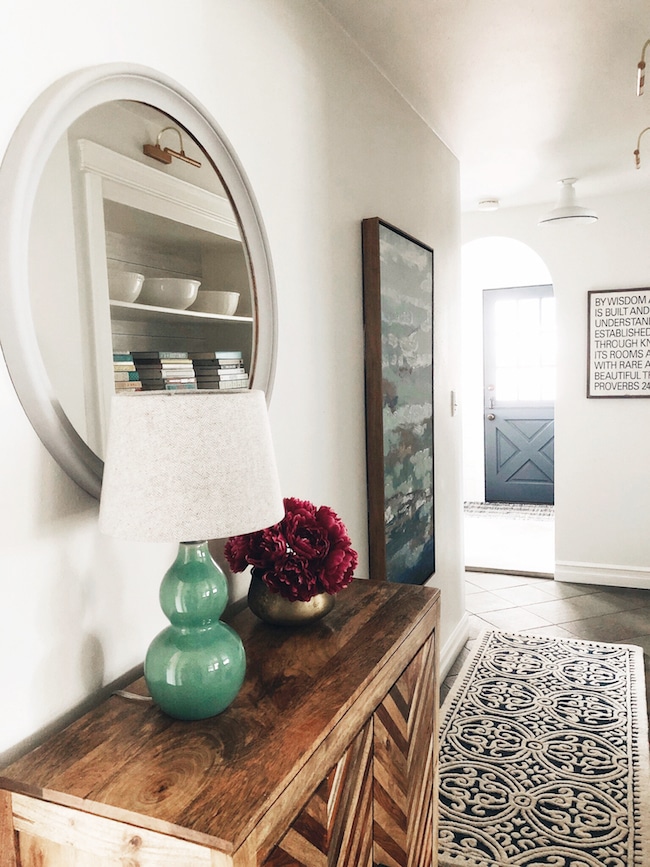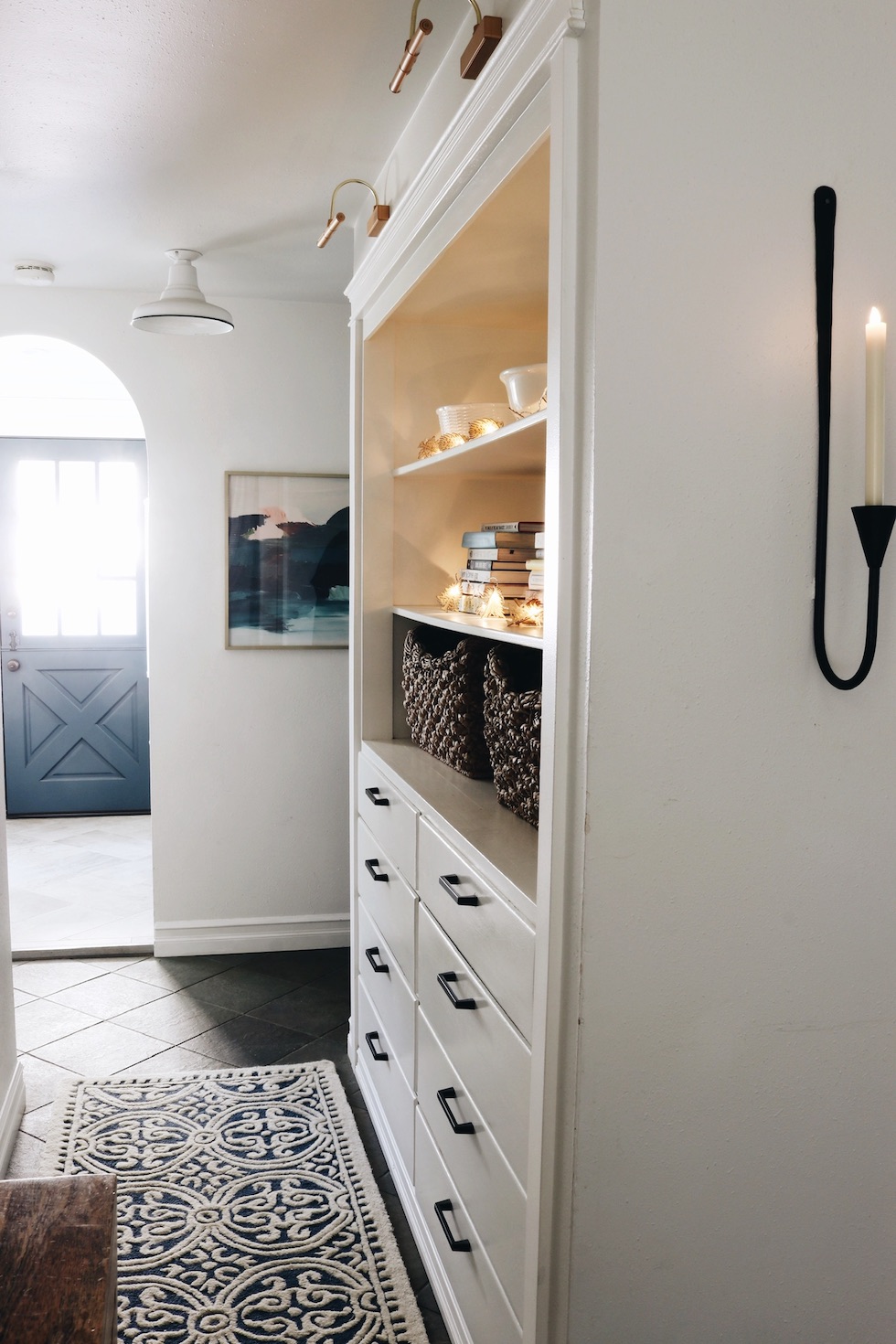 Update 2020: Click HERE for updated hallway details!

Sources:
*The dimmable battery-operated library lights. (the ones I linked may not be the exact as mine–but very similar if not!)
*The plank removable wallpaper.
*The blue and white circle runner rug.
The navy and white striped rug with Swiss cross trim – my rug design for Dash & Albert.
The gray striped curtain with pom-poms.
The botanical art (similar).
The black hardware.
The entry cabinet (similar).
The teal entry lamp.
The curtain divider (gray striped with pom-poms). (see the post about it here).
The white barn light ceiling fixtures.
The blue painting.
The faux peonies and brass container.
The Proverbs verse artwork.
Similar baskets in cabinet.
The Dutch Door.
Paint colors in my home.
My house tour.
Shop my home sources and latest decor finds.

* these three items were provided in exchange for a sponsored Instagram post and story.