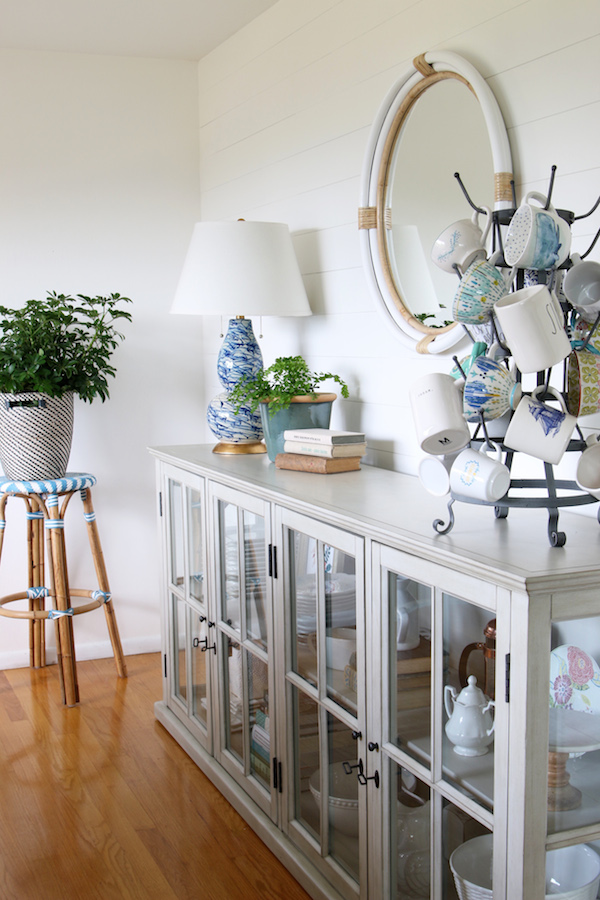 It's no secret, I love shiplap walls. I have for a very, very long time. I decided it might be helpful to write a post specifically about this shiplap and my previous experiences with this type of wall. I will offer the answers to questions many of you had.
I am so happy with our wall. It has made quite an impact already on our home! It isn't the first time we've used paneled walls, as I mentioned, so I can tell you more about it from our experience in our past homes, too.
I'm not a DIY'er so this isn't an actual step-by-step tutorial or comprehensive guide, but I can answer some FAQ and offer tips about what we've used and where. You'll also find some photos of our walls and the material we selected for each project.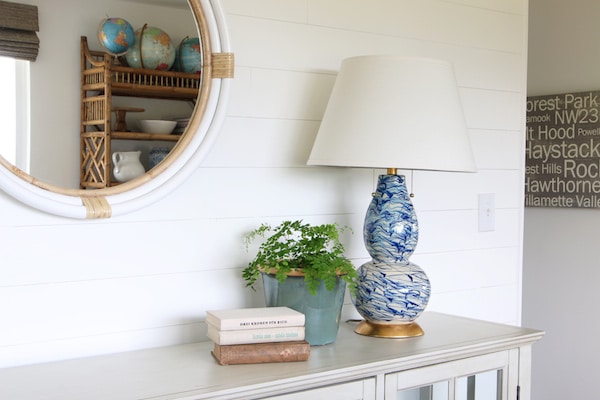 Let's talk about shiplap walls!
You might think Joanna Gaines invented horizontal shiplap from the fanfare it gets thanks to HGTV's popular show Fixer Upper. As talented as she is, she didn't invent shiplap. It was originally a material under old plaster walls and used as siding on barns and buildings and has been used decoratively for years.
It can be an effective architectural feature in homes of any age and style, so it's really a versatile look for the farmhouse fans to those designing more modern spaces. It can work just about anywhere! For those of you who aren't sure about white walls, you can of course paint it any color you want.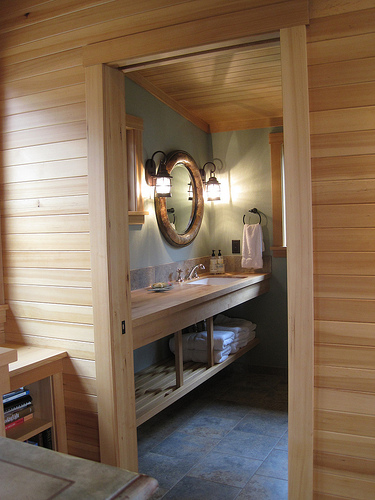 Our beach house walls were shiplap, but a beautiful unpainted natural wood. This shiplap was installed by my parents, maybe in 2007 or before.
While shiplap is actually a specific type of material, I feel like everyone calls any type of planked walls shiplap these days. We'll use that term in this post since it's so popular. But don't let the popularity of it scare you off. Planked wood walls predate Fixer Upper and I don't think it will likely go away after Fixer Upper airs its last show. If it worries you, keep it classic by using quality wood and installation methods, or just use it on a wall or two and you can change it down the road if you feel the need.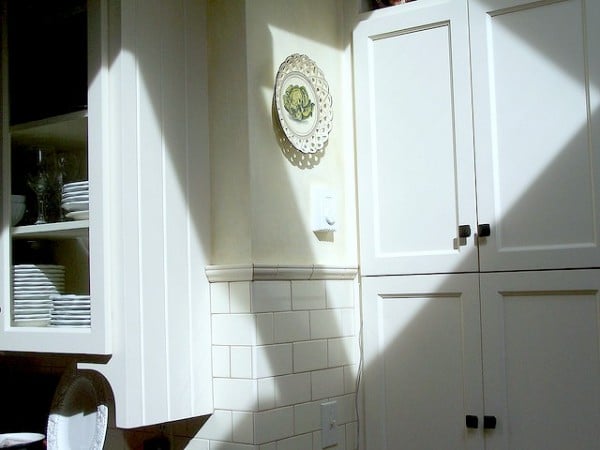 Where and when can you use planked molding?
We installed vertical tongue and groove planking on the backs of our open shelves and the sides of cabinets in our 1930s Tudor. We selected a style that matched some original woodwork. The remodel was pre-blogging so maybe 11 years ago? Excuse my early blogging photo, above, but at least you can see a snippet of it! In the 1920's house we owned before that (in the 1990s) we had planks put on the ceiling of a bathroom. Our 1920's living room in the house before that had original planked walls and ceilings!
Planked wood felt right in all eras and all the various ways we've used it.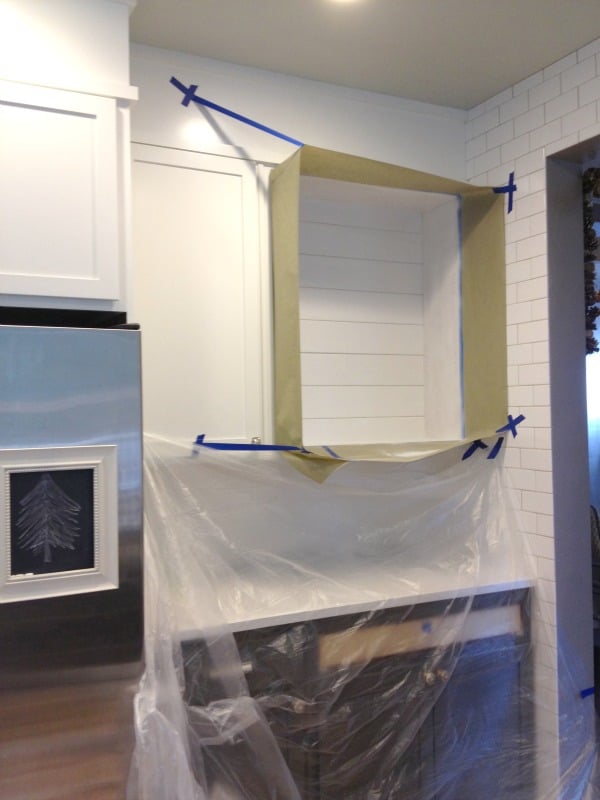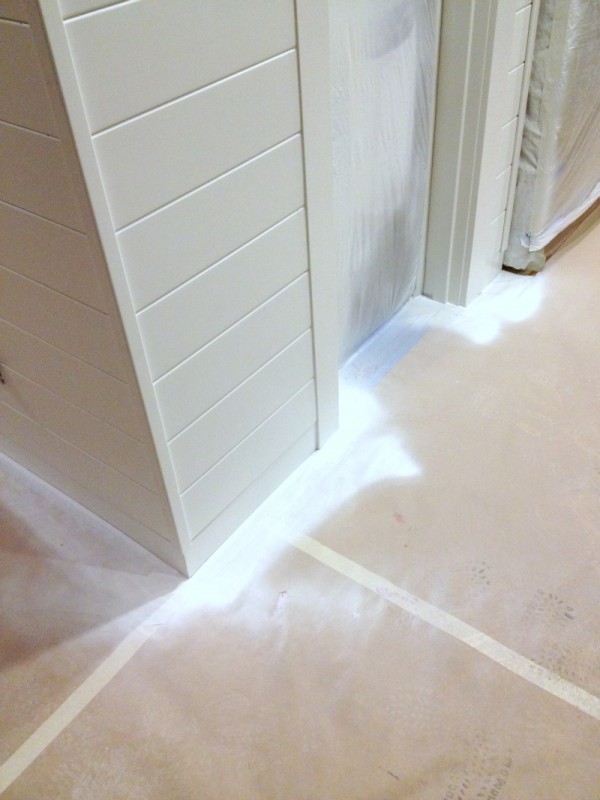 We installed the same pine tongue and groove planks horizontally both in the back of open cabinets and on the walls in our brand new Craftsman style house in 2012.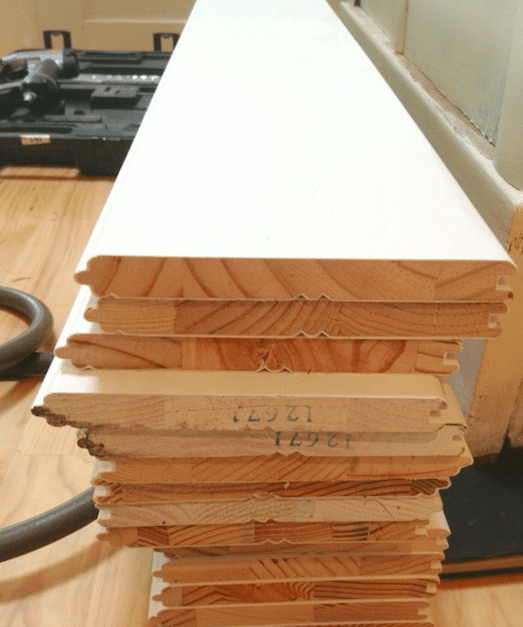 What wood to use for planked or shiplap walls
The planks in our previous house were thick and long pine boards bought from a lumberyard. You can see the actual pine tongue and groove boards we used, above. Do you see the two little notches on each board in the middle of the plank? If you install them with the two notches facing out, they have a "beadboard" groove and if you install them backwards from that they have a "V" notch in them rather than the beaded look. I like the "v" notch with tongue & groove.
The planks were installed both horizontally and some vertically throughout the main floor of that house. I really loved the chunkiness and the character of the real wood and the craftsmanship of the tongue and groove boards. But, that's not that material we chose in our next house! I'll tell you about what we used and why next.
Let's get back to talking about our new shiplap wall in our current 1950s dining room! Here we went with a different material, look and installation than we have used before.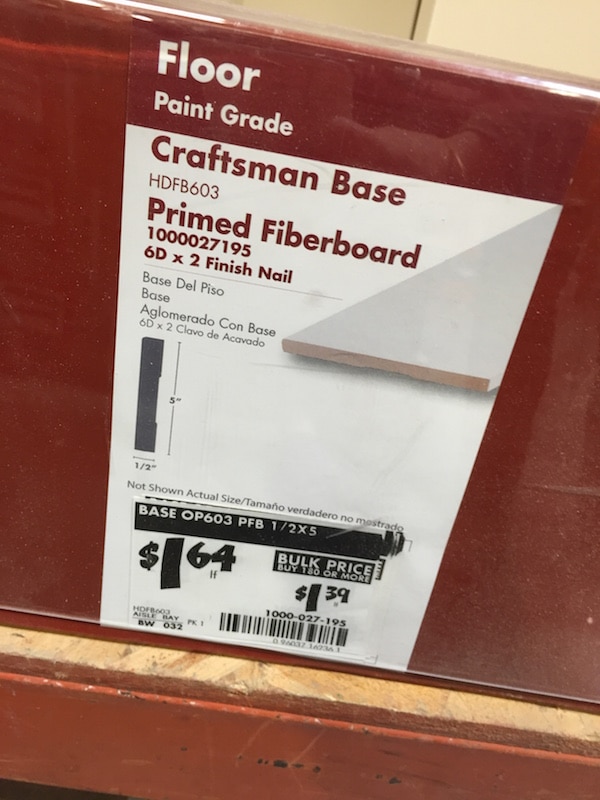 MDF baseboard molding for shiplap walls
We used a 5 inch (1/2 inch thick) MDF (medium density fiberboard) baseboard molding as our plank material. It's more affordable than wood, but really perfect for this type of installation. There might be even cheaper options, but this is already cut, primed, takes paint easily, and you can choose the right width for your job. It is also apparently easy to work with (or so I've heard, says me, the happy non-DIY'er).
I'm not sure if that is the EXACT board the contractor chose (above), but it's pretty close. That's the picture we sent to the contractor from Home Depot.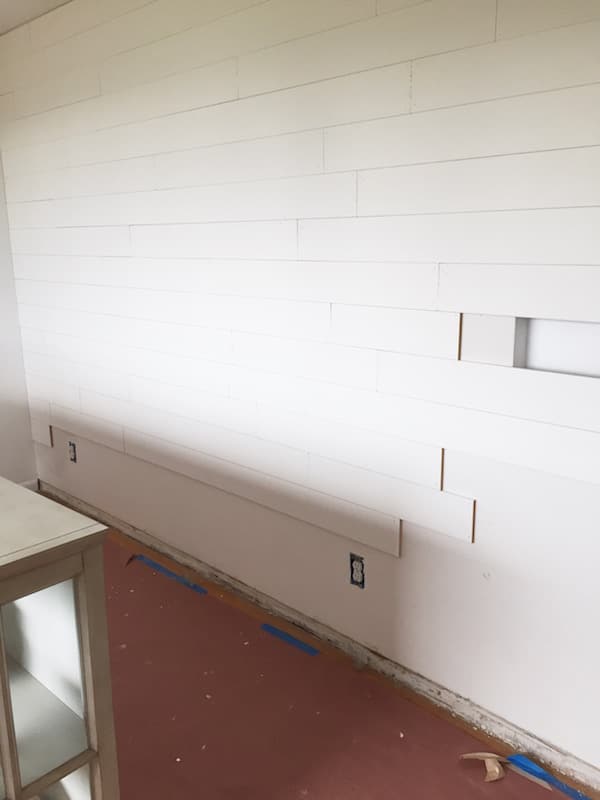 Plank Walls with Staggered Board Installation
Rather than using one long board the length of the wall, we used a more staggered random length design. It just felt more original and less modern to me for some reason in this house.
The boards were nailed (nail gun) and glued very close together (I don't believe the contractor used spacers at all) so the grooves between are less pronounced (nice for not accumulating dust, I suppose!). With a small room, a smaller groove feels more subtle overall in the space, so I like the effect.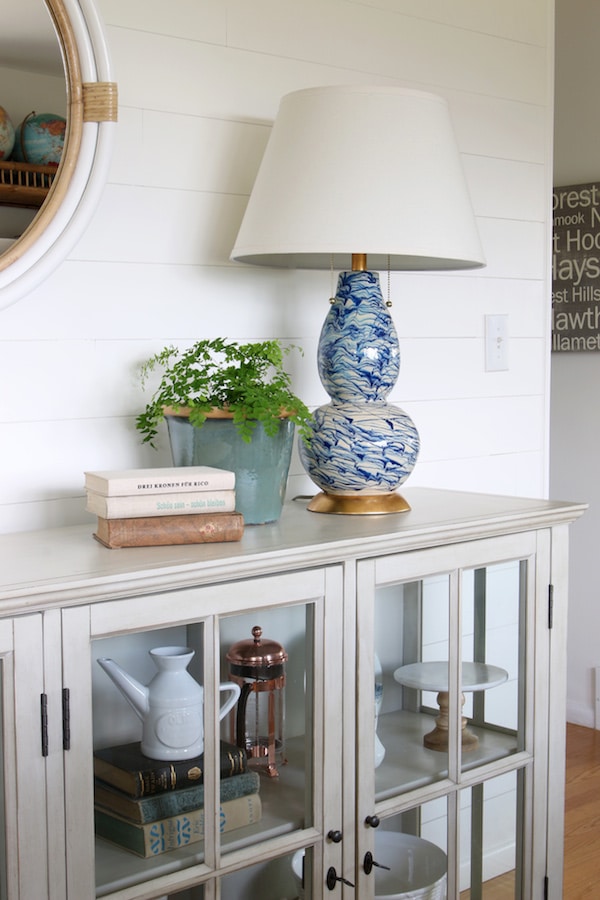 I also like that the wall feels in line with the vibe of an older house. I was really happy that the paint seeped between a few of the board grooves because that's just how old house paneling and trim looks. It's never perfect! Character makes it feel even more authentic to the age of the house, but it doesn't feel too rustic or out of place.

How to Finish the Edges of Shiplap Boards
How did we finish the edge of shiplap at the end of the wall?
I took a few pics so you could see what we used.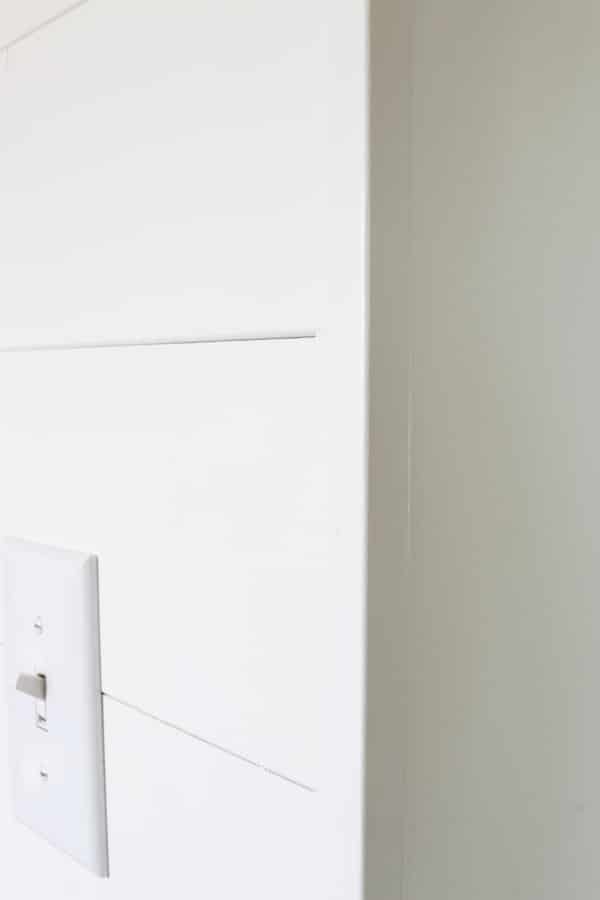 It's not super easy to see, but there's a small end cap corner piece that finishes it off and the caulking and paint makes it look really nice.
I really love when shiplap actually wraps around the corner, as ours did in our old kitchen (see the photo of the old kitchen shiplap above for the corner piece that connected the two shiplap walls). But for now our shiplap just ends with that one wall. It really looks fine that way in the room though because you don't focus in on it, especially if your wall color next to it is the same color like ours is.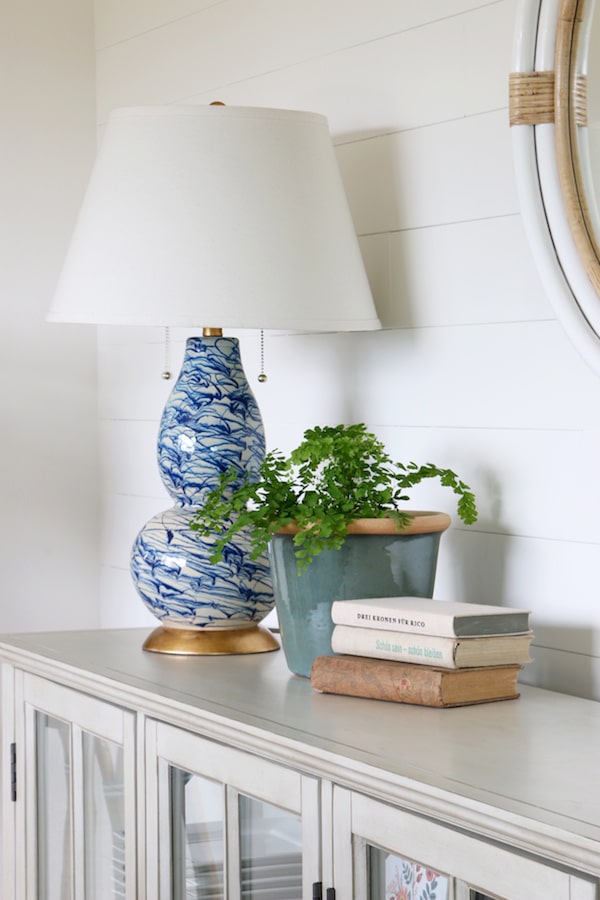 On the other side the planks just run right to the other wall. Caulking makes it feel like they just disappear into the wall, rather than as if they were applied on top of a wall.
What if you don't have crown molding or you have baseboards?
Shiplap walls laid horizontally work even when there isn't crown molding to finish it. The top board is installed right up against our ceiling and caulked (it was installed the same way in my old kitchen). If you installed the boards vertically you'll likely need a finishing trim of some sort at the ceiling.
Also, you might have noticed that our contractor removed the baseboard trim and reinstalled it over the planking. I think that looks really nice. We just left the baseboards in place in our old house so the planks overlapped a bit, which was fine too.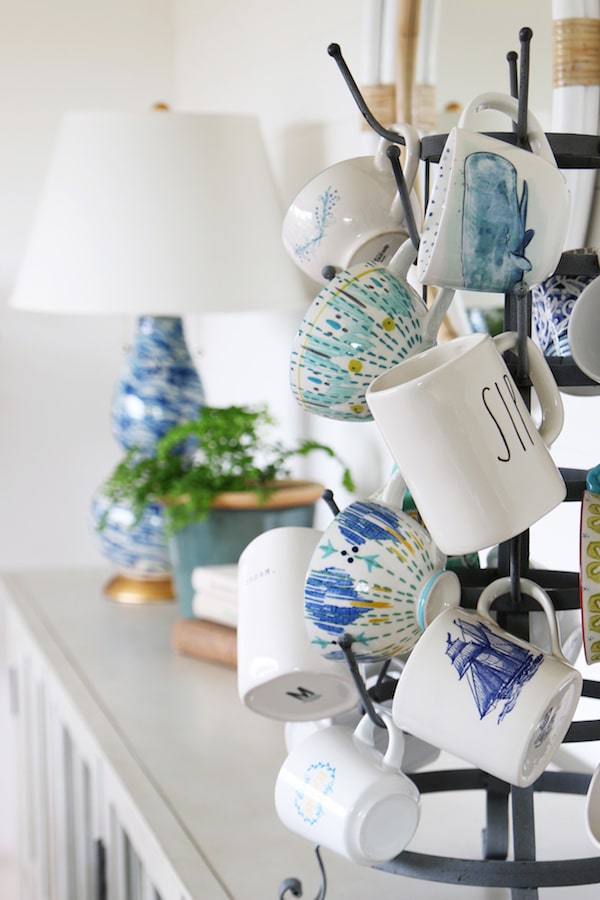 I switched the side my lamp was on in between photos to test it out, so pardon the mid-post switch haha! I was playing around with having just one lamp so I could put my mug rack on one side and couldn't decide which side I liked best. So, ignore me and my indecisiveness! :)
A few more random thoughts on installing shiplap
Planked walls give "weight" and architectural texture to a room. The planks can even fool the eye into thinking the wall is taller or wider or both. Ironically, the planks make our wall feel taller, somehow, even though the planks are horizontal!
One thing I really like about the more subtle look of less space in between planks and the random lengths on the wall is that it doesn't seem to scream LOOK AT THIS NEW PLANKED WALL WE JUST ADDED. Rather it is just there quietly looking good in the background.
We only planked just the one wall (so far, anyway) in our dining room. We may plank the entire room at some point, or we may not. That's another budget friendly thing about planks, you can do one wall at a time if you want or need to. But even if you only want one wall, that's cool, too.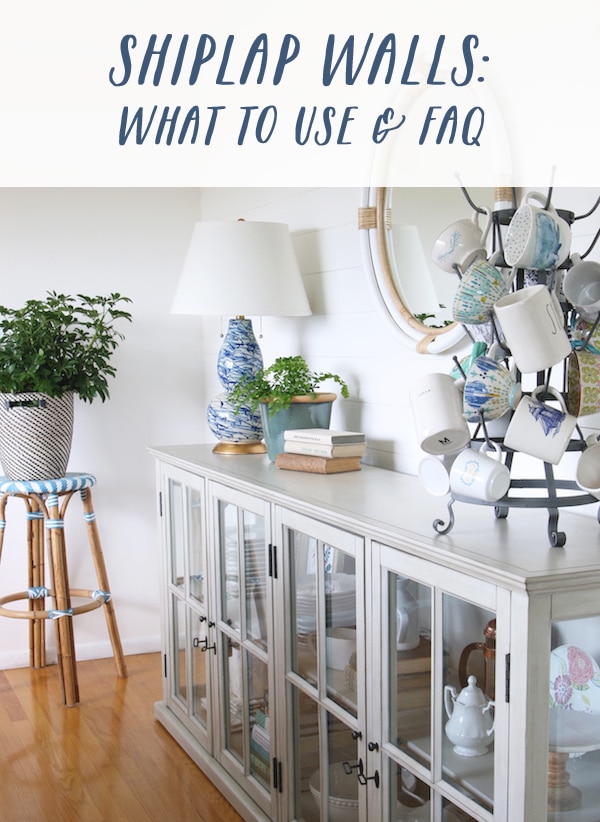 We definitely will do more planked shiplap walls (or ceilings) in our house! I love it.
Hope that helps answer some of your questions! I know it was long and a lot to read, you might want to pin it and save it to refer to again! If I missed anything you wanted to know, feel free to ask away in the comments.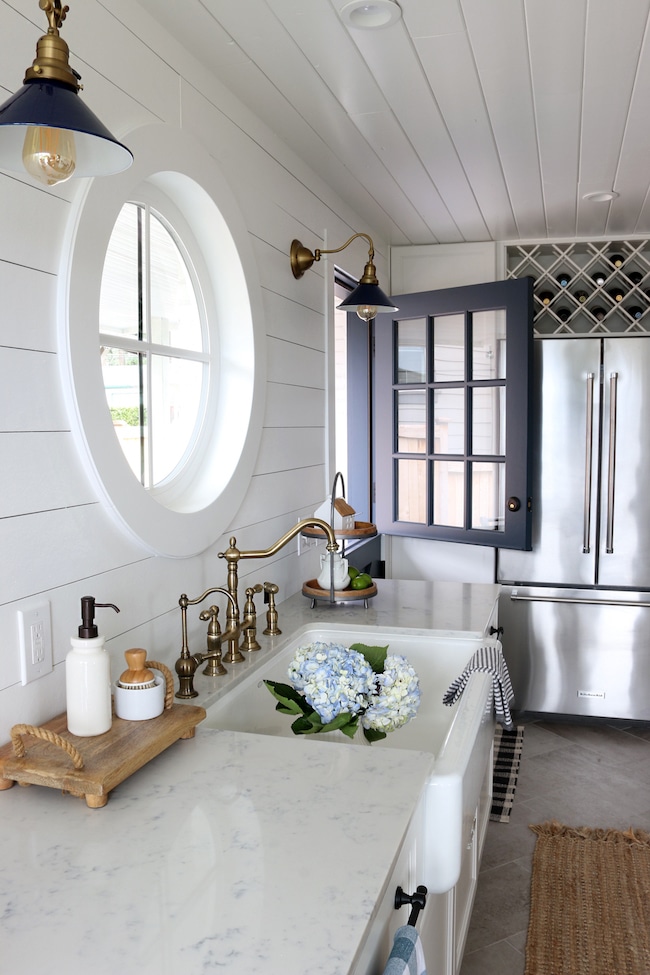 My Kitchen Remodel also has planked walls!
You can see all the details on the walls here, and all kitchen sources here.
ROOM SOURCES >>
Glass Cabinet (ours is taupe)
Mugs (many sources, a few are here and here)
And as always, you can find more sources in my shop!