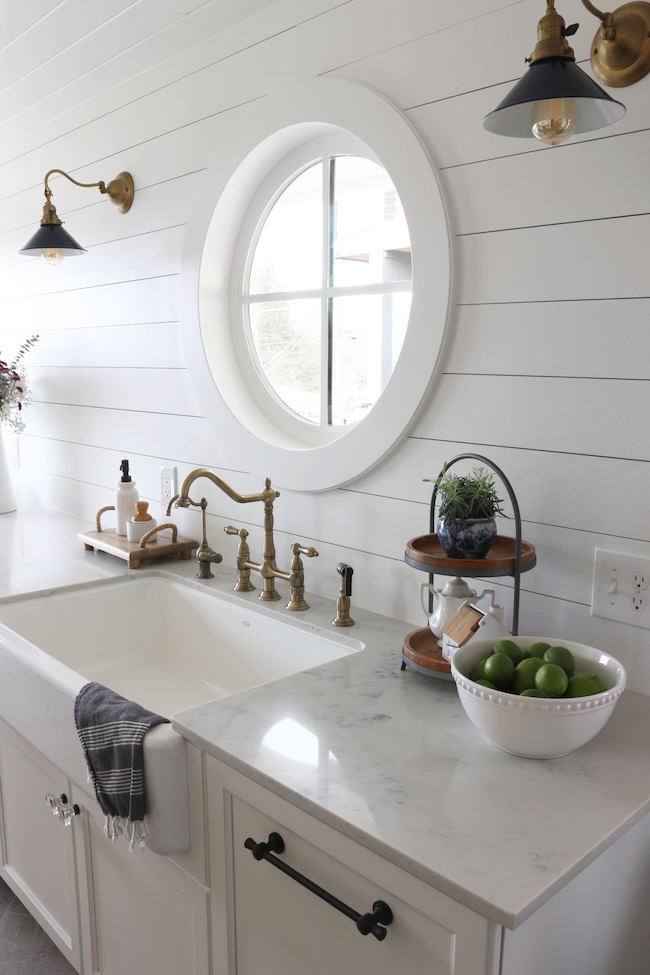 Hardiplank Shiplap Kitchen
Greetings! Since my galley kitchen was revealed, I've received lots of questions on various details in the room that I am excited to finally answer. I'm so pleased with the positive response to the design, I'm really glad you guys liked it, too! Down the road I'll do a before & after post and a kitchen design post with my overall tips, but for now I think I'll go through a few of the specific design elements I've had questions on.
I have had lots of questions on what we used for our "shiplap" walls and ceiling, so I thought this design element would be a good place to start. We actually didn't set out to do a shiplap kitchen! We were originally thinking about tile and looked at samples of every imaginable option from white to colors to various shapes and patterns. We spent hours scouring design centers and tile warehouses. While many were absolutely beautiful, none of them felt right for us.
Part of the vibe I wanted for our the kitchen was that it would feel cozy from chunky texture in various materials. With a small kitchen, I had to get the biggest bang for the buck as I could from the few materials we would have in the space.
Incorporating more than two hard surfaces (tile walls or floors and quartz) would have felt too cold and one-dimensional for the feel I was going for. Too many contrasting patterns and colors on the surfaces would have been too dizzying and limited design-wise in a small space (for my taste).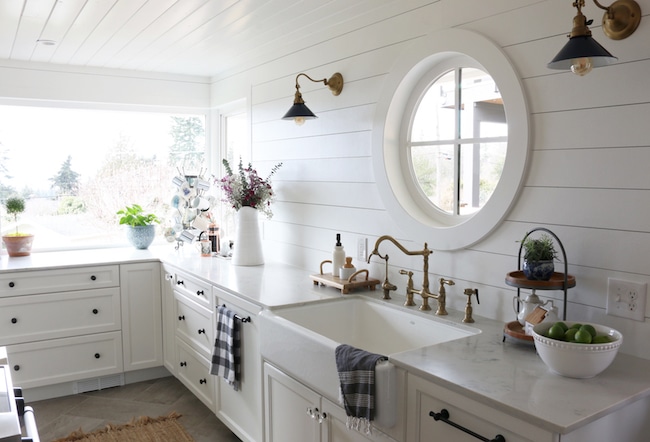 Hardiplank Shiplap Kitchen Walls
Once we made the decision that tile was going to work best on our floors (the specifics of which I'll talk more about in a flooring future post), and we already had decided on quartz for our countertops, we knew didn't want to put tile on the walls, too.
After the flooring and counter decisions were made, I knew I wanted to mix in "warm" materials (in our case, we used painted planks, brass metal fixtures and wood accessories/rugs, etc) that would add enough texture and warmth to make the space interesting and welcoming, without overwhelming it with too much contrasting patterns and colors. We also wanted the freedom to have completely different looks in this space throughout the year, so neutrals felt the most flexible.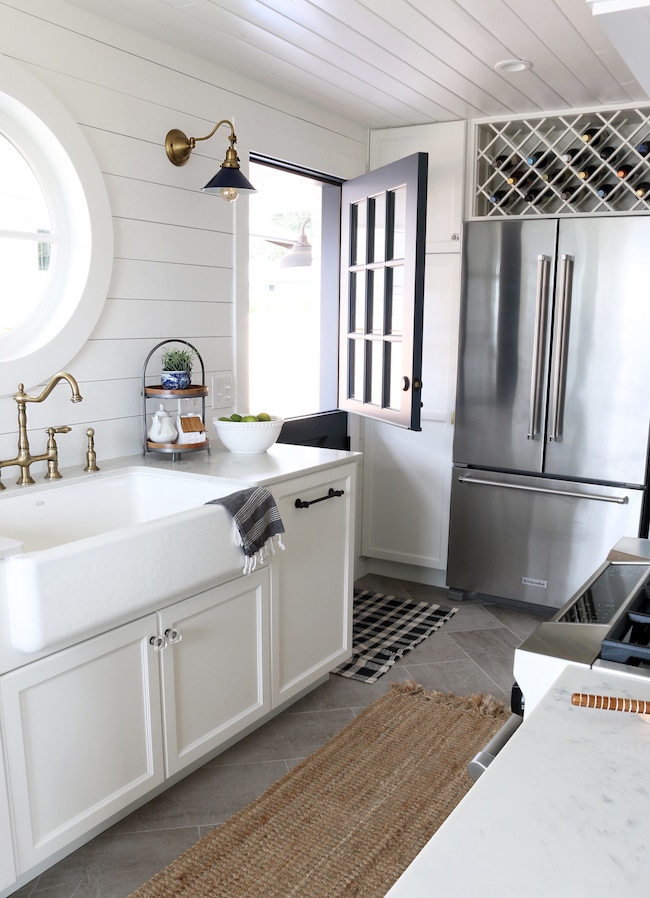 Since we were not closing up any of the openings or window locations and there were quite doorways and windows in this little room, I wanted to find a wall material that would make tie together the other elements and still offer the texture I was looking for. With such little wall space actually available, we also needed to consider what impact that material would have on the room as a whole.
Eventually we concluded that this kitchen was well-suited for "shiplap" walls. And by shiplap, I mean planked walls (mine are not true shiplap, but we'll go with that term). Horizontal shiplap is perfect for unifying and visually joining together various openings. Your eye just naturally follows the lines of the shiplap around the room, rather than stopping and starting.
So the painted planks help hold the entire room together visually speaking, while adding just enough interest to the backdrop.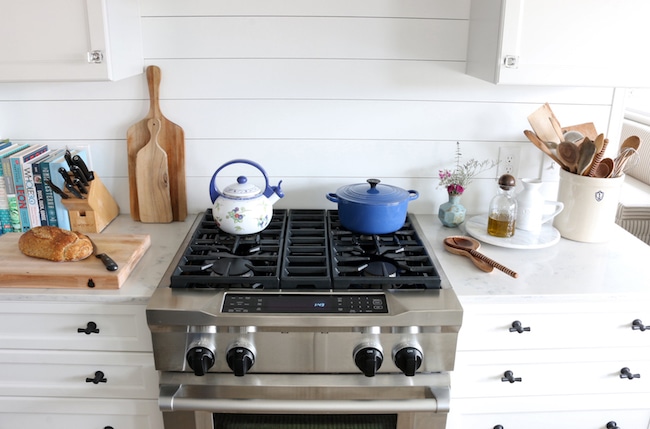 Now I know the obvious question is, what material did we use for our "shiplap" walls? And how will it hold up behind a sink and behind the stove?
Our contractor installed smooth (totally smooth, not faux textured) Hardiplank (Hardieplank!) siding planks on our walls (nailed in and installed pretty close together horizontally). Our Hardiplanks were ordered from a lumber yard (they are SMOOTH and have NO text or logo visible, that's all I know about them. Be sure to confirm with your source or contractor to verify you are ordering the product you expect and without a logo!! And if there is a logo, you might be able to turn them backwards, so ask about that!).
The walls underneath weren't perfectly straight (old house troubles), but somehow they made it work. Any imperfection just gives it more character, right? The raw edges of the planks were covered with trim pieces or caulking. The planks were sprayed with a quality paint (Benjamin Moore Advance in the color Simply White).
It's water and fire resistant because it's basically concrete! It's as tough as tile, but definitely gives the room the warm vibe of painted wood. They are easy to just wipe off, so they are no more trouble to keep clean than tile. Because we found a material that made sense, we didn't feel the need to change around the stove or sink.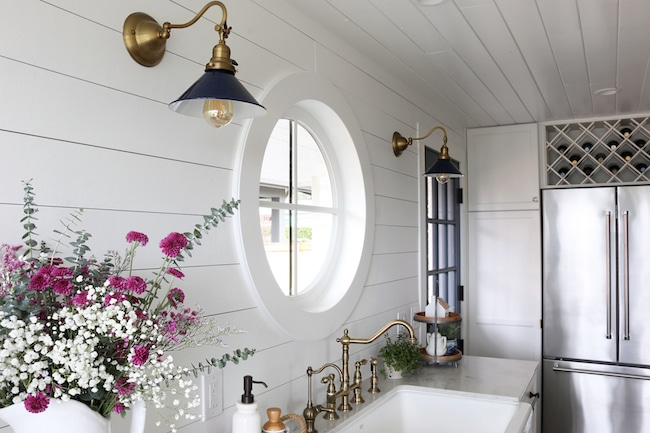 Part of the charm of this small kitchen was that the design elements would be simple and classic, and interesting but not flashy. So to unify the whole room and up the classic charm even more, we paneled our ceiling in tongue and groove cedar (v-groove style).
In contrast to the more smooth wall planks, the ceiling planks have all sorts of natural knots and gauges so it gives the room lots of character without feeling overwhelming.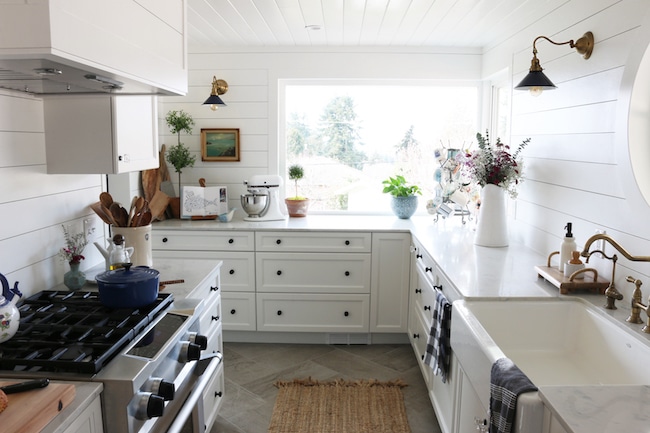 With the ceiling and walls painted in the same shade of Benjamin Moore Simply White (it's a nice warmer white), the planks could wrap the the character around the room without the distraction of too many obvious or contrasting design or paint color changes. The planks give the illusion of more height, too, when you are in the room.
I find the clean white backdrop to be really soothing and helps make the space feel more spacious than it is. Plus how much fun will it be to style this space differently in every season?
So, that's the story of our planked walls and ceiling!
Find the full galley kitchen reveal post here and the kitchen source list post here.
Click here or the banner above to shop my kitchen remodel source shop.
Catch up on other posts about the kitchen here:
Kitchen Remodel: Four Design Tips
How we choose our kitchen appliances