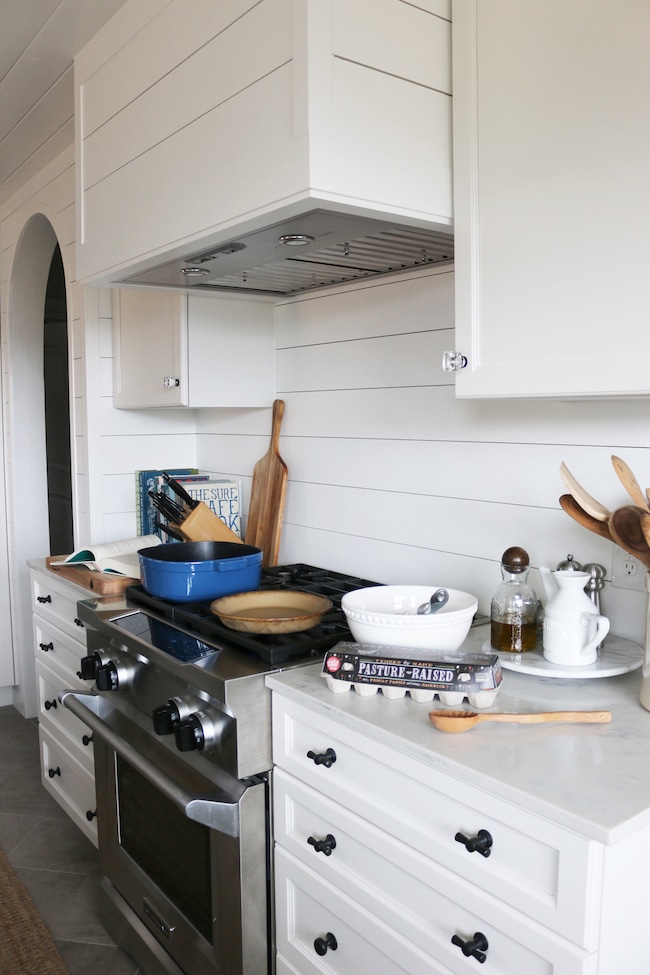 How to mix and match a variety of hardware and finishes is one of the most frequently asked questions here on the blog. It can be confusing, I agree! A few wrong choices might risk making a whole room feel chaotic.
We took quite awhile to decide what hardware finishes we wanted in our recent kitchen remodel. Since we were starting from scratch, it all felt kind of overwhelming at first. Should we choose gold? brass? nickel? black? a mix? What about the appliances? What styles and finishes should go where?
We were not only trying to decide on the hardware we wanted, but at first we were still considering cabinet colors, too. But once we committed to a simple black and white palette for our hardware and cabinets, the additional choices became came a lot more clear. It always helps to make at least one decision and then you can go from there.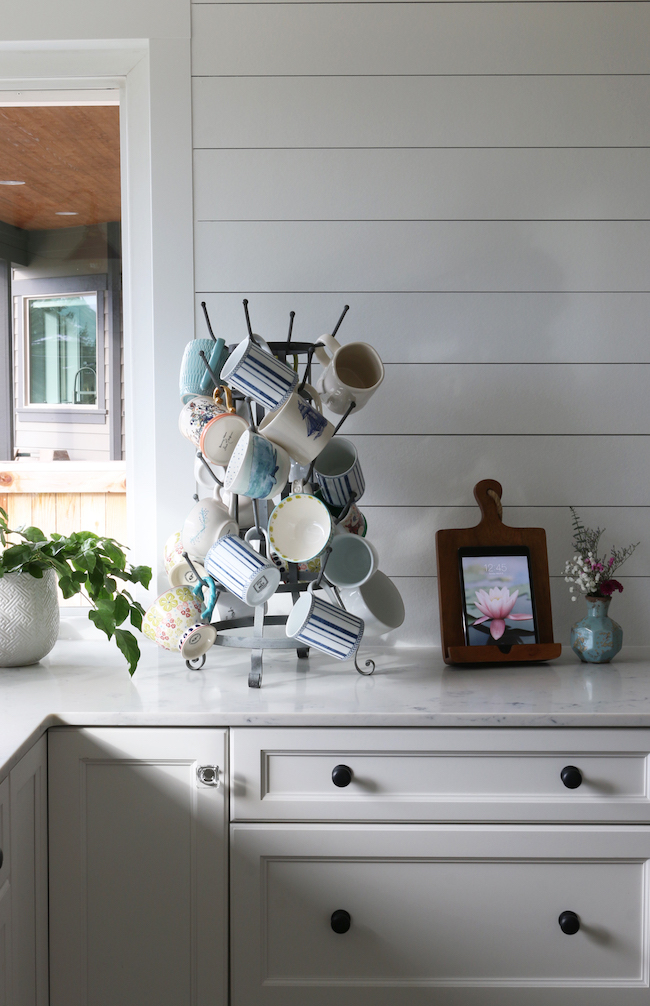 Mug Tree / Cookbook & Tablet Stand
I love to mix finishes in a kitchen because I think it adds character and a timeless quality to the room. Because this kitchen is on the small side (small as in we don't have room for double islands or dining table in the room!), mixing hardware was going to require a bit of thought.
In a smaller space, you don't have quite as many opportunities to make changes. Too many material changes could have looked like a hodge podge of random decisions, or that we couldn't commit so we went in every possible direction.
But still, I wanted the warmth of a collected look.
We decided that a fairly simplified palette of colors and finishes was going to work best for our kitchen and the mood we wanted.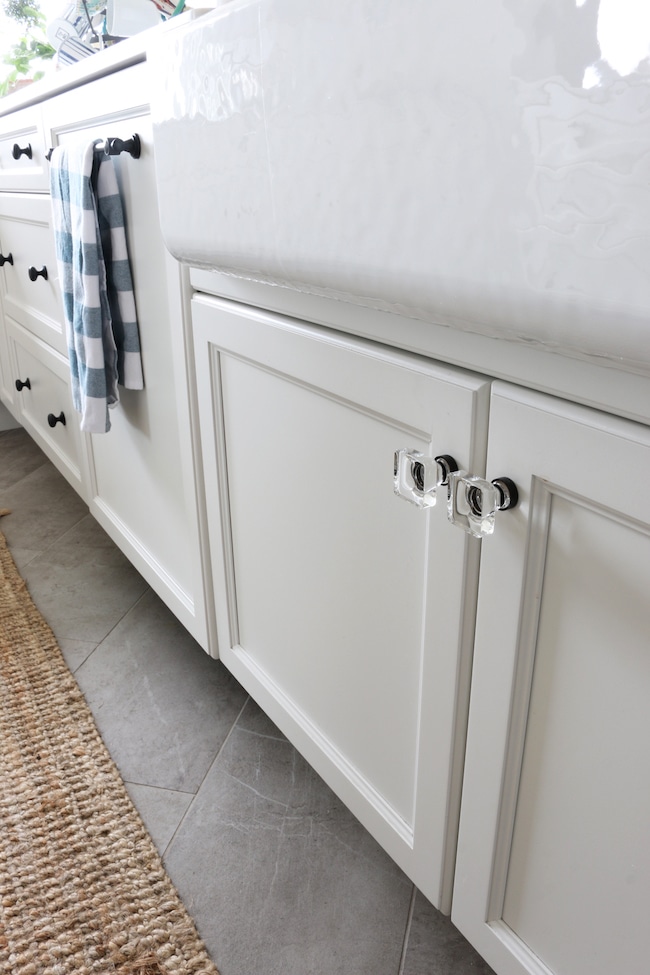 Our choice of classic white cabinets and black hardware brought simplicity to our design. We knew our appliances would be stainless, but we kept the impact of another finish to just the range and fridge (and covered the range hood and dishwasher to simplify the look).
That's where the fun could begin with a subtle yet unexpected mix of other finishes.
Here's our secret to mixing finishes: we followed a few rules we made up ourselves.We created rules for visual symmetry. These rules made sense to us and to our eye, bringing consistency and continuity to the variety :).
Here are the "rules" we made up and followed.
When we used a variety of black hardware, we'd use the same exact finish (same finish name, same store).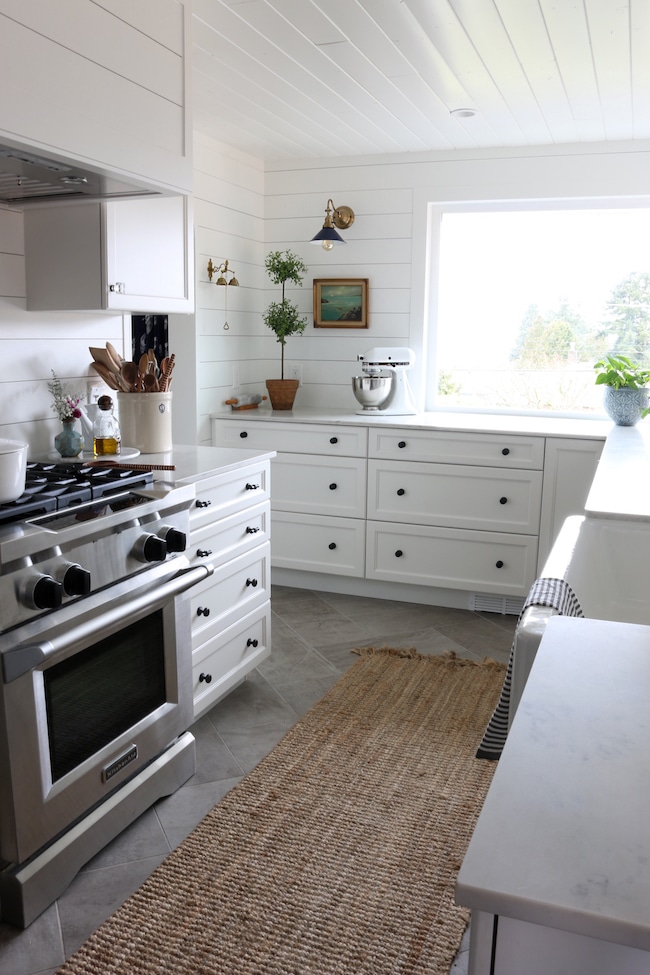 Range and Range Hood
All of the drawers in our kitchen would have two black knobs.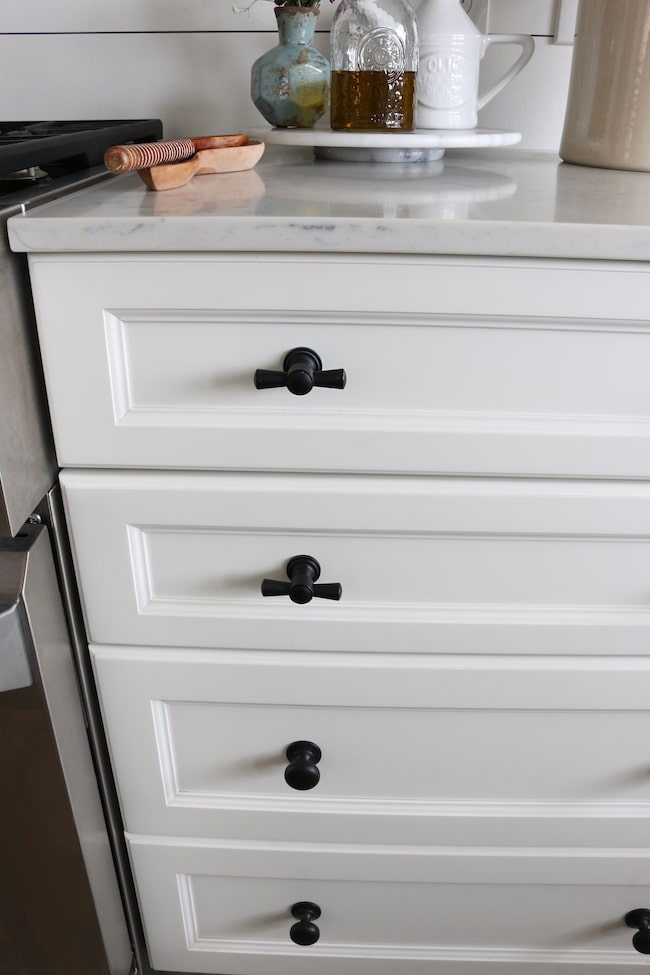 All of the drawers would have the same two round black knobs, except for the two narrow top drawers in set of four drawers on either side of the stove. Since these two sets of drawers are on either side of a stove which also has round black knobs, we'd add a little unexpected whimsy to the mix of round knobs by changing shapes on the top drawer hardware with these nautical looking pulls (PS, here are some similar ones that are extra affordable!).
We kept a pattern of two pulls on each drawer for continuity around the room and repeated the unique hardware mix on either side of the stove for symmetry.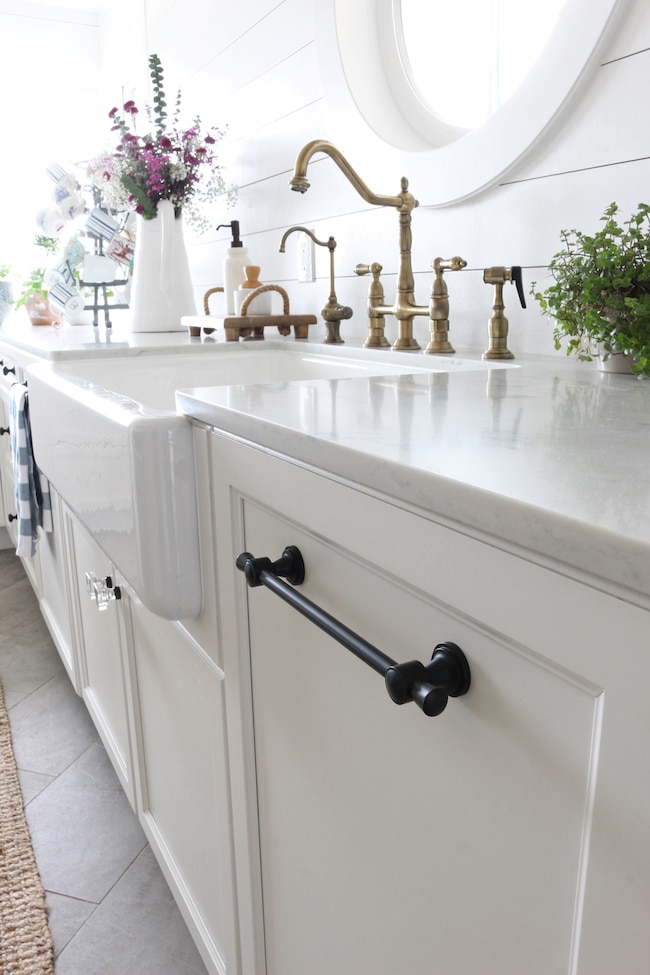 The two similar cabinet fronts on either side of the sink (dishwasher and trash) would get a longer "bar" style black hardware. Long bars are great for pulls as well as hanging towels, which made sense near the sink.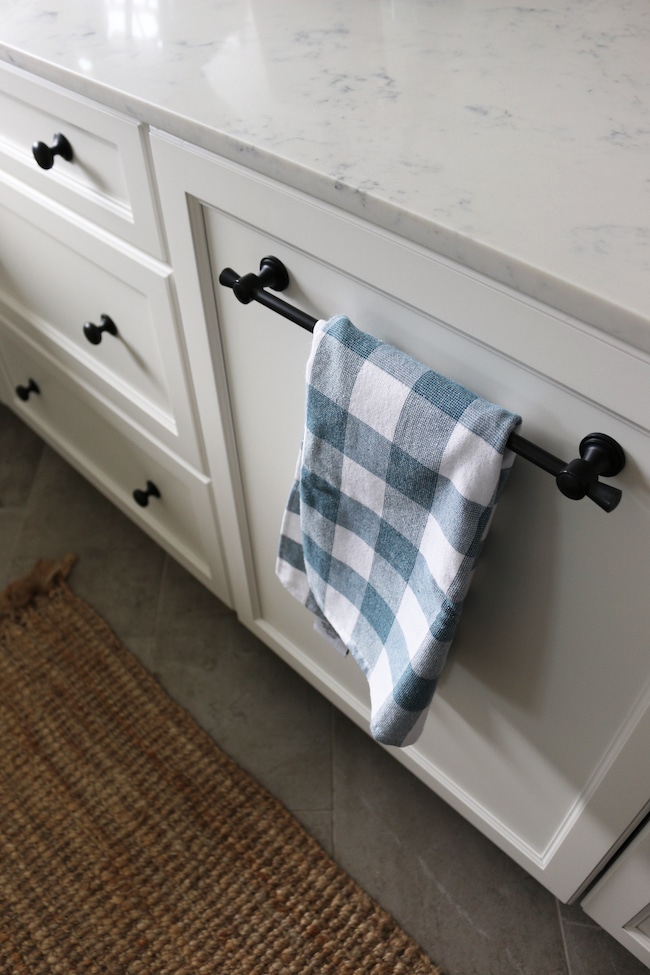 Panel-Ready Dishwasher
Having a long bar on similar cabinet fronts on each side of the sink brought more symmetry and balance in the room. Symmetry is another way to visually simplify a space, even if you are mixing finishes around a room.
Once we made a few key decisions, we moved on to selecting hardware for the other styles of cabinets.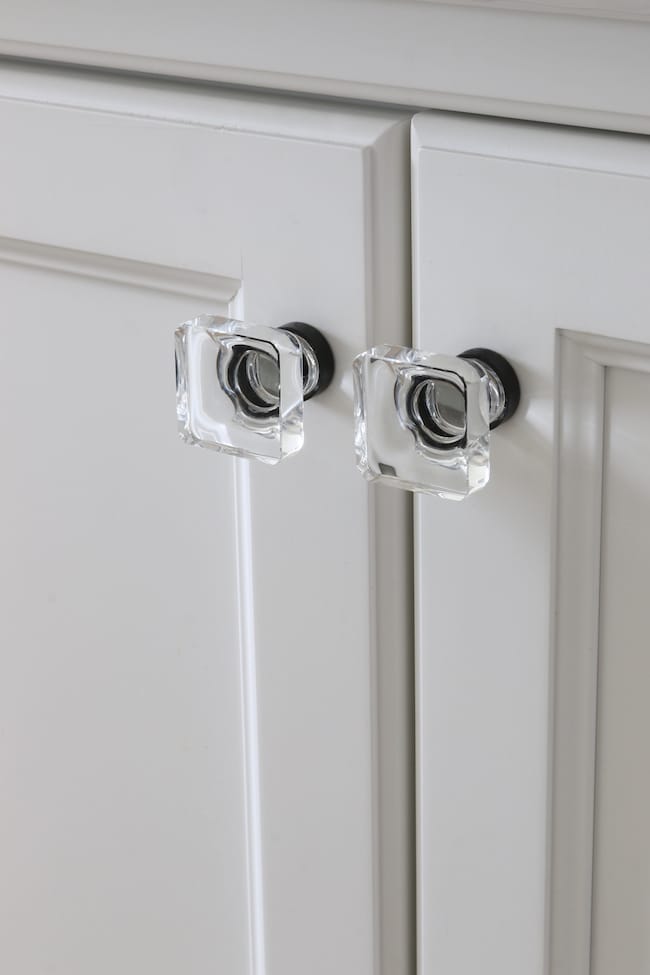 Another rule we made up was to give every cabinet door in our kitchen a square glass knob (with the same black finish on the backing). Mine are out of stock (they were Rejuvenation) but HERE are similar ones. We chose a glass square shape to add contrast and shine to all the dark rounds. :) Opposites are interesting, but glass doesn't overpower.
KitchenAid Refrigerator
Sometimes you have to show restraint or break rules in design choices for the overall impact in the room to be successful.
Rather than following the glass on a cabinet door rule on the tall pantry cabinets, we gave the pantry doors their own rule. We installed slim brass handles instead. Slim brass handles were chosen for subtlety and to complement the other brass in the room. We didn't want the pantry hardware to compete with the refrigerator (which is stainless with pulls). Anything larger would have felt too clunky, so the slim profile of the brass was just right.
If you're wondering what you're looking at above, this is how the brass handles look when the cabinet is open!
To keep the simplicity and continuity, we put black hardware on the navy Dutch door, too.
After we selected our hardware, we had two more finish decisions to make.
What about our faucet and the three sconces?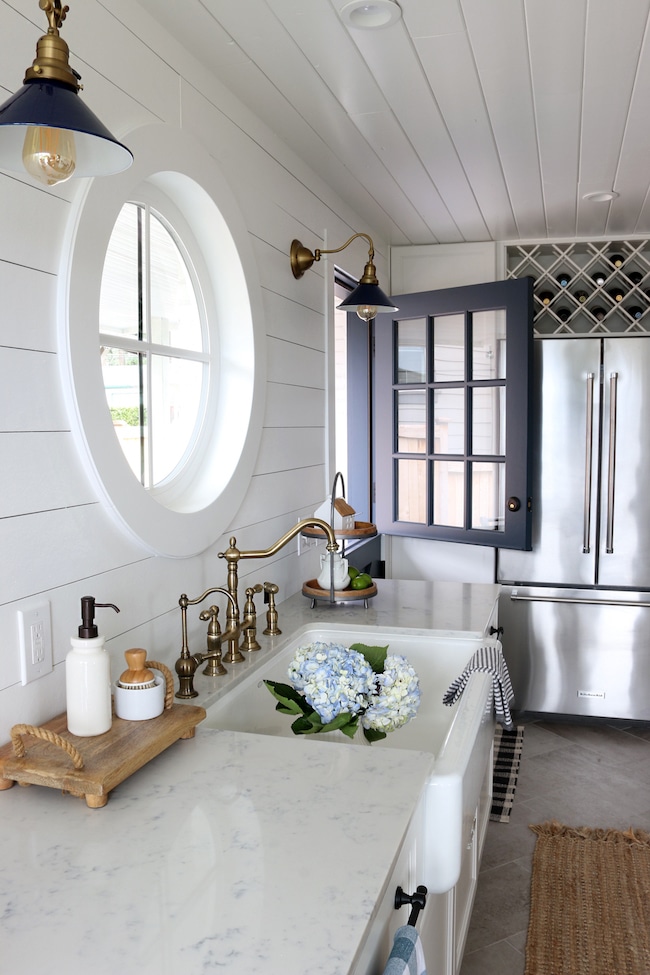 While we entertained the idea of black sconces, we felt as though we had made enough of a statement with our black hardware. To add interest and warmth to our "collected over time feel," we decided the faucet and sconces would be lovely in a warm brass/gold. We selected darker shades for the sconces, which helped to tie in the black hardware.
The warmth and shape of the brass faucet and sconces really give the whole room a "lift." The brass also complements all the wood and natural textures I knew we'd have in the room.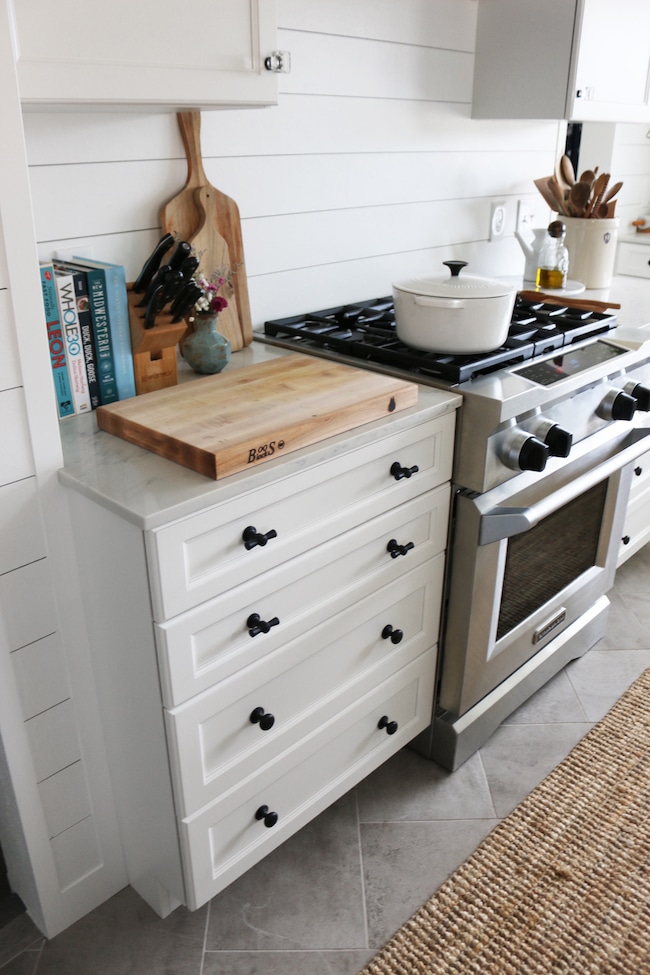 That's it! Mixing and matching a variety of finishes in room may appear more complex than it actually is, but if you stick to a few reasonable rules the results can feel refreshing and pleasing to the eye.
We are so happy with how all the details came together. We really love having a variety of finishes in the kitchen. Bonus of this subtle yet interesting mix is we won't ever grow tired of it, but the simplicity makes it easy to add new colors and patterns to the room if we want to change things up!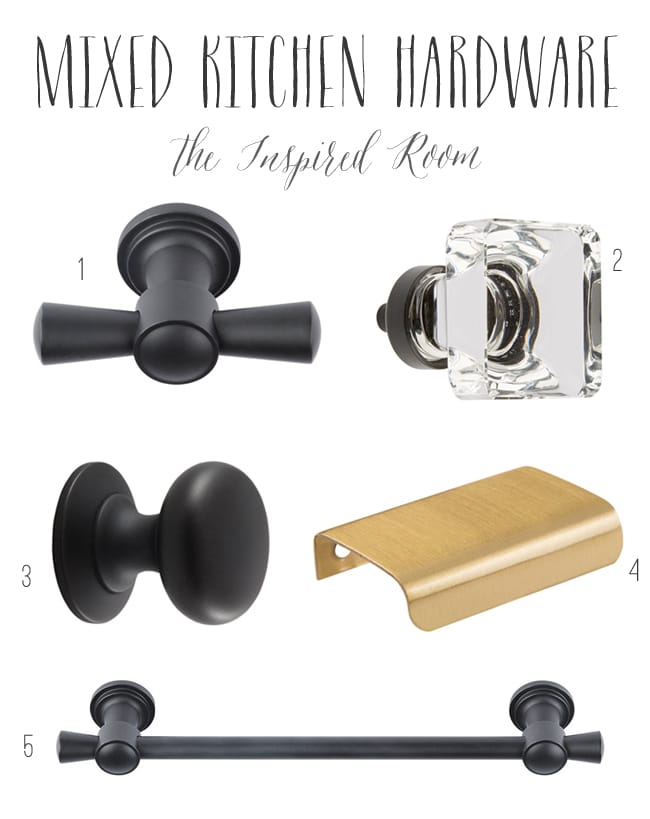 Sources for above (click links below):
1. Black Knob (or a similar inexpensive option here) // 2. Glass Knob (similar, mine was Rejuvenation) // 3. Black Round Knob  // 4. Gold Edge Pull // 5. Drawer Pull
See the full kitchen reveal post and the entire source list here.
Get inspired by other kitchens with black hardware in this inspiration post (including more great sources for kitchen hardware).
Find other posts about the kitchen here:
Shiplap Walls Behind Stove & Sink
Kitchen Remodel: Four Design Tips