The appliances were provided in partnership with KitchenAid
When I started planning our kitchen remodel, I felt a mix of being so excited about all the possibilities and also so overwhelmed by the possibilities. There are countless decisions to make with a remodel, especially when you're starting from scratch. When you're excited and hopeful for a great end result, every decision feels important whether it's the paint color on the wall, the material of flooring, or what hardware to choose. But the most important decisions of all are the decisions that affect the function of the home.
I think the thing I probably looked forward to the most in our remodel was having brand new appliances. It had been such a long time since we'd had a new stove or refrigerator, so that has definitely been one of the highlights for me.
Since our kitchen size was a bit like designing a jigsaw puzzle, every appliance needed to be just the right size, style or have just the right features to make the most of our space. We did quite a bit of research on appliances. I had very specific needs and wants for our kitchen and didn't want to make a mistake! I researched so many options and chose KitchenAid because they had everything I was looking for.
Now that we've had the KitchenAid® appliances in our home since Christmas, I can tell you I'm really happy with them! Everything came together just as we had hoped.
I thought today I'd share a little bit about how we selected our appliances, why and a few of my favorite features.
First, let's look at the refrigerator!
22 cu. ft. 36-inch Width Counter-Depth French Door Refrigerator with Interior Dispense
We were not planning to change the opening of our exterior door or the general pantry location, so I decided our best option for efficiency and style was a counter depth French Door style refrigerator. This KitchenAid model was perfect, so I was thrilled to have found one that met all of our needs.

The double doors and lower freezer have plenty of room to extend fully without crashing into the cabinets and stop automatically when the doors are fully extended.
Our Dutch door can also open fully, but of course we couldn't leave the Dutch door open at the same time as the refrigerator or try to open the pantry cupboards all at the same time. You pick your design battles in smaller or older homes; I'm happy with how it all fit together. It's not too inconvenient to swing one door shut for a moment to open a different door.
Click here for the model we have. It's a 22 cubic ft, 36 inch wide and 72 inches in height, three inches taller than a standard counter depth model. See my 5 foot tall daughter, Courtney, for scale, haha.
Our original refrigerator was situated on the right side of this same wall, with the pantry previously on the left. In our remodel we chose to center the new refrigerator for better function in this space as well for the symmetry. In a smaller space, I think a symmetrical design results in a cleaner, less crowded feel.
We chose the counter-depth refrigerator because it fit perfectly into the space we had, but the truth is even if we had more room, I actually prefer a counter-depth for the great interior layout. The shallower depth and variety of shelving and bins allows us to see exactly what we have or need, rather than having things get lost in the depths of a deeper fridge. The pull out snack drawer also helps with organization and function. I really LOVE everything about this refrigerator!
The handles on our fridge give a nice professional look. Plus they have a really nice texture so they aren't slippery and don't collect fingerprints! I think the little red caps on the ends of the handles are a fun extra detail, too. If you don't want red, you can replace them with black or stainless caps instead.
I love the freezer drawer design and the pull out organization of the interior layout.
Ours is the 30″ KitchenAid® 4-Burner Dual Fuel Freestanding Range, Commercial Style. Here is a similar model available now!
Once we were certain which refrigerator we wanted, we started looking into ranges. We had originally considered an electric model because we didn't want the additional expense of adding a gas line to the kitchen. But we were pleasantly surprised to discover that the previous owner had already installed a gas line in the exact location we needed one! Score. That's one of the many things we've been thankful for in this house. The previous owners definitely thought through what should be done for the future and did things that made sense as they lived here.
We wanted a commercial style range, not because we are professional cooks by any stretch, but I do enjoy cooking with a powerful range! This is a dual-fuel model, which means the oven is electric (with convection settings) and the cooktop is gas.
This is a 30″ freestanding range (click here for a similar model available now). Ideally in planning a kitchen, you want to have counter space on each side of a range. A 30″ range allowed us plenty of space for counters and drawers, making this wall a really functional cooking zone. Cooking and baking is a dream with this range; it has exceeded our expectations.

Professional Cast Iron 4 qt. casserole
The range features a touch pad screen on top to control the oven and timers. My husband's request (he has been getting into cooking over the past year!) was that he could have four pots or pans on the stove top at the same time. He's thrilled with the layout of the cooktop. It's also really easy to clean, which was a must for me.

Streamline Cast Iron 6 quart casserole
Design-wise, I have to admit I was pretty obsessed with the chunky knobs and industrial look of this range. I tried to build as much chunk into our design as I could for the texture factor.
Under 36″ Under-the-Cabinet 600 CFM Commercial Style Ventilation Hood (click HERE for similar model available)
With a gas range, we knew we'd need a great ventilation. For design purposes, we were going to cover a hood so we were looking for a fan that had easily accessible controls below. This model is an "under cabinet mount" so it is actually mounted underneath a dummy cabinet which is covered with a wood frame and planks (built by our contractor).
Ideally a range hood should be wider than the cooktop to capture the steam and fumes. The right fan can keep your kitchen and air cleaner. Our range hood is 36″ wide for maximum ventilation. The ventilation is routed right through the ceiling to our roof, so all the steam, fumes and smells are whisked away from the house to the exterior by the powerful fan!
Click HERE for similar hood model available.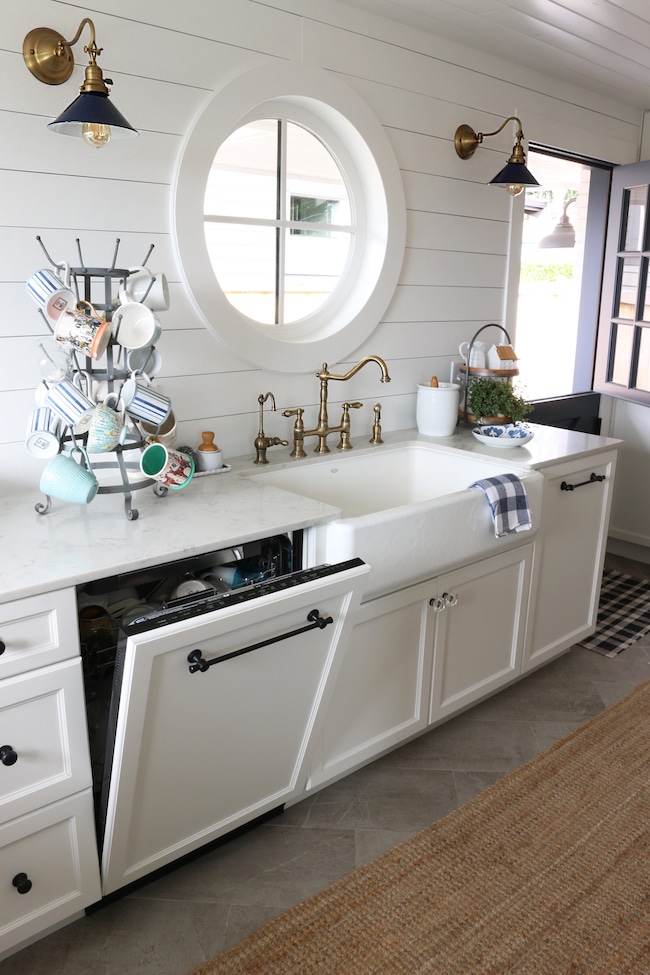 KitchenAid® 46 dBA Dishwasher with ProScrub™ Option 
Once we had our refrigerator and range appliance decisions set, all that was left was our dishwasher. With the nice long expanse of cabinetry available on this side of the room, we didn't want to break it up with an appliance. Our solution was to find a dishwasher that could accept a cabinet panel. The clean look was important to us, so we selected a "panel-ready" dishwasher model.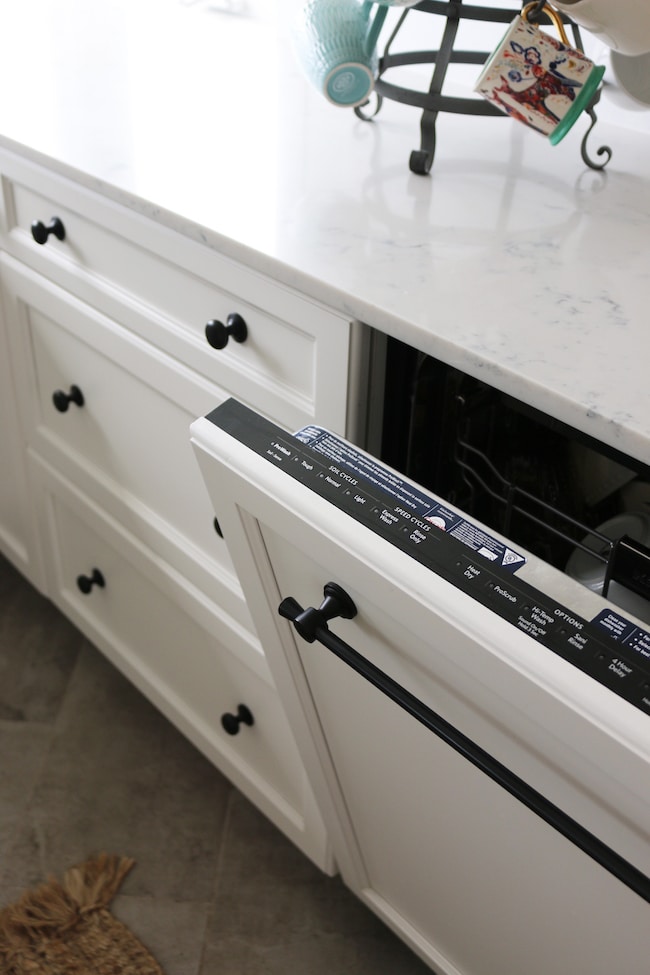 Our Panel-Ready Dishwasher from KitchenAid has the controls on the top, so everything is visible when you open the door. Our cabinet company offered a panel that slipped right in to the dishwasher, and we added a handle that matched our other cabinet hardware (find the handle we used here).
I love the pullout top rack for long flat items, like silverware or spatulas at the top of the dishwasher. It really frees up the other utensil compartments and has been a really convenient feature.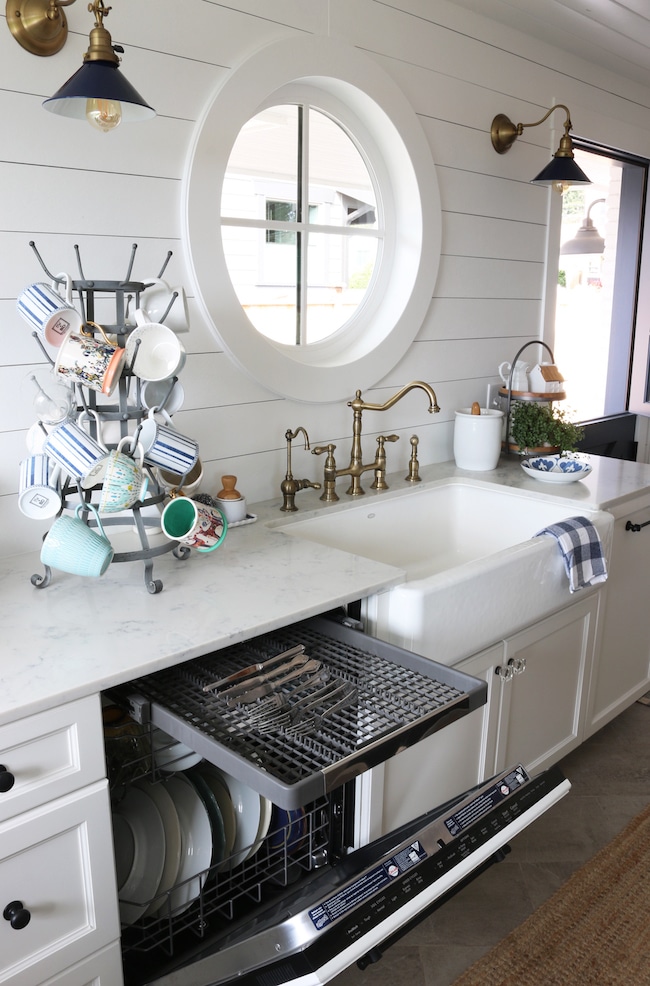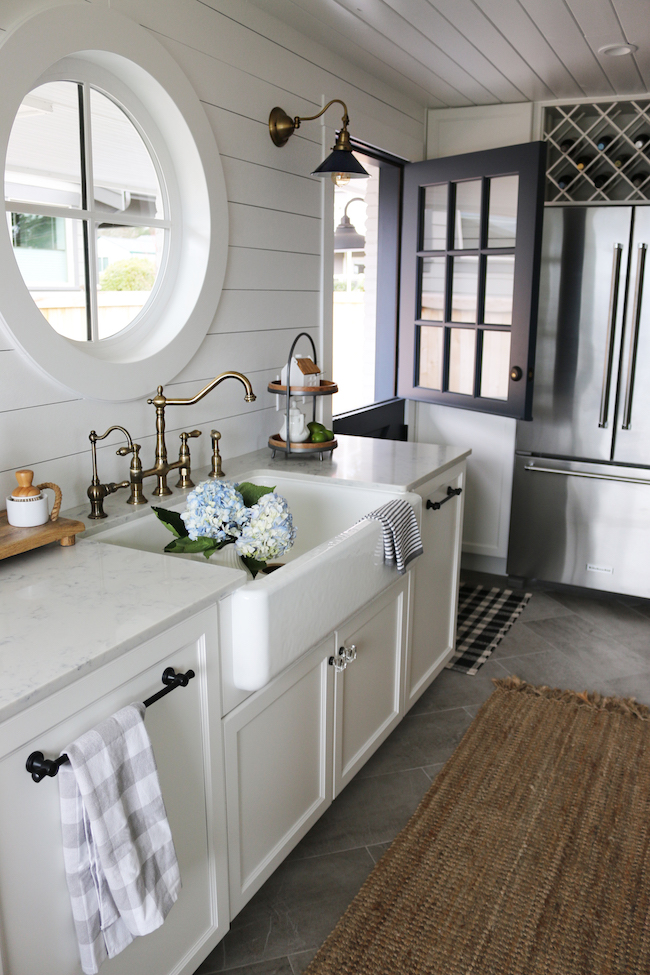 I love that the panel-ready dishwasher allows it to seamlessly blend into the design of the kitchen, rather than breaking up the cabinetry. It also created a symmetrical look with the cabinetry on either side of the round window/farmhouse sink.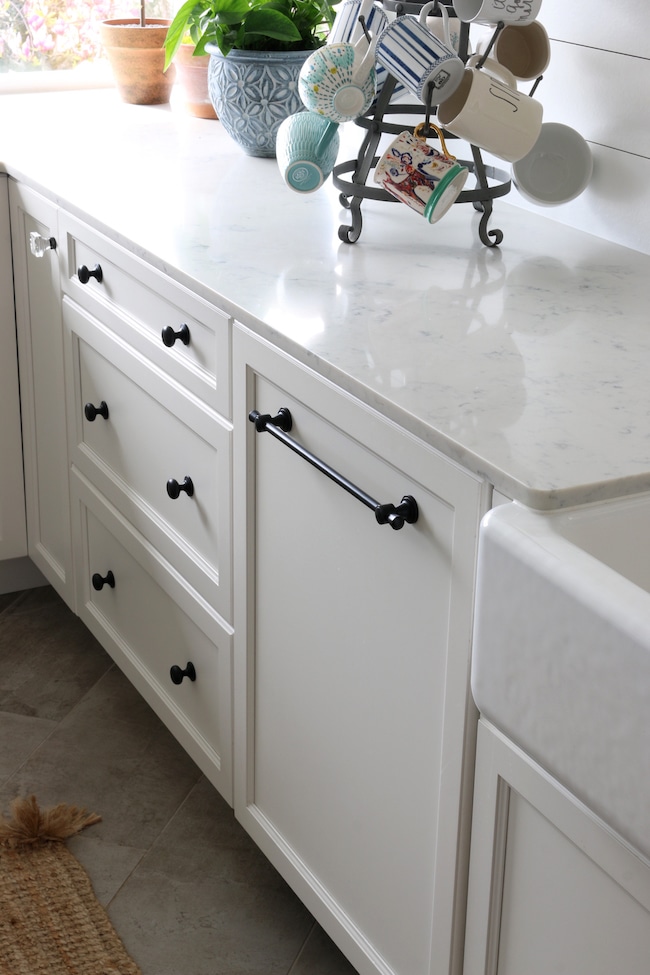 The dishwasher is SO quiet and cleans the dishes so they are spic and span every time!
Now that we've had four months with a fully functioning kitchen, I can honestly say we couldn't be happier with our appliances!


KITCHENAID® APPLIANCES:
KitchenAid® 46 dBA Dishwasher with ProScrub™ Option 
Under-the-Cabinet Ventilation Hood
30″ 4 Burner Dual Fuel Freestanding Range, Commercial Style
22 cu. ft. 36-inch Width Counter-Depth French Door Refrigerator with Interior Dispense
Professional Cast Iron 4 qt. casserole
Streamline Cast Iron 6 quart casserole
KITCHEN REVEAL & SOURCES
See my full kitchen REVEAL post here.
See my full kitchen SOURCE post here.
Learn details about my planked walls here.
Learn how I mixed and matched my kitchen cabinet hardware here.
Disclosure: KitchenAid partnered with this blog by providing appliances for our remodel. As always, all opinions, design and decisions are my own.