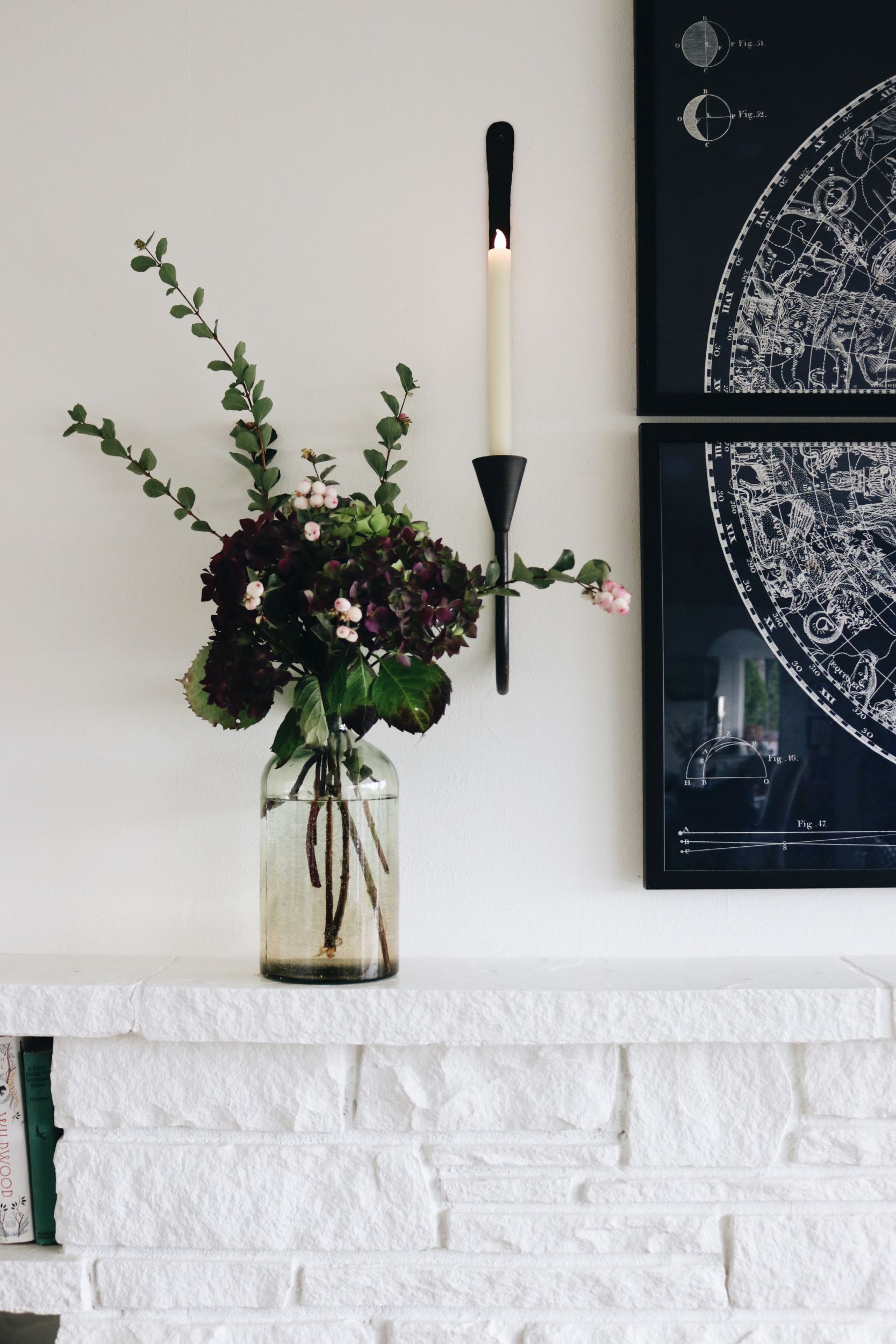 Make your house cozier with inexpensive non-electric wall lights and battery-operated candles!
I absolutely love simple, quick, affordable updates that add character and warmth to a home! In my fireplace reveal post I told you I'd come back and share more details about my new sconces, so here I am! This was such a quick and inexpensive project that made a HUGE difference in how cozy our home feels.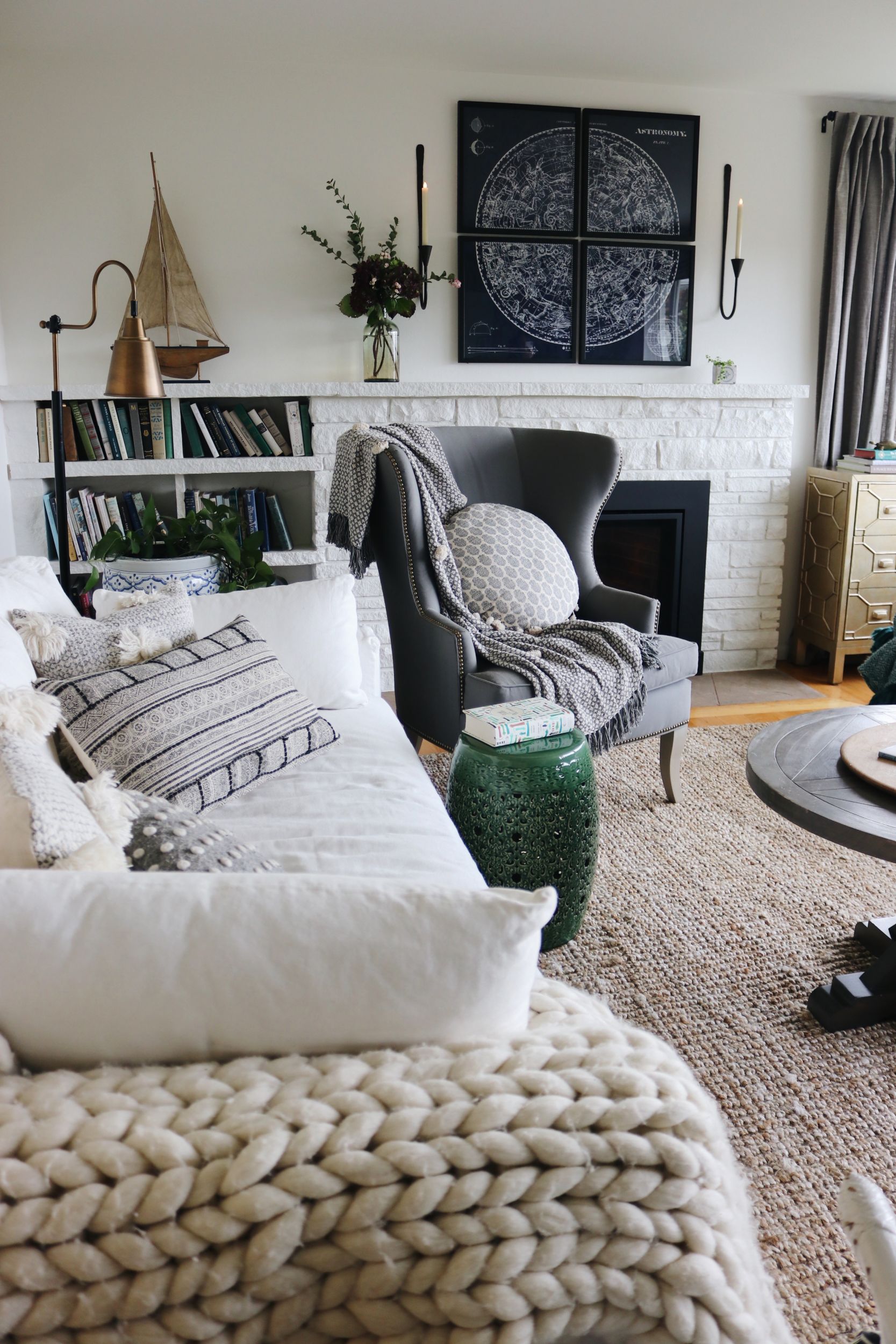 I had been looking for sconces similar to these forever because I really want to add more character to our home. I finally found them here.
In many of the old houses we've owned there were little wall lights tucked in here and there in unexpected corners. I always notice charming details like that in my favorite inspiration photos, too.
These candleholders are made of iron (or some other strong metal!). It was so easy to hang them, just a nail or screw does the trick! For safety and convenience, we use these battery-operated taper candles, secured with a little museum putty under the candles. It took less than 10 minutes from start to finish to hang them, but they instantly made the house feel more charming.
The battery-operated taper candles have a remote and a timer option which make it so easy to turn them on whenever we want add a little sparkle of light, which is basically every night now :).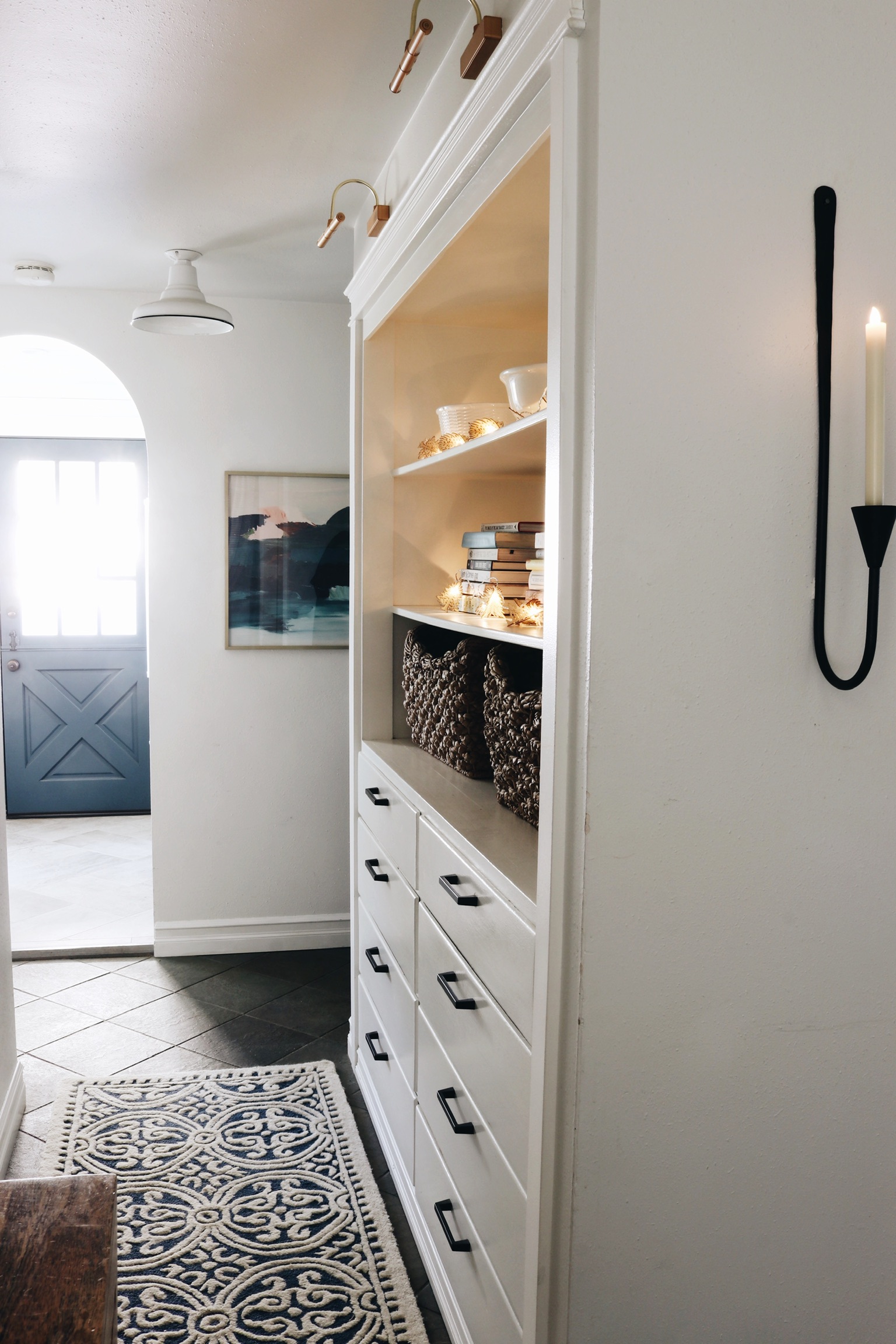 I hung four of these same candle sconces around the house. We added one of the black candle sconces to this hallway. I love the layers of lighting this hallway has now, and how the black accents (the hardware, Barn Lights and new wall sconce) all tie together.
You might recall that a few months ago we hung these gold battery-operated picture lights above our hallway cabinet–you can see the details on that simple makeover (which also included lining the back of the cabinet with peel and stick wallpaper!) here!
I'm officially a "faux" wall light and candle sconce addict. : )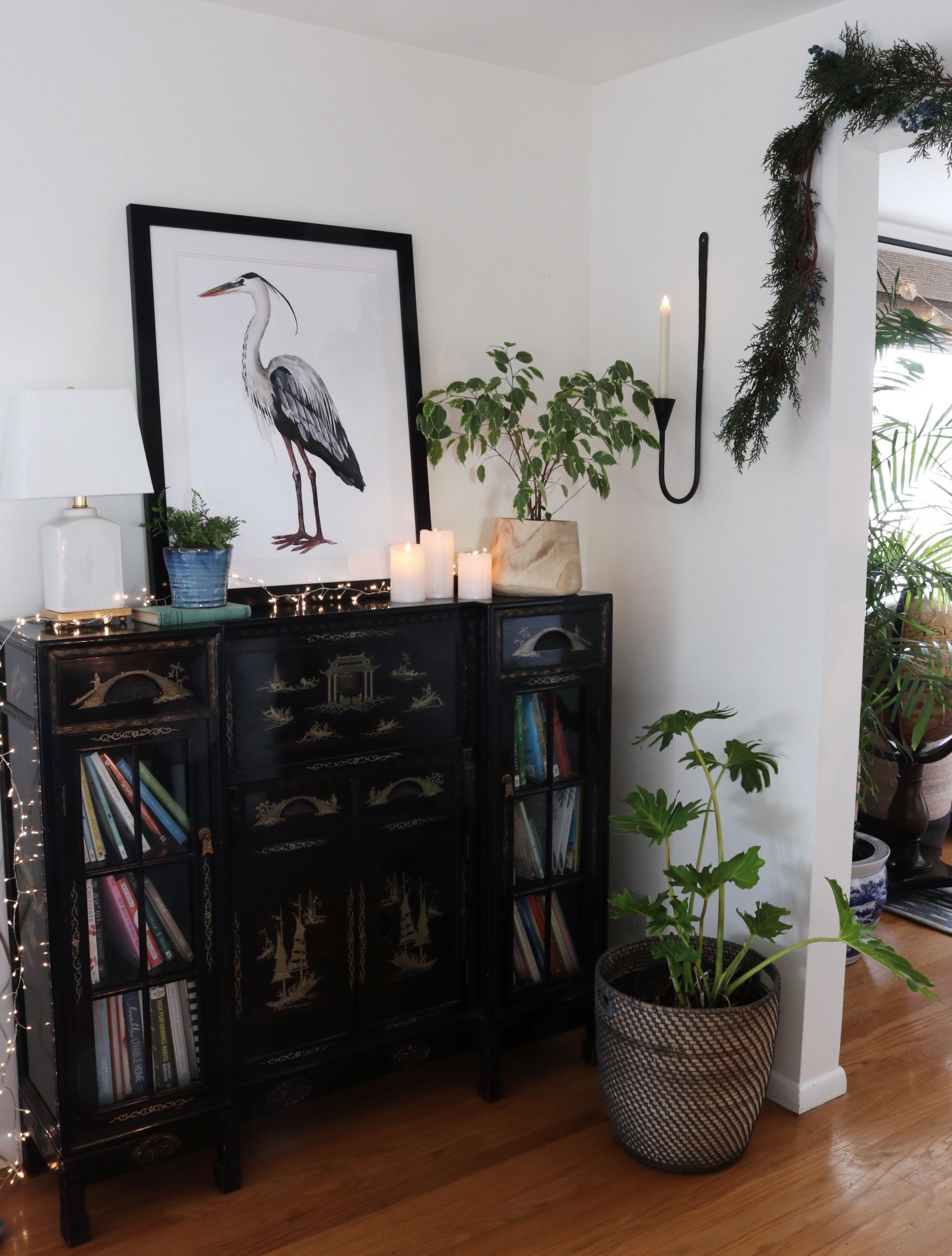 The fourth candle sconce is to the left of our dining room entrance, in this corner of our living room. I just love seeing it here!
So there you have it…cute and affordable wall lights without even hiring an electrician! I'm a fan.
Here are some non-electric wall sconces to get a similar look:

Scroll the arrows above to shop!
Battery-operated candles I've ordered recently:

Tealights // Taper Candles // Ivory Flameless Candles with Flickering Wick // White Flameless Candles with Flickering Wick
If you try this lighting idea in your home, I'd love to see! Tag me in a story on Instagram at @theinspiredroom or share a photo in our new Facebook community!
RELATED POST: Have you always wanted wall sconces, but don't have electrical outlets or wiring for them? Do you hate the look of a lamp cord running across a counter or dangling off of furniture or running down the wall? Same! I have a clever solution to share with you HERE.
The Light-Changing Magic of Rechargeable Bulbs for Sconces + Lamps!
---
If you want some sparkle without adding wall lights, I love these copper string lights with a remote! I got them for Christmas but I'm keeping them up to keep the coziness going…the slow fade setting is my fave!
More on The Inspired Room:
How to Add Character with Lighting
5 Ways to Bring Cozy Hygge to Your Home
Shop My House and Latest Decor Finds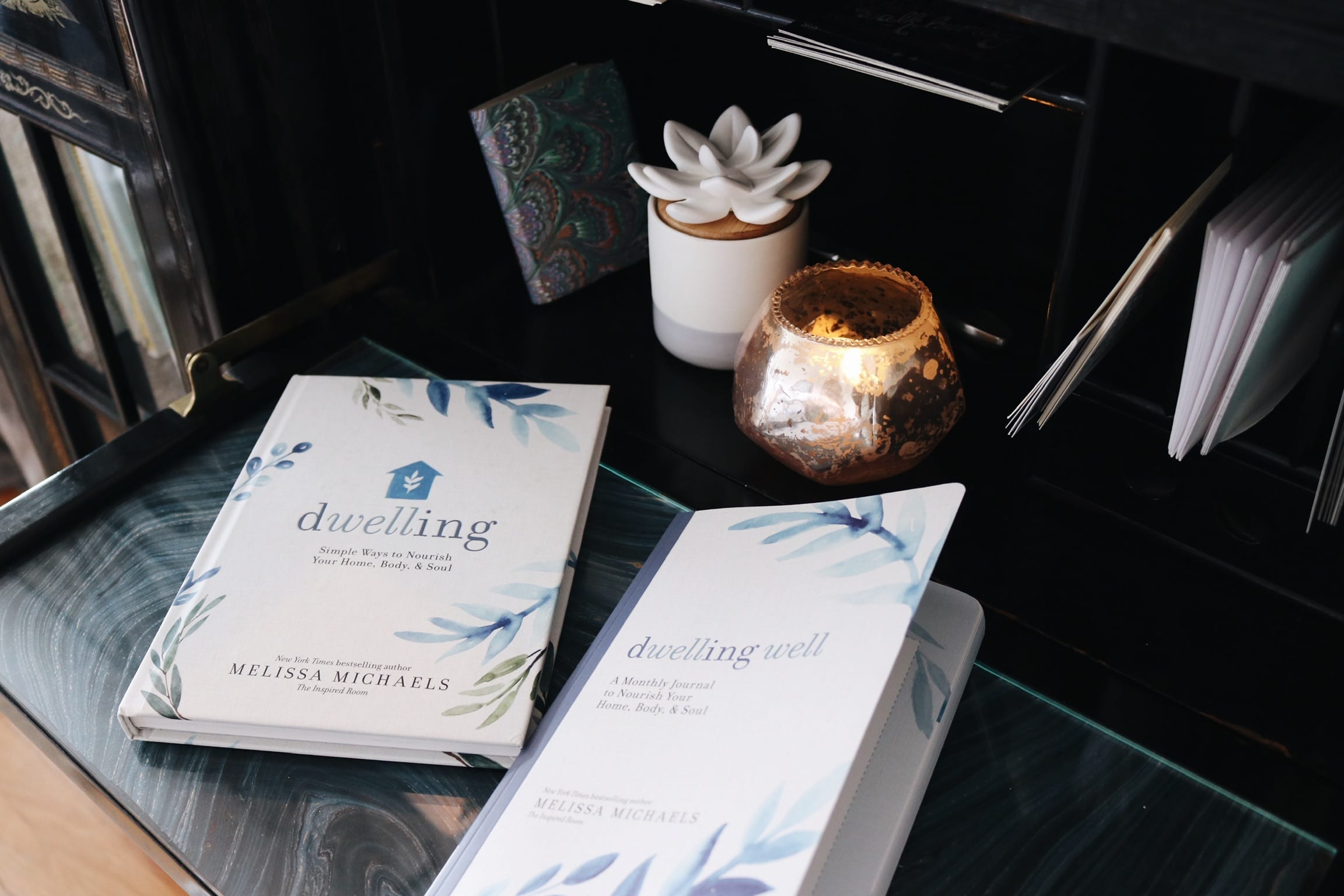 My latest book … Dwelling Well: A Monthly Journal to Nourish Your Home, Body, and Soul … comes out TOMORROW!
I'm so excited to share this journal with you all! If you haven't ordered your Dwelling Well journal yet, you can get yours HERE! When you get it, I'd love if you'd join us for A Year of Dwelling Well (see the details here!).
I started filling mine out this week and know it's going to be a transformative year as I use this journal in my daily routine. The journal is not dated so you can join in anytime. It's going to be a wonderful year of dwelling well together.
How to Use the Dwelling Well journal
I have a story highlight on Instagram sharing a video of me sharing sneak peeks of the inside, and how my daughters and I plan to use the journal for an extra happy healthy year! Head to my Instagram story profile and click the "Journal" story highlight to watch the journal how-to!