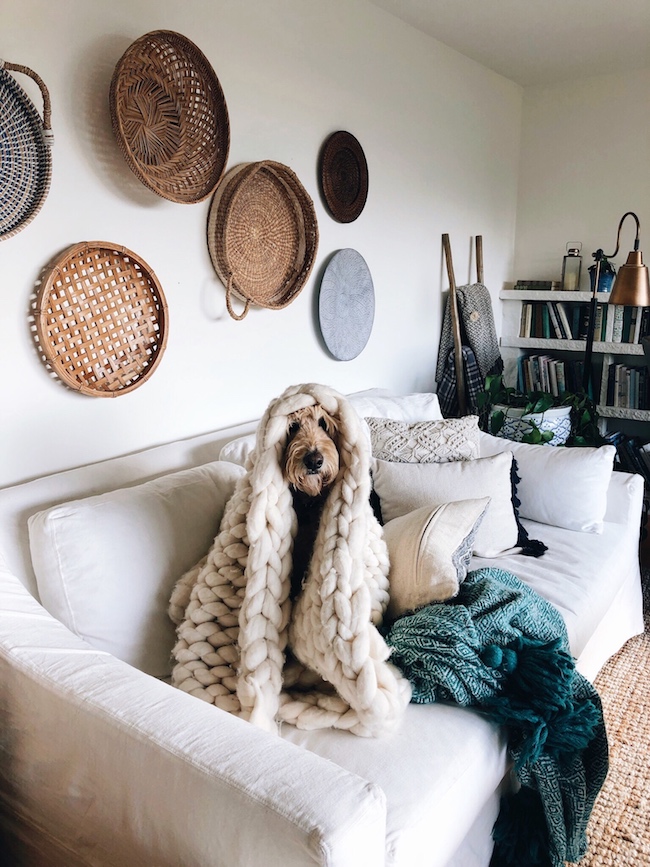 I'll say it. I'm 100% READY for the fall vibes. Not only has October 1st arrived, but the furnace came on in my house today and I'm wearing a sweater and cozy socks because I'm still cold (to put this in perspective, it's not really all that cold here and the sun was out today…I'm just always cold).
Gimme all the Hygge things right now, I'm HERE FOR IT! In Seattle we usually get some lovely fall weather, but regardless of what I see outside, this is the month I really start to immerse myself in the mindset of how cozy it is to be inside (and of course, all of the ways I can stir up that sense of Hygge comfort around me!).
Here are five ways to bring Hygge coziness to your home, I hope this inspires you to do some fall nesting this week!
Warm knit blankets
Our goldendoodle Jack has got the right idea. That will be me (above) all fall and winter long! Lol! (similar chunky knit blanket on sale right now, or more here!)
Mood lighting
I was noticing on Instagram the other day that so many of the designer rooms I saw had NO lamps in their photos! If you ask me, lamps and mood lighting is one of the most important things in a room, especially in the fall and winter.
I love my evening ritual of turning on all the mood lamps throughout my house and dimming the dining room chandelier and kitchen sconces. Ambient lighting is what creates the coziest atmosphere!
Lighting Inspiration Posts: Adding Character with Wall Sconces // Inspired By: Rooms with Lovely Lighting // Lamps on Kitchen Counters // Fillable Glass Lamps / My Fave Lighting Sources
Cozy corners
You know I love to set up cozy corners. It's so much less overwhelming than dealing with an entire room, plus it gives you the more immediate satisfaction of a completed spot where you can enjoy a Hygge activity right away!
Do you have a little corner in your home that could inspire you to snuggle up and read a good book? Maybe look for a spot by the fireplace or an out of the way nook or a cozy side of a room? That spot is a great place to start.
Pick a favorite chair, add a throw blanket (I picked up this super soft green plaid throw and it's on sale through today!), a pillow, a lamp, and even a nearby basket for your current favorite books, journal, or even coloring books and pencils! (I love that many of you still tag me on Instagram while you're coloring in your The Inspired Room Coloring Book–that makes me so happy!).
Comfy slippers
When the temperatures start dropping, cozy slippers are a must for me! My family's favorite slippers for the past few years have been the Plush Duvet Slippers from Restoration Hardware. It doesn't look like they're being sold anymore or at least not yet (sorrow!!!) but these ones look very similar!
Flickering candles
Ivory Candles // White Candles
I think we can all agree one of the coziest things ever is flickering candles. While I don't light candles anymore, I do have and love both of these battery-operated candles that give off all the cozy candle vibes.
Both are real wax, have timers and moving wicks that give same look of flickering candles! For non-toxic scents and moods, I also use candle-flickering diffusers throughout my house. Click here for Fall Diffuser Blends & Why I Ditched Candles!
PS. I just got back from my trip to Salt Lake City, so this will be my first official week of our empty nest. I'll update y'all soon on how it's going, thank you so much for being here and hanging out with me!
---

---
Catch up on this year's Fall Nesting Series:
Fall Nesting + 20 Little Things to Love About Fall
Cozy Fall Shop – My Favorite Home Decor Sources
Fall Decor Ideas + Home Style Saturdays
Fall Diffuser Blends + Why I Quit Candles
Fall Nesting 2019 + Surprise Box Giveaways
Cozy & Inviting Kitchen: Get The Look
Cozy Weekend|Home Style Saturdays
Fall Nesting: Make Your Table Pretty
12 Ways to Slow Down & Savor Life + Free Dwelling Art Printables
How to Create a Cozy Sips Station (+ Mug Roundup)
Think Beyond the Throw Blanket + Book Launch Day!
Embrace Your Style + Make It Cozy
Decorating Blogger Q + A | Giveaway
Home Style Saturdays – Autumn Decor Inspiration
Outdoor Cushion Storage Shed – DIY and Done!
The Best Way to Start Your Day
Cozy & Inviting Dining Room: Get the Look