Welcome to Fall Nesting!
Don't we all at some level crave a home that is cozy and inviting? Maybe it's still 110 degrees where you are right now. I'm so sorry LOL! Maybe you are still craving air conditioning .…
But remember, our perspective in this fall nesting series is that what we want our home to feel like doesn't have to be limited by what is going on right now outside our home!
Even though it may be difficult for some to get in that mood when the weather isn't cooperating, that's what this Fall Nesting series is for! You're in the right place, friends! I want this series to inspire us all to make strides in creating a home we will love in fall, but also be a place where we feel at home in all seasons!
Cozy and Inviting (Get the Look!) will be a fun periodic "mini-series" within our Fall Nesting series!
To focus on that "cozy and inviting" mood many of us crave for our home, I will share a variety of inspiration rooms that feel cozy and inviting to me (for a variety of reasons!).
Then I'll quickly brainstorm a list of whatever elements I see that I think help create that mood.
Sometimes we'll focus on rooms that incorporate traditional "fall decorating" items (the pumpkins and plaid pillows, for example!), other times we'll focus on more general design elements or the mix of textures or accessories that can be incorporated into a room to inspire the mood this season.
Then, we'll feature items or tips to "get the look" into our home.
There's not only one way to decorate (at least around here!). It's my belief that we should make our home unique and authentic to us! So as always, take away from these posts or inspiration photos what inspires you. Leave the rest. Then go make your home your own!
Sound good? Let's do this.
Chime in with your own ideas or thoughts in the comments of all of the Fall Nesting posts (don't forget your comments on EVERY POST enter you into a monthly surprise box giveaway both here and on Instagram!).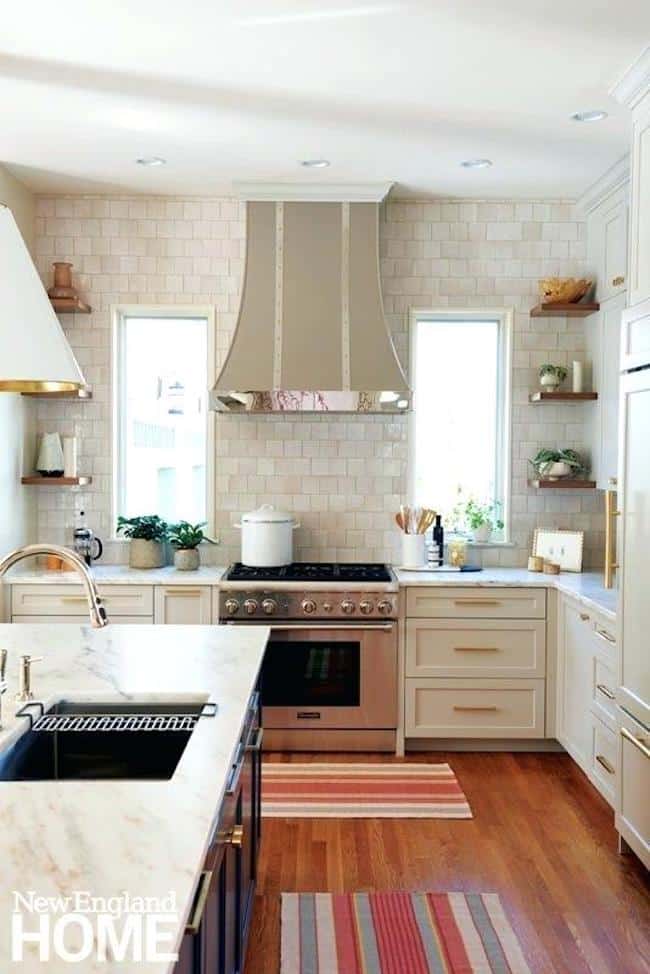 COZY & INVITING KITCHEN

Here are some notes on what stands out to me (and see the end of this post for items I would consider including if I was styling or designing a similar space!)
Mixed metals. Nickel faucet, stainless steel appliances. gold brass hardware, gold accent in light, silver vent hood, gold frame in corner on counter.
Cozy texture on the wall – antique looking tile
Rugs. Striped warm colors with blues. (these look like Dash & Albert rugs, my very favorite rug brand and the same brand my two rug designs are for!)
This room looks clean and tidy, but still homey and lived in with some items out in the open. I call that "every day on display"! There is a French press out on the counter, a white crock with spoons, olive oil out on counter in a pretty bottle, a big white soup pot…
Warm accents like concrete pots with plants and wood accessories..
Lighting. Pendant with a shade instead of glass, with warm gold detail. A table lamp with a white shade would give a similar effect to this look. I love lamps in kitchens! (see my blog post with inspiration for lamps on kitchen counters)
What do you see? What could be incorporated into your home? Share in the comments below to be entered into our monthly Surprise Box Giveaway!
Get the Look:

By the way…here's a fun fact, I've been posting observation style posts similar to this since 2008! Unfortunately a lot of those older posts are now missing their photos so they aren't quite as fun to read, but the comments were always fascinating.
This post right here <<<< was the introduction to the observation series where I talked about the value in studying images. Remember this was long before Pinterest or Instagram and early in blogging so it wasn't the norm to be so inundated every day with so many inspiration photos!
If you have time on your hands, it's maybe worth the read and interesting to read the comments, too. Especially in light of how much the internet has evolved since then!
Here are two "observation" posts that seem to still be intact, so if you like observation posts, you might enjoy these! >> Observation: Checkerboard Kitchen // Observation: Black & White Toile Bedroom
Catch up on any pre-fall nesting posts you missed! >>
Fall Nesting + Surprise Box Giveaways
My Cozy Fall Shop + Favorite Home Decor Sources
Fall Diffuser Blends and Why I Quit Candles
20 Little Things to Love About Fall
Find other posts in the Cozy & Inviting Get the Look Series below!
Cozy & Inviting: Dining Room
Cozy & Inviting: Coastal Living Room
Cozy & Inviting: Kitchen