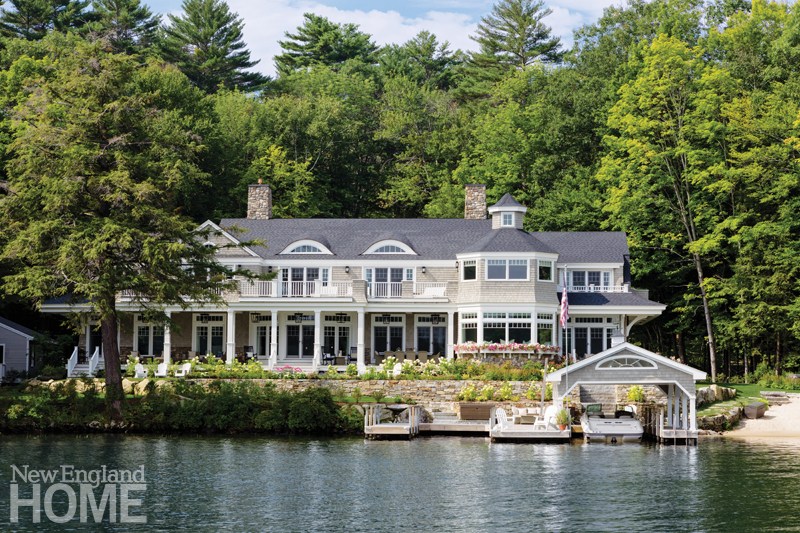 Cozy and Inviting (Get the Look!) is a fun periodic "mini-series" on The Inspired Room!
To get that "cozy and inviting" mood many of us crave for our home, I will share a variety of inspiration rooms that feel cozy and inviting to me (for a variety of reasons!). Then I'll quickly brainstorm a list of whatever elements I see that I think help create that mood. We will also feature items or tips to "get the look" into our home.
There's not only one way to decorate (at least around here!). It's my belief that we should make our home unique and authentic to us. So as always, take away from these posts or inspiration photos what inspires you. Leave the rest. Then go make your home your own!
Sound good? Let's do this.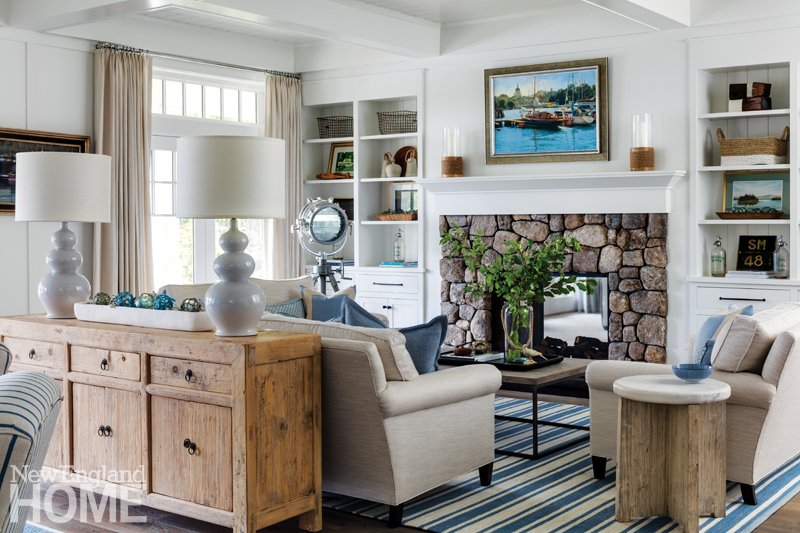 Here are some of my observations and notes on what stands out to me about this room. At end of this post you'll find pieces I would consider including in the design if I was styling a similar space!
Beautiful architecture with the coffered ceiling, built-in bookshelves and mantel, paned windows
Symmetry with lamps and the hurricanes on mantel.
Simple styling. Cozy, but with a "less is more" approach.
A burst of life with the greenery branch, probably pulled from the yard!
Seascape paintings.
Console table behind sofa to separate the room into multiple smaller conversation areas. You can see a peek of angled striped chairs in the lefthand corner! A coastal feel without being too "themey"
Texture galore! Remember when we talked about the secret ingredient every room needs? The coziest and most interesting rooms will have a mix of materials and textures, and this one has a lot! Rustic wood console, ceramic lamps, upholstered sofas, stone fireplace, wood trays, wire baskets, metal frame, glass lamps, woven basket, wood floors, rug, rope on jars, metal and wood table, woven and glass hurricanes, blue glass spheres with rope, soft fabric curtains,wood side table with stone top, etc.
Black accents add strength and contrast to an otherwise light and airy room. The hardware on the console, the built-in drawers and cabinets, the table legs and tray, the feet of the sofas, and in the bookshelf decor accents.
The graphic letters and numbers on the black art in the bookshelves is eyecatching. I always think a little graphic element in a room goes a long way, like one piece of art with a word or quote for example!


---
Chime in with your own ideas or thoughts on this room in the comments!
More inspiration:
Cozy & Inviting Kitchen: Get the Look
Cozy & Inviting Dining Room: Get the Look
Inspired By: Beach House Style
Cozy Beach House: Get the Look
Tour Our Family's Old Oregon Coast Beach House