Thank you all for your funny and supportive comments on the post about my pups and all the craziness with trying to keep up with my love of white slipcovers. You are kindred spirits. As much as I love them, the time has come to say goodbye and move on to the next chapter of our life, which as you have probably guessed by now is LEATHER.
Now before anyone tells me that leather isn't easy either, I will agree and be honest that there is NO SOFA that will remain clean — unless no one sits on it. But we do sit on ours. As do the dogs (um, obviously if you saw the pictures yesterday heheheh). The slipcovers were wonderful for cleaning (which is important to me) but once I started losing the battle with the dogs to where I had to wash the slipcovers pretty much constantly, I decided the best win-win for us is that the dogs remain a part of the family :) and the sofa is switched for something a little more pet friendly without so much work from me. After years and years with that sofa, I was ready to say I got my $400 worth :).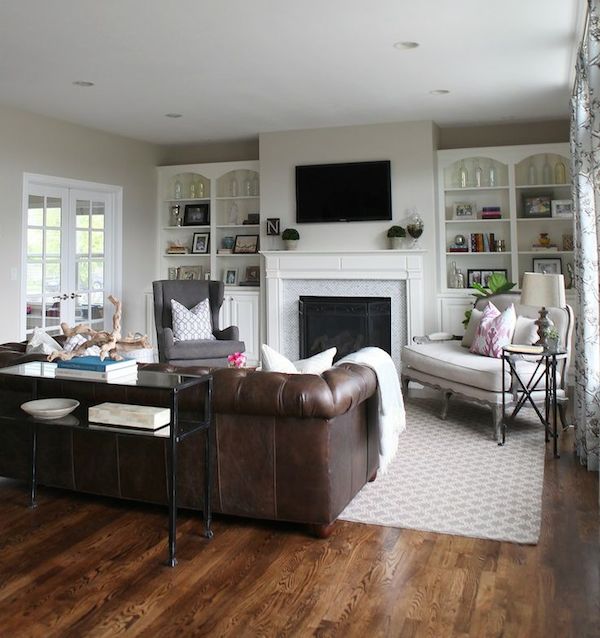 Jana Bek Design featured on PB Inside & Out
We actually had a leather sofa in our old house, but it was simply too big in scale for this house. It survived my son's baby and toddlerhood, wet diapers and all sorts of unmentionable things that happen to couches with boys and dogs in a house. The thing I loved about it was even though I cried the first time something happened to it, after awhile any imperfection all became like character. I'm OK with that. And as many of you wisely pointed out, I can just wipe off whatever is on leather and it will be fine. I don't have to haul the slipcovers up to the wash all the time and that alone makes me happy!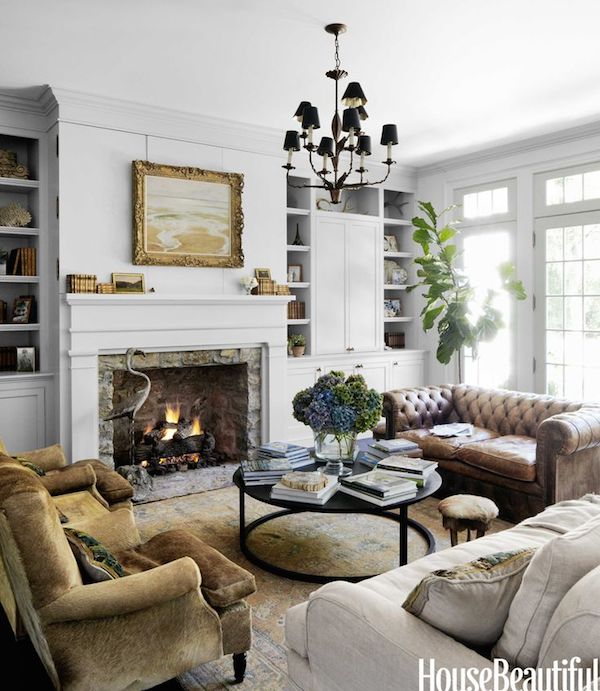 House Beautiful
But besides the general ease of care and letting the leather age as it will, I just happen to love the look and feel of leather. I feel like our house has been asking for leather (I know, there goes my house talking to me again.). I think it's going to add a really great new texture and I'm excited about it!
In case you forgot about it, I have another sofa upstairs in our media/family room. It's a super soft squishy sectional where we all flop and watch TV. I would say it is extremely dog friendly as well. It is upstairs so it doesn't really get the same mud bath that our dogs give to the downstairs sofa since we usually catch them and wrangle them to the bathtub before they get all the way to that room. But still, that sofa has held up really well to the dogs and spills and it is super comfy for TV watching.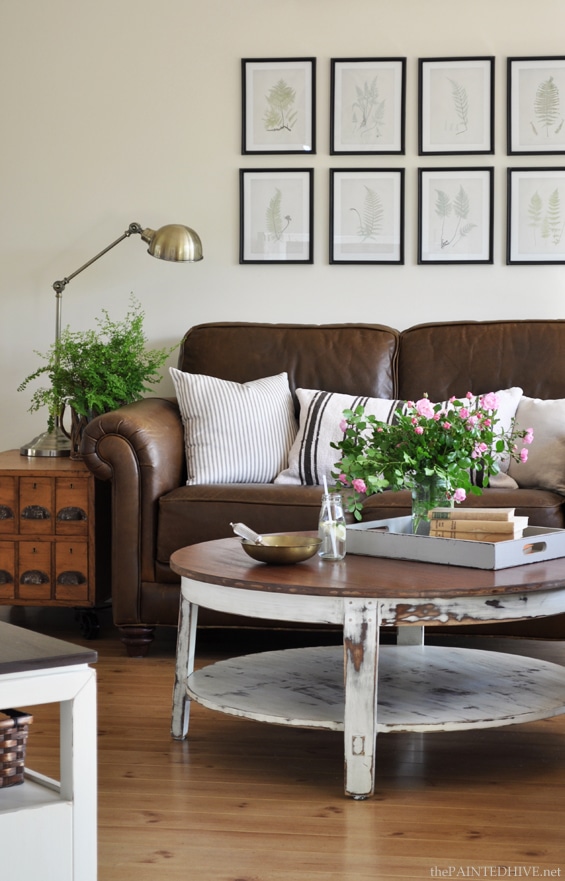 The Painted Hive
We had a few requirements with our new sofa. Besides wanting leather, I wanted a medium tone leather so it wouldn't overwhelm my generally soft house colors or small space. I wanted a tight back instead of loose or squishy cushions (since the dogs would tend to perch on them or throw them to the ground). I needed one that was a smaller scale since my family room is fairly narrow, but I still wanted it to have traditional classic style and personality with a little rolled arm. I also wanted one that would ship right away.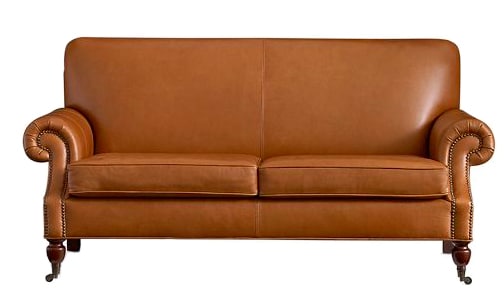 So, I ended up selecting the Pottery Barn Brooklyn Leather sofa in Toffee. It seemed to be the only one that really met all of our needs and I really love the style! Unfortunately when I went to place the order it said quantities are limited and it wouldn't ship until after the first of the year, or possibly February. OH SNAP! That's a long time. No sofa for the holidays or snuggling by the fire? Humph. But unless I find anything else in the meantime, I guess I'm gonna just have to wait.
Meanwhile, I will either just have no sofa or I might use the gray slipcover I bought at IKEA and keep the other PB sofa where it is for now. I'll still have to wash slipcovers awhile longer in that case. However I had to throw away two of the shredded gross seat cushions to my sofa in the recent dog barfing incident, so I would have to rig up something maybe with my outdoor cushions to make it work in the meantime!
So, there's my sofa saga! I'll update you all again on it, at least when the new sofa comes or if there is anything new to report! :)
**Update! My sofa has arrived! See it here.
Related Posts:
Practical Questions to Ask When Buying a New Sofa
The Truth About White Slipcovers (Part 1)