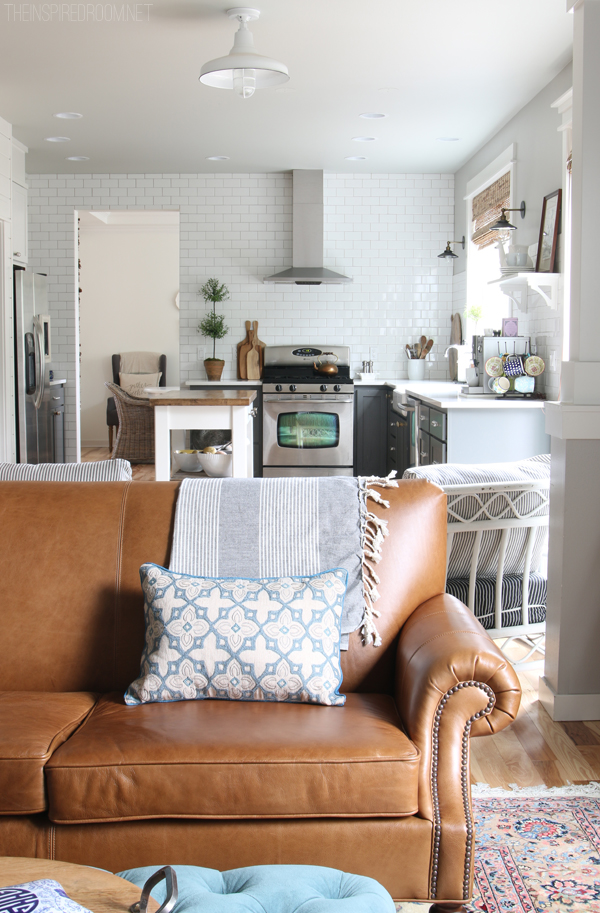 February is a good month to do a little house fluffing, don't you think? Of course, I think I say that in every season so you know, I guess it's always a good time if you are like me. I find especially when I'm extra busy like I've been for the past year that I just want to stop the world for a minute to clean the kitchen and put the house back together again, rearrange some pillows, dust the furniture, polish the surfaces and especially in fall and winter, I want to cozy things up a bit.
Soon I'll be ready for spring cleaning and decorating, but for now, just getting the house clean and fluffed is keeping me happy.
Have any of you read this book? His story and houses are totally inspiring me right now, even though it isn't all my style. I even find myself wondering "What would Furlow do?" Or, WWFD for short, as I've saying around my house lately. :) Furlow might have a bit more stuff laying around the house than I could handle, but I really do love the interesting layers and collections in his home. I don't feel any warm fuzzies for perfectly styled houses or a minimalist look. While random clutter or staged decorating makes me a little twitchy, beautiful collections and treasures make a home look intentional and meaningful to me.
Since I've lived in older houses all my life, I have a real appreciation for the old well-traveled-around-the-globe, quirky-but kinda-stately-in-a-relaxed-country-kind-of-way-style. Right? I know. I just made that up but it fits. And I know, I can never make up my mind about my ideal style. But that's just it, a home can and should evolve with you. That's what I've always loved about the mix of an old collected look.
And speaking of the ever evolving mix of old and new, my new leather sofa finally arrived (and I LOVE it!). I'm a texture loving girl so seeing the house come together layer by layer is fun. I love the warm copper and wood tone flow around the house with my copper pots, bamboo blinds, wood cutting boards, the leather sofa and the wood floors on the warm cozy side of the spectrum…and then the contrast of my bright glossy white subway tile and white quartz counters on the clean smooth side. The mix makes my eyes happy.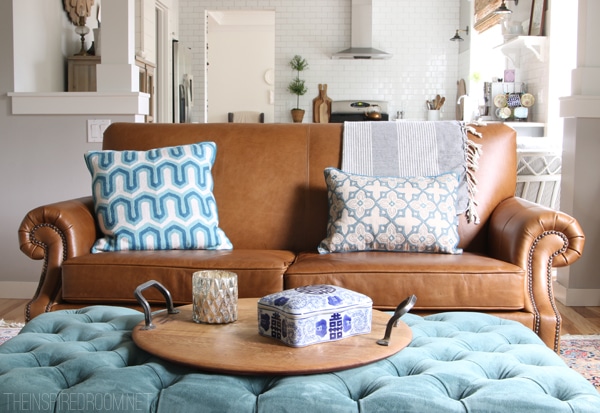 Similar Ottomans:

When the incident occurred and my white slipcovers bit the dust last fall, I decided to move on from so much white (at least for now) and bring an additional warm vibe and texture to the room with a new leather sofa in my family room (see my thought process for choosing leather here).
Leather is always a classic, but lately I've been loving it all the more as I've been craving even more rich textures and colors in balance with the softer neutrals I use throughout the house. (Speaking of rich colors, my office got a fresh coat of paint too so stay tuned for that update, it's still navy, don't worry but it's even a deeper richer navy now!)
My old leather sofa went to our church when we moved here because it was too big in scale for our narrow family room. So this time I was careful to buy a sofa that was just the right scale for my space. Rather than a really long sofa, I went for a six foot loveseat with slightly rolled arms. It allows just enough room to walk around either side of the sofa as it faces our fireplace. I love the nailhead trim for a classic detail that feels right at home in even a more modern house.
My parents recently offered me a Persian rug they had in storage, so I decided it would be fun to play around with adding this beautiful wool rug for the winter (although its beautiful pattern with the coral, lighter blue and navy color palette make it perfect all year round!). Since I was in a house-fluffing kind of mood anyway, I thought, why not? I never feel obligated to stick with one look and it's fun to see how a house can evolve with just a few minor tweaks of rugs, furniture or accessories.
It was fun pairing up the old rug with the new classic leather sofa and mixing in the tufted velvet ottoman to create wonderful cozy new layers for the family room!
Have you done any February house fluffing yet?
Related Posts:
The Winter House {10 Layers to Cozy Up Your Home}