The sectional in this post was provided by Interior Define
When we moved here from our old house, we left our sectional behind for the new owners. Even though I knew I was going to miss it, it was a win-win to leave it. We loved the sofa, but we were downsizing and knew it just wasn't going to work to move it to our new home. When the time was right we hoped to find something smaller, but in a similar fabric and color.
You probably saw some of the sofa we found in my flooring reveal, but today I want to show you more and tell you about it!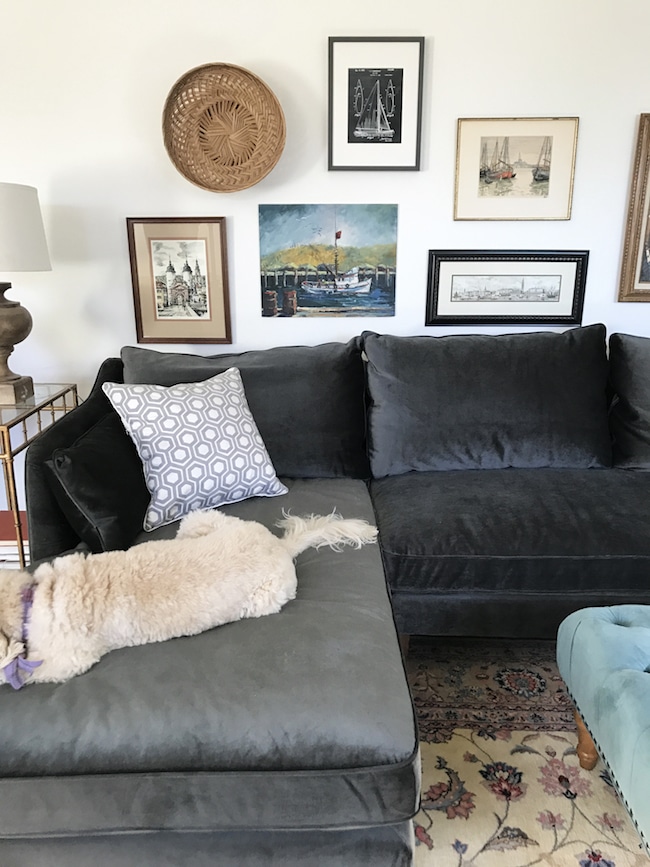 We ended up finding the perfect sectional with a chaise through Interior Define last summer. It was just as I had pictured. The fabric is a performance fabric and it's a super soft and cozy velvet. The color is GORGEOUS! It's a deep charcoal with a hint of blue that at certain angles has a lovely silvery sheen that brings light to the dark velvety fabric.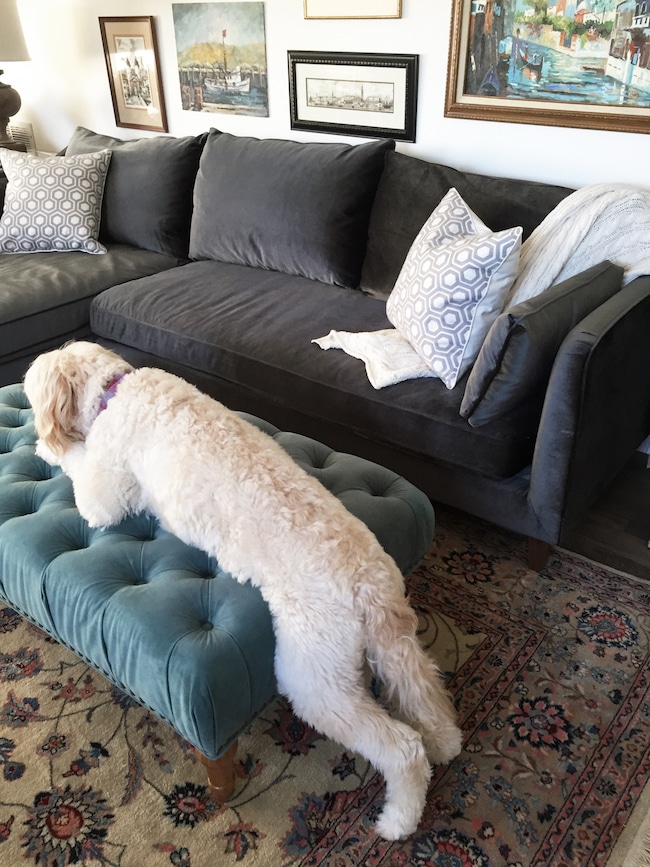 I promise I didn't pose the dogs in all these pics. HA! They were determined to be featured in every photo. Every time I get out my camera, there they are. They always want to be where I am, especially Jack…he's very much a people dog. Those of you who have pups probably know what I mean. They just like to be with their humans. 
Anyway, back to the sectional :) I love the piping details and the slender, slightly sloped arms. This sectional is called the Caitlin and is a part of the Everygirl Collection. It's available as a regular sofa as well. It has a comfortable but refined look about it, which is a combination I really like.
The bench cushion is reversible, filled with high-resilience foam wrapped in down. The back cushions have a soft down fill, so you really do want to sprawl out and relax (no matter what side you sit on.) Jack thinks this end is an ottoman, which he of course tries to claim as his own (he has this thing with ottomans). I personally find it perfect for sprawling out and binge watching Fixer Upper.
The back pillows can be easily fluffed and adjusted for comfort, or removed completely if we want more room to take a nap!
Lol…Jack.
Another great thing about Interior Define is that their furniture is hand-crafted and made-to-order. That means you have options! If you needed a special size or customization, just let them know! Need a different fill option, custom legs or a different fabric? They offer tons of choices and are very accommodating.
But their high quality made-to-order pieces doesn't mean they are more expensive. Because you order online, the prices can be more affordable than what you might find in a showroom.
If you are wondering about Interior Define's return policy, it's super generous. They want you to love your furniture. You have 14 days to return it for a full refund and free shipping or 365 days to return with just a modest restocking fee.
I recommend getting their complimentary fabric swatches to help with your decision process!
We really love having this cozy space downstairs to gather and relax. And obviously, our pups do, too. :)
Sofa Sources: 1 // 2 // 3 // 4 // 5 // 6
Our sectional is the 110″ Caitlin Chaise Sectional (the last one shown in the graphic above). We chose the fabric Mod Velvet (Color: Narwhal) with Oiled Walnut Legs.
Thank you to Interior Define for providing this sectional!
Ps. You can find our pups on Instagram here or on Jack's Instagram here. :)