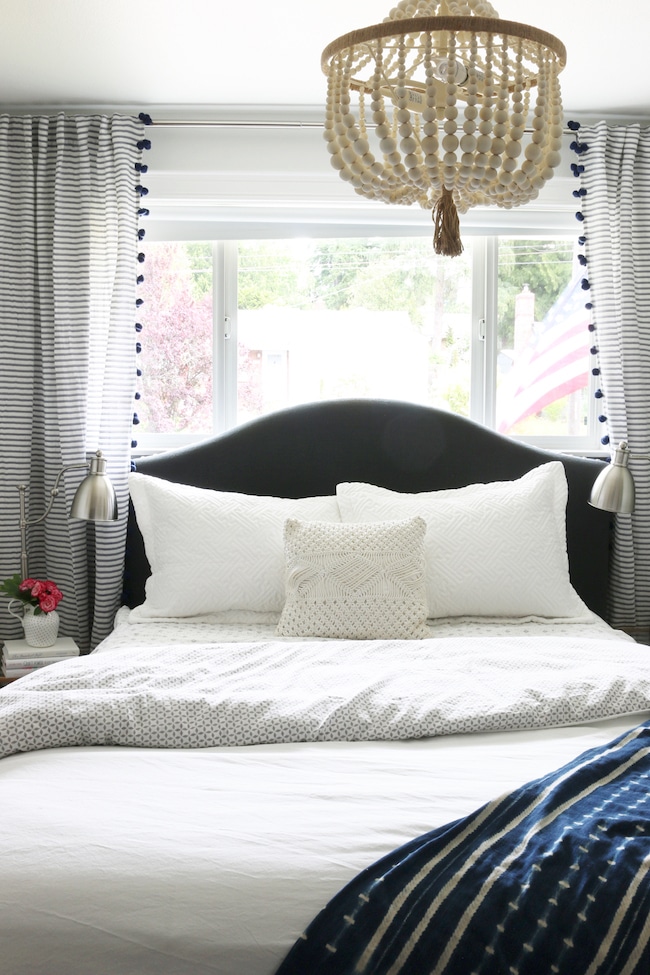 Sponsored by Stearns & Foster
Coastal Cottage Bedroom Makeover
Recently I've been sharing some of the design "shuffling" that has been going on around our house! Last week I promised to come back to share the "after" of the summer refresh in our guest room. So, voila! I'm back with this coastal cottage bedroom makeover!
I'm totally in love with the new look. I really didn't even change a lot, but oh my goodness, I'm always thrilled when a few changes are all you need to feel like you are in a brand new space.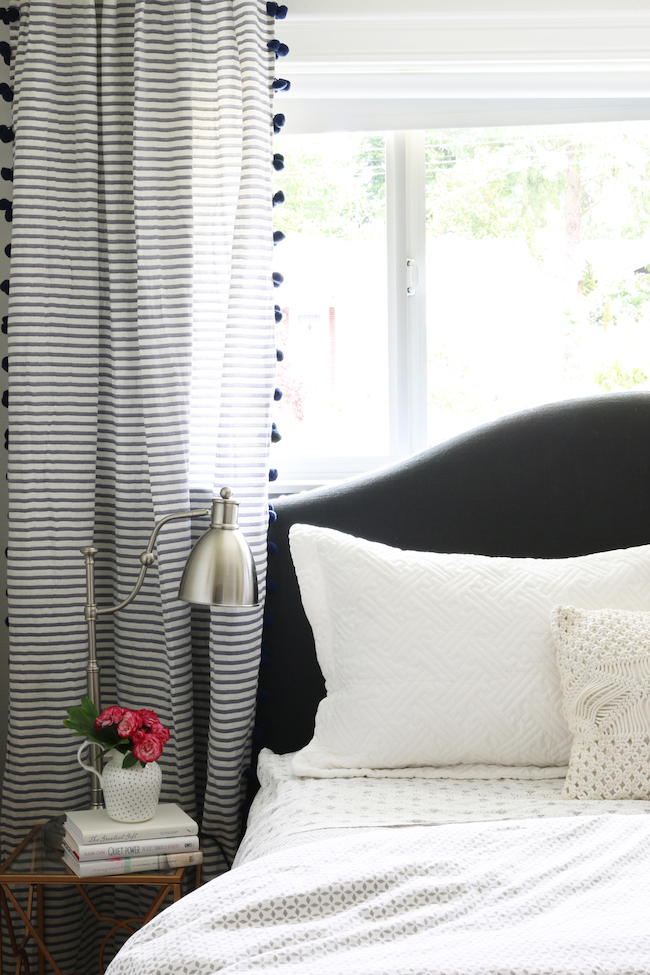 Guest Bedroom Design Details
In this room we focused on finishing up key elements that brought comfort, texture and personality, like a new mattress, adding fun striped curtain panels with pom pom detail and a beautiful new wood beaded chandelier.
I love decorating over time (and being patient with the process) because it eventually allows me to begin to add in pieces I really love.
We weren't able to get a statement light fixture earlier on, but I knew it was going to be worth waiting for. Some of the fixtures I really wanted were totally out of my budget, so I was willing to be patient for something special that would still be in my price range. Light fixtures can make such a difference, so they are worth careful consideration.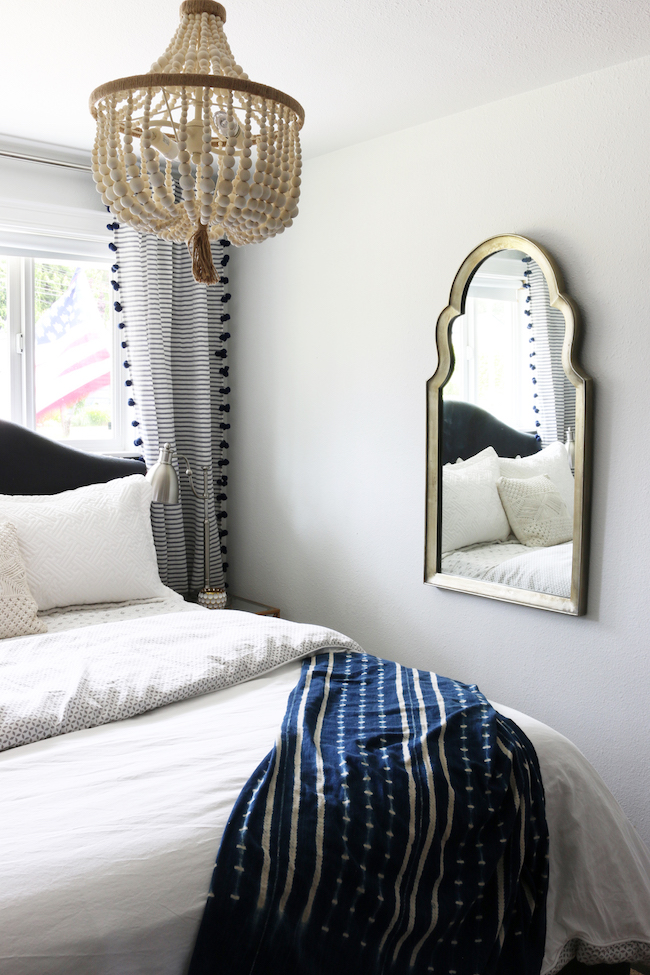 We actually needed a light fixture that was a smaller scale than many of the options out there because, well, it's a TINY ROOM. I am a big fan of shopping in the kids or teen section of designer furniture stores like Pottery Barn. They often have similar styles and quality to their main fixtures, but they usually offer more affordable pieces and often smaller scaled items for shorter ceiling heights and smaller spaces. (All my sources will be linked at the end of the post).
I feel like I love this room even more because I had to wait for several of the key elements to come together. When you have to wait, you appreciate each detail even more.
A Quality Mattress
The most luxurious thing in this room is our new Stearns & Foster mattress. As I mentioned in my "before" post, my husband and I had a Stearns & Foster mattress for over 15 years. We moved it to five different master bedrooms in that period of time, so clearly we didn't want to part with that mattress.
Great sleep is an essential part of well-being, so comfort should be a part of a well-designed bedroom. While I love new curtains and light fixtures, sleeping has always been my favorite. I'm happy to finally welcome a brand new Stearns & Foster back into our home (and eventually into our master bedroom, sorry guests!). This beauty changes everything!
It's hard to even convey how comfortable it is. It's not like any of the mattresses that are delivered to your door in a box. It isn't lightweight or flimsy at all. It's dreamy to sleep on, but so solid and well-built. When you lay on it, you feel like you are being hugged by a cloud, ha! In my opinion it has just the right amount of support to plush ratio :).
Just like putting together a lovely room, this mattress is crafted with such amazing detail. I love that it is a feast for the eye, too! Look at all the gorgeous quilting, tufting and the trim work! I almost hated to cover it up with bedding; it's such a beautiful mattress. It even has convenient leather straps. No detail was overlooked for style or comfort.
Everyone in our family agrees; this is the best spot in the house.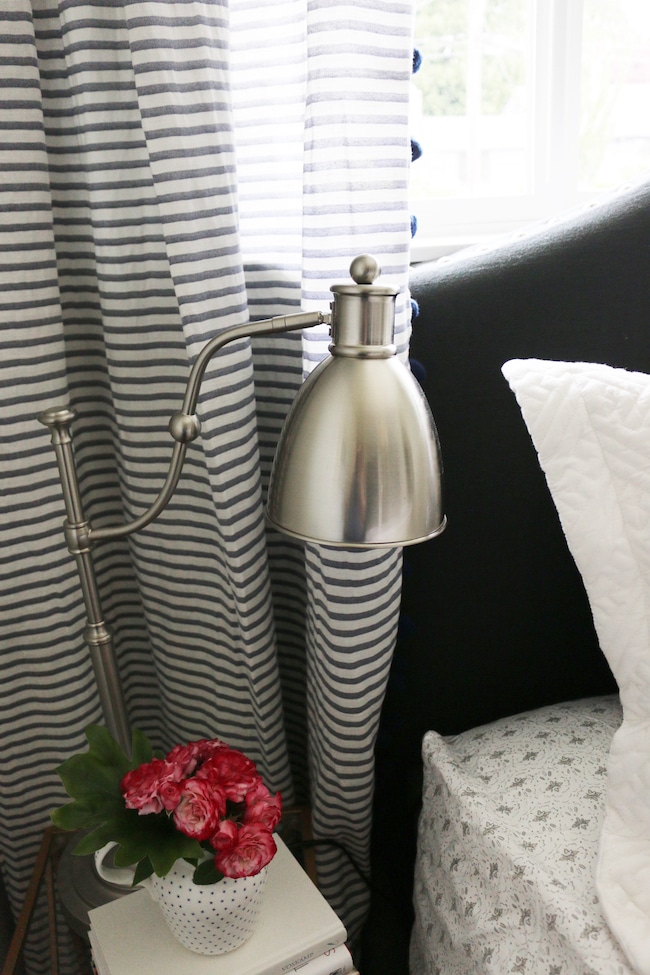 We're all ready for summer vacation in here! The only thing I should caution you about if you are considering putting a Stearns & Foster mattress in a guest room is that no one will want to leave.
Everyone seems to just settle in and make themselves at home.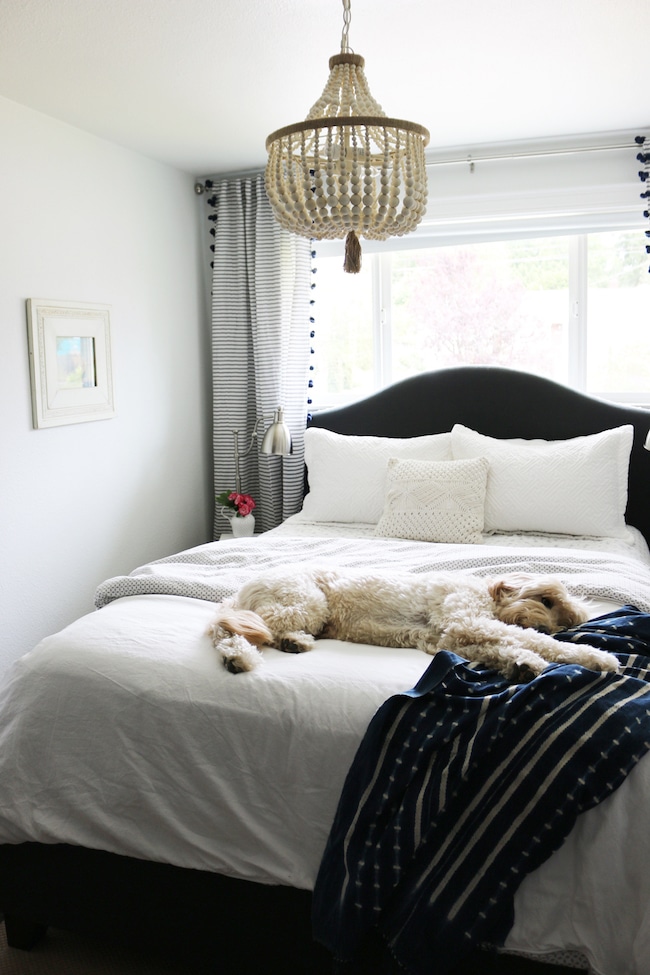 I mean, I guess that's a good thing in a guest room. Comfort is key, right?
I'd say my work here is done.
Learn more about Stearns & Foster here.
Find a Stearns & Foster retailer here.
Bedroom Makeover Sources:

Click through the thumbnails above to shop accessories from my room (with similar options for out of stock items)!
Stearns & Foster Mattress
Striped Pom Pom Curtains
Beaded Chandelier
Upholstered Bed
Rug
Arched Mirror (similar or see more above in scrolling bar)
Reversible White & Gray Duvet
White Patterned Pillow Shams
Mudcloth Throw Blanket
Wood Window Mirror (similar)
Nightstands (similar nesting table)
* * * * * * * *
This is a sponsored conversation written by me on behalf of Stearns & Foster. The opinions and text are all mine.
Is your home ready for summer?