Greetings, friends!
I'm pretty tickled to let you in on some BIG news today. On October 3, my newest baby will be released into the world (and hopefully find its way to your home!).
Friends, meet this special little book called Simple Gatherings.
Simple Gatherings is about how to host a memorable gathering for friends and family. But don't worry. You can check perfection and intimidation at the door because this book isn't about hosting a Pinterest-worthy party.
Simple Gatherings is about creating an experience that will draw people together.
From preparing your home and menu to setting the atmosphere and table, you'll find simple tips for hosting any event.
Learn how to help guests feel welcome and comfortable in your home.
Discover ways to spark connection and conversation so everyone feels at ease (including yourself as a hostess!).
Find featured gathering ideas, creative activities, and special touches to make gatherings memorable!
PRE-ORDER BUNDLE:

I'm thrilled to offer you a chance to get my entire ebook collection FREE! You'll be able to download a bundle of ALL FOUR of my books in ebook format when you preorder a copy of new latest book, Simple Gatherings. Stay tuned at the end of this post find out how to get this amazing preorder gift.
This sweet book on simple hospitality has been in the works for quite awhile, but it is one I've been especially eager to share with you.
YOU are a big reason Simple Gatherings exists.
You see, this book came to be because you've chosen to gather here with me, on this blog. Many of you have been gathering here for over ten years! Some of you have just recently found your way here, but your presence is welcomed and treasured just the same.
Every time we gather here, I feel uplifted by your kindness. I feel blessed by your support. As I've gotten to know you, you've become my friends.
I look forward to seeing your name and thoughtful comments when we gather here as much as I look forward to seeing friends around my table. That is what gatherings of friends is all about!
So friends, I want to thank you for gathering with me here day after day, week after week, year after year. I feel like I am among friends. I hope you feel like you belong here, too.
Scroll down to find out how to get my entire collection of ebooks, ALL FOUR of my titles, in a bundle with a preorder of my new book Simple Gatherings! 
Simple Gatherings joins my four other books:
Love the Home You Have
The Inspired Room
Make Room for What You Love
Simple Decorating
(and of course, The Inspired Room Coloring Book!) 
You can find more about all of my books here.
As I mentioned earlier, I'm so excited to offer a FREE EBOOK BUNDLE with ALL FOUR of my ebooks to anyone who preorders Simple Gatherings! WOO HOO! Free books are my favorite.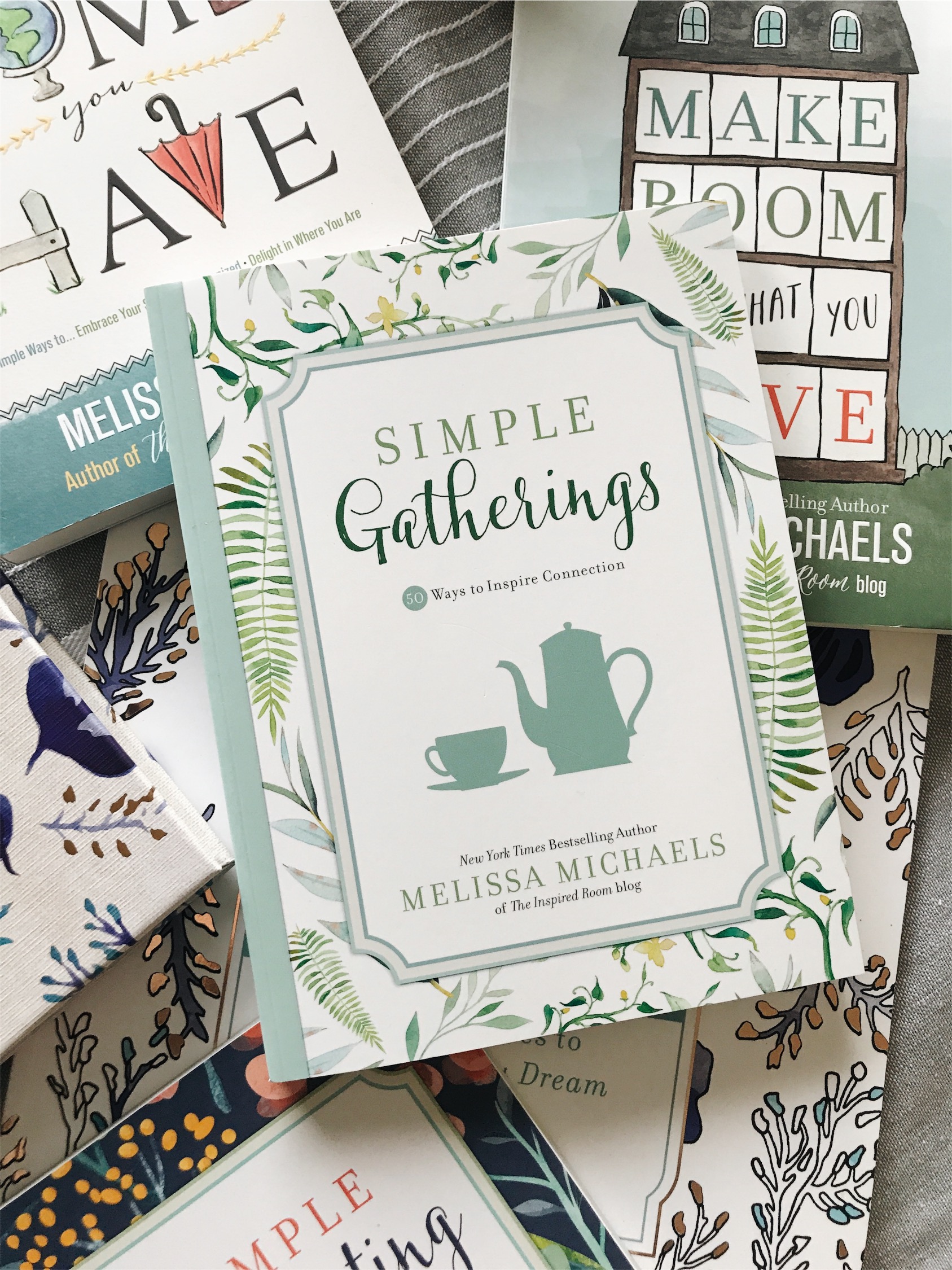 SIMPLE GATHERINGS PRE-ORDER BUNDLE
Here's how you can get all four of my books in a FREE ebook bundle: Love the Home You Have, The Inspired Room, Make Room for What You Love, and Simple Decorating!
1. Pre-order my new book Simple Gatherings from your favorite retailer. You can order Simple Gatherings on Amazon and Barnes and Noble. You can buy a copy for yourself, or a friend. Or order a few copies for holiday or housewarming gifts! Pre-orders help authors in many ways, so thank you for your support.
2. Once you've placed your pre-order for Simple Gatherings, go here to the Harvest House website to input your name, email address and the order confirmation number from your retailer.
3. Next, you'll receive an email with a code and instructions for how to download all four of my books in an ebook bundle! If you have ANY trouble at all, just email my publisher at friends@harvesthousepublishers.com and they'll help you out!
Simple Gatherings will be released on October 3.
Once you pre-order Simple Gatherings, claim your free ebook bundle of all four of my books!
This is really a sweet deal.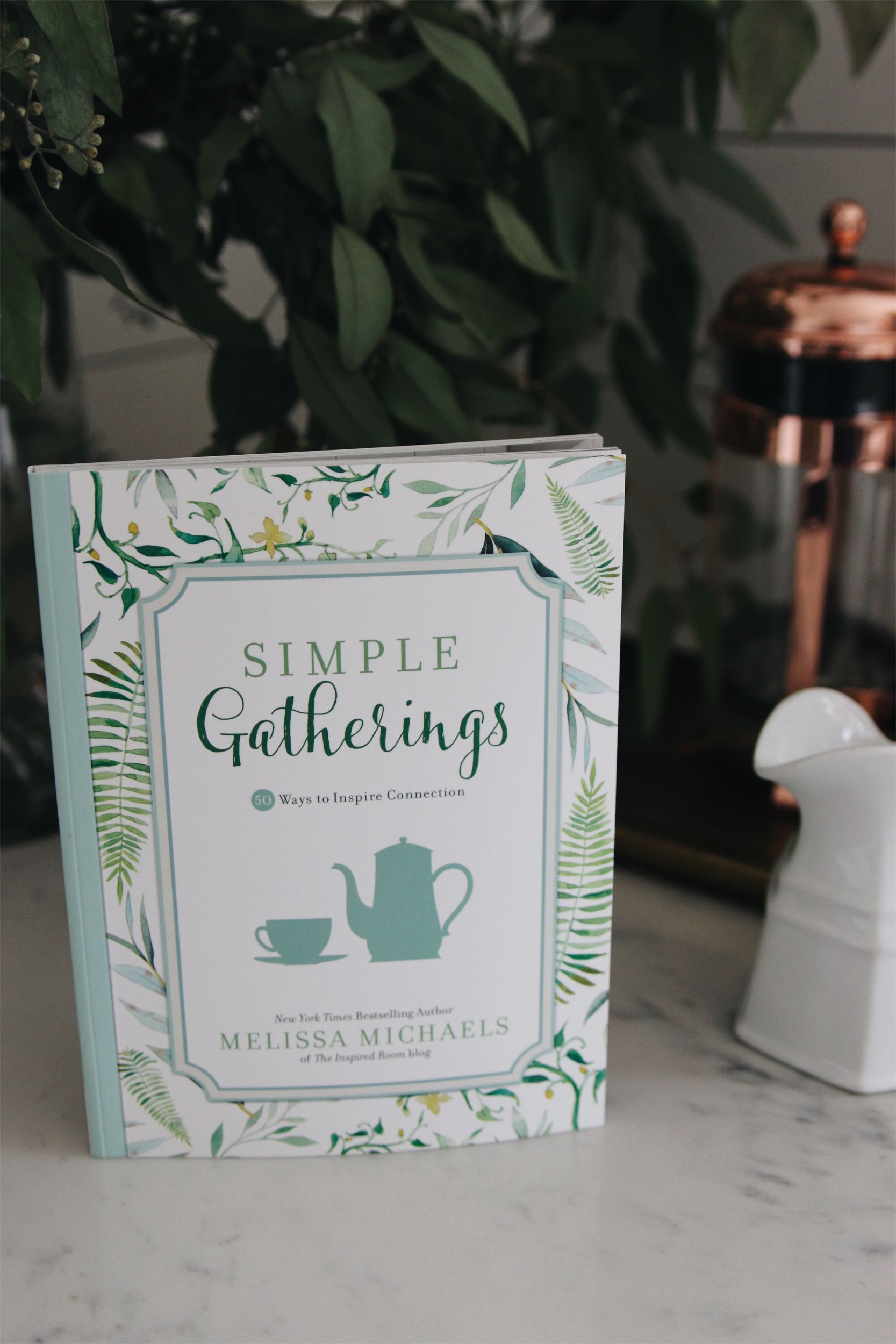 This growing stack of books is because YOU gathered here! <3
Thank you for the support, friends. I love you more than pumpkin flavored everything (source: dishtowel).