Click here for Simple Gatherings on Amazon
Greetings, friends!
I'm pretty tickled to let you in on some BIG news today. On October 3, my newest baby will be released into the world (and hopefully find its way to your home!).
Friends, meet this special little book called Simple Gatherings.
Simple Gatherings is about how to host a memorable gathering for friends and family. But don't worry. You can check perfection and intimidation at the door because this book isn't about hosting a Pinterest-worthy party.
Simple Gatherings is about creating an experience that will draw people together.
From preparing your home and menu to setting the atmosphere and table, you'll find simple tips for hosting any event.
Learn how to help guests feel welcome and comfortable in your home.
Discover ways to spark connection and conversation so everyone feels at ease (including yourself as a hostess!).
Find featured gathering ideas, creative activities, and special touches to make gatherings memorable!
This sweet book on simple hospitality has been in the works for quite awhile, but it is one I've been especially eager to share with you.
YOU are a big reason Simple Gatherings exists.
You see, this book came to be because you've chosen to gather here with me, on this blog. Many of you have been gathering here for over ten years! Some of you have just recently found your way here, but your presence is welcomed and treasured just the same.
Every time we gather here, I feel uplifted by your kindness. I feel blessed by your support. As I've gotten to know you, you've become my friends.
I look forward to seeing your name and thoughtful comments when we gather here as much as I look forward to seeing friends around my table. That is what gatherings of friends is all about!
So friends, I want to thank you for gathering with me here day after day, week after week, year after year. I feel like I am among friends. I hope you feel like you belong here, too.
Simple Gatherings joins my four other books:
Love the Home You Have
The Inspired Room
Make Room for What You Love
Simple Decorating
(and of course, The Inspired Room Coloring Book!)
You can order Simple Gatherings and find more about all of my books here.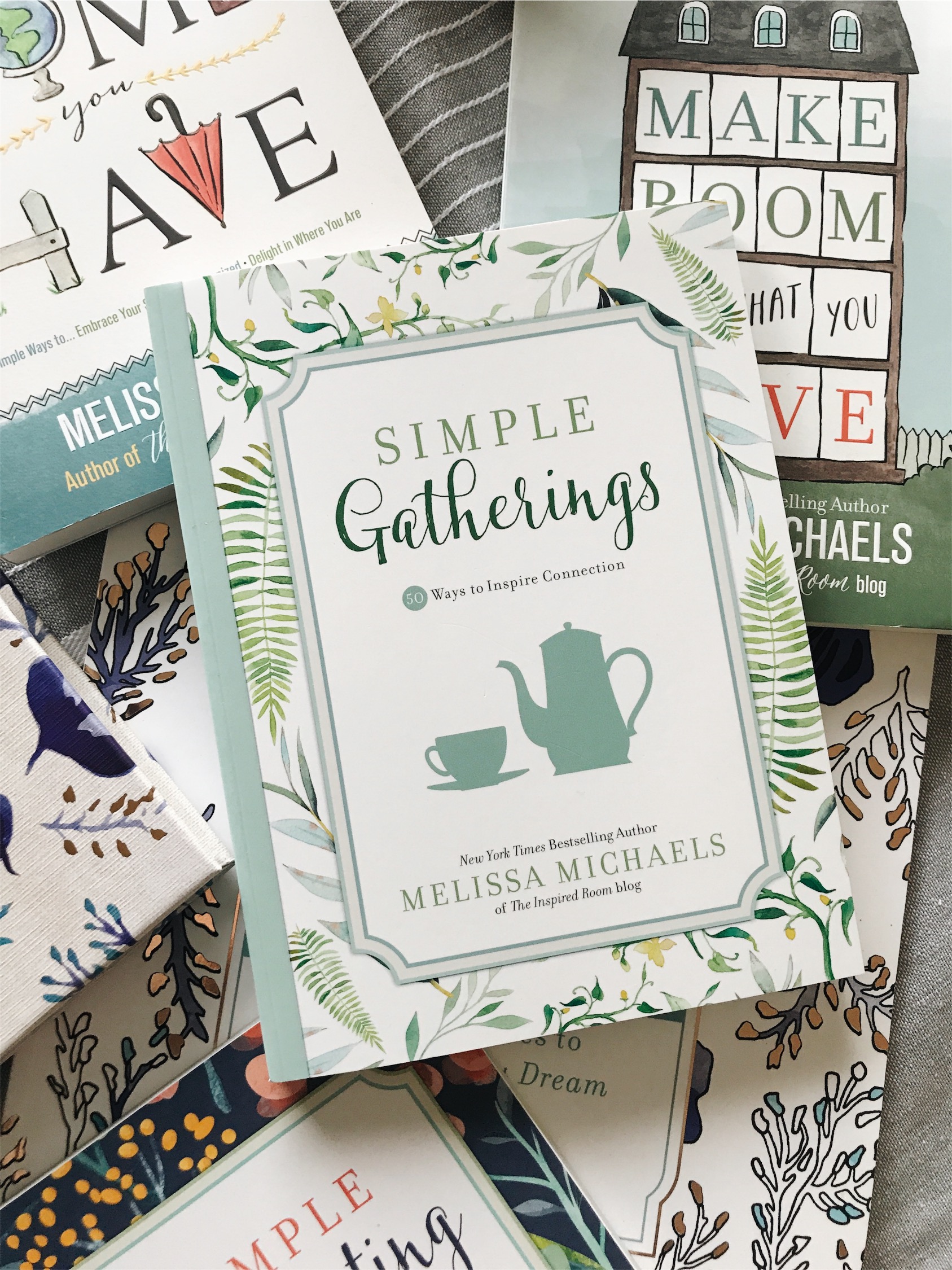 You can order Simple Gatherings on Amazon and Barnes and Noble.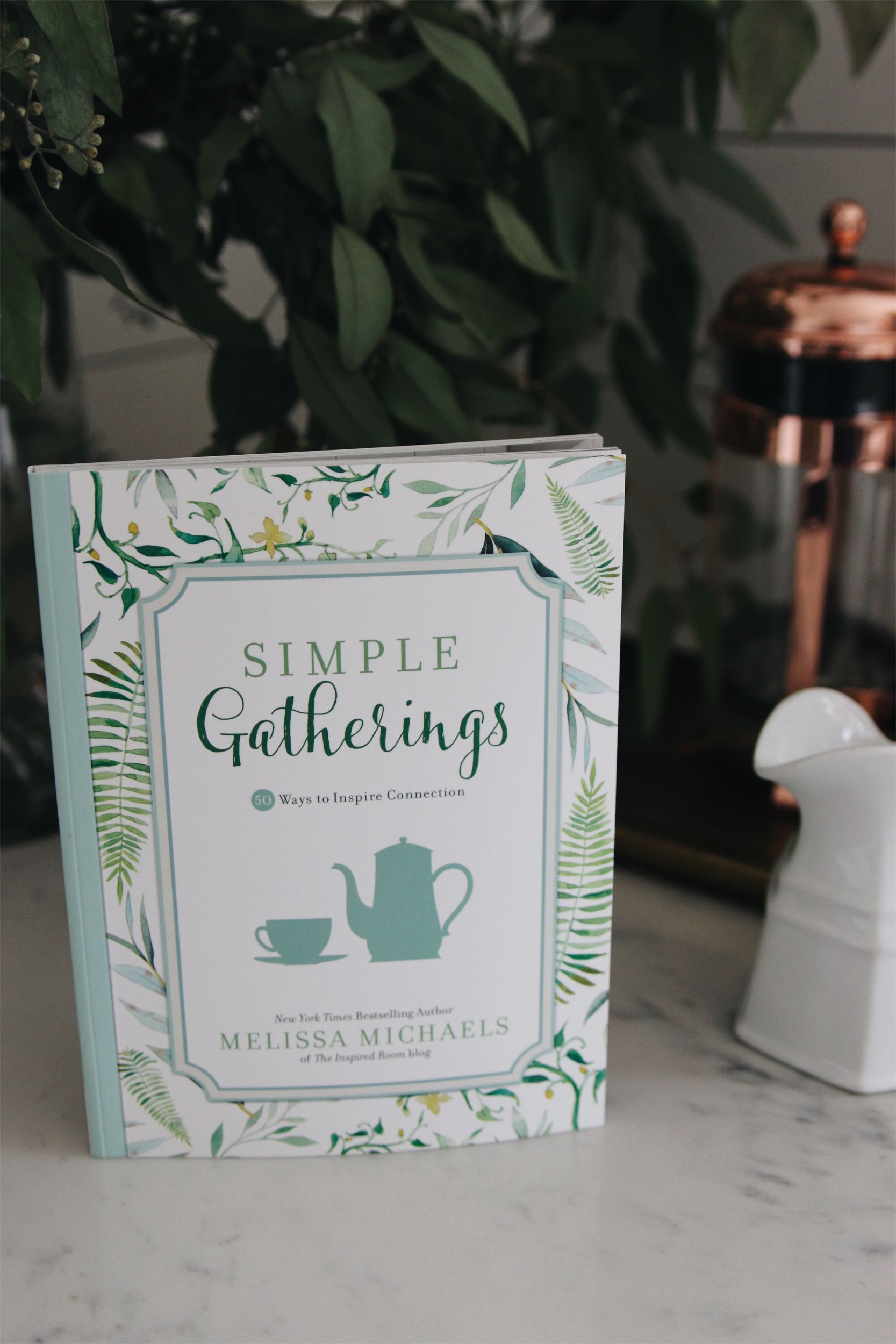 This growing stack of books is because YOU gathered here! <3
Thank you for the support, friends. I love you more than pumpkin flavored everything (source: dishtowel).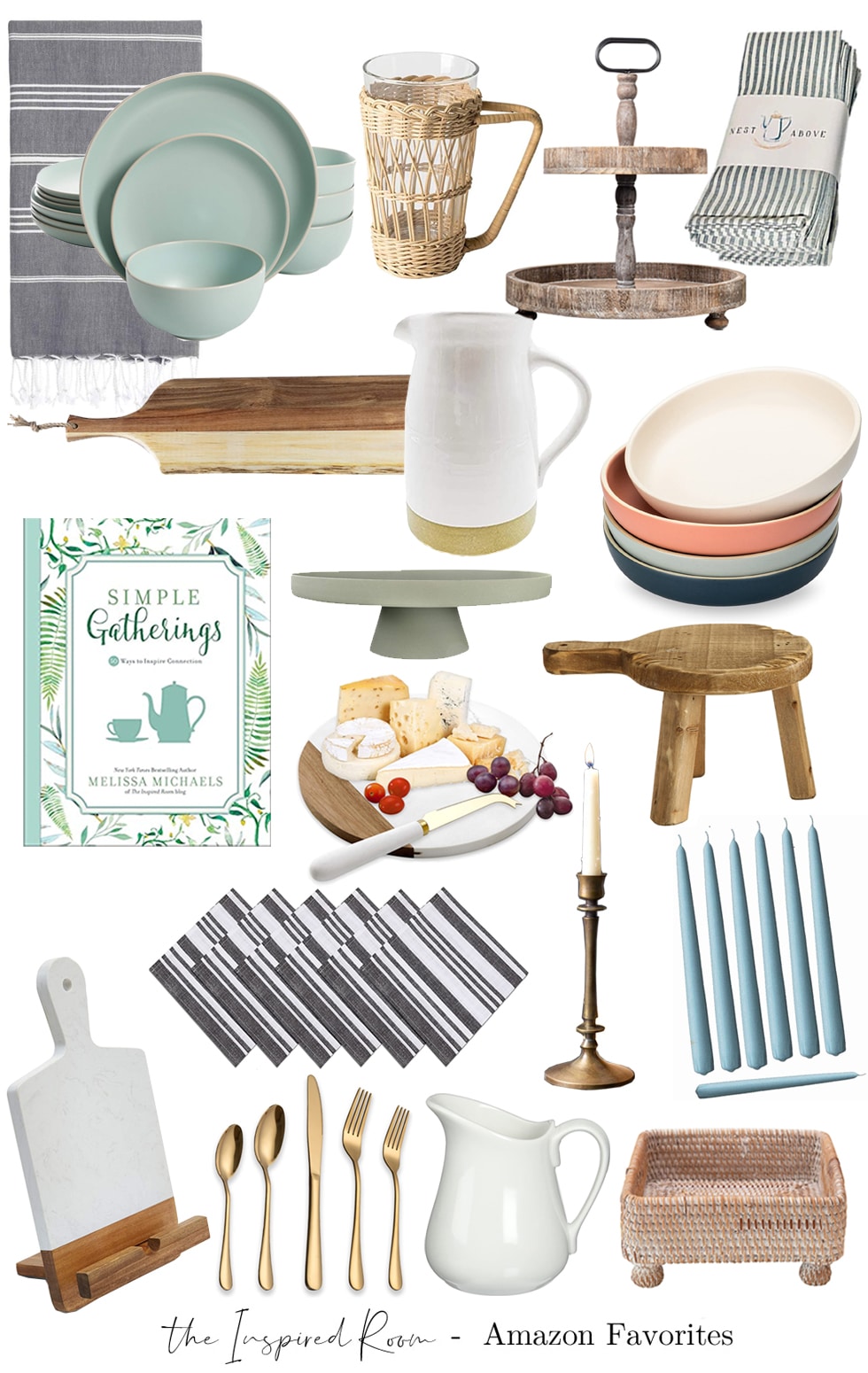 Click here to find my entertaining and tabletop decor favorites on Amazon!
Sources for above: Turkish towel (many color options, love using these as tablecloths!) // Teal Matte Dinnerware // Simple Gatherings Book // Wood Pedestal with Handle // 2 Tiered Wooden Tray // Matte Porcelain Dinner Dishes // Bamboo Rattan Cup with Handle // Brass Taper Candle Holder Set up Two // Sage Green Pedestal // Blue and White Ticking Striped Cloth Napkins // White Marble Acacia Wood Round Cheeseboard // Stainless Steel Gold Flatware // Farmhouse Ceramic Pitcher // Marble and Acacia Wood Cookbook Holder and Serving Board // Woven Rattan Napkin Holder // White Porcelain Pitcher // Blue Taper Candles (many color options) // Gray and White Striped Cloth Napkins