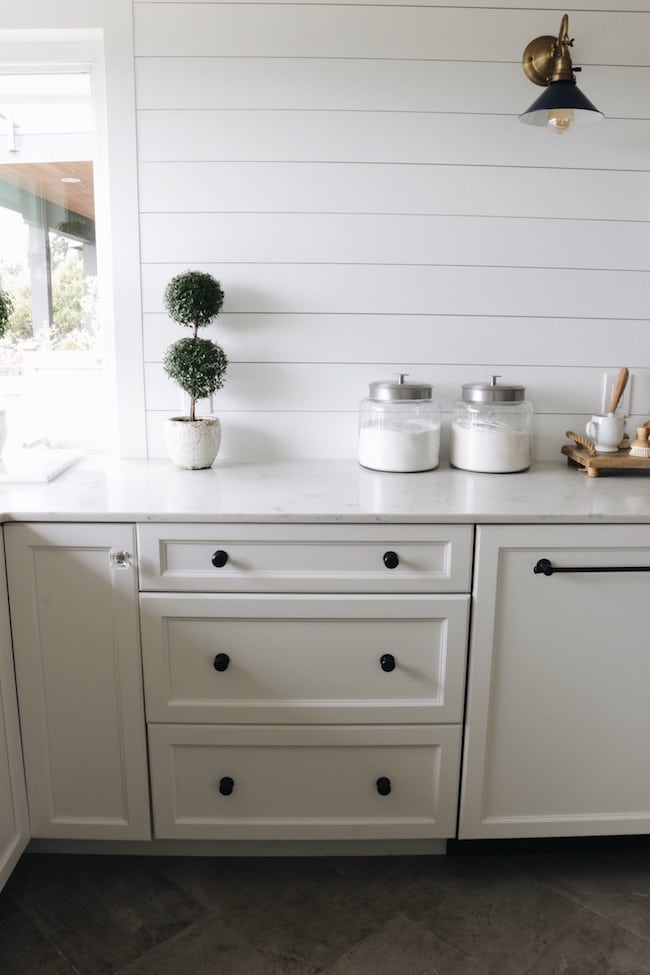 My absolute favorite projects are the little updates I can do that will bring more joy to everyday experiences. I LOVE paying attention to small details in a home and improving experiences when I can.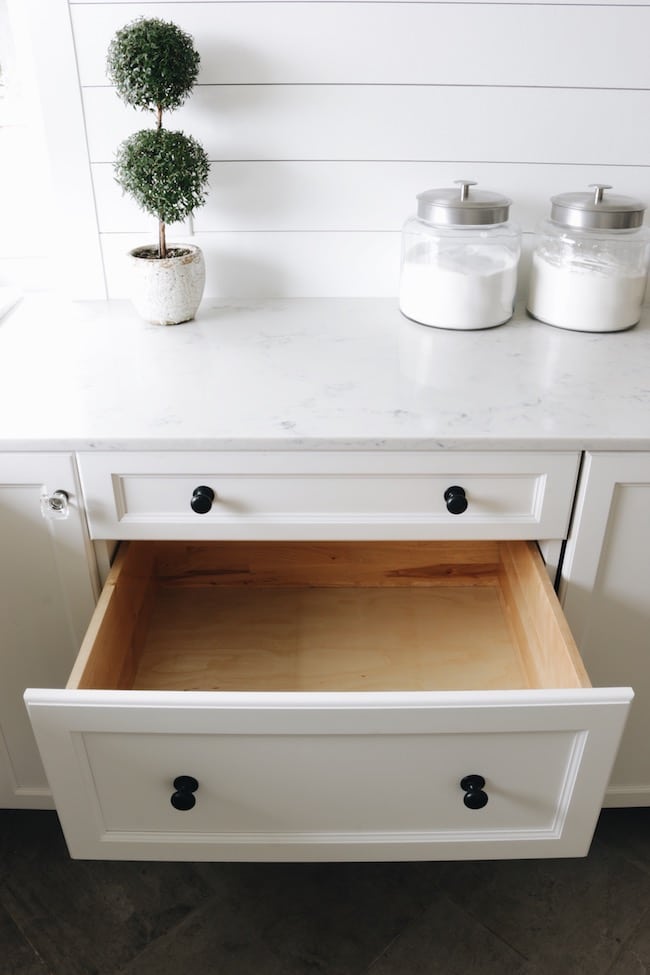 When I was remodeling, I thought about things like how my kitchen drawer pulls would feel (I want them to feel smooth and solid to the touch). I appreciate when drawers open smoothly (thus the remodel). I want my kitchen to be well organized so day-to-day routines feel less stressful. And my heart is happy when even the inside of a cabinet or drawer is pretty!
Don't laugh, but I have to admit I got positively giddy recently about lining my kitchen drawers with paper. Y'all, is it weird to get so excited about drawer liners? If it is, I don't even care. I have always been THRILLED with this kind of project!
I literally opened and closed the drawer a dozen times that day, just to experience the pretty pattern. It's the little things. I mean, how often do you have to open your kitchen cabinets? All the time. Why not make them pretty inside, too?
When you have a brand new kitchen, the drawers should look just fine inside as they are. But, adding paper is still a good idea because it will protect the surface of the cabinet or drawer, it makes it super easy to wipe clean and of course, who wouldn't be happier to see a favorite color or pattern?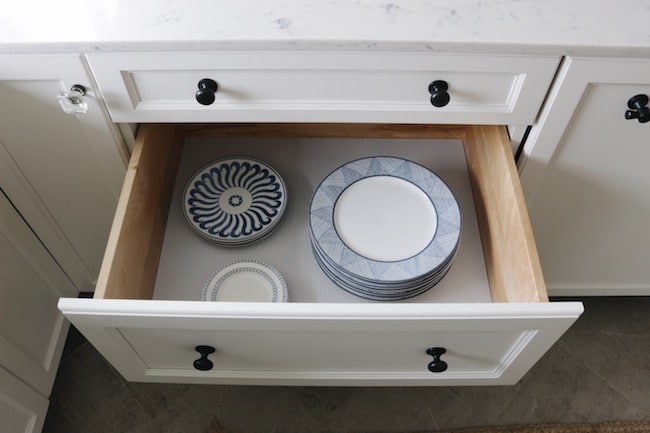 I wanted to first line the drawer that holds our dishes as it gets a lot of use. I picked out a pretty subtle striped patterned paper from Chic Shelf Paper. It was so easy to install!
Fun fact, when you get paper from Chic Shelf Paper you have the option to order it custom sized so you don't have to make any cuts. Nice, yes? Then you just stick the adhesive side down, pulling off the backing from the self-adhesive side a few inches at a time, keeping it smooth. My paper came with a little squeegee tool that made it so easy to keep the paper from getting wrinkled or bubbly.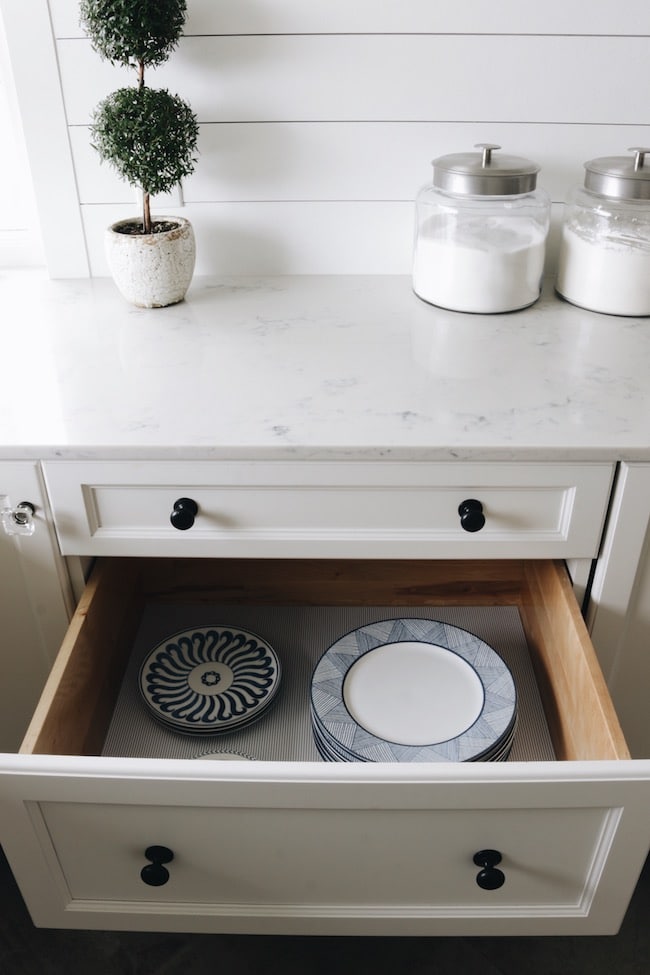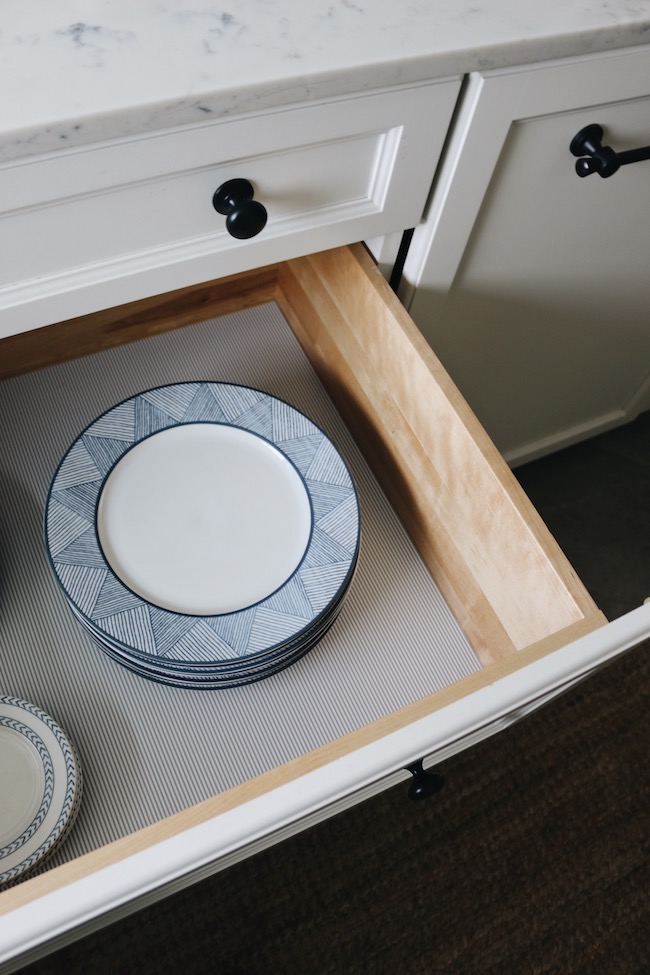 Voila, now this is a very happy drawer. If you, too, want to have happy drawers this fall (or happy shelves or cabinets), Chic Shelf Paper is offering a special fall discount code for my readers HERE!
The drawer liner pattern I used is right here. It's a charcoal gray subtle stripe, which I think is so pretty as a backdrop for all dishes.
What fall nesting projects have you been working on lately?
Chic Shelf Paper sent the drawer liner samples to try for this project and is a sponsor of The Inspired Room.
Shop my kitchen sources HERE (the blue dishes are from Ballard Designs).

I'm also obsessed with all of the dishes here.
Tomorrow I'll have a post on pretty table settings, so stay tuned!