Happy Monday, friends! When I shared my master bedroom makeover a couple of weeks ago I had quite a few questions about whether or not we still had our mirrored closet doors! Yep, we sure do!
I snapped a couple of cell phone pics for you last night so you could see that they are still here (and Lily wanted to say hi).
I've considered changing the doors out and will probably do that at some point. But for now I like that they expand the size of the space and reflect more light, especially since it's such a small room. And it's really nice to have a full length mirror when you're getting ready in the morning!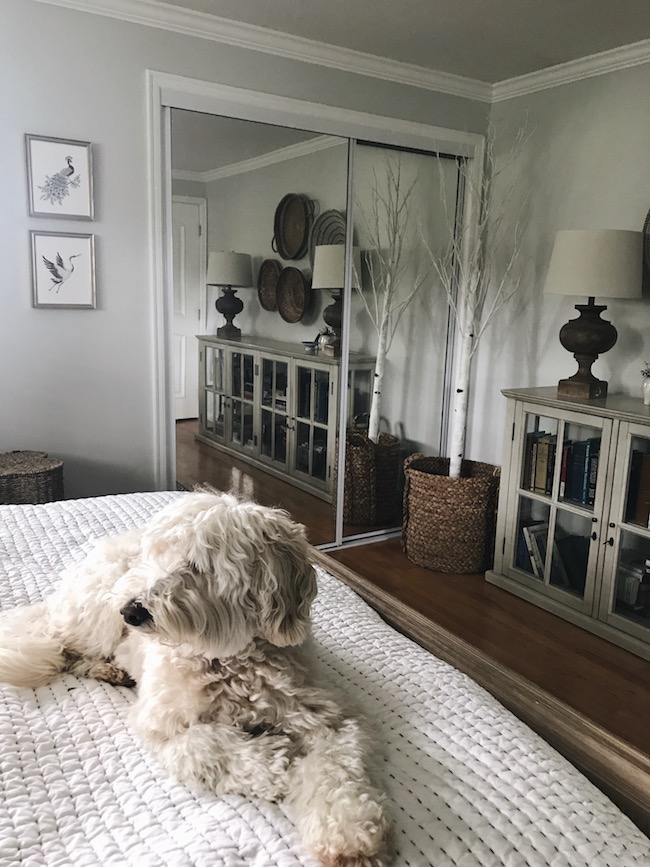 Changing these doors just hasn't been a top priority project. Plus I have a potential future project that might require me moving them, anyway, so I'm kind of holding out until I know for sure what I'm doing. :) Fortunately the frames are white so they fit in O.K. for now.
I do think one set is enough in this space, however, and we have a second set on the other side of the room. If I was going to change even just one set, I'd change out this far side to quiet the room a bit and so you don't see yourself walking into the room all the time (and so it doesn't reflect the room back down the hall!).
Hope that clears up the mystery of the mirrored doors!
Do you have projects around your house that are like #175,645 on your list, but you still believe you'll get to them, ha!?
Bedroom makeover and sources: Master Bedroom post
Framed art: Crane / Peacock