Do you love working outside in the spring as much as I do? You've probably heard me say this, but I have so much fun creating special little areas within our yard that I can enjoy in spring and summer. It's more manageable for me to focus on progress in small areas, as well as being so therapeutic!
Sponsored by IKEA
Today I am happy to show you two cute new spots in my yard!
When we added the new concrete steps and patio area, we ended up with an empty little niche next to our stairs (and I promise, the whole entire side yard makeover and back of house project we've been working on will be FINISHED and REVEALED with BEFORE and AFTERS in the upcoming weeks!).

While it's a tiny area, I knew it could be a really useful spot if it had a designated purpose. I was really intrigued with using the space for some sort of potting area for our cooking herbs. It even has a faucet for watering plants!
When I saw this darling ÄPPLARÖ / KLASEN cart at IKEA, I knew it was exactly what I was envisioning for this space. The cart is also perfect for holding pots and supplies, too. And the little white "greenhouse" is absolutely adorable, isn't it?

Pink and White Pot / Plant Pot with Saucer / Watering Can / String Lights
Our cart will also be doubling as a serving cart for backyard entertaining! With the wheels we can easily roll it over to use by the BBQ, so it's really going to be handy.
I love that this cart inspired helped us to turn an awkward, unused little area into a practical and cute destination.
The second area I've been having fun with lately is a neglected spot I had been looking forward to working on for awhile. This plant stand with an outdoor bench and shelving from IKEA (the bench has a removable lid so you can use it for storage!) was just the inspiration I needed to get started on a new garden to enjoy!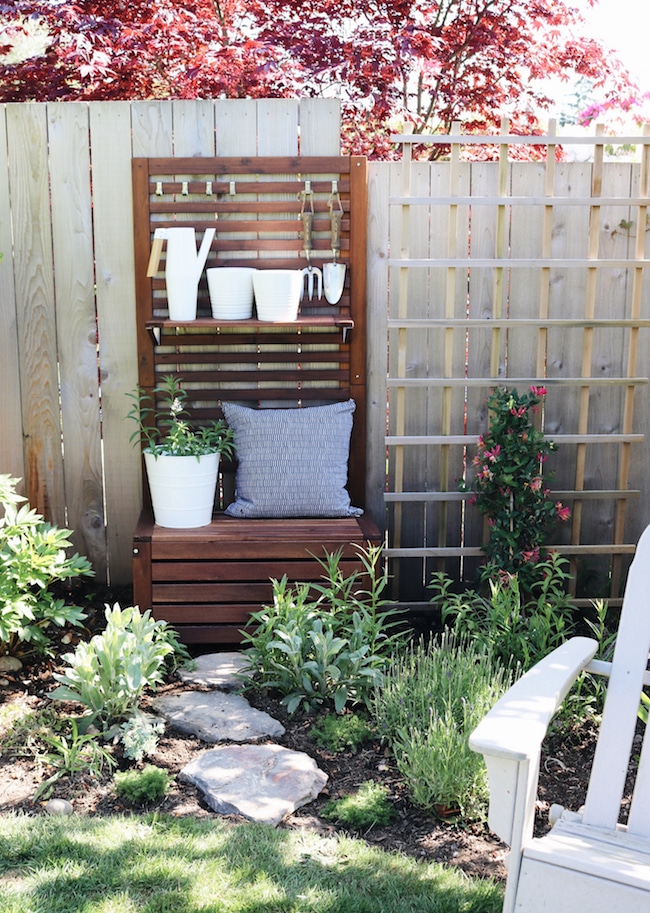 Our yard in general has so many established plants, but there are a few spots that I knew could be filled in a bit more. This particular spot is where a larger tree had been cut down at some point, so it was begging for something new to fill the space. I can't wait to see it fill out with our new plants!
This little area is now affectionately called Lily's garden since she LOVES to sit out here and take in all the sights and scents. We used scented plants like lavender, lemon verbena, and honeysuckle so it really smells like a dream!
The new bench and trellis with the shelf make this both a focal point and a functional space. It's been great to have a spot out here to keep a few supplies and tools.
One of my favorite things to plant in a garden is "steppable" plants that creep around stepping stones. I am pretty excited to finally have some flagstones! It will be fun to watch plants grow and fill in around them.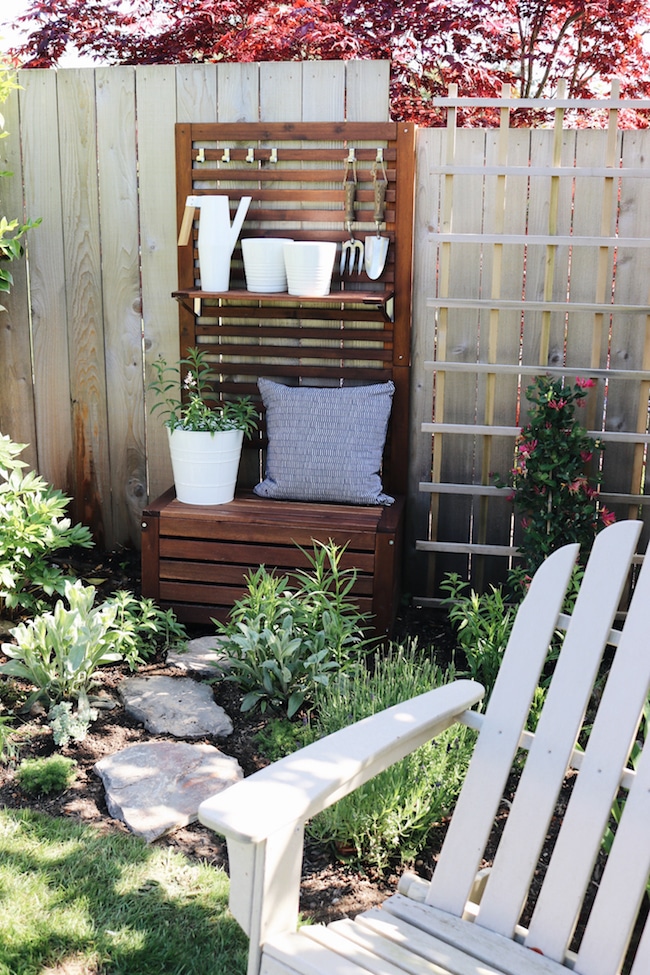 Pillow / Watering Can / White Metal Pot / White Ceramic Pot
I am also obsessed with all the white pots and accessories from IKEA, and the blue and white pillows, too. They just look so fresh and pretty in the garden, don't they? I love them so much I might use them to pot some indoor plants, too.
Isn't this outdoor hanging pot the sweetest? You could use it for a bouquet or plant, but I think even empty it looks super cute.

Much better, yes?

Lily is so happy we made this garden for her! She's out here all the time.
And in case you're wondering, Jack loves playing nearby, too. :)
Stay tuned, I have lots more outdoor projects and spaces to show you, including the BIG side yard and backyard REVEAL coming right up!
I am a Brand Ambassadör for IKEA U.S. This is a sponsored post.
UPDATE 2019:
Come see my side patio updates here! >> Spring in Our Outdoor Oasis: A Patio Refresh