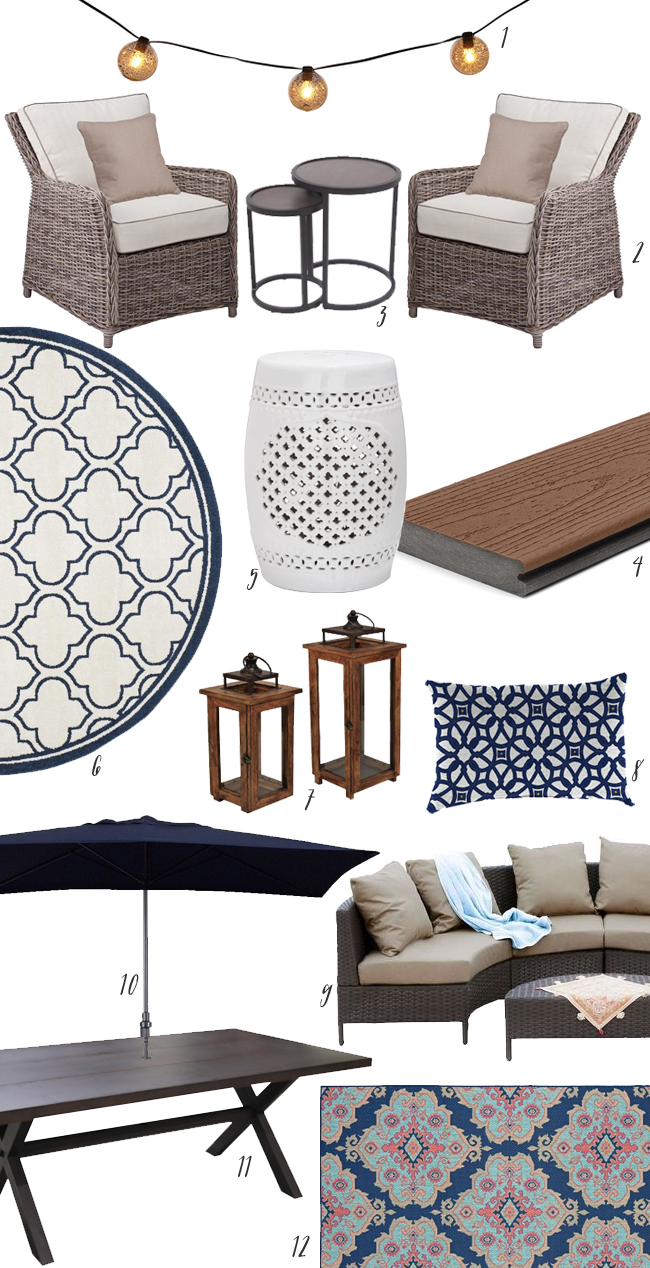 1 // 2 // 3 // 4 // 5 // 6 // 7 // 8 // 9 // 10 // 11 // 12
This deck project is in partnership with Trex and Lowe's 
For the past couple of years I've been dreaming up the details of how our entire side and backyard would eventually come together. I like to design a backyard in separate "zones" with a vision in mind for how the entire space will come together. That way it's possible to tackle one space at a time as budget or time allows, but you still have a good overview of where you're going.
For our side and backyard areas I had envisioned creating a succession of outdoor spaces that could be accessed from the side patio (which is right outside of our newly remodeled kitchen, pictured below).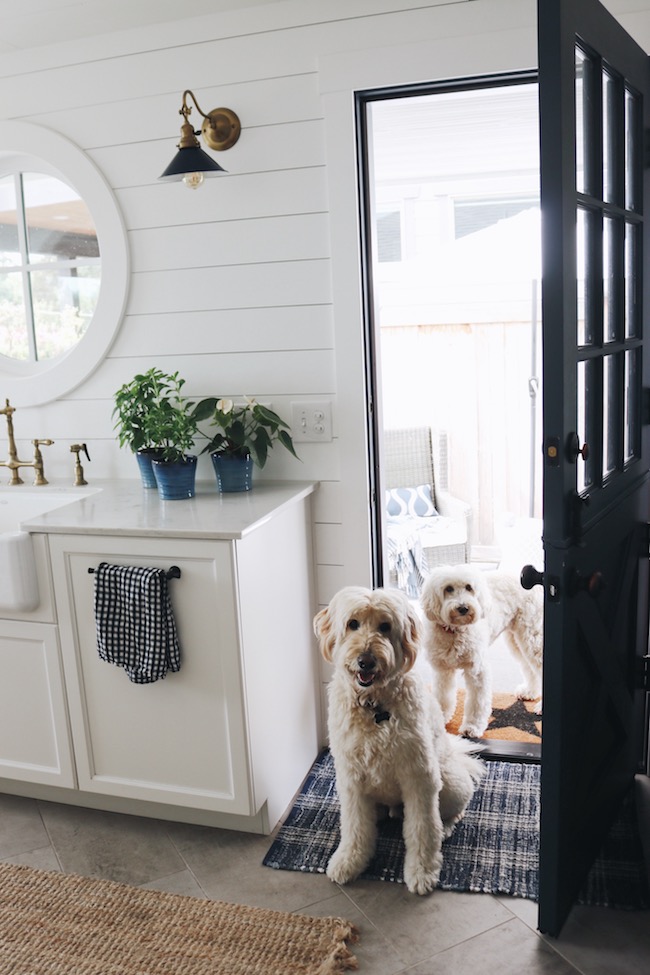 When you exit out the new Dutch door on this side of the house, you'll end up on the side patio (see below when it was still in progress). From there you are able to walk down the set of stairs on your left and then pass through the double gate (which we had installed a couple of years ago and just recently painted, you'll get to see it in upcoming posts!).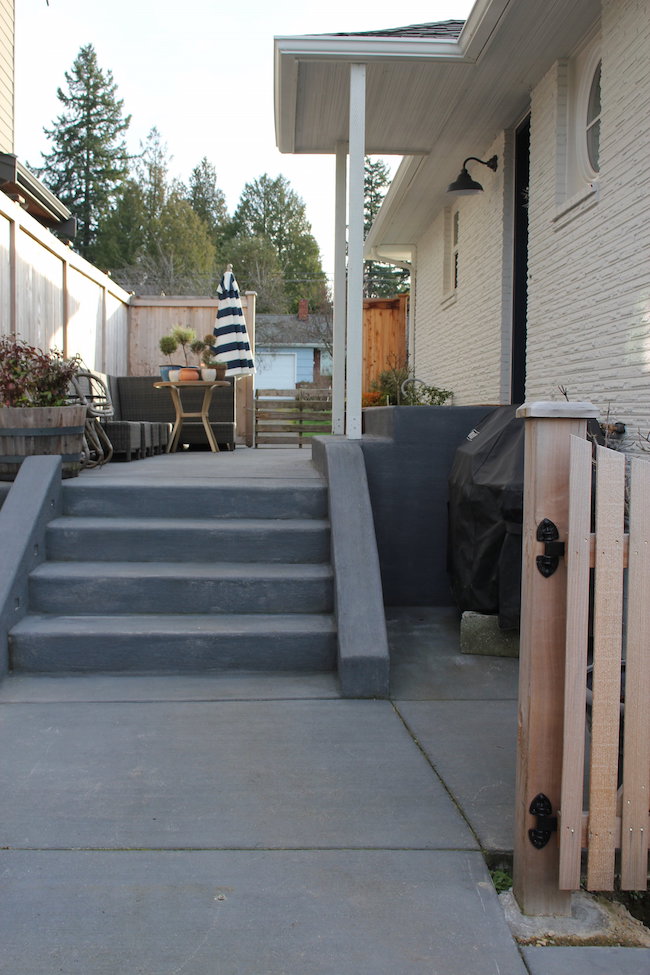 In progress
The future plan was to connect this space (above) to a main gathering area on a low deck in the backyard, where there would be a dining table and seating. The new deck would become a focal point of the backyard, gracefully connecting to every additional outdoor space, including pathways that would eventually lead to new gardening spaces and a fire pit area.
That was the a long term goal, so originally I thought we'd stop our outdoor projects at the double gates and save the deck and the other projects for a future season. Yet as we were preparing to complete the railing on our side patio steps last spring, Lowe's and Trex reached out to me about the possibility of partnering on an outdoor deck and railing project!
Not only was I very excited to install the new deck sooner than I expected I would, but the timing was perfect as we were able to coordinate the railings on our existing steps with the same black Trex railings we selected for the new deck. It was finally all going to come together!

Back of the house, before the deck
(catch up with the exterior projects and see the house before it was painted white here)
So how and where does one begin planning for and designing a new deck?
Unlike the hassles we've had with finding contractors and completing other projects, this Trex deck project was smooth sailing! It was so easy to be able to just head right into our local Lowe's to find all of the help and materials we would need to design our new deck. You can also line up a contractor through Lowe's to install the deck, if you want help (like we did!). It's such a time and money saver to go this route for building a deck.
Wood decks and railings literally take a beating from the rain here in the Northwest. They rot and require so much upkeep! That's the reason I had planned to use Trex for any decking or railings, it is a composite material that will be nearly maintenance free for years! Composite decking has come a long ways in the past 25 years, the new high-performance material is amazing.
While I came into the project with a general vision for what I wanted in terms of the size, shape and materials, any indecision or choices were easily solidified through the resources you can find in a Lowe's store and online.
You can read up on the products and how the whole process works through the options on Lowe's website.  I found lots of helpful tips and inspiration that prepared me with what to expect and helped shape my vision for the space.
As you're just getting started, it's fun to browse ideas (I LOVED being able to look at the deck and railing duos here), order samples, plan your project, download a planning booklet, estimate costs, as well as get DIY tips if you want to build the deck yourself.
Selecting the materials for your deck
After we did some research on the Lowe's and Trex website, we went into our local Lowe's store to look at the displays of materials that were in stock as well as options for special order.
For our outdoor spaces I wanted to create an indoor /outdoor connection through my design choices, so we continued our color palette and style from inside the house through to the exterior.
You can get a little tour of the interior of our home here.
I also think it's helpful to take into consideration ways to complement your home's natural surroundings and any other exterior features that are visible from your project (or that you'd like to tie in to your overall design).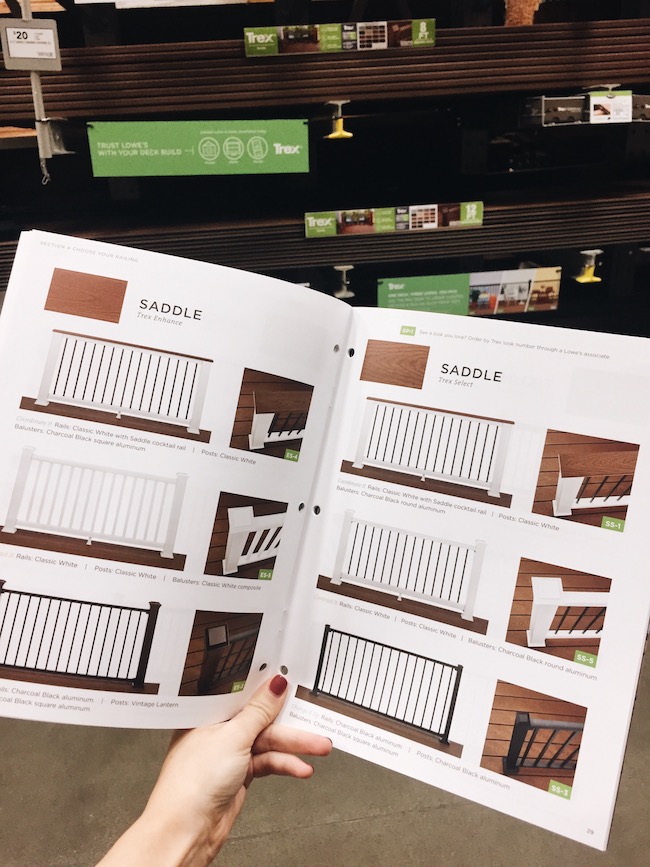 For our space, we also created a design board (shown at the top of this post) that offered us a cohesive vision for how it would all come together. Each element plays a supporting role in look of the overall space, so it's helpful to think about how the furniture and other elements surrounding the space will also impact the overall feel of your project.
You can mix and match colors, deck materials and furnishings to create a unique look that will suit your home, style and taste. It's fun to get creative, so you can browse your local Lowe's store and website and even use Pinterest to pin ideas you find online to visualize the mood for your space.
I'll share more about our design decisions in upcoming posts, as well as a closer look at our before images and in-process photos.
Consult with a PSE at Lowe's – Project Specialist Exterior
One of the free services I found really helpful was to schedule a project specialist from Lowe's to come to our home. You can set that appointment right from the store, online or even text, so it is really convenient!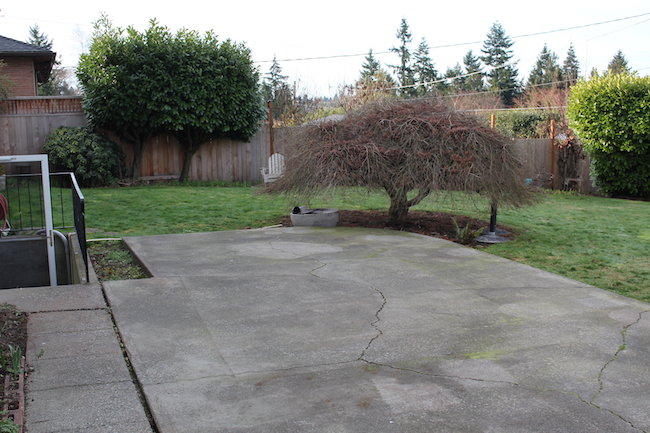 When our specialist came out to see the space, he confirmed that we could leave our original concrete patio in place and just install the deck frame over it. I had hoped that would be the case (so much easier!), but I felt more confident having an expert option.
Having the project specialist measure the space and confirm that what we had planned was going to work gave me peace of mind. He also offered ideas we might not have thought of, such as the option to add lighting to the post caps and around the edge of the deck, as well as design ideas for how the deck boards could be installed to create more visual interest.
I can't wait to show you how well this project and our outdoor spaces came together!
Stay tuned for more of our project details, the installation of the deck and of course, the big reveal! 
Decking and railing in this project was provided by Trex
Installation and furnishings provided by Lowe's
Learn more about designing and installing your own Trex deck project at Lowe's.