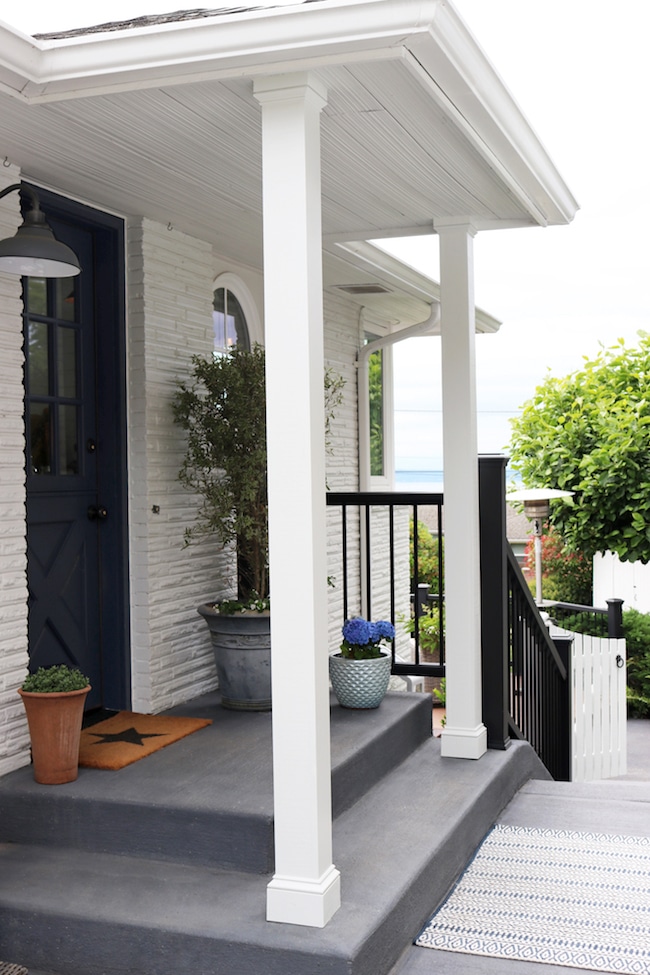 H
ave you ever wanted to paint your concrete porch or patio? I've received a lot of questions about the color on our concrete, so I thought it was about time I finally do a post to answer questions and give you some details on how to do it yourself!
A few years back when we started this whole side yard project, we decided we wanted a dark color for our concrete. We were painting our brick house white, so we thought the deep gray would offer a nice contrast.
Can you paint a concrete patio?
Yes you can! If you are pouring a brand new concrete driveway or patio, you are able to order it stained from the start in a variety of colors. That's definitely the way to go if you have that option. That is actually what we did originally, but through a series of unfortunate events we ended up with half of the patio white and half gray. :) Fancy, yes? It's a long story, but the bright side of this situation was that even though it was a bit of a disaster, we were able to solve it in the end.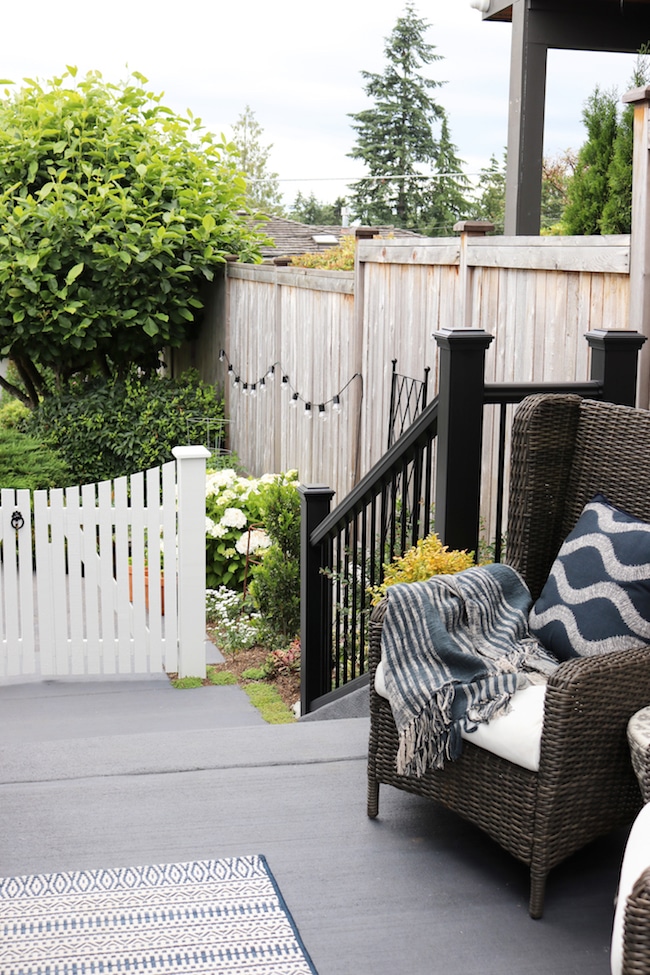 Is painting outdoor concrete difficult?
If you simply want to refresh your old concrete, I think painting or staining it is pretty easy. I remember painting a concrete porch and steps years ago in one of our old houses and being so shocked by how simple it was! We were about to put our home up for sale and wanted our front doorway area to feel fresh and clean. What a difference the dark gray paint made! It made me wish we had done it sooner so we could have enjoyed it longer.
It's so simple that it's a project you can totally do at the beginning of the season every year or two to refresh it, especially if you don't have a huge porch or patio.
Did we use concrete stain or paint?
Depending on your project, you may prefer a concrete stain over paint. While I called this post 'How to Paint Your Concrete" ours is actually called a stain! Stain will look more translucent and will wear a little different than paint. The stain doesn't seal the concrete or hide any imperfections. It fades over time but doesn't chip, so that's a plus in my mind. It goes on like a thinner paint.
I have noticed that if we drag furniture across the patio, it can leave some lighter colored streaks in the concrete stain. Now we try to lift instead of dragging! But we didn't seal ours, so I'm sure that would help make the stain more durable.
If you have old paint already on your concrete, consult with your paint store on the best way to prepare the surface. You may need to start with a power washer and scrape off any flaking or peeling paint first and possibly even seal the concrete before you paint it.
Proper preparation is always important to your finished result. I'm definitely not an expert on prep or which product would be best for your situation. Always consult the professionals. :).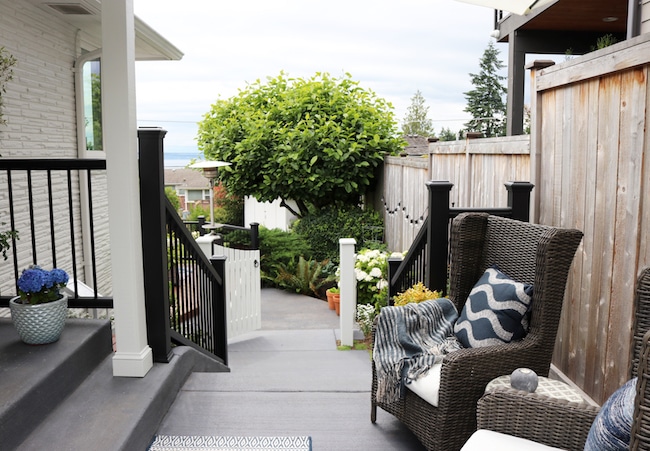 How long did the concrete stain last on your patio?
Stain ideally needs to be refreshed every year or two. I'm sure it also depends on the climate where you live and the amount of use or traffic the concrete patio has. We did not re-stain our covered porch this year (just the patio), so while it's faded to be lighter than it was originally it's still fine for another year.
We also stained a small part of the old patio that still existed between our new concrete and new deck so all the concrete would flow on through a bit more cohesively (see the two photos below for what I mean). It's not a perfect match because we did different parts different times, but it's a lot better than it was.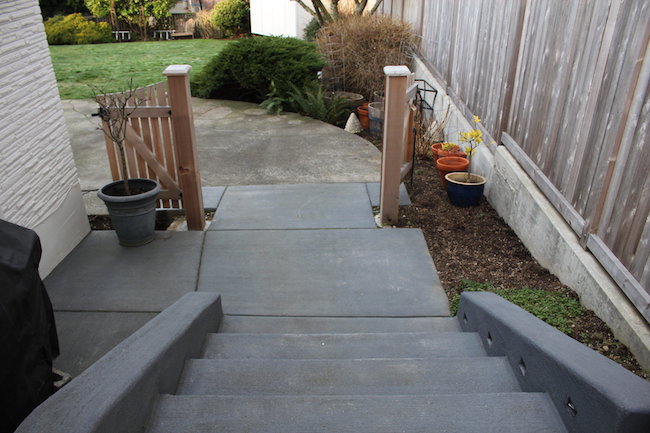 What is the best brand or product to use for a patio?
Because there are so many products that would work just as well or maybe even better than what we used, I would suggest starting at your local Lowe's or a paint store. They will be able to recommend the best concrete paint or stain product for your area and situation. Many brands will have specific masonry paints, concrete floor paint, and products for various indoor and outdoor uses.
Ours was difficult to find but I will share what it was at the bottom of the post.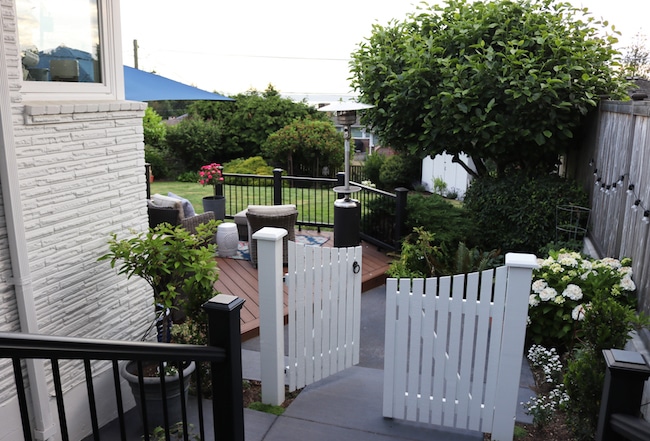 Did you use a primer before the concrete stain or a sealer before or after?
No, we didn't use a primer or a sealer, but it is possible that our contractor sealed the concrete before he stained it first time. I would consult a professional for your situation. However our contractor did recommend we use a sealer after the stain to make it last longer. I'm sure with a sealer it would be more weather resistant against moisture and the color more durable on the concrete surface. If you are painting concrete floors inside, such as in a garage, basement or room of your home you might want to seal it to protect it from wear and tear. A paint store will be able to give you the best advice.
Five steps we used to prepare and stain our concrete:
Clean the patio. Make sure it's free of any chips, grime or tree sap as it won't allow the paint or stain to cover well.
Let the surface dry overnight.
Ask your paint store if you'll need a primer with the product you chose.
Roll the paint/stain on (we used a paint roller designed for a textured surfaces). Our product actually recommended that it be sprayed on, but that seemed like way too much work. We don't even own a sprayer, so we just rolled it on and it worked fine. A paint brush might be needed in order to get into smaller corners or to paint a straighter line around the edges. Since we were working outside we didn't wear a mask, but if you are in a closed space you might want to wear one.
If you are rolling on a stain, don't worry about doing it perfectly. You might see some lines where you overlap on the first coat, or some parts might be a little darker or lighter, but once it dries and gets some dirt on it you'll not likely care about the imperfections. You may choose to do more than one coat if you need more coverage to give it a solid appearance. Of course, if you want to a topcoat or sealer, you can do so once you are satisfied with the final look.
Better done than perfect has become our motto in cases like this :).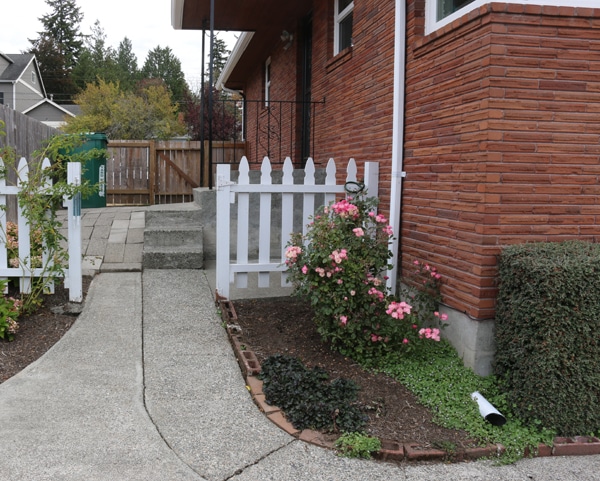 And lest we forget…this is what we started with.
Speaking of the makeover of our side patio, I have really really really good news…
Any guesses what it is?
Happy day!
* * * * *
Find our Trex Deck and Railing before and after makeover post here.
Our concrete stain: 
Concrete Stain, Smith's Color Floor
CF-Gray stain concentrate (mixed with distilled water, 4 quarts distilled water with 1 quart product).