A home should be sacred space. It's a place where we should feel our best, a safe shelter in the world where we can learn to better care for ourselves and the people inside.
We should be able to turn the key and feel warmly welcomed inside. To create a nurturing space, we must become more mindful of the atmosphere that inspires us to feel our best.
We are the gatekeepers in our own home. In many ways, we get to decide what crosses our threshold.
This really is a powerful responsibility and a tremendous gift we can give to ourselves and the people we love.
Caring deeply for our dwellings, both home and body, matters deeply.
We can't control everything that comes into our home or life, of course, but I believe there is always something we can do to feel a little better. That's what Dwelling is all about. The simple things we can do.
Pssst…be sure to enter the HUGE giveaway at the bottom of this post! One lucky winner will win an incredible prize pack! UPDATE: THIS GIVEAWAY IS CLOSED.
The choices we make for ourselves and for our home will not only impact our health and how we feel in profound ways, but they can change the world around us.
Tuesday my brand new book, Dwelling, will arrive in homes around the country (and maybe even the world!). Will it arrive in yours? I hope so!
I'll admit, book launches make me nervous. It's a vulnerable feeling to open your door (and heart) to let so many people in.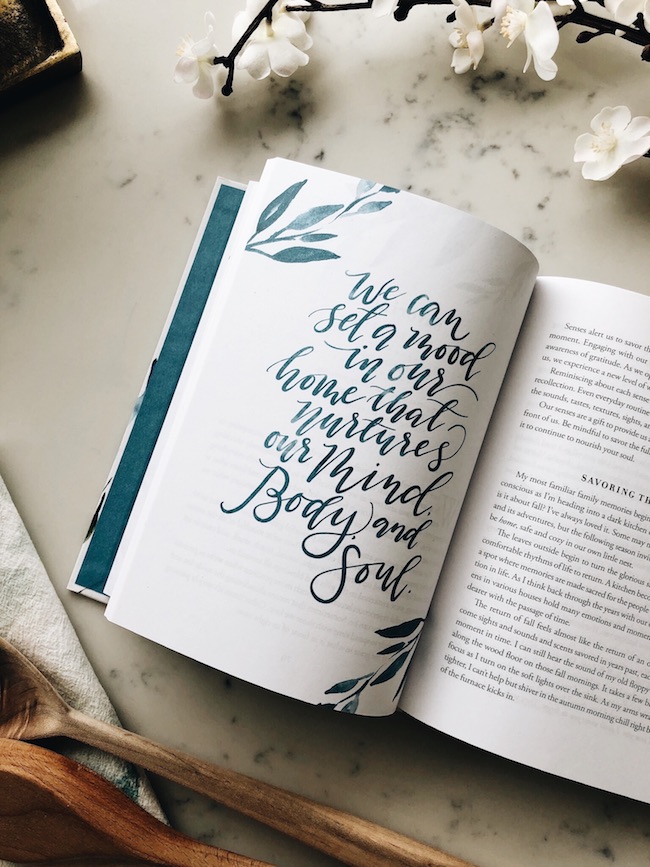 Learning to take better care of our own dwellings (both home + body) is such a personal journey. Yours won't look or feel exactly like mine, so I don't pretend that I have all of the answers for you. I know I don't.
But I hope as you read this book (as fellow HomeBodies!), you'll agree there are things we can do and improvements we can make. And if we start sharing our stories with friends and encouraging others to share theirs, I think we will all feel better.
This is what I hope for most of all.
As Dwelling travels to homes this week and in the months to come, I hope it will be used to open more doors, start more conversations and build more connections so we can all learn and grow from each other.
Would you share your stories with me and fellow HomeBodies? I'd love to connect with you and hear how this book impacts your life.
If you find the messages in Dwelling worthy of sharing with friends, or think others would benefit from this book, I'd love for you to share it online or in person and leave a review on Amazon, too!
There are quotes and book images you are welcome to use or pin here. Use #dwellingbook and #feelwellwhereyoudwell and tag me @theinspiredroom when you share on Instagram so I can find your posts.
And please feel free to message me any time! I love to connect with you.
As we cross paths and link arms on this journey, I just know we'll become good friends!
If you haven't ordered Dwelling yet, you can get your copy here.
DWELLING LAUNCH WEEK + GIVEAWAY:
THIS GIVEAWAY IS CLOSED.
I've invited four blog friends to share their stories and thoughts on Dwelling this week! Each day as their posts go live on their own lovely blogs, you'll be able to hear from them and have another opportunity to enter an incredible giveaway, too!
Monday April 1 – The Inspired Room // Tuesday April 2 – Miss Mustard Seed // Wednesday April 3 – Clean Mama // Thursday April 4 – Thistlewood Farms // Friday April 5 – Reluctant Entertainer
One lucky winner will win ALL of the self-care prizes in the above graphic, including a copy of Dwelling, A Dwell Well Notebook, Glass spray bottle, Vitality tea, Faux olive tree, Glass roller with gold filled with a special essential oil blend, wool dryer balls, jade facial roller, mug, weighted blanket, The Inspired Room Coloring Book, colored pencils, stainless water canteen, and plant mister.
THIS GIVEAWAY IS CLOSED.