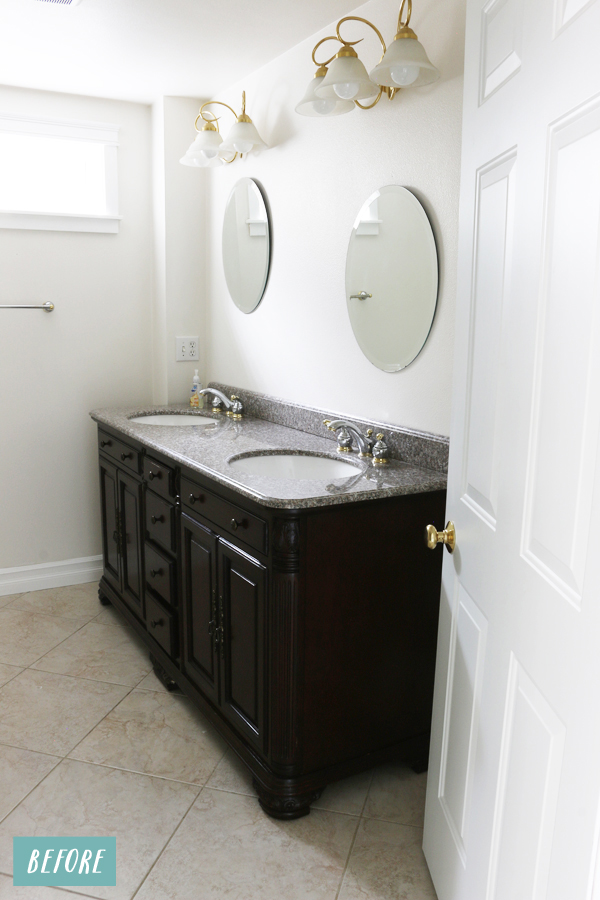 I'm ready to make some more improvements to our house again! I have so many plans and ideas in my head, but today let's talk about one of our bathroom projects. We have two bathrooms in our house, both of which need some updating. You might recall me sharing my vintage mint and pink master bathroom awhile back. I have been thinking of so many ideas for how to update that bathroom, it makes my head spin.
At times I want to do a mini makeover on it, sometimes I want to demo the entire thing and start from scratch, sometimes I want to add a new powder bathroom to our main floor and leave my vintage bathroom as is, sometimes I want to revamp my entire main floor layout (ha, trust me, sometimes that makes the most sense!). The mint and pink bathroom is one that looks decent in the first photos we took when we moved in, but it falls apart more every day.
I just want to make the right choice. Covid threw me for a loop, maybe it threw you for one, too. What will happen? Should we halt all plans? Should we move? Should we hunker down here and keep making this home exactly what we want it to be?
Overthinker much? ;) Maybe!
But that's how I roll. I do really value taking my time in making the best decisions for my home and family.
With the current season we're in, it seems like a prudent idea to wait on starting any major projects. But I am definitely wanting to move forward on new projects in our home, so I think I've come up with a good plan to get things rolling!
For now, we are really excited to start a DIY makeover for our basement bathroom!
The space is dated and boring, but in general it's in good shape which means that simple changes like paint, new lighting, mirrors, faucets, and accessories will make a big difference in how it looks.
If you saw my post recently with a peek at our basement, this is the bathroom on that floor. It's currently my daughter Courtney's bathroom while she's living here, but it also serves as our guest bathroom. Once we complete this makeover we'll have a cute bathroom to use when we do the upstairs work, so that's a win too!
Over the next few weeks I'll be sharing some simple DIY bathroom design inspiration and makeovers, as well as our mood board and plans for this bathroom. Of course, we'll share the makeover process here on the blog and on Instagram stories!
By the way, I've been using my Instagram stories a lot more lately to share the day to day, behind the scenes, and in the moment things. It's fun to chat with my besties "face to face," so I would love to see you there, too! I'll actually be doing a little walkthrough on Instagram stories this next week to show you the bathroom in its current state.
Have you completed a DIY bathroom makeover at your home recently? It's been quite awhile since I've updated a bathroom so I'm excited to get started!