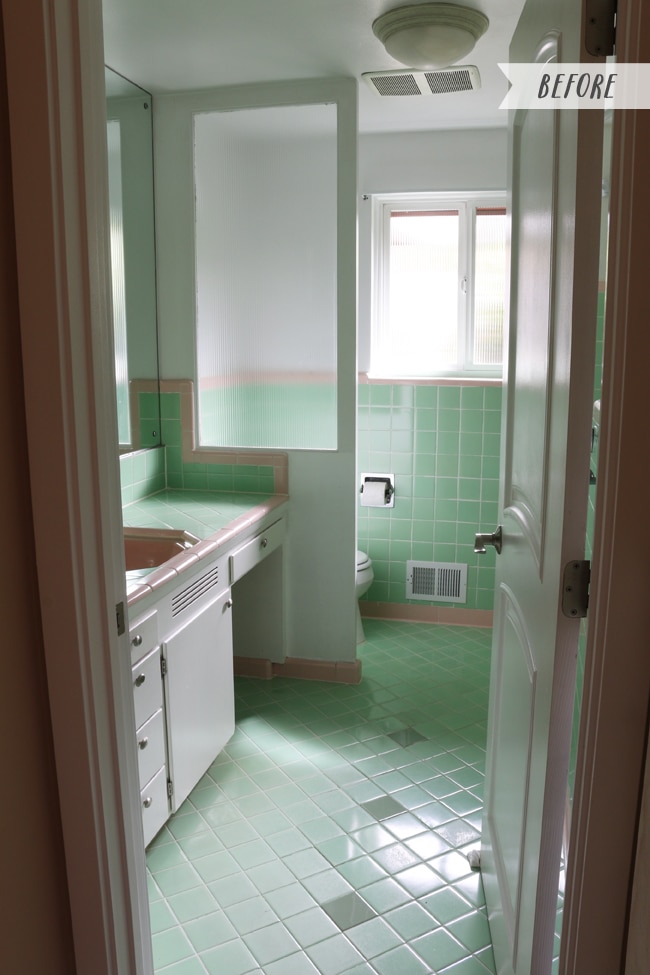 While I am patiently waiting to be able to show you my finished kitchen (insert my sarcastic face) I thought maybe we'd just ignore the unfinished projects for a bit and talk about a room in my house that I haven't even started on yet. Since a couple of you asked to see it after I mentioned my pink tub recently, let's take a look, shall we?
Would I design a bathroom in my house intentionally in mint green and pink? No. No, I wouldn't. I don't have anything against those colors or even against a funky vintage bathroom, they can be very cool. But all together, this room just isn't working for me. At least it was nice and clean when we bought the house (for a minute). I was grateful it was well cared for.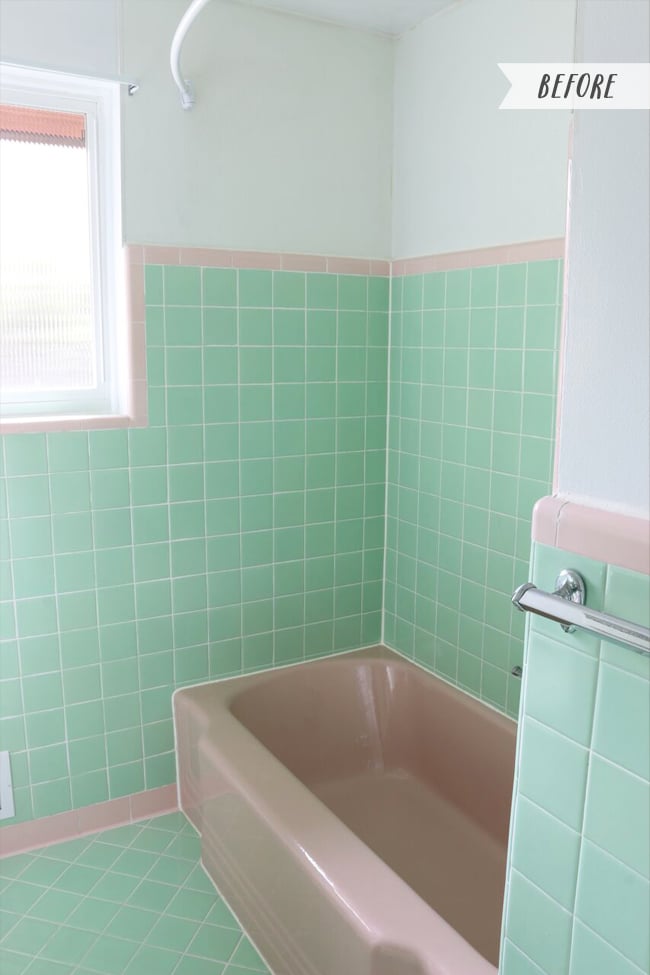 Here's my pink tub. The combo of walls and tile colors kind of remind me of those bottles of multi-colored Tums. Upset tummies are not really the picture I want to have in my mind when I head into my bathroom. Don't be mad if you LOVE this combo or if you always wanted a bathroom like this.
I have actually kept a quite a few vintage bathrooms in my other homes! I LOVE vintage. Growing up I had one kind of like this, too, but it had yellow and black tile. I thought it it was cute. It was like a bumble bee bathroom.
In our English Tudor we had several cool vintage bathrooms that we preserved, too. I even have some (not so great quality, but still) photos of two of them to prove that I'm not anti-vintage bathrooms. We didn't rip these out or paint the tile or do anything to destroy their character.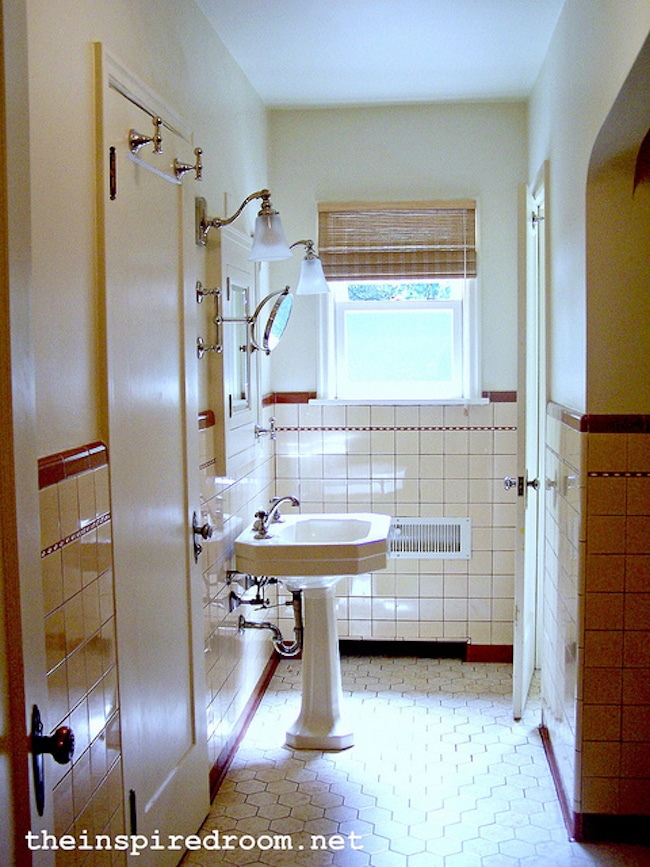 This 1930s bathroom room in our big house had horrific wallpaper when we moved in, so we stripped it and painted the walls. After a ton of cleaning, new vintage-inspired faucets and lights and a cool built-in old looking medicine cabinet, the rest stayed as is.
bathroom in my English Tudor years ago
This 1930s mint bathroom had black velvet wallpaper (!) when we moved in. It looked like something you might have found in Elvis's estate, it was so dark and weird. But again in this bathroom, we stripped the wallpaper and gave it a good cleaning. That was pretty much it. We kept the green tile. You can't see it but it had black soapstone counters on the vanity and a bamboo window shade. I loved the green and black combo with the natural wood blinds.
But this time I'm just not sure (yet?) what to do with a green and pink bathroom. I know people are into pink now, and that pink clawfoot tub in "pink post" was pretty cute, but I'm just not feeling this. All I've done to update our bathroom since I took these before photos was to put in a shower curtain, a bamboo shade I had leftover from my old house and a black doorknob. But I still don't love it.
The tile in these old bathrooms aren't at all like the tile in new bathrooms. You can't just pop the tiles off. They are there to stay. That is one of the reasons it's nice to keep the original tile.
But even if I could deal with the tile and add some accessories, there are many things I don't love about it.
The vanity is SO SHORT (and I'm only 5'2) and the drawers are super tiny and inefficient. The grout drives me crazy and a few of the floor tiles are not actually attached any more (I'm thinking they must have replaced those at some point).
The mirrors that cover the entire wall around the vanity are not original (sorry I didn't take a picture of those yet). They are huge and semi-broken, I'm afraid I'd hurt myself if I tried to remove them myself, but I could give it a try.
The grout is super thick in some places and hard to keep clean. The grout lines have been painted over with some sort of grout renew.
The tub is cast iron so it's not going anywhere without a fight. I don't really even mind the tub, other than the color. Cast iron tubs are great!
The toilet is a Kohler and looks newer so that's a plus.
Long term I do wish we could redo the bathroom and make it into more of a small master suite layout. We have another bathroom downstairs that our son uses, so if we put in a main floor guest bath this mint bathroom could become a private master bathroom. But making even a small master suite with our particular layout isn't as easy as I wish it was.
Awhile back I got a bid to gut the bathroom but leave it in place and just add a new door in the hallway. But the bid came in at $45,000, so for me that's definitely a no-go for such a small bathroom!
I know I could resurface the tub and tile if I wanted to.
Or I could redo parts of the room and keep other parts (such as the vanity, the floor, the tub, etc).
I could just leave the tile and tub as is and add accessories.
But do I want to do any of those ideas?
HELP! What would you do?
To offer a little inspiration, below are some cute bathrooms followed by a list of simple ideas for updating a vintage bathroom.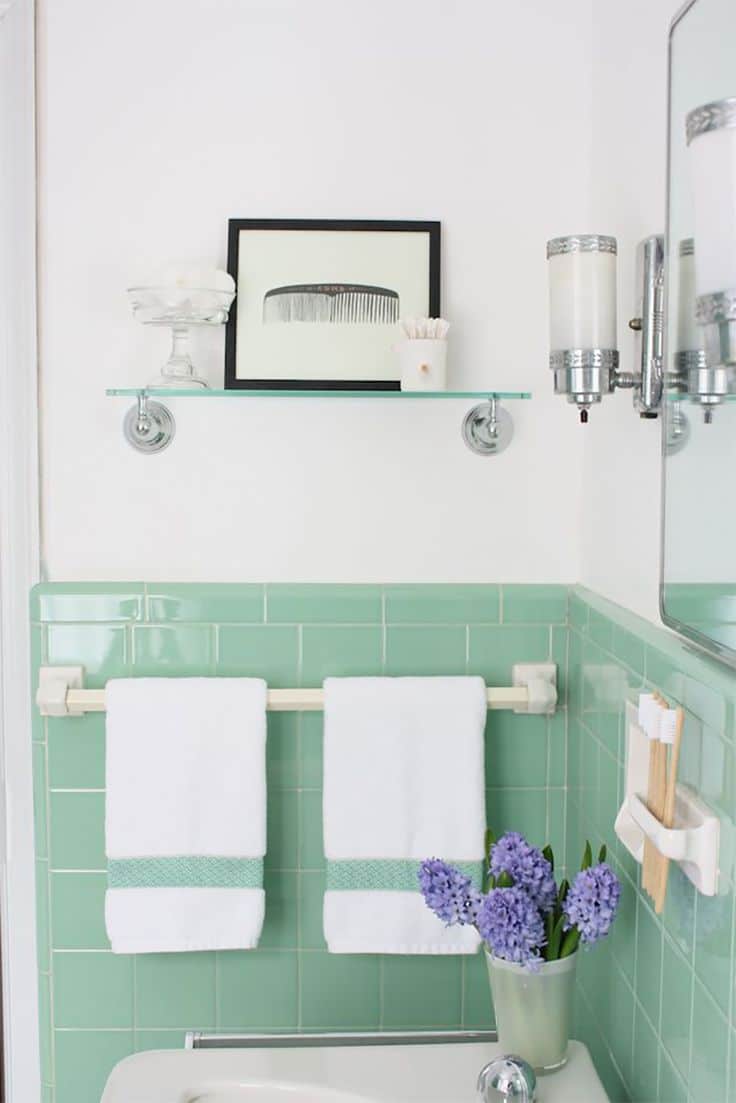 Meet Me In Philadelphia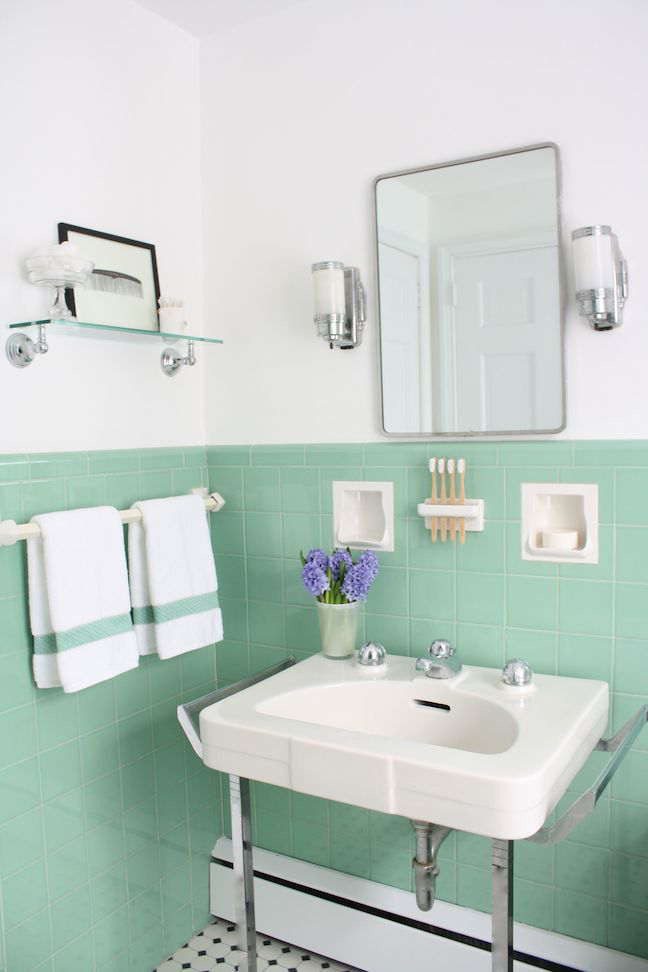 Meet Me In Philadelphia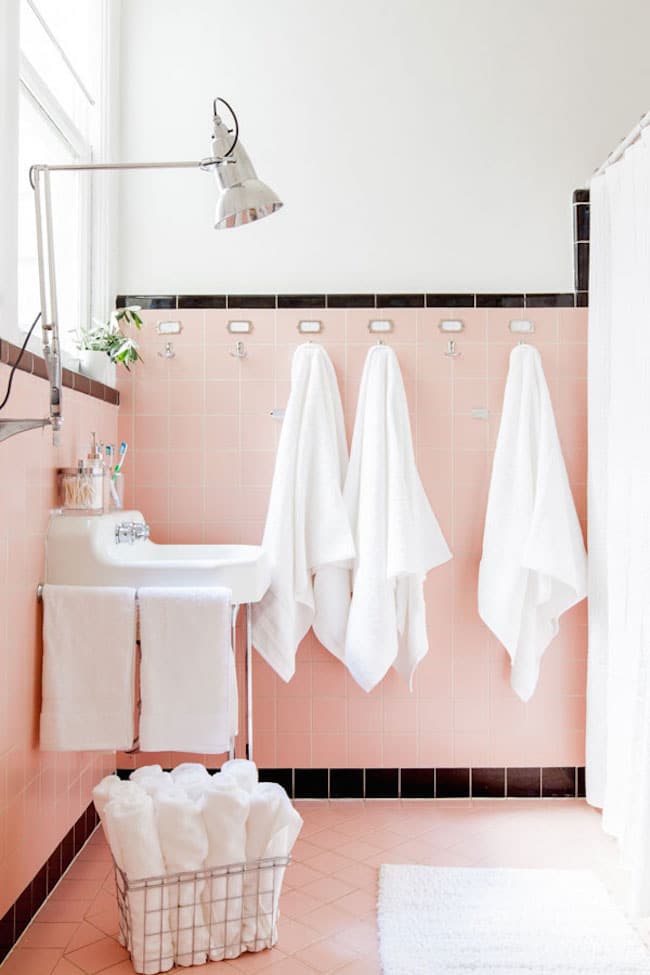 Oh Happy Day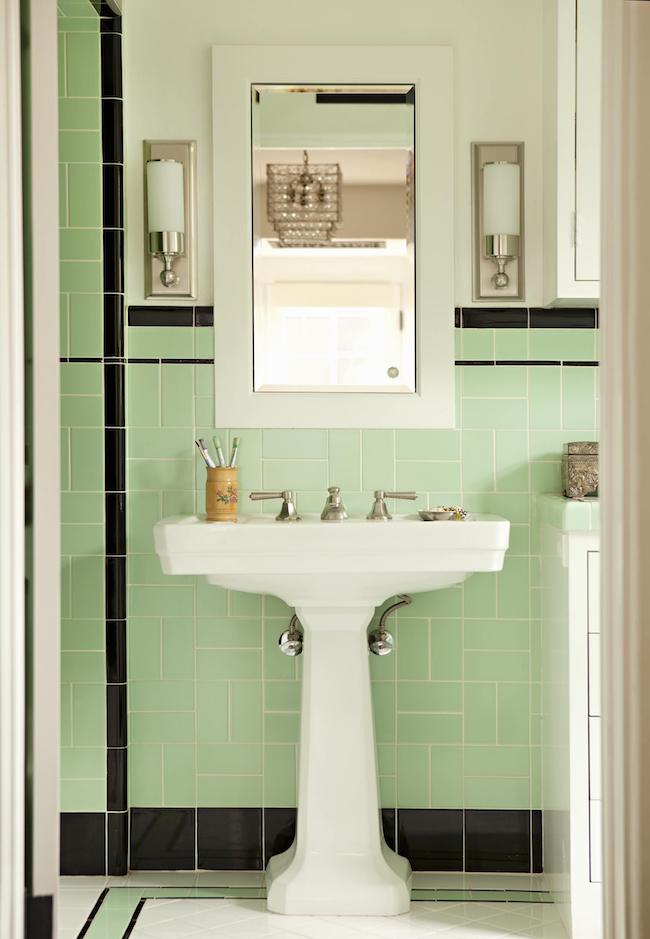 Forbes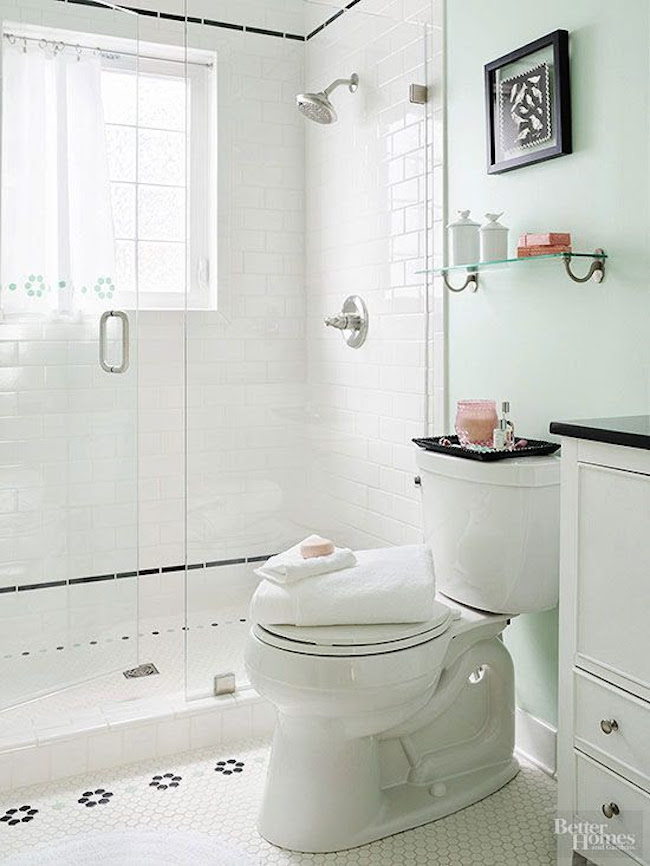 The above two photos may not actually be vintage bathrooms, I'm not sure. But they could be inspiration for how to update a vintage bathroom without losing all the charm. Taking out a tub and installing a shower, for instance. BHG
The above photo is actually a kitchen, but it reminds me very much of what my vintage green tiled bathroom felt like in my Tudor. I love how the black and white, dark brown and wood tones, silver, and even the eucalyptus make this space feel vintagey, rustic and classy.
Here are some simple ideas for updating or accessorizing a vintage bathroom:
play up the good
Embrace the vintage style and make it feel intentional and personal with accessories. Have fun with blinds, rugs, art and accessories.
tone down the bad
Look for a creative way to tone down what you don't like. Place a rug over the floor tiles. Use a tile paint to cover up the colors you don't like, or put the design focus elsewhere. Install some eye-catching wallpaper or a cute shower curtain to distract from features you don't like.
keep it classy
Adding some black accents can add some seriousness and class to a otherwise more cotton candy color scheme. Try anchoring the room with some black picture frames, a tray, a black door, or hardware.
freshen up with paint
Try simplifying the color scheme with fresh white walls, towels, rugs or a shower curtain.
add warmth with texture
Add some natural textures (blinds, baskets, rattan, stools, cabinets, frames, etc) to warm up a bathroom covered in tile.
bring in a new sink/vanity
The vanity is one of the biggest style setters in a bathroom. A new vanity or sink could make a world of difference in the look and function of your bathroom, even if you keep everything else in the bathroom.
update the fixtures
What are some other updates that could transform the space? Think about lighting, faucets, hooks, mirror, and medicine cabinets.
resurface the tub
I've had companies resurface old tubs many times in our old houses. It was always worth it, but it didn't last forever and you did have to baby your tub to keep the finish nice. But if your bathroom has a dingy old tub or sink or ugly tile, it can probably get a shiny new surface that will make it so much easier to clean, too.
So…what do you think I should do with my vintage pink and green bathroom? HALP!
PS. You can scroll through the images below to shop for some bathroom accessories!