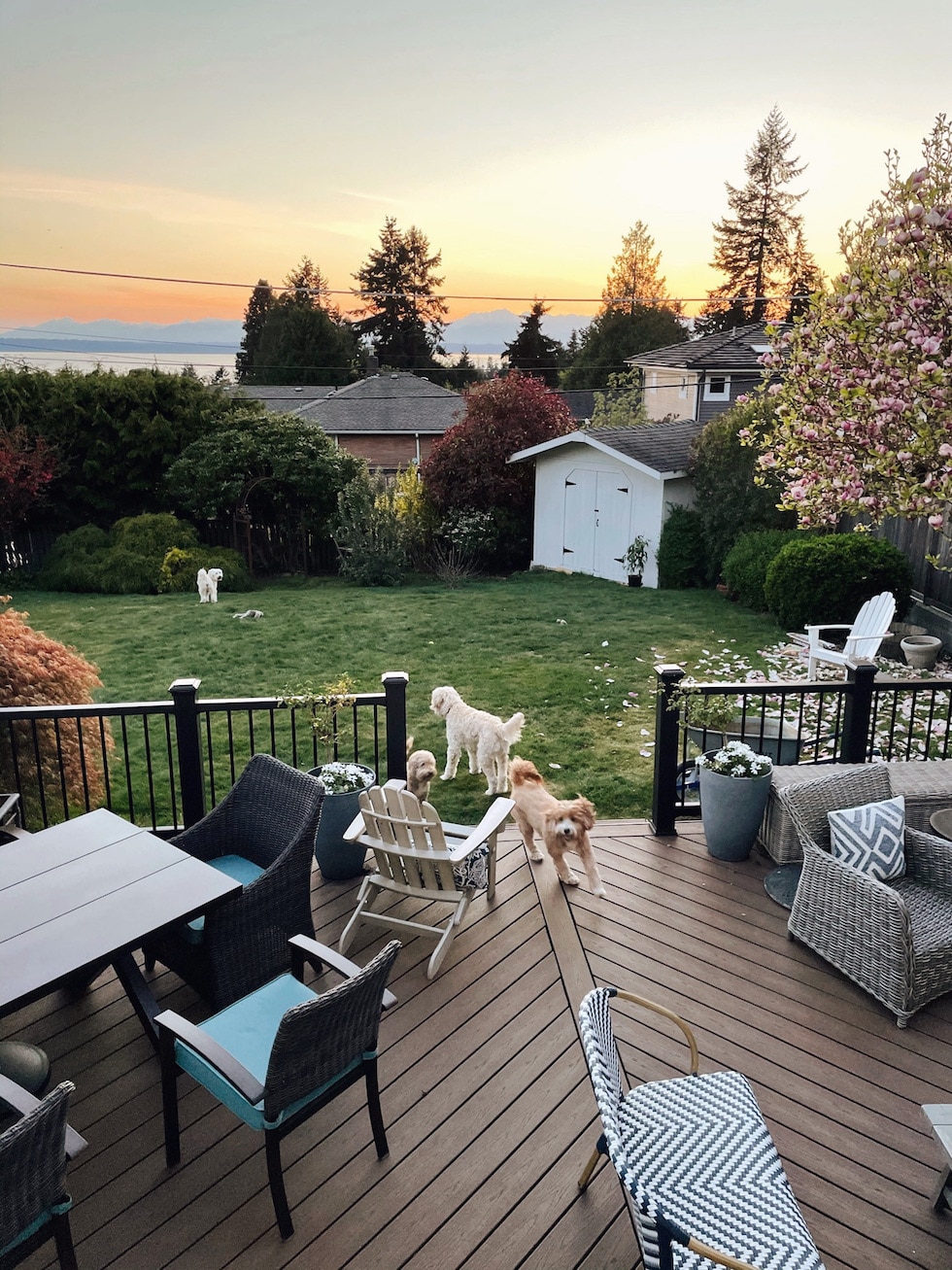 A few years ago our drab, tired backyard shed got a fresh coat of white paint. It made such a big difference in its cuteness, don't you think? See the before photo below :). While the paint definitely gave it a new lease on life, I've been wanting to do a little something more to it this summer. There are so many ways we could make it even more charming!
I'd love to come up with a long range vision and then settle on a few quick and affordable updates we could tackle right away.
If you're on Instagram I shared some ideas in my stories. You can still see the stories if you missed them, I saved all the details and some inspiration in this shed highlight.
Here was how it looked when we moved in…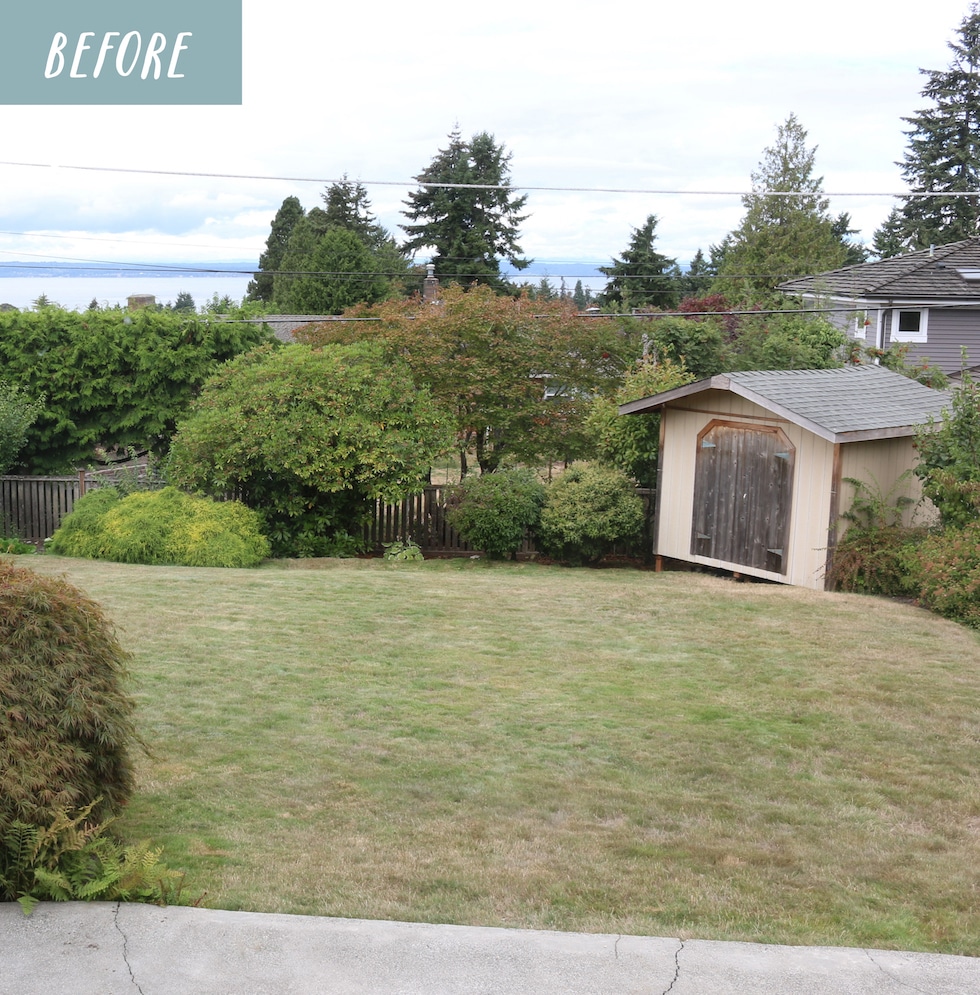 And here it is now….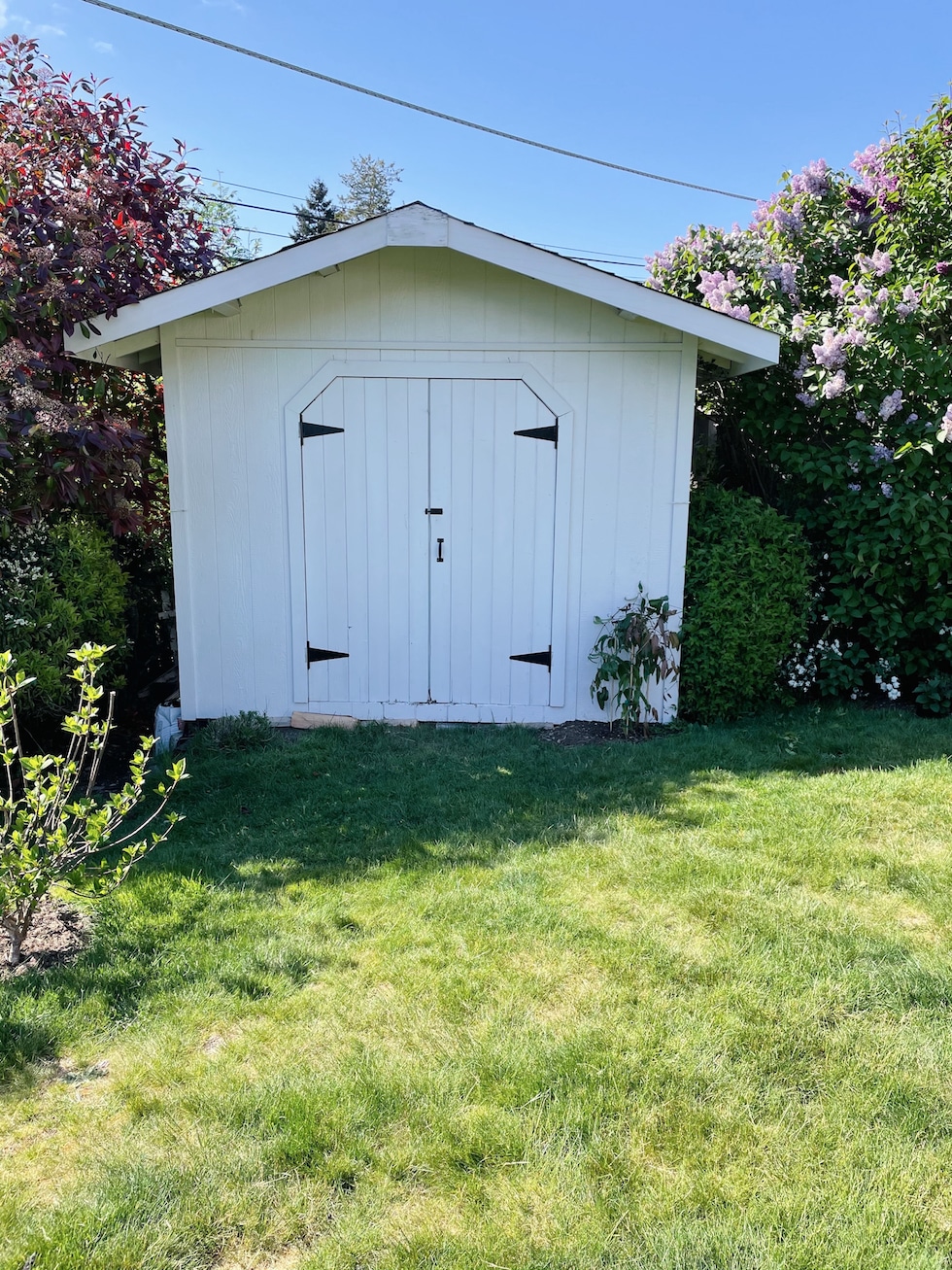 So much better! But still far from it's full potential! We've already started to dig out the grass around it so we could give it a more welcoming entrance (after we took this photo). What would you do? Plants? Stepping stones? Gravel? Potted plants? So many options!
There are so many creative ways we could give the shed itself more character on a budget, too. Lanterns? Paint the doors? Hanging plants? Climbing vines or roses? Architectural embellishments?
My head is spinning with all of the possibilities. Which ideas would give us the most bang for the buck? Which ones would we like the most? Which are the most affordable? Which ideas would get us started in a good direction for the future?
Sometimes to help clarify our path forward or as a way to visualize how our ideas or colors or accessories would actually look like we will redesign a space with Photoshop!
Below is just an example of what our shed could look with a couple of simple changes, like lanterns, a few different paint colors options and a simple stepping stone path to a fun destination nearby. These types of updates would be a fairly easy to implement, but certainly would make an impact!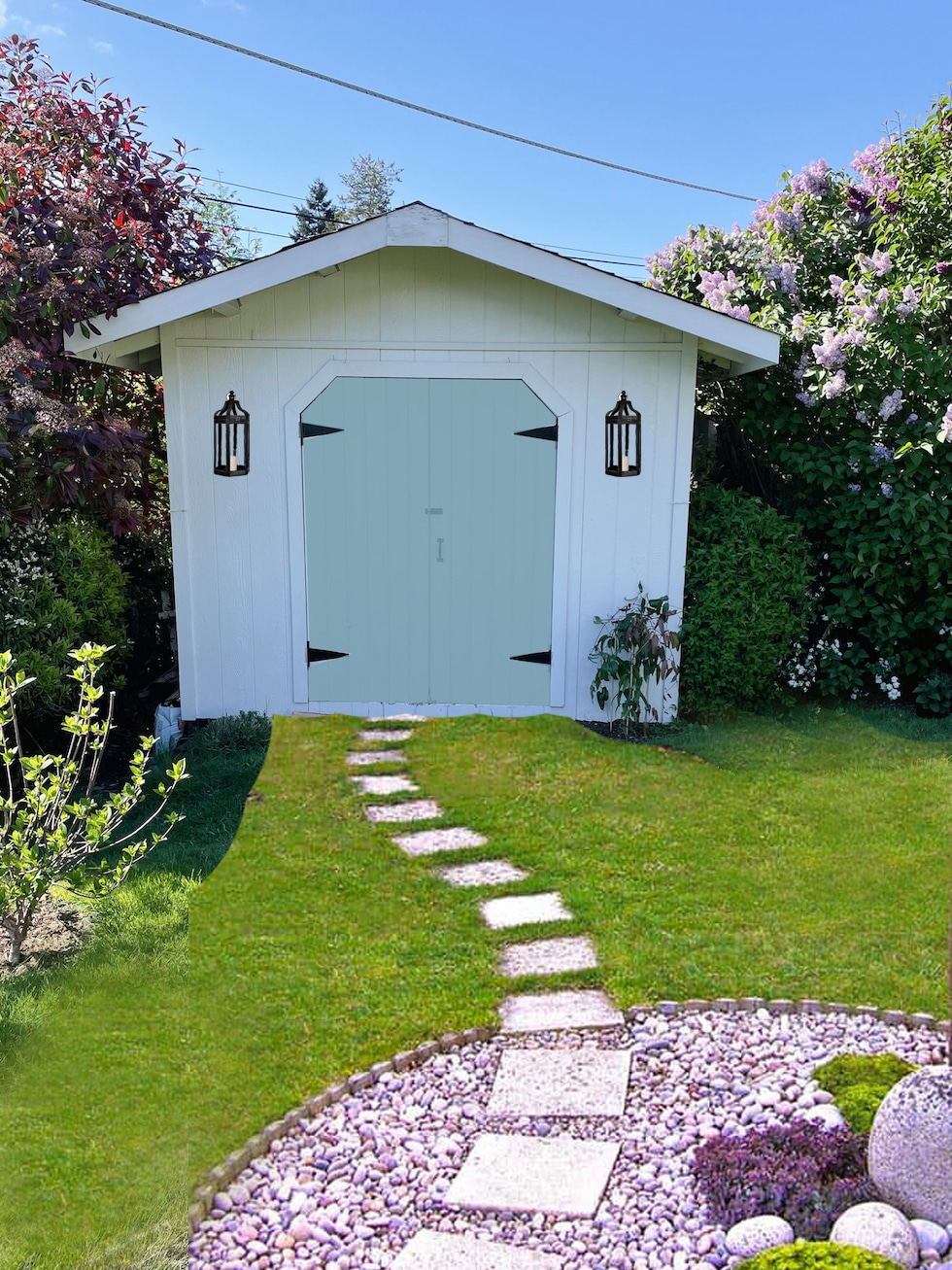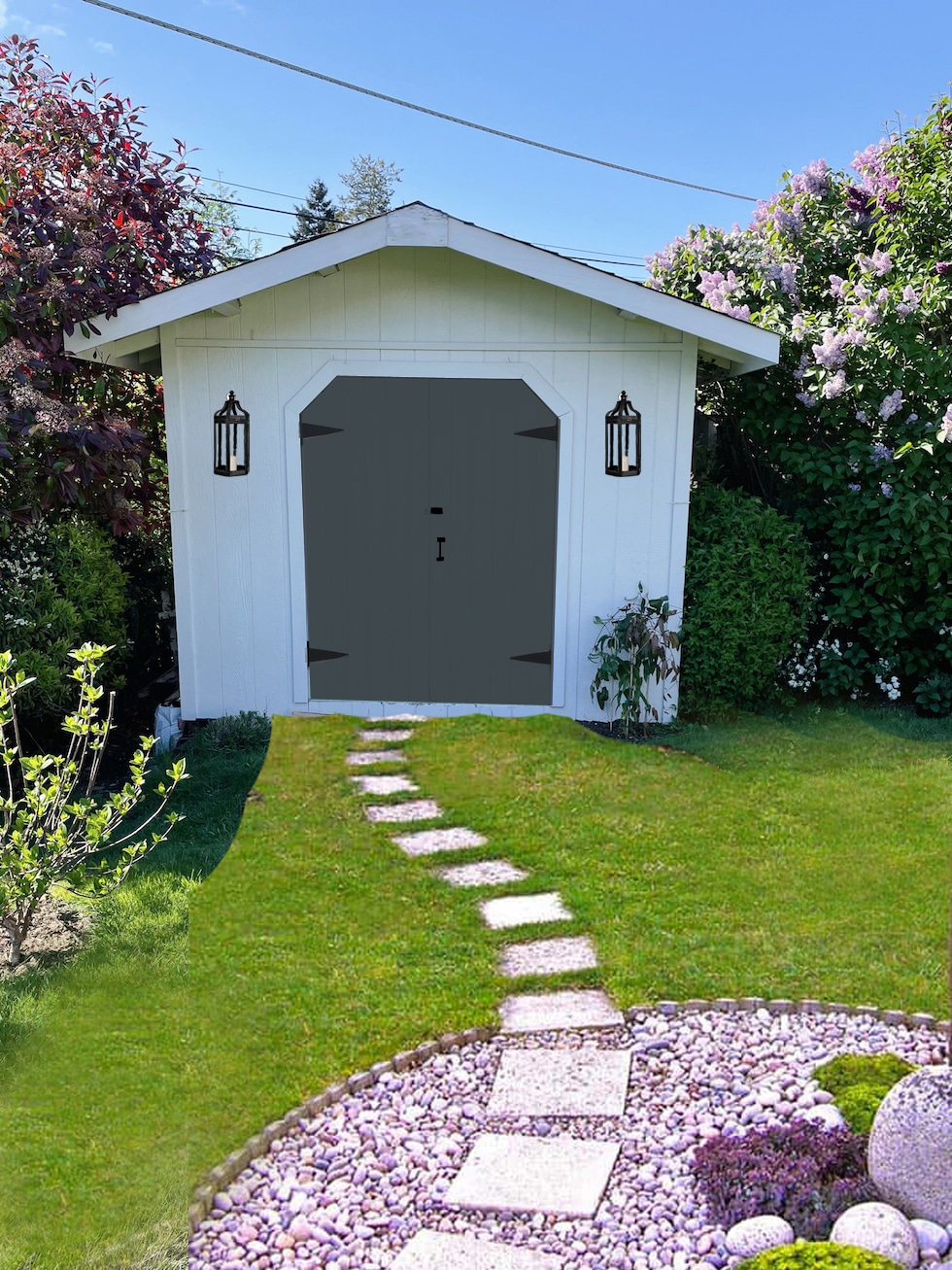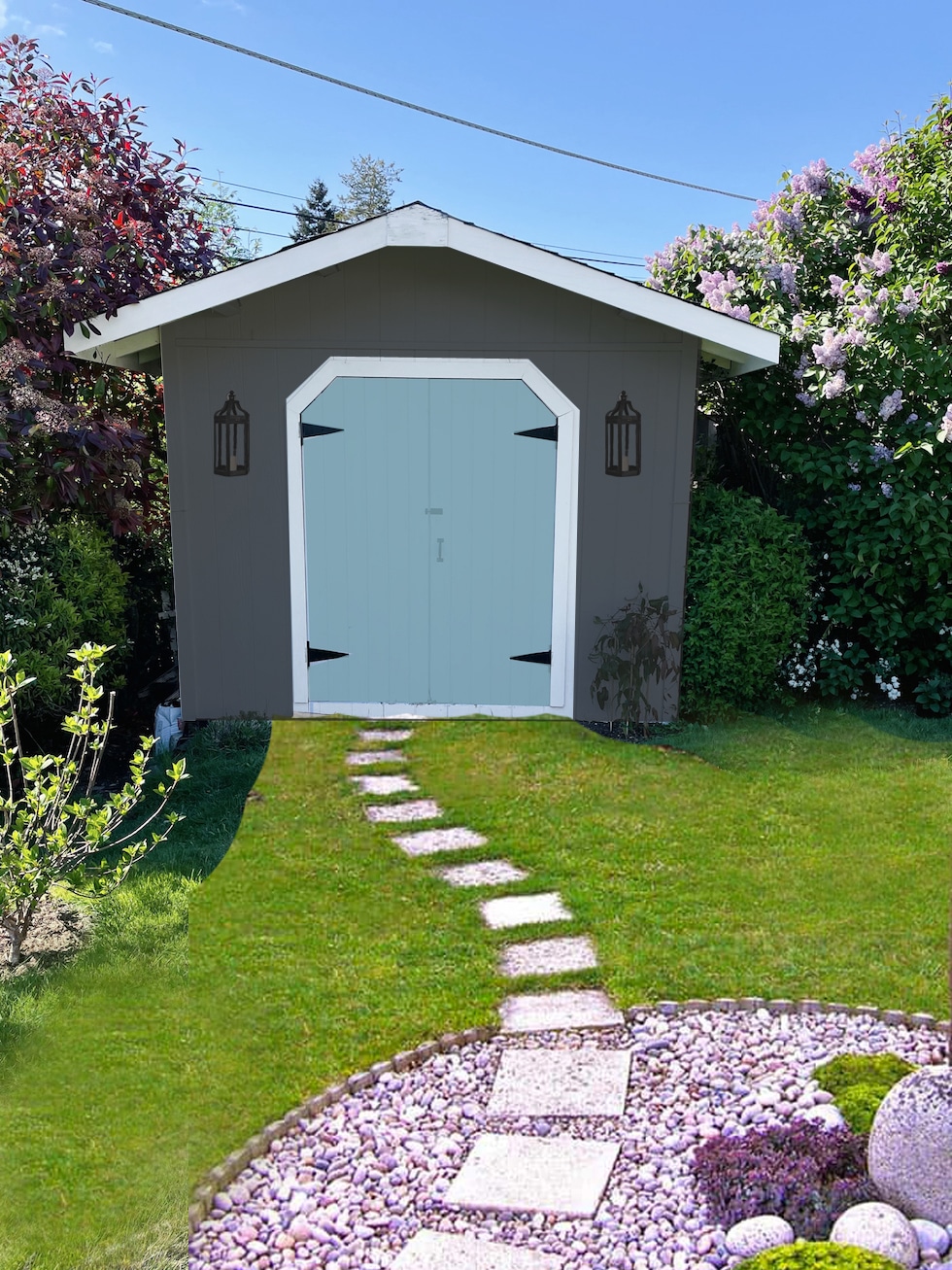 Fun to see different options, right? Of course, the options are endless, so I would love to hear YOUR creative ideas for what we should do to this shed and the area around it. Share your dream ideas or just some simple changes you think would be worth considering.
Tell me what you think HERE on this post in my Instagram! I'm reading each idea and considering all of the options, I may even do a few more photoshop mockups, so thank you in advance!
Dreaming up ideas makes me wish I had more than one shed! If you're "shed shopping" this spring and summer, here are some you can get online (scroll and click for details)

I really would love to get another shed in our backyard, especially one big enough to be a studio or garden house or maybe even a greenhouse! But even small sheds can be so useful, we have have this extra little shed we keep our outdoor cushions in during the winter!
Do you have a design question for your own home? Come join our free community group! It's a friendly positive community where you can share pictures of your home, upload photos and ask design advice, bounce ideas off each other and get inspiration!