I've been a fan of Young Living's toxin-free products for seven or eight years now! We use MANY of them DAILY. They really have transformed our health and home. Today I want to share some of my favorite household and personal care products, as they really are incredible!
But first, it's official! Creating a toxin free lifestyle and home is now easier than ever. Young Living has a beautiful new shopping platform in the U.S. with a simple way to shop all their amazing toxin-free products and essential oils! Now you can unlock the 24% off discount on anything you want from Young Living, WITHOUT needing a starter kit! You can order from almost any country immediately, but please note that the new website and features will roll out to other countries soon.
Use my referral link HERE (my referral #3731456) to start shopping (and you'll get access to all my freebies, recipes, classes and downloads, too!)
With a diagnosis of Hashimoto's and a long history of thyroid and anxiety related health issues (including a season of Agoraphobia), learning to take care of myself has been a priority. Ideally it should be a concern before you have any health issue as you may even be able to circumvent problems proactively, but it's not always been easy to know how to do that! There are so many things to be mindful of when it comes to health.
Watching out for ingredients in your food, household products and personal care items is so important. Toxins in our home environment are known to be a key contributor to health issues and thyroid-related issues, but there are so many products on the market with misleading or confusing labels. Words like "natural" or "organic" do not necessarily mean a product is all natural or even safe, so it's not easy to know what to get, or which brands to trust.
About seven or eight years ago, after a horrible bout with the flu, I began looking into essential oils for everything from supporting our health to creating a better environment in our home. I not only fell in love with oils, but fell in love with Young Living. Their toxin-free products and helpful education put me on the road to greater health as I began switching out our household and personal care products and eventually began using a few key YL supplements as well.
I feel better than I have in several decades, so I'm forever grateful to have found a company that puts so much care into products and support for the health of their community of customers.
Today I thought I'd share ten of my must-have YL products. I am a big fan, I am happy to share what we love in our home.
These are not necessarily in order and certainly don't cover ALL of my faves, as there are WAY more than ten I use regulary, but definitely some of my most used and loved.
1. Thieves Household Cleaner

This is a concentrate! It will make about 29 bottles of cleaner at about $1 per bottle, so it's super affordable. It is toxin-free and cleans ALL the things so well, literally everything from our counters to sinks to outdoor furniture to my slipcovers, floors, and more. It smells so good, like fall! But you can customize the scent for every season with your favorite essential oils. I have recipes you can try! It's so fun to make your own cleaners, scrubs and pastes.
Bonus product: Young Living just released a pre-made Thieves cleaning scrub that is also AMAZING! You can read more about it here. Highly recommend having both the household cleaner and the scrub in your cleaning arsenal.
2. Thieves Dish Soap

This is another staple household product we are never without. I can't believe I used to wash our dishes with products that had toxic fragrances and ingredients in them. I was unknowingly adding toxins to the dishes we put our food on! No more! I'm so happy to have found Thieves. Each bottle of Thieves dish soap can be diluted to make several bottles, or use it full strength! We put ours by the sink in a foaming soap pump to make hand washing dishes easy and affordable.
Bonus product: Thieves laundry soap! Again, another product that works incredibly well and can be easily diluted as needed.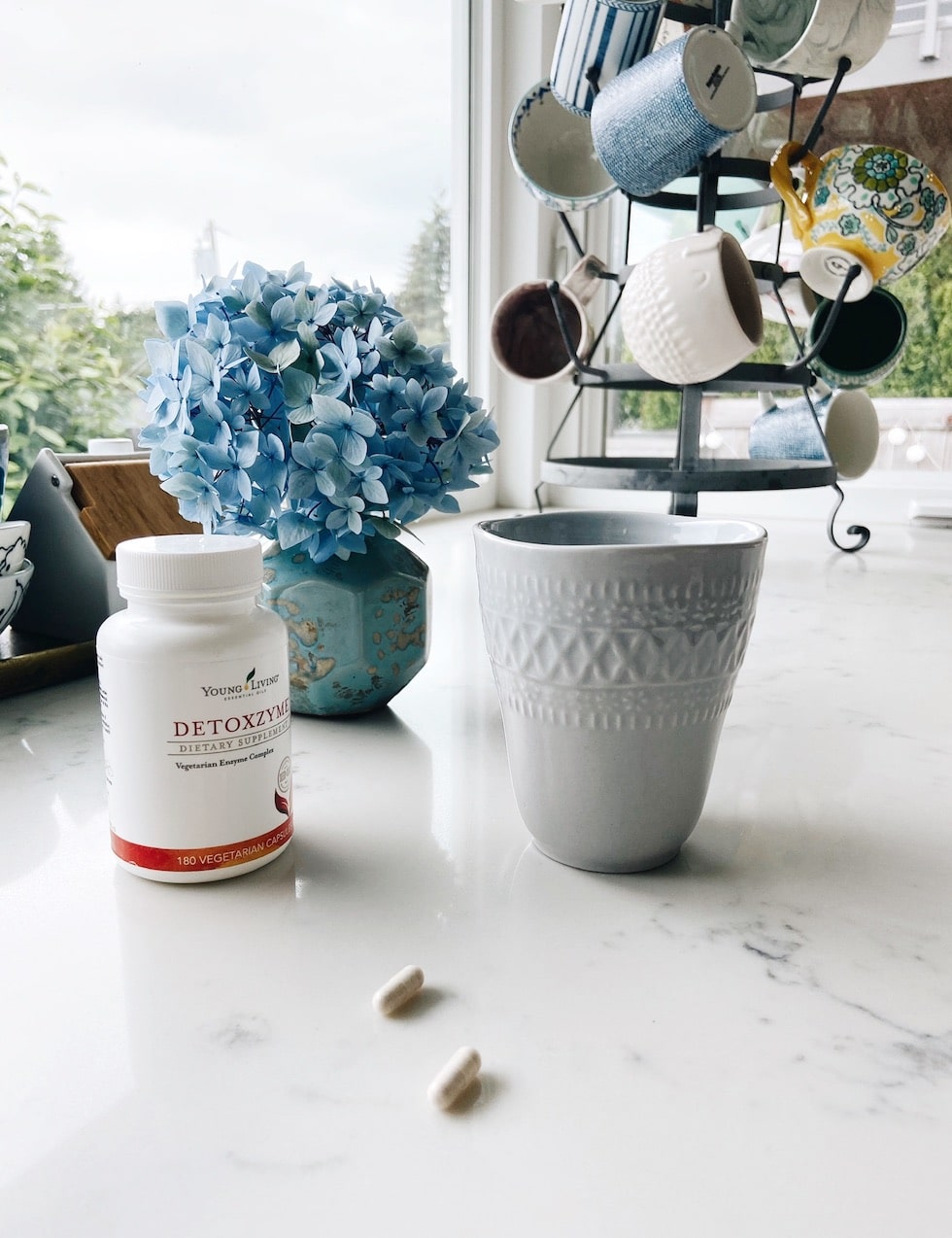 3. Detoxzyme

This is a digestive enzyme that has been extremely beneficial to my overall health. I take Detoxyme at night before bed or as needed throughout the day. I used it every day for a year or two and now that I'm feeling so great I take it several times a week or more as needed. Gut health is so important not just to your tummy but to your overall state of wellness at every level. They say all diseases begin in the gut so this is a must have for me. I also went gluten several years ago, as well as dairy free. Detoxyme is so helpful if you eat something (or plan to!) that doesn't make you feel the best, too.
4. Sulfurzyme Powder
This has done wonders for my hair, skin, and nails! It makes my hair grow way faster and thicker than normal, and my nails are stronger than ever since taking this daily. It's also amazing for joints, metabolism, circulation, bone support, and immune support. I add it into my water or Ningxia Red!
5. NingXia Red
My delicious everyday antioxidant juice! It's packed with superfoods that boost wellness and energy. I just drink 1-2 ounces a day and it makes me feel amazing–this has without a doubt made a huge impact on my wellness and how I feel every day. My whole family drinks it daily. I definitely notice a difference in how I feel when we run out so it's a must have on my monthly shopping list. I also make sure my parents are well-stocked on Ningxia, they love it too.
6. CBD Calm Roll On
I used to struggle with crippling anxiety and panic attacks. Truly the worst. I made my husband call 911 for me more than once, believing I was having a heart attack or going to stop breathing. I never want to go back to feeling that way. Luckily my anxiety is so much better these days! But whenever I do feel hints of anxiety creeping up inside me, I reach for this oil! I keep the roller by my bed and in my purse as it really helps me to stay calm. (other oils I love for calm: Tranquil, Valor, Stress Away, Peace and Calming. I also love Bergamot on my wrists and Frankincense under my tongue. I get my diffusers going and love my Stress Away bath bombs! I also add the CBD oil to an espsom salt bath with YL's relaxation oil, it's amazing!). Note that their CBD products are not available yet in all countries!
7. Essential Oils
Obviously, Young Living has incredible oils. They have been the leader in the essential oil industry for nearly three decades for a reason! Their quality is unmatched. I've been sharing about this company and essential oils for years, I truly can't picture our home without them–they're a key part of so many of my daily routines.
We use them to make our homes smell amazing without toxins of candles and artificial sprays, but we use them for SO much more too. Wellness, cleaning, calming stress, helping with focus, digestion, helping sore things, making our own room sprays, skin serums etc. I could go on and on about all my favorites, but here are just a few of my go-to's:
Cedarwood for sleep, Bergamot for anxiety and mood lifting, Digize for when I ate something my tummy didn't agree with, Vanilla for everyday perfume, Thieves for immune support, Inner Child for feeling uplifted, Frankincense for skincare and calm, Lemon for cleaning, Valor for anxiety, Stress Away for calm (everyone loves this vanilla and lime blend, it's like a vacation in a bottle!), Joy for a happy mood in my home…sooo many more oils I love but that's a few to start!
8. Progessence Plus
One specific oil my girls have benefitted from SO much is this oil designed specifically for women. They each used to have really difficult monthly cycles, and since using this they've seen a huge difference. If you or someone you know struggles with cramps or hormone imbalances or menopause, we know so many who have been incredibly thankful for this natural way of supporting their health!
9. Skincare
In trying to get away from toxins, I switched out all of my skincare. My skin used to be so sensitive I couldn't use hardly anything without my skin breaking out into a rash. Now I use Young Living's toxin-free skincare and love it! The Bloom line, Art line, Sheerlume is an amazing moisturizer, the wolfberry eye cream, boswellia wrinkle cream, Orange Blossom cleaner, Charcoal bar soap and the charcoal mask are a few of my favorites.
I also love using their body lotions (Lavender hand soap) and soaps, too, like the Lushious Lemon Handsoap! It comes in a foaming pump or a refill size. Smells SO good! They also have amazing massage oils that are wonderful to use as you get out of the shower or even in the bathtub! I use Relaxation massage oil with epsom salts, stress away oil and CBD oil in my bath! So good. These isn't skincare exactly but I also love the Thieves Whitening toothpaste. :)
10. Makeup
For years I couldn't wear hardly any makeup, my skin reacted to everything. Once I started detoxing our home switching out personal care products my skin got happier too! Now it feels amazing, I never break out or have rashes. I absolutely love Young Living's Savvy Minerals makeup line. It's toxin-free and absolutely beautiful for any skin type. I use the liquid concealer and foundation, the mineral foundation, mascara, and eyeshadows!
That's just a few of our favorites, but there are so many more! You'll be amazed at all they offer and be so pleased with their quality.
---
Use THIS LINK to start shopping! My referral number is attached to the link #3731456.
To unlock 24% off everything from Young Living, all you need to do is use my referral link HERE and choose one of these options:
1) Place an order for whatever products you want, at least 100 pv total to unlock the extra 24% savings.
Or 2) You can 'subscribe to save' on any product (example: subscribe to a bottle of thieves dish soap every 3 months, or a lip balm every month, vanilla oil etc…whatever item you choose at whatever frequency you want). You can cancel or change this subscription later.
Either one of those options will unlock the 24% off discount to Young Living. Then you'll have your account and be able to order whatever you want any time with the discount!
You'll also be invited to our private Dwell Well Collective group with lots of helpful education on oils and toxin-free living. You'll love it! Follow us now at our public instagram to learn more and watch our highlights! Dwell Well Collective.
Let me know if you have any questions on products or ordering. I'm always happy to help! You can text me at 503-805-6457 if you need help.
---
Related Post:
How I Radically Improved My Health and Home (Hashimoto's)