Making simple changes in our home, one step at a time, is how I radically changed my life and my family's life. I feel better than ever! Our family has seen so many health improvements over the years through changes we've made for a toxin-free home. I'm so glad that we kicked toxins out and made the switch to clean products. Here are the steps we took to feel our best!
Order Toxin Free Household and Personal Care Products Here. (no starter kit required!)
If you have any trouble ordering, email me at [email protected] and I will help!
Having a holistic mindset about how I care for my home and the people inside has changed everything for me and my family.
Once I discovered that many popular household products can contain toxic chemicals, I knew I had to get serious. I would never go back. Even products that claim to be "all natural" (called greenwashing) can have unidentified fragrances and ingredients which can be toxic.
Repeated use of these products translates to compounding exposure of potentially harmful chemicals. We inhale these chemicals into our lungs and absorb them through our skin.
The supposedly "natural" products I used to use in my home fooled me for so long.
"Regular use of cleaning sprays can have as much of an impact on health as smoking a pack of cigarettes a day, according to a new study. Scientists at Norway's University of Bergen tracked 6000 people, with an average age of 34 at the time of enrollment in the study, who used the cleaning products over a period of two decades, according to the research published in the American Thoracic Society's American Journal Of Respiratory and Critical Care Medicine." (source)
With my autoimmune condition, Hashimoto's, I have learned so much over the years about how everyday products can severely impact our health.
This is why we no longer burn scented candles in our home and are very selective about our cleaning and personal care products. We are the gatekeepers of our homes and I say it's better to be safe than sorry! When we know better, we can do better. And I have never been more confident in the benefits of a toxin-free home.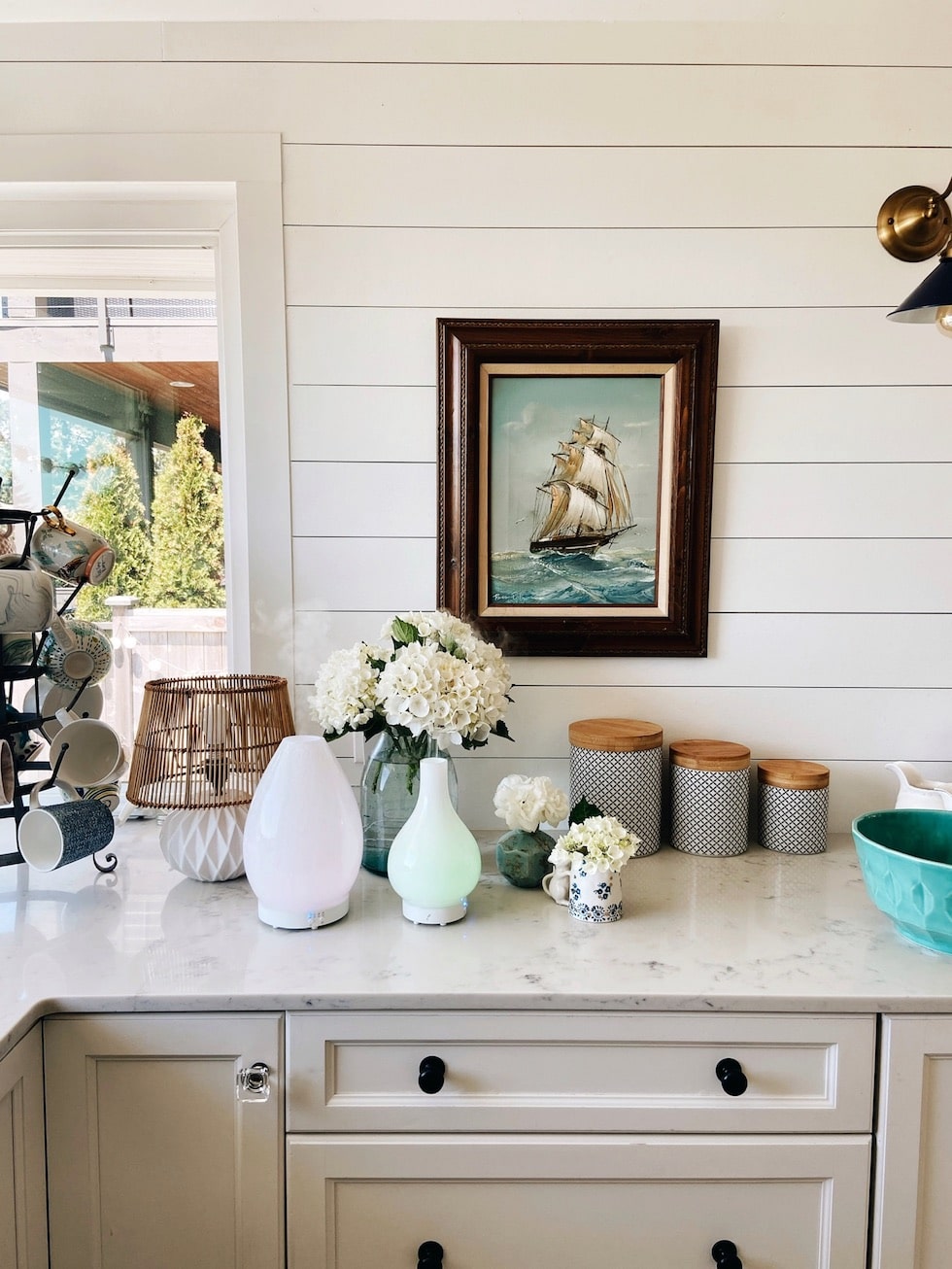 Quite a few years ago I decided for the health of my family that I would completely replace scented candles and chemical room fresheners in our home with pure essential oils.
It was a hard pill to swallow at first–I loved my candles! I just had no idea the impact candles may have on our health. I thought I'd miss candles, but I honestly don't. I use diffusers that glow and flicker and the oils I use smell INCREDIBLE! This simple swap has truly made our home so much healthier and happier. It feels like a spa, I'm OBSESSED with using oils, filling my diffusers is favorite ritual every day.
When we ditched candles that also meant no plug-ins, no room sprays, no synthetic household cleaners (I learned that you not only need to avoid the more obvious toxins but you have to pay attention to the ingredient "fragrance" or "perfume" because it could hide any number of toxins I don't want in our home). No worries, I can make all of those things without the toxins!
Next I swapped out our cleaning products. I used to buy allll the products. Every spring before I knew better, I had stocked up on the newest scented dish soaps. In the winter I wanted all the Christmas scented soaps and sprays. Of course, at the time I thought they were healthy, but sadly they weren't. Now that they've been out of our house for years and my body has detoxed, I can smell the difference in products and notice the difference in how I feel.
I only need this one plant-based toxin-free household cleaner concentrate for all the things! It's so simple and affordable to use. We don't store all that toxic junk we used to have under our sink any longer. This cleaner is also what I spray on my fiddle leaf fig to keep him shiny, happy and healthy. Plants love it, and so do we. It's safe around our dogs and our lungs. I have tons of recipes for how to make cleaning pastes and scrubs with it, too. It's super versatile and works like a charm.
We wash our dishes with clean safe products, no more nasty chemicals or synthetic fragrances on our plates we eat off of! The dish liquid I use is also highly concentrated, one bottle can turn into several, so we save a lot of money. Our dishwasher soap works great as a scrub, too! I love the versatility of these clean plant-based products. No need to wear a mask to clean your bathroom!
It's also important to us to wash our laundry without chemicals, and absolutely no toxic dryer sheets! We use wool dryer balls and oils intead!
I am in love with my new hand soap! Happy to say we no longer wash our hands with endocrine disrupters. My endocrines were disrupted enough for one lifetime, thank you very much. :) The scents we love now are pure unadulterated essential oils, no added harmful stuff we don't need in our lungs let alone on our hands.
I starting swapping out skincare products. My face has never been happier. Much of what we put on our skin ends up in our body, too, so it's really important to be cautious with skincare.
Then I swapped out my toxic makeup and replaced it with clean beautiful toxin-free makeup. It works better than any I've ever tried! Gorgeous. I used to get rashes and scaly eyelids because of the preservatives "natural" products had in them. I love the purity and standards of these ingredients, they exceed any other brand by far.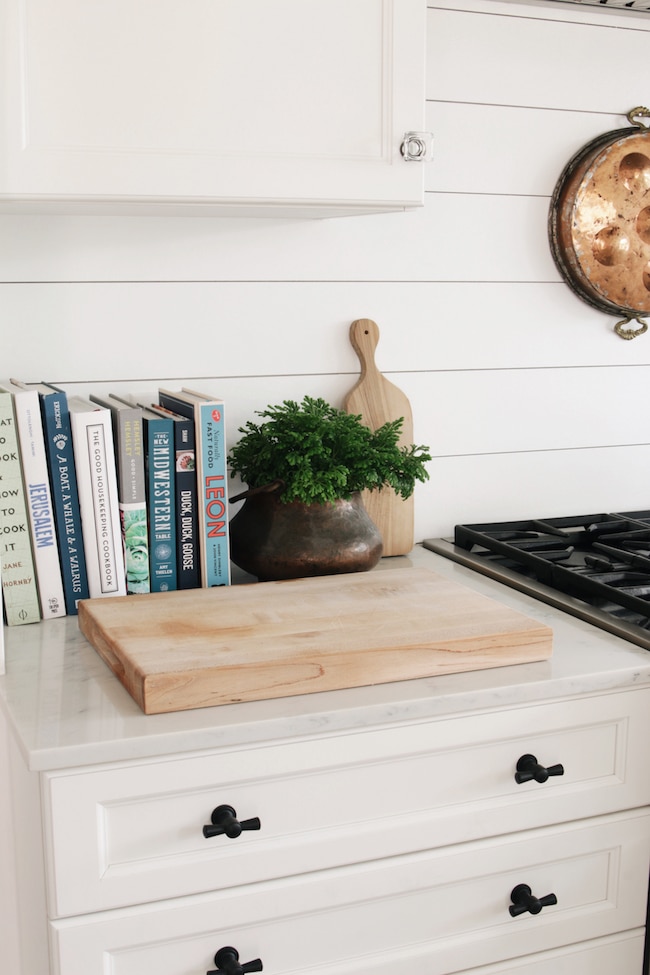 By ridding our home from toxins and using trusted plant-based products, we got healthier. We began focusing on better nutrition, working with a naturopath on my health, going gluten-free and started taking amazing targeted supplements. The changes have been dramatic and truly life-changing.
We cleared out our medicine cabinets of harmful unnecessary things, now we are very proactive in striving for health and wellness instead of reacting to and paying for sickness.
I take a holistic approach to my health and use natural supplements and remedies. I haven't been sick with any bug in five years! That makes me so happy.
But if I do get sick, I feel confident that I have all the things I need to boost my body's immune system and defenses.
So many things have changed in our home since we started this toxin-free journey.
From the day I first told you guys I was trying essential oils to stay well after getting the flu years and years ago, through to now, our life and health as a family has continued to be radically changed for the better.
This path was the best decision ever.
My only regret? That I didn't start sooner.
Pretty much everything we need for a happy healthy home and family we get through this trusted company.
The product we use to clean sinks and floors and bathrooms, the soap we get to do our laundry and wash our dishes, the products we love for healthy hair and skin, the oils we use to uplift our emotions, to help us to sleep and boost our immune and respiratory system, the supplements I use to heal my thyroid and reverse Hashimoto's and support all the healthy body systems, the enzymes and probiotic we use for gut health…I get them all in a monthly box!
It's easy peasy and I have no more fears of what we are bringing into our home or what nasty ingredients will get into our bodies.
My favorite day is when my monthly order from Young Living arrives!
Jack and Lily get excited too because we even get some pet products (like their shampoo, and Peace & Calming for Jack's anxiety!). They have products for everyone, babies, moms, dads, teens, men, women, young, older and more.
Ordering monthly is completely optional but I love ordering this way because it saves us so much money. We get 25% back on every order, free oils and it saves me tons of time in decision making and shopping. This box makes it simple to budget for our monthly order. We always know just what know what we need, love and benefit from, but we can also get so many trusted testimonies from other members about new things to try. Plus, it's just super easy to set up the box each month (it's easy to update with what you want) and get what we need without leaving the house! Homebody's dream.
It's easy to get started with the first steps to a toxin-free home right here!. Just choose whatever you'd like to order–no starter kit required.
If you don't have an active YL account and want to reactivate, let's do it! Just let me know so I can help you get set up and into my wellness group, the Dwell Well Collective.
You can get anything you want (use my referral link here) and then let's do this together! I'd love to help you on your journey to a toxin-free home! We have text classes, zoom classes, and workshops, too!
Order Toxin Free Household and Personal Care Products Here (no starter kit required)
If you have any trouble ordering, email me at [email protected] and I will help!
Click HERE for My Top 10 Must-Have Toxin-Free Products From Young Living
Ditching toxins doesn't have to be a chore. There are so many fun things you can enjoy making with your YL oils, too! Face serums, perfume rollers, custom scented soaps, cleaners, bubble baths…oh, my! So fun! When you get your account, I will send you a welcome email with lots of simple natural DIYs, diffuser blends, room spray recipes and more, too!
When you're a Young Living customer there is NEVER any requirement or obligation to order anything at all. There are NO fees. Follow the instructions here–you'll get 24% off whenever you want to use it! There's no downside and I know you will love it.