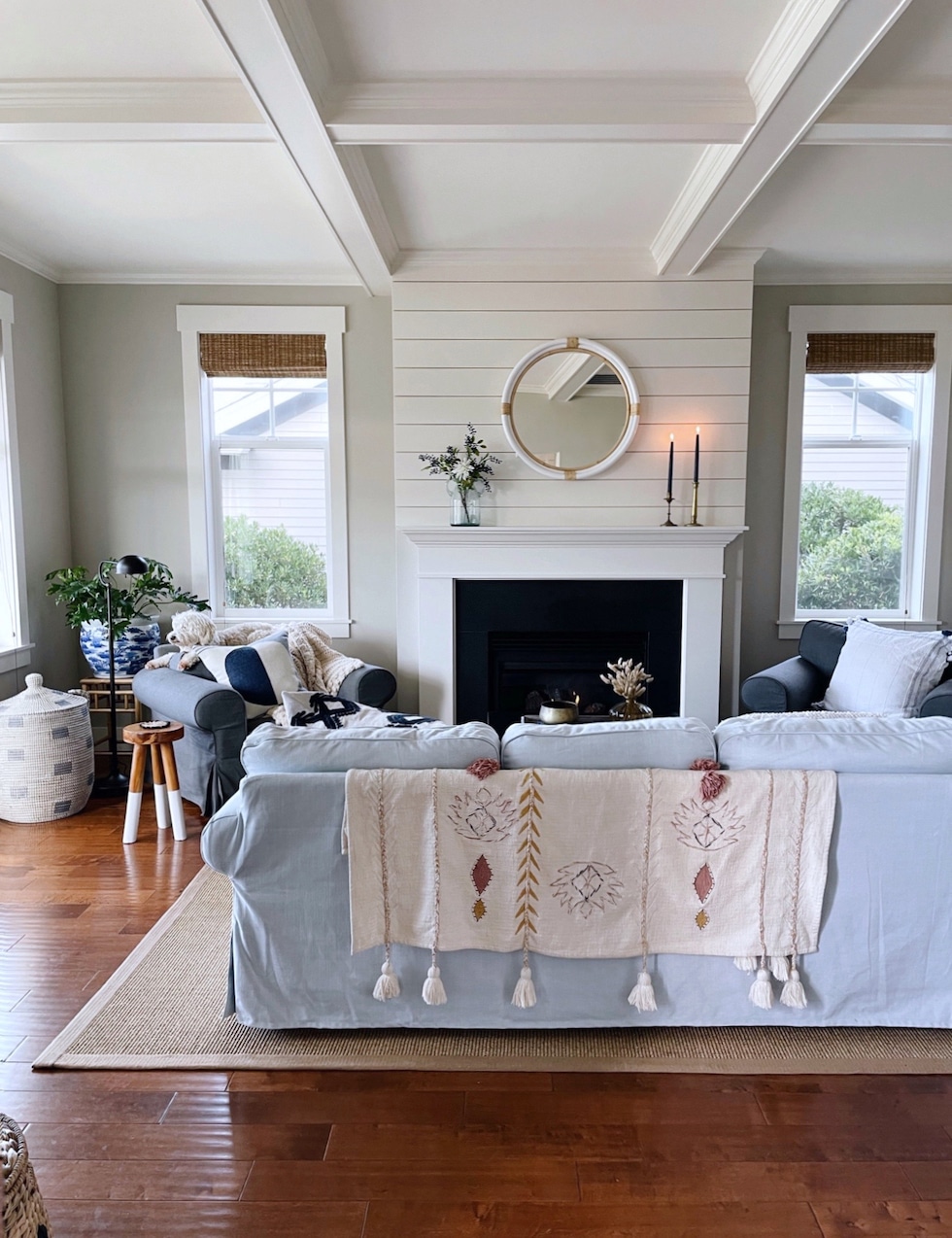 This post is in partnership with Serena & Lily
With the holidays coming up so quickly, I have been so looking forward to getting settled into our new home. We are still a few days away from calling this house our only home, but we are SO HAPPY to finally be at this point! Moving (and downsizing!) is always so draining and such hard work but it's all going to be worth it.
We love this home so much already, we're going to really enjoy making it our own. Today I'm going to show you a couple of fun spaces in this house, rooms I haven't shared yet, along with some very cute things (some quick ship and sale items, too!) that I got from one of my very favorite home stores, Serena & Lily!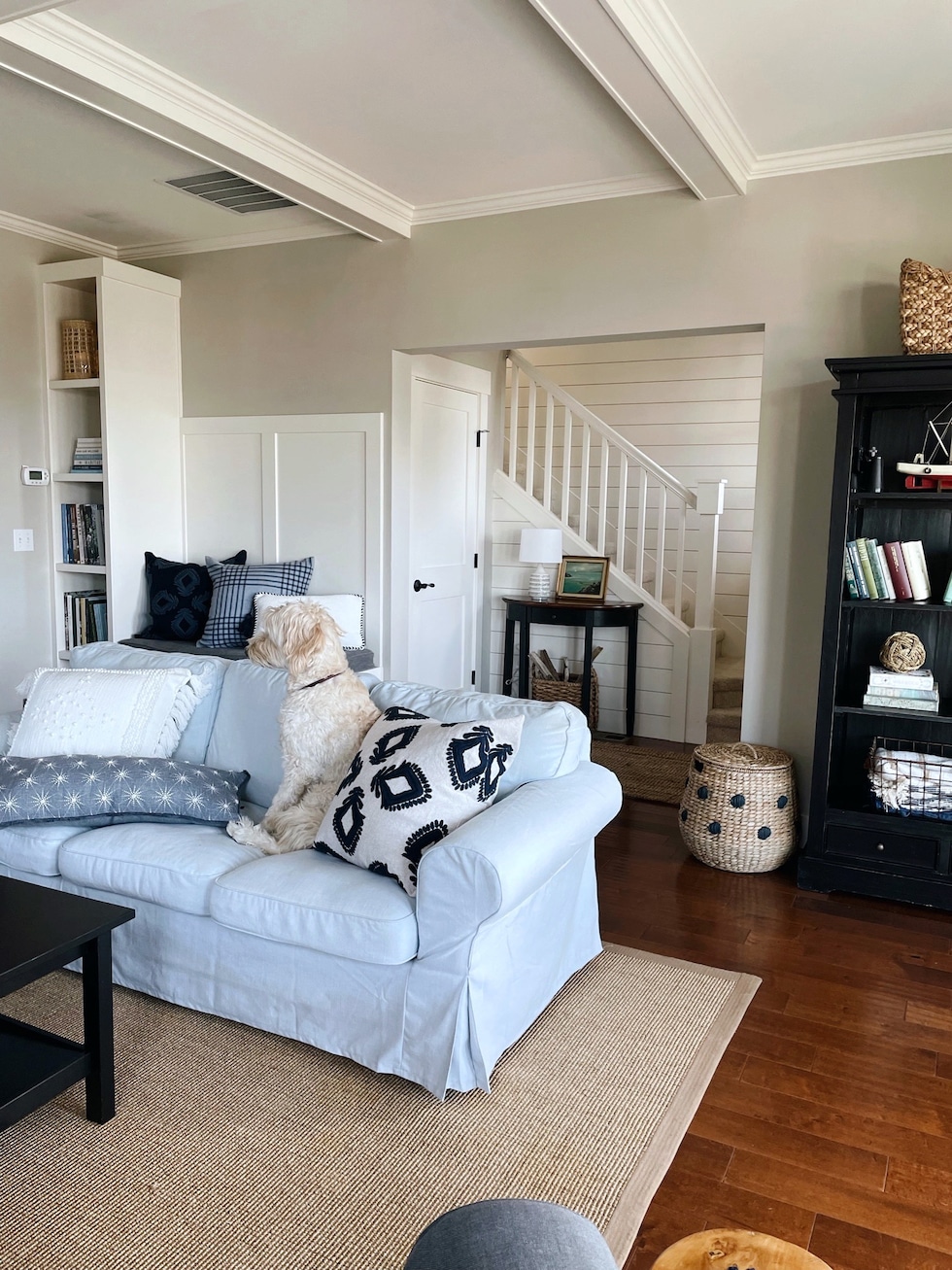 Since we bought this home furnished and it was already quite cozy and comfortable, we decided to keep the living room sofa and chairs that were here until we can find just the right furniture for this space. Even though we want to get settled pretty quickly, it's so nice that we won't have to rush all of the decisions. I will still bring in some of my own things as well as get a few new accessories and pieces that will make this house reflect even more of my style right away.
I never want to feel like I'm in a rush to complete a home. The process is part of the journey! But I am both patient and impatient when it comes to designing rooms. I try to be patient when I need to be to make the right decision (like designing a new kitchen or making a more permanent decision!) but am impatient when I know what I want and am ready to get some rooms settled! It's OK to be both.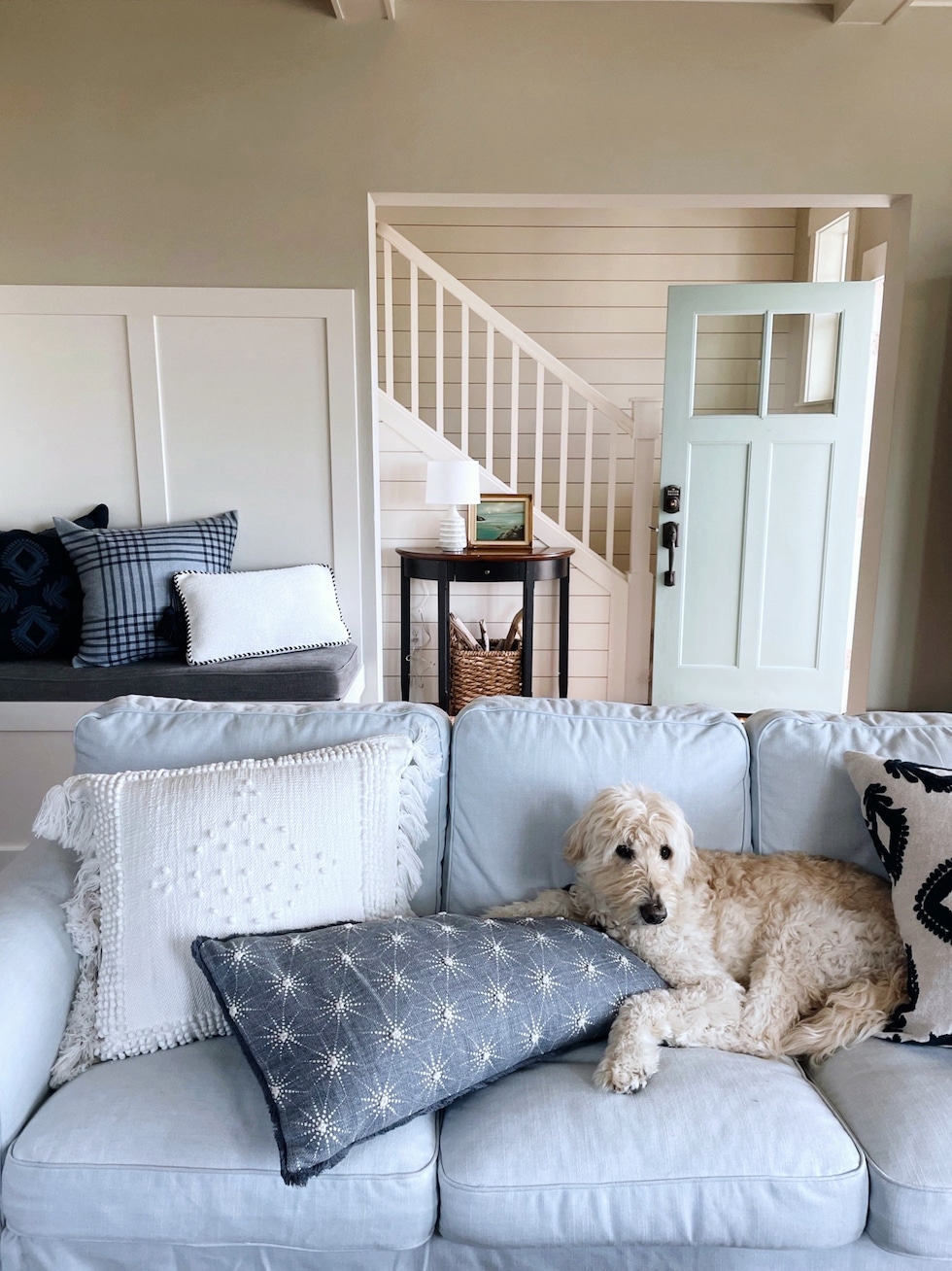 Many of the pieces I already have and love (including my favorites from Serena & Lily) will work beautifully in this home! Knowing we already have many things we can use here will make getting settled here so much easier. I was also thrilled to learn that Serena & Lily has a special section of "quick ship" pieces available through their online shop.
Getting new furniture and accessories shipped from many shops these days can often be slow going, but I was able to order a few new pieces I loved from Serena & Lily just a few short weeks ago and they are already here! YAY! You can use their filter by availability feature on their website as it allows you to view items that deliver in under 4 weeks.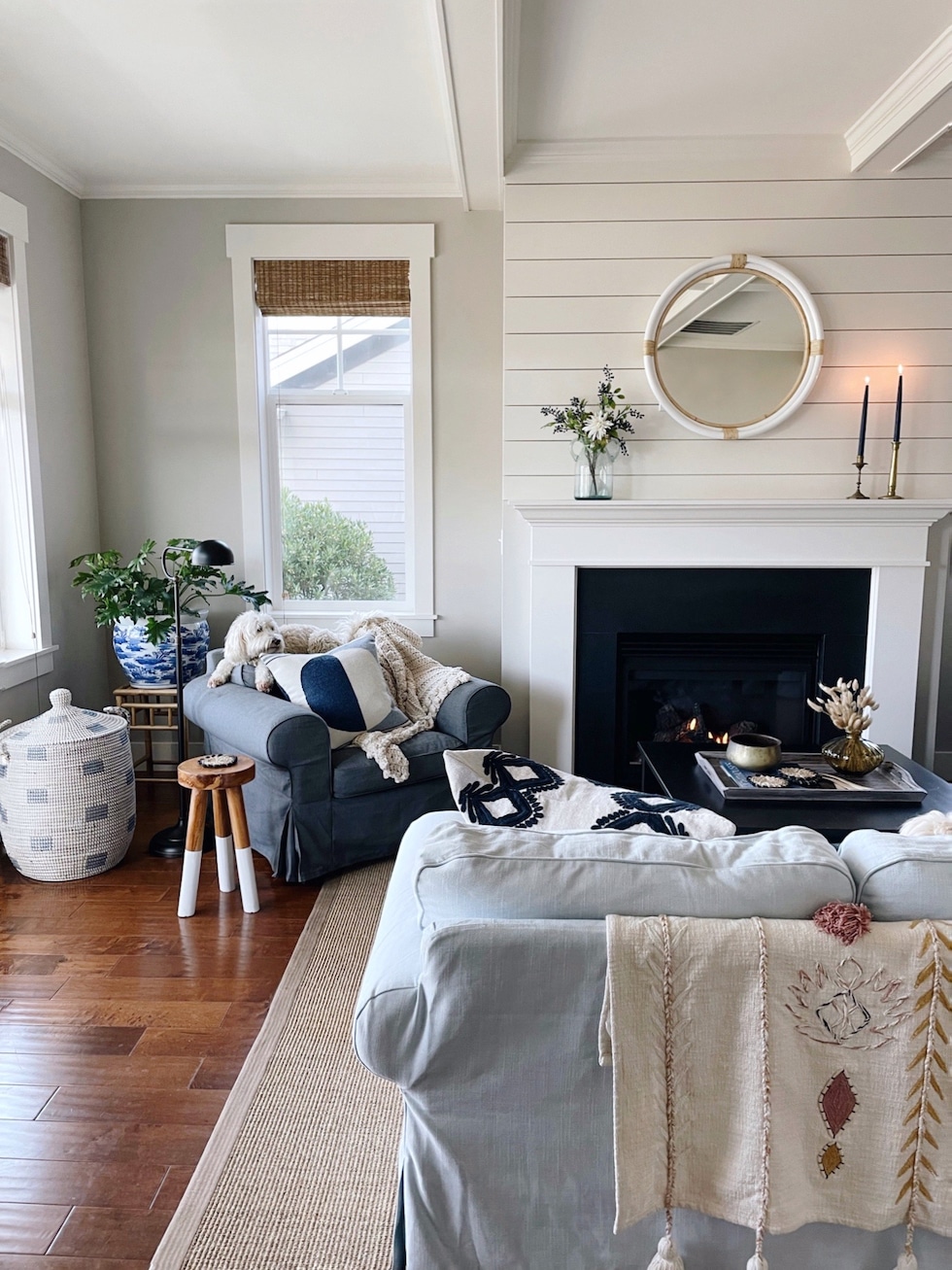 We have several Serena & Lily pieces we've loved for years (including our rattan daybed, which I am SO EXCITED to have in my new office upstairs! Stay tuned to see it once I get it all set up! I'm actually going to buy a second one for that same space I love it there so much!) as well as the cute dipped white and wood stools we've had for probably 8 years now, and the round rattan mirror we used to have in our dining room that you can see now hanging above our mantel. Their pieces complement our own style and always seem to work so well with everything we have!
The architecture of our home is already such a great foundation to work with, but adding our mix of styles, art and accessories will bring in our own personality! It will be fun to see these rooms evolve over time.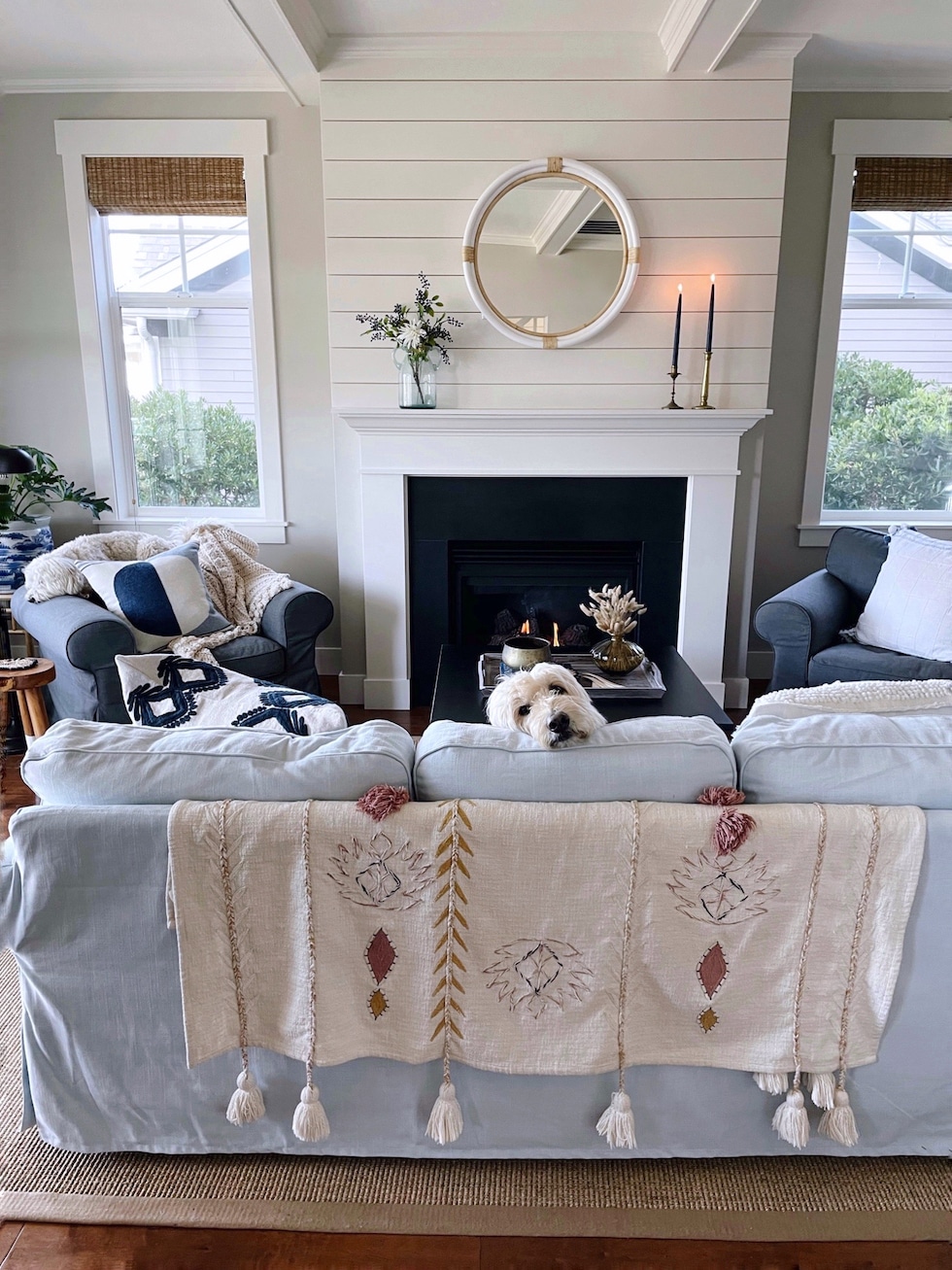 There are a few design staples I love. I just added these very things to our new home! I felt the timeless, quality pieces from Serena & Lily were definitely worth investing in right away. I knew they would make our house feel like home now and for years to come.
Pillow Covers:
Pillow covers are the simplest way to infuse comfort and personality into a home. They are also really easy to switch out and store when you want a change. Our pillow covers are folded and kept in a dresser drawer when I'm not using them. They take up very little space for the impact they make on our home.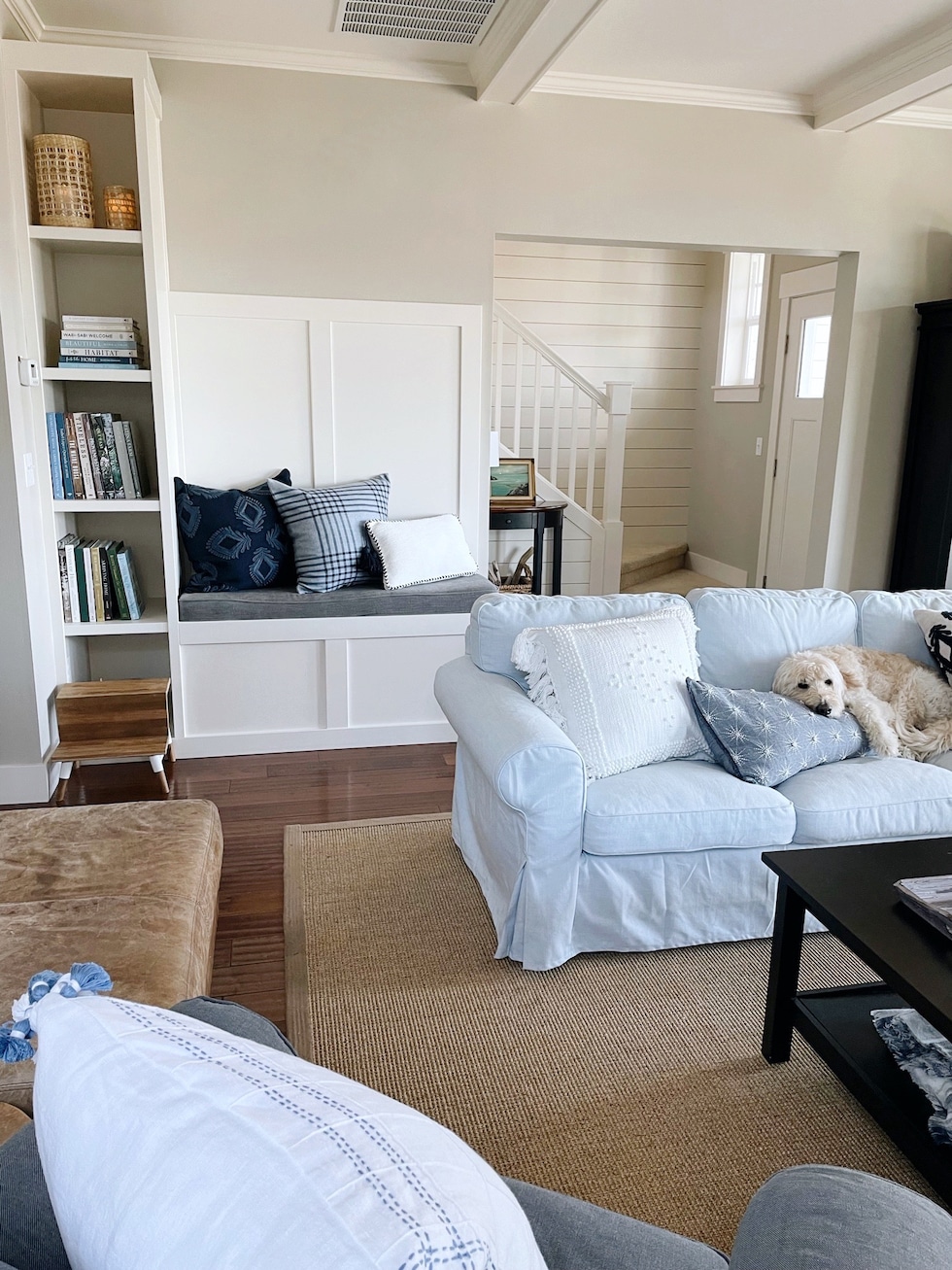 I really love Serena & Lily pillows. Not only do I love their styles but I love the details and the quality. I don't worry at all about my dogs laying their heads on them or tossing them to the floor, ha, the quality is so good, I know they won't fall apart after a few months. Serena & Lily pillow covers come with zippers that make it easy to change your look for the seasons or use different combinations of patterns. These pillows were available on quick ship AND they are on sale, too!
Pillows pictured above, click links for details: Navy embroidered pillow, Plaid Blue Pillow Alpaca Wool, White Woven Lumbar Pillow with Blue Braided Trim and Tassels, Textured White Pillow with Fringe Trim (indoor/outdoor), Blue and White Embroidered Starburst Pillow, Pom Pom Corner Subtle Plaid White Pillow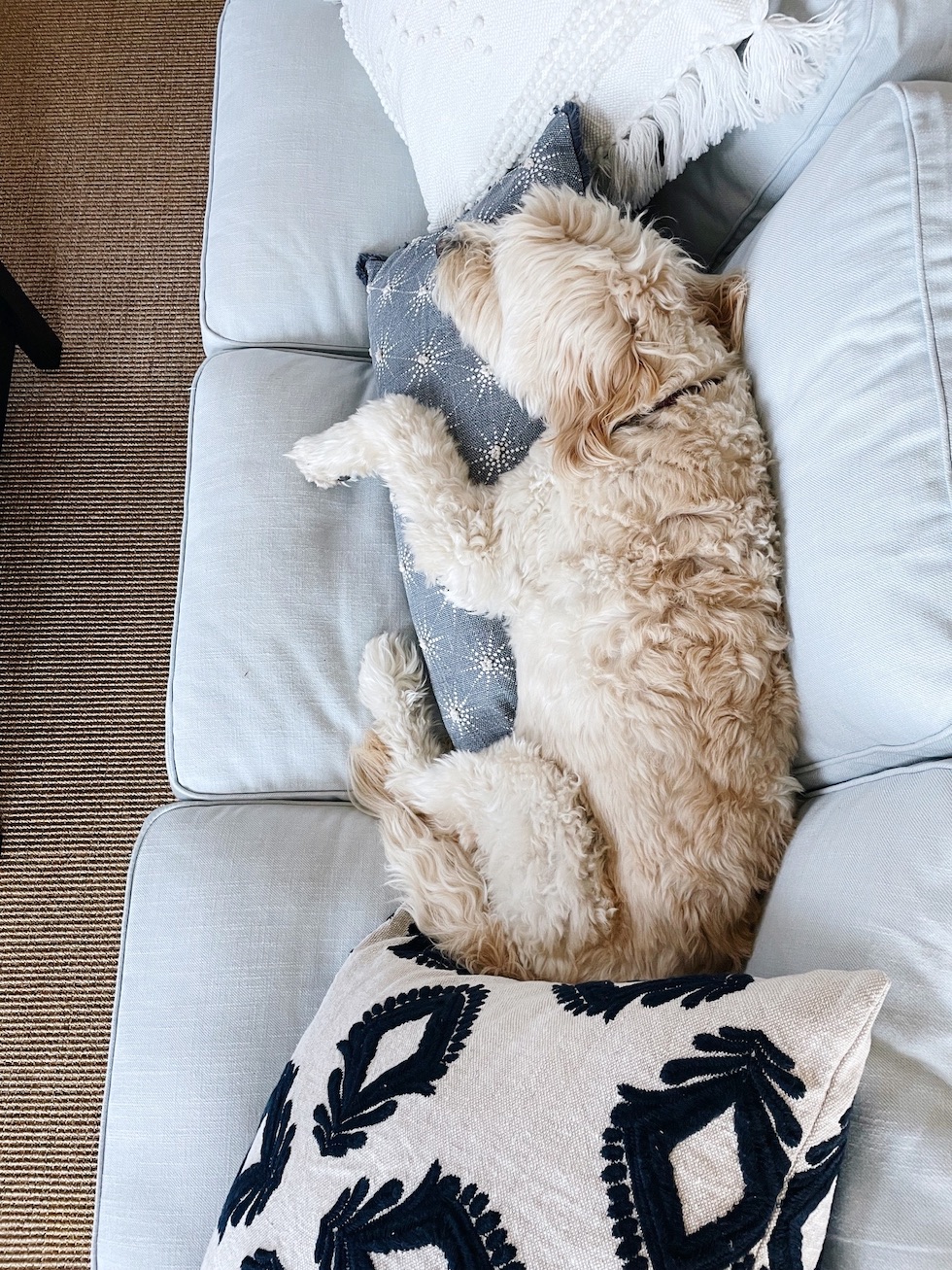 Once I got these darling pillow covers set up on our built-in bench and existing furniture, I felt like the first layer of our style came together and our house instantly felt more "homey." Pattern, color, texture, personality and quality are important elements in setting a style! Serena & Lily pieces do this so well.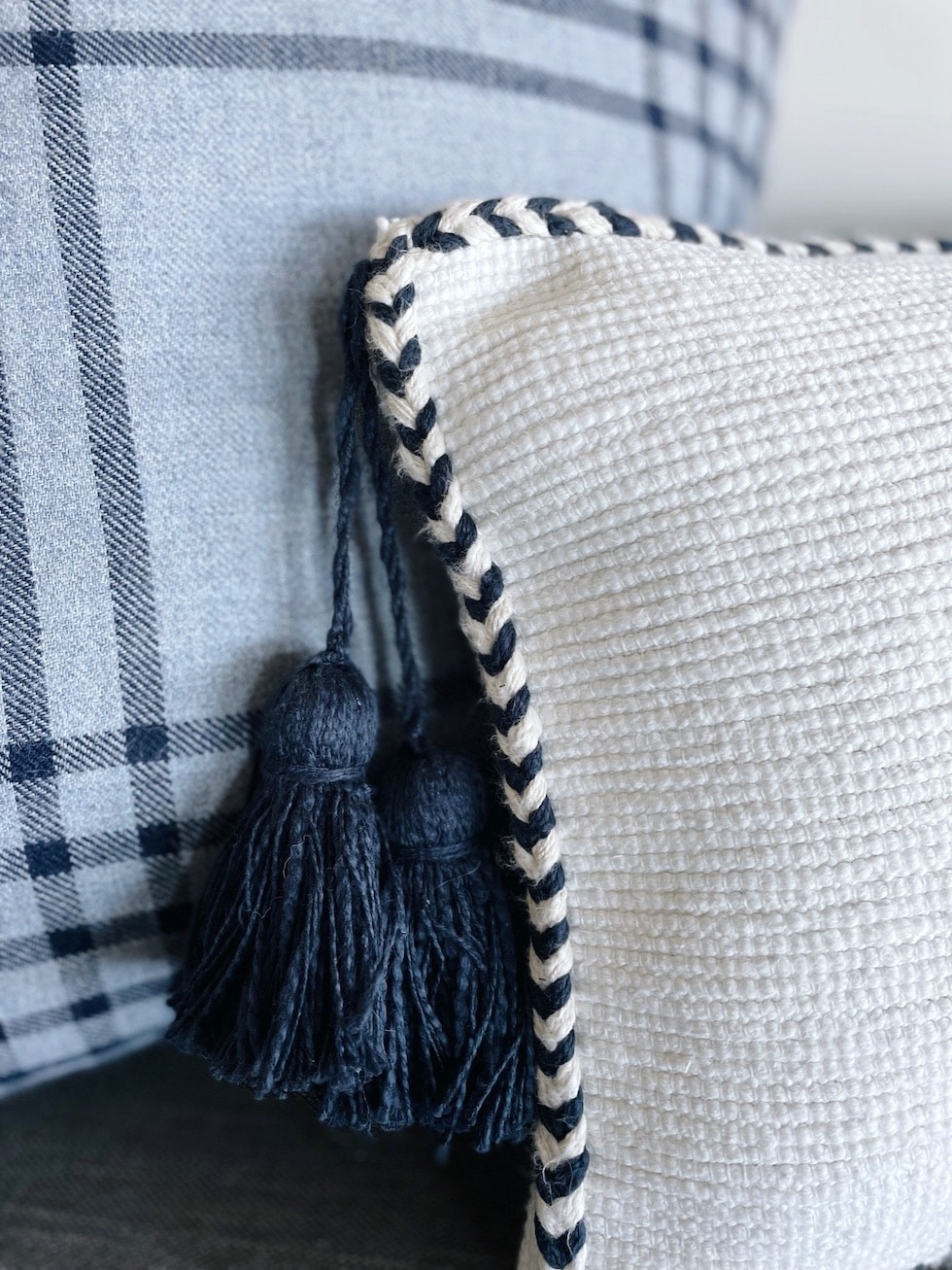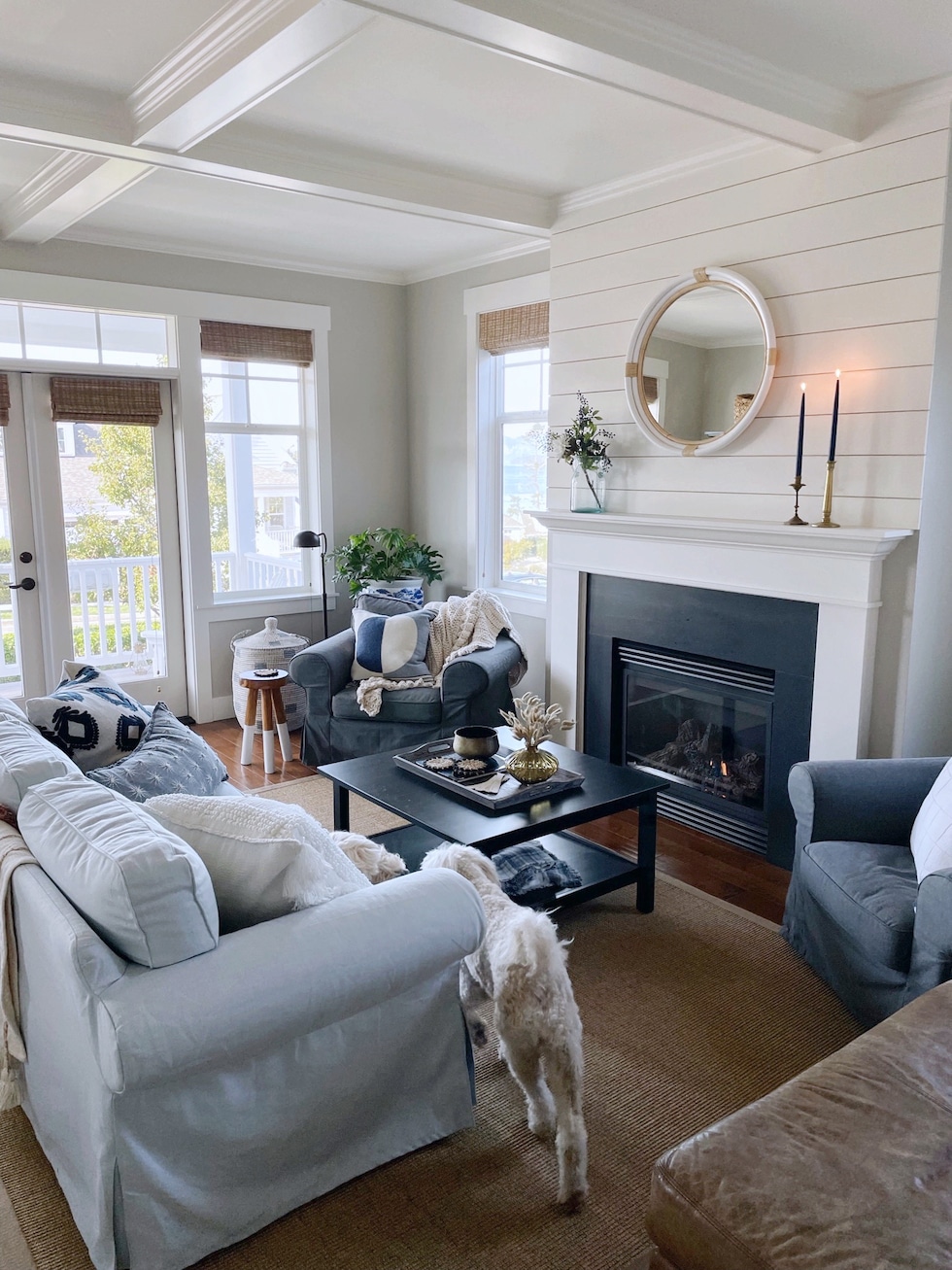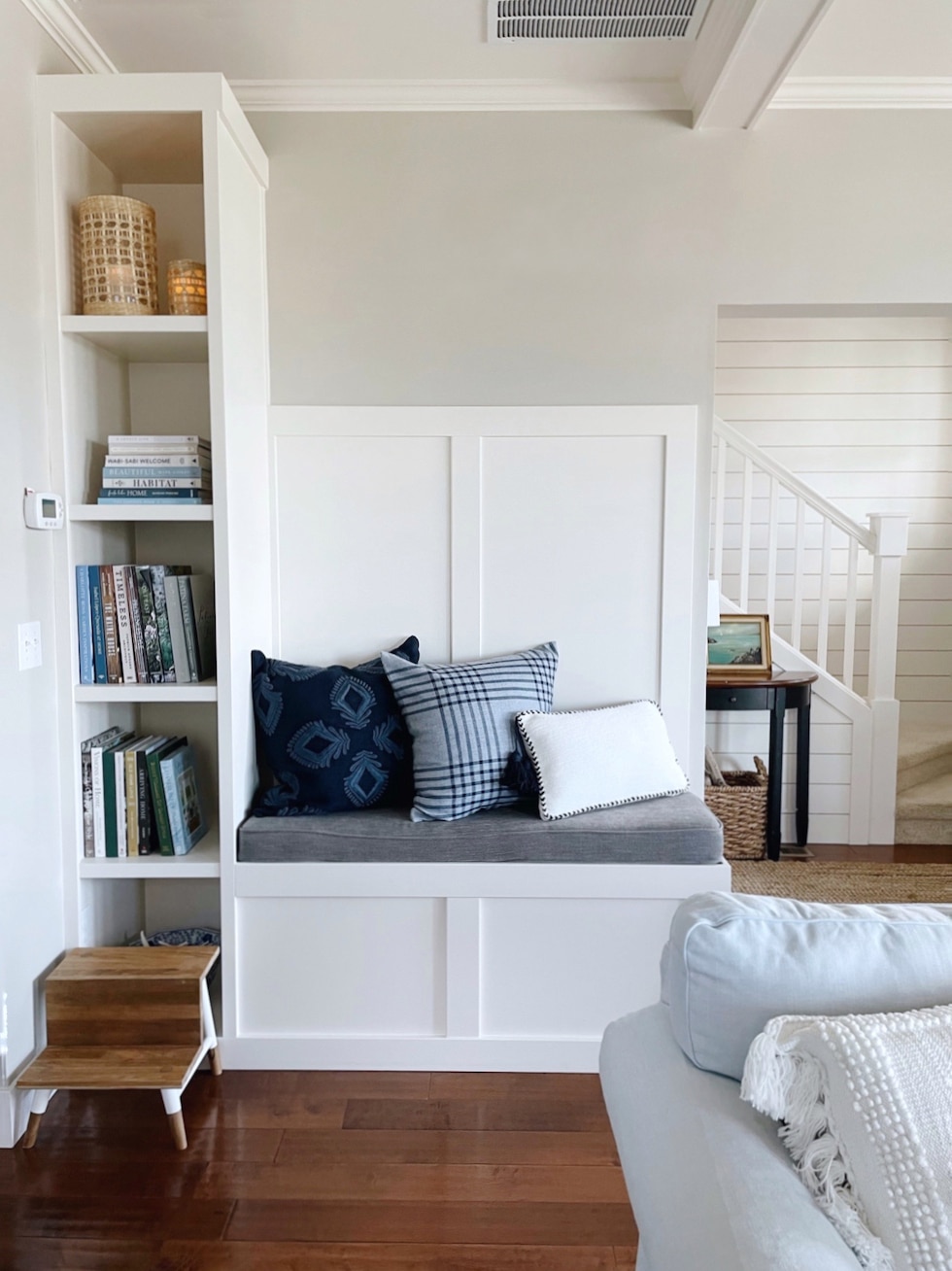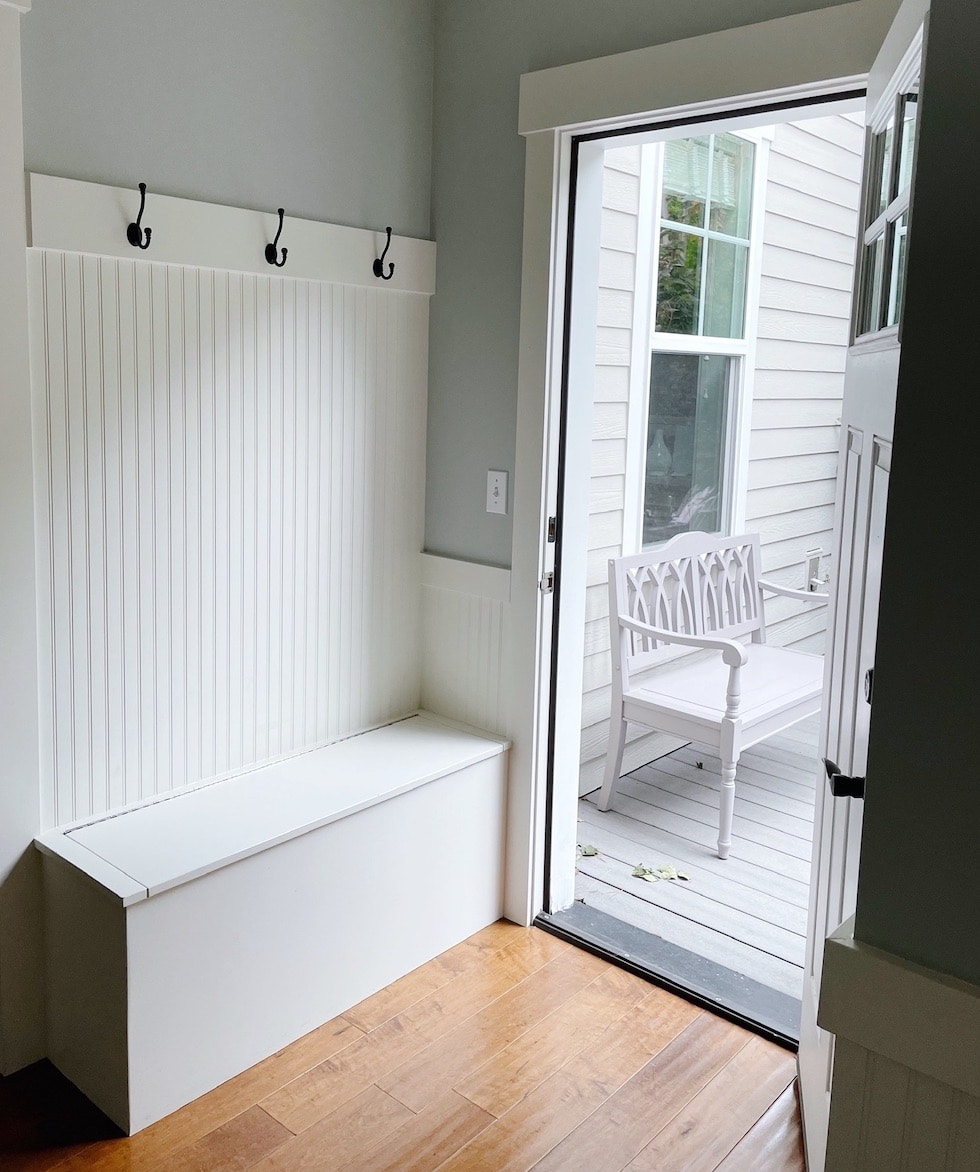 Throw Rugs:
Smaller rugs can make a big impact on style and are so much easier to change out than large rugs. You can even layer them! Two of my favorite rooms in this home are the little mudroom and the powder room. They are both right off the kitchen and connect to the garage. There are so many fun ways we can decorate these cute and functional spaces.
The mudroom had great architecture with it's built in bench and hooks, as you can see in the "before" photo above. But pillows, rugs and accessories can be added or switched out on a whim to give any room more function, personality or a seasonal touch! See the "after" below!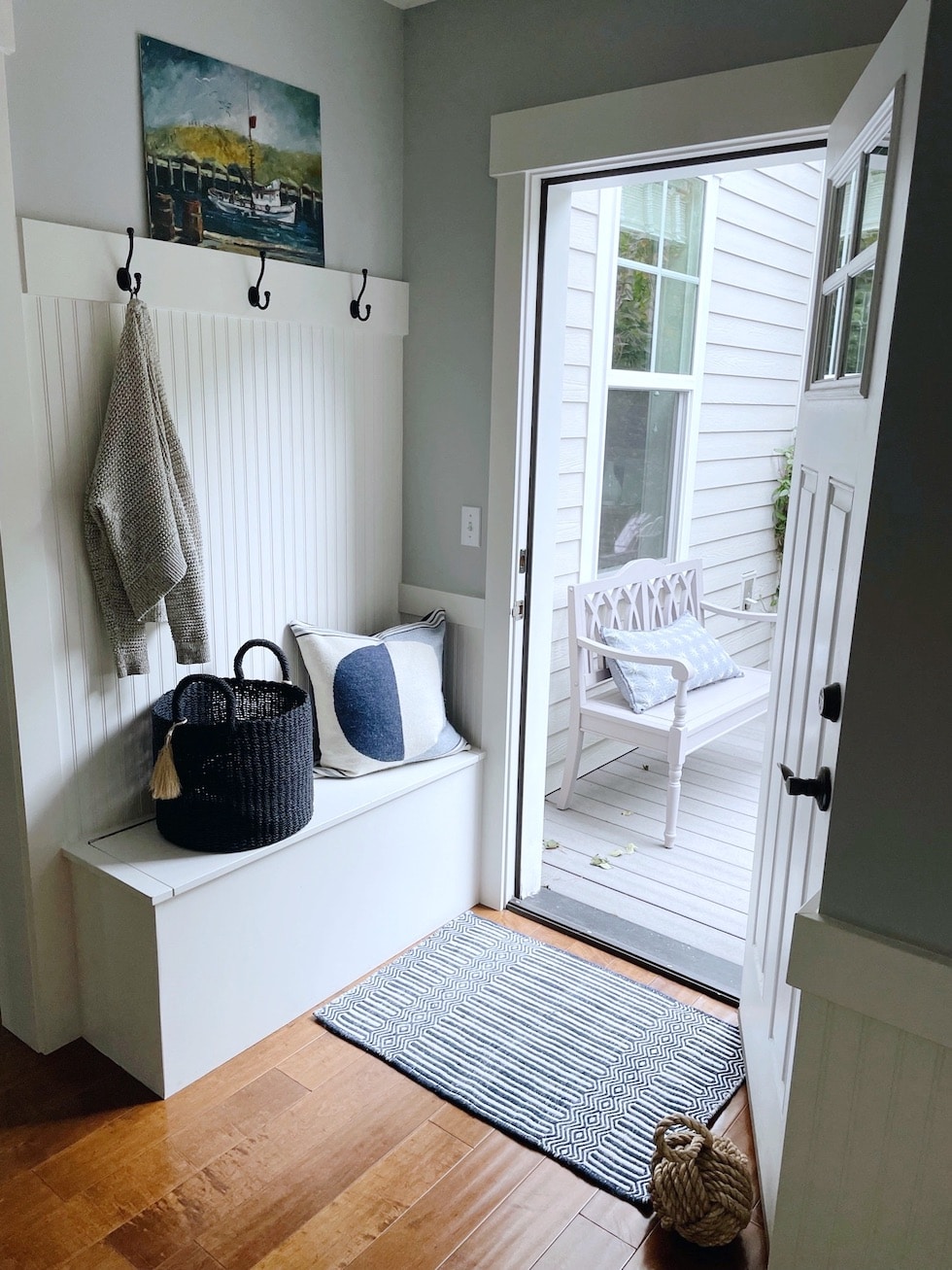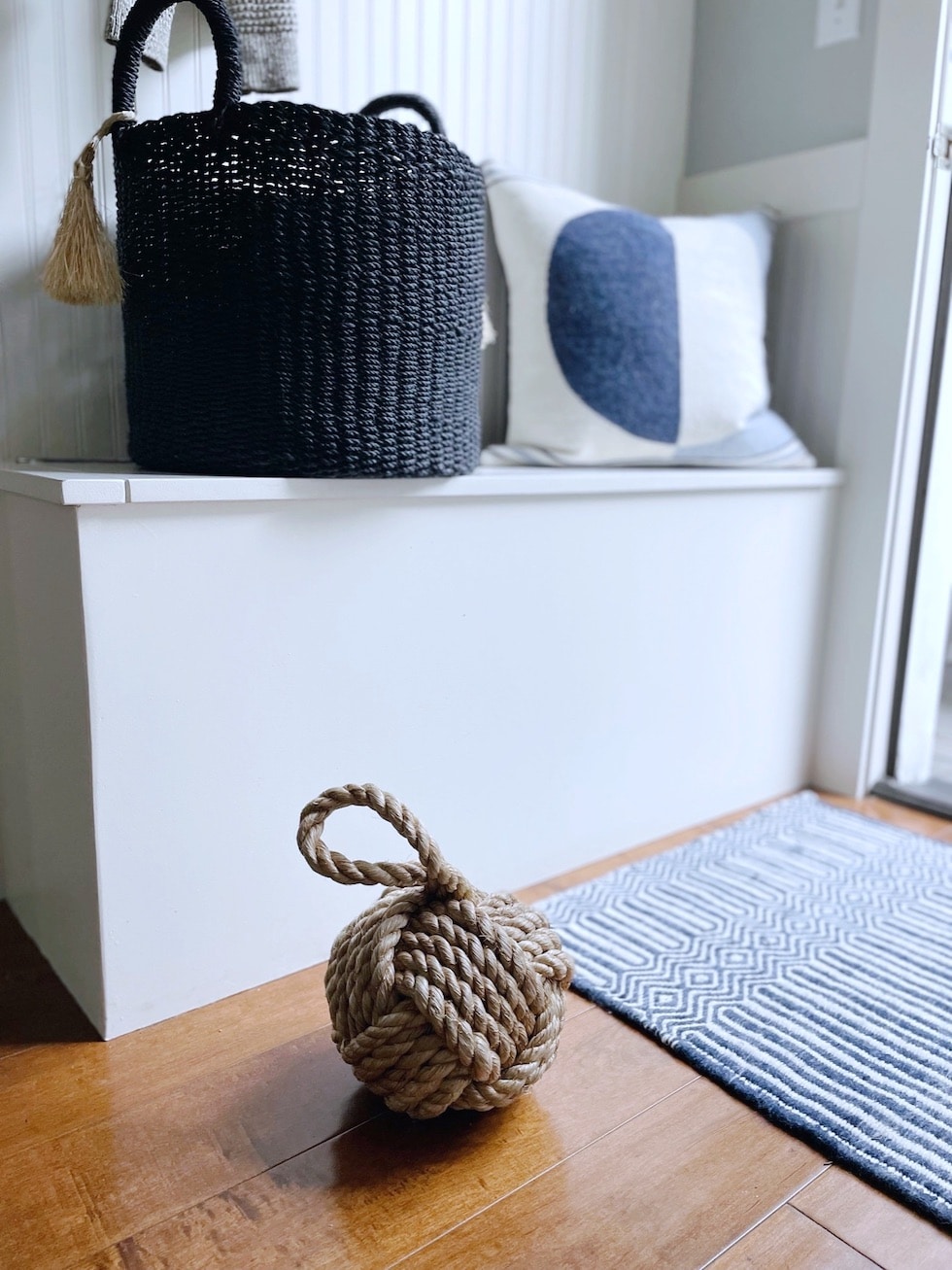 Pictured above, click links for details: Woven Door Stop, Blue and White Patterned Rug, Navy Basket with Raffia Tassels, Geometric Blue and White Alpaca Wool Pillow
Whimsical Wallpaper:
A home with a unique and fun personality makes people happy to be in them. Powder rooms and hallways are a perfect place to add some whimsy or take your style up a notch.
When I saw that this home already had this whimsical Serena & Lily Whale Patterned Wallpaper in the powder room I was so excited! How could I not fall in love with a home that had smiling whale wallpaper? It was meant to be. This whale wallpaper is one of their quick ship options so if you are like me and are in love with this paper (or any of their other quick ship options), you could have it delivered to your home and installed in time for the holidays.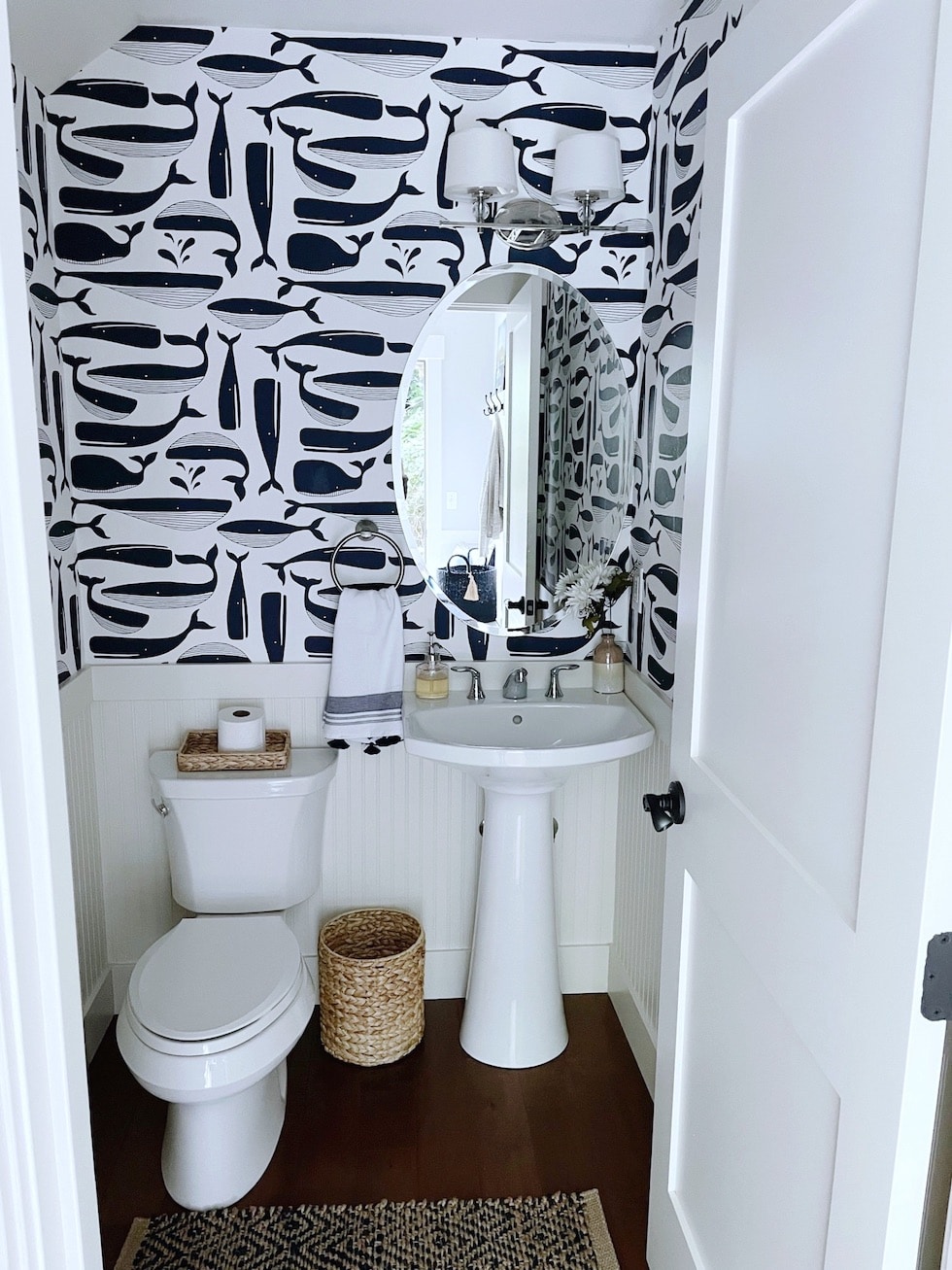 It's going to be fun to play with this already adorable space. I'm in search of new mirror and plan to add wood or paint the ceiling in here to show off that fun angle even more!
Special Towels:
I love adding details to a room that feel special. For me that often means details on textiles like fun patterns and added trims. Pom poms and fringe are two of my favorites for towels! I'm so happy to have a powder room again so I bought some new guest towels so I'll be ready for the holidays.
Pictured above, click links for details: Blue and White Guest Towels (assorted patterns set of 3), Wood and White Dip Dyed Leg Stools (two sizes), Diamond Jute Mat, Whale Wallpaper, Woven Waste Basket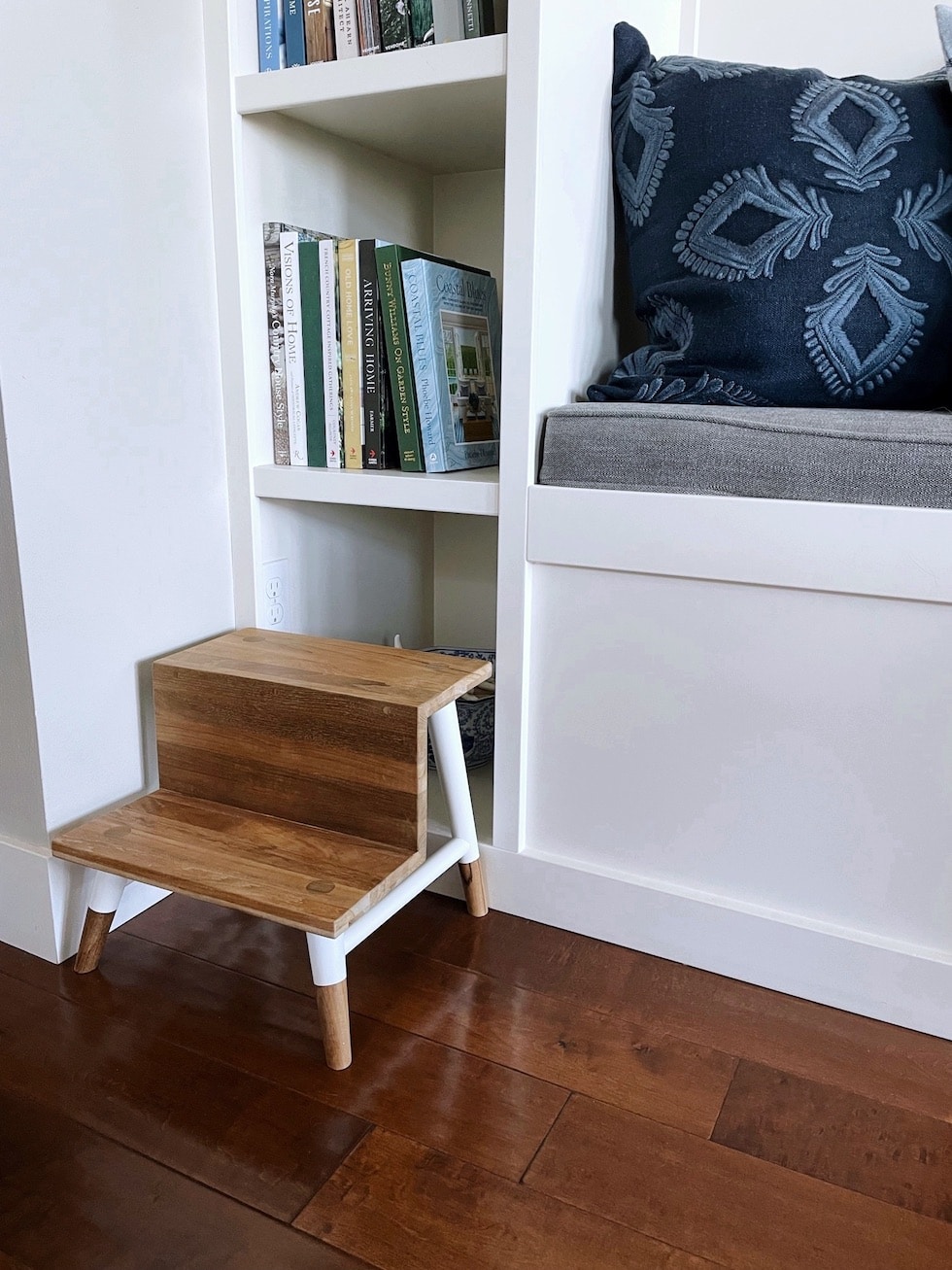 Pictured above (click links for details): Teak step stool, Navy embroidered pillow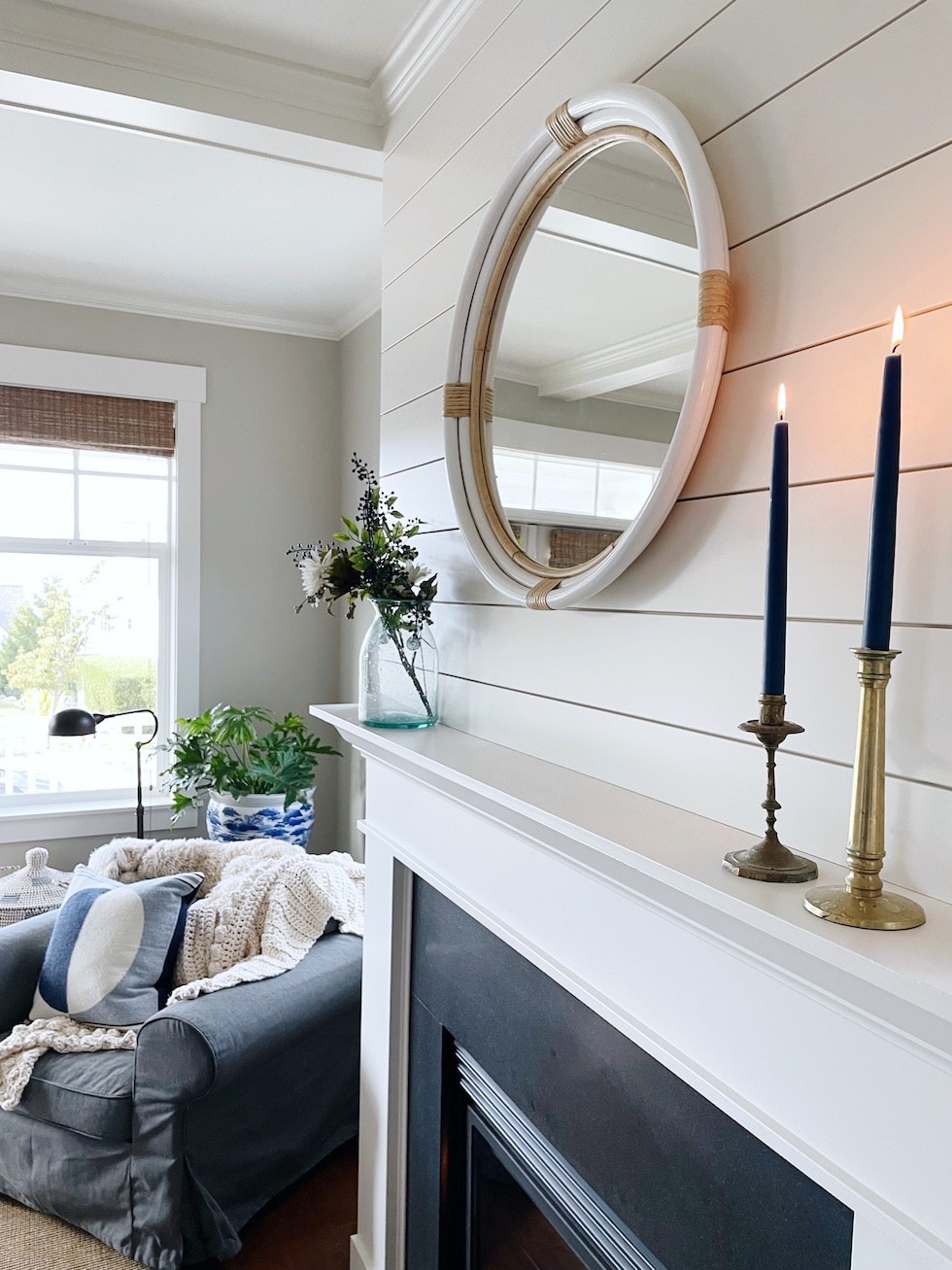 Pictured above (click links for details): Blue taper candles, Round rattan mirror
Storage, baskets and accessories:
It's the little things that make a house a home. You can mix and match things you love one step, one layer at a time. Choose accessories that add texture, pattern, style and function! Lidded baskets are so good for all of those reasons! In a small space baskets are perfect for adding style while hiding visual clutter. The Serena and Lily baskets have such nice details. Baskets can stash dog toys, extra throw blankets, seasonal accessories, anything we don't need or want to have on display!
I found some other wonderful accessories I knew we would love and use all year-round and in every season, like our new teak step stool, woven coasters, wood whale spreaders, seagrass candle holder vessels for our battery operated candles, our rope door stop, a small basket tray to corral items with a matching woven waste basket, and beautiful deep blue taper candles for our mantel.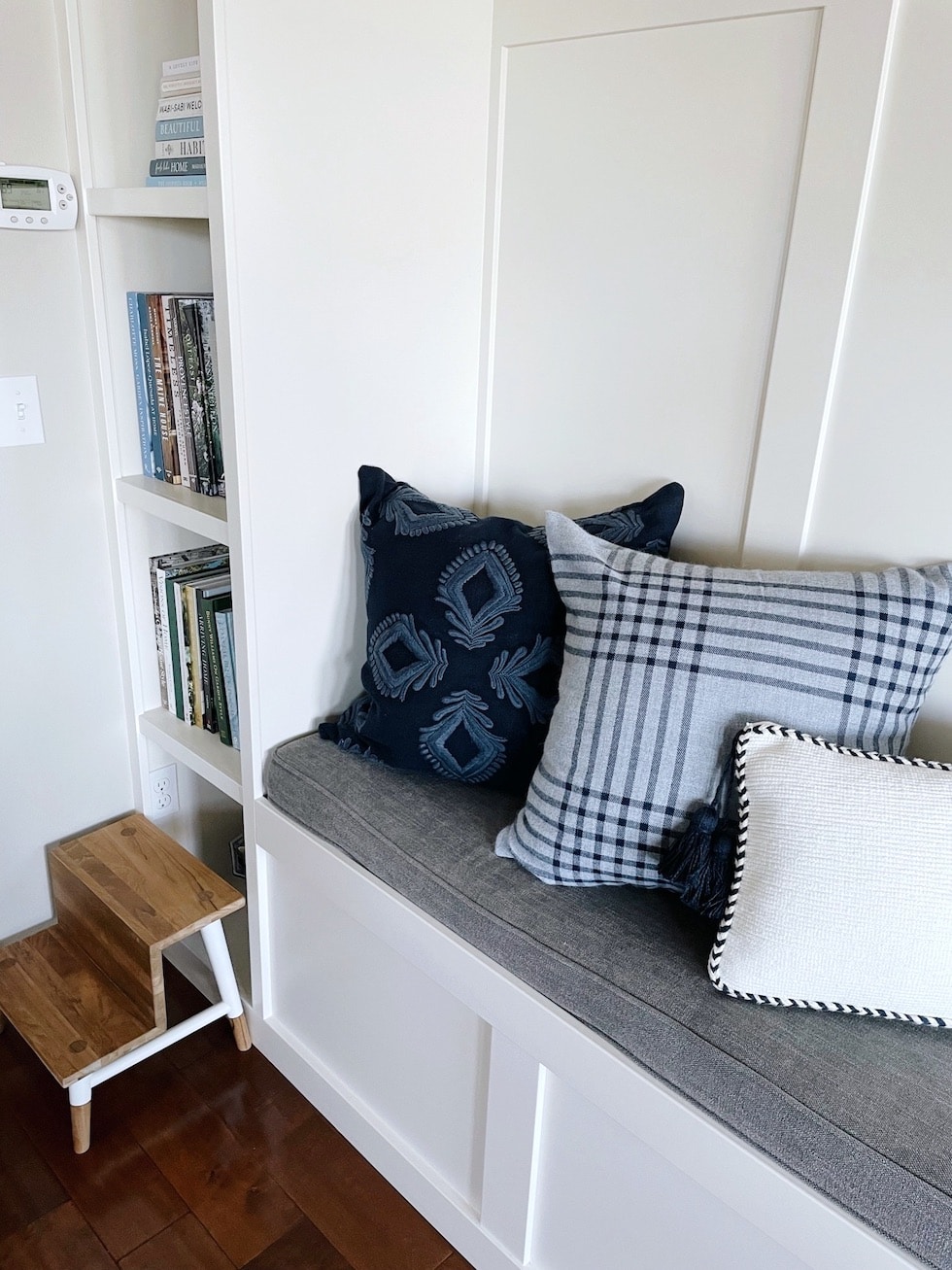 Pictured above, click links for details: Geometric Blue and White Alpaca Wool Pillow, Wood and White Dip Dyed Leg Stool, Handwoven Coasters, Blue and White Woven Lidded Basket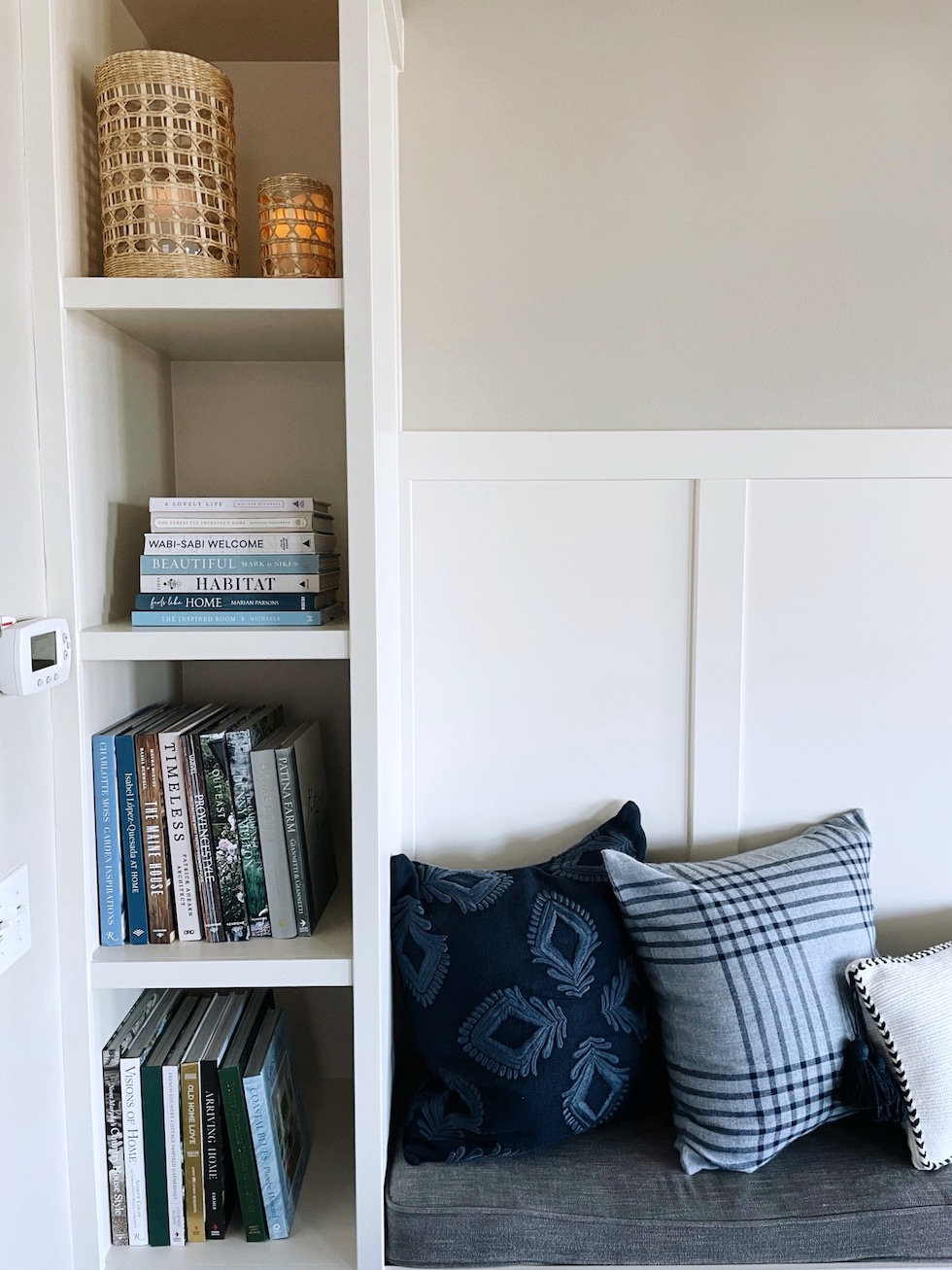 Pictured above (click link for details): Navy Polka Dot Woven Lidded Basket (also comes in white)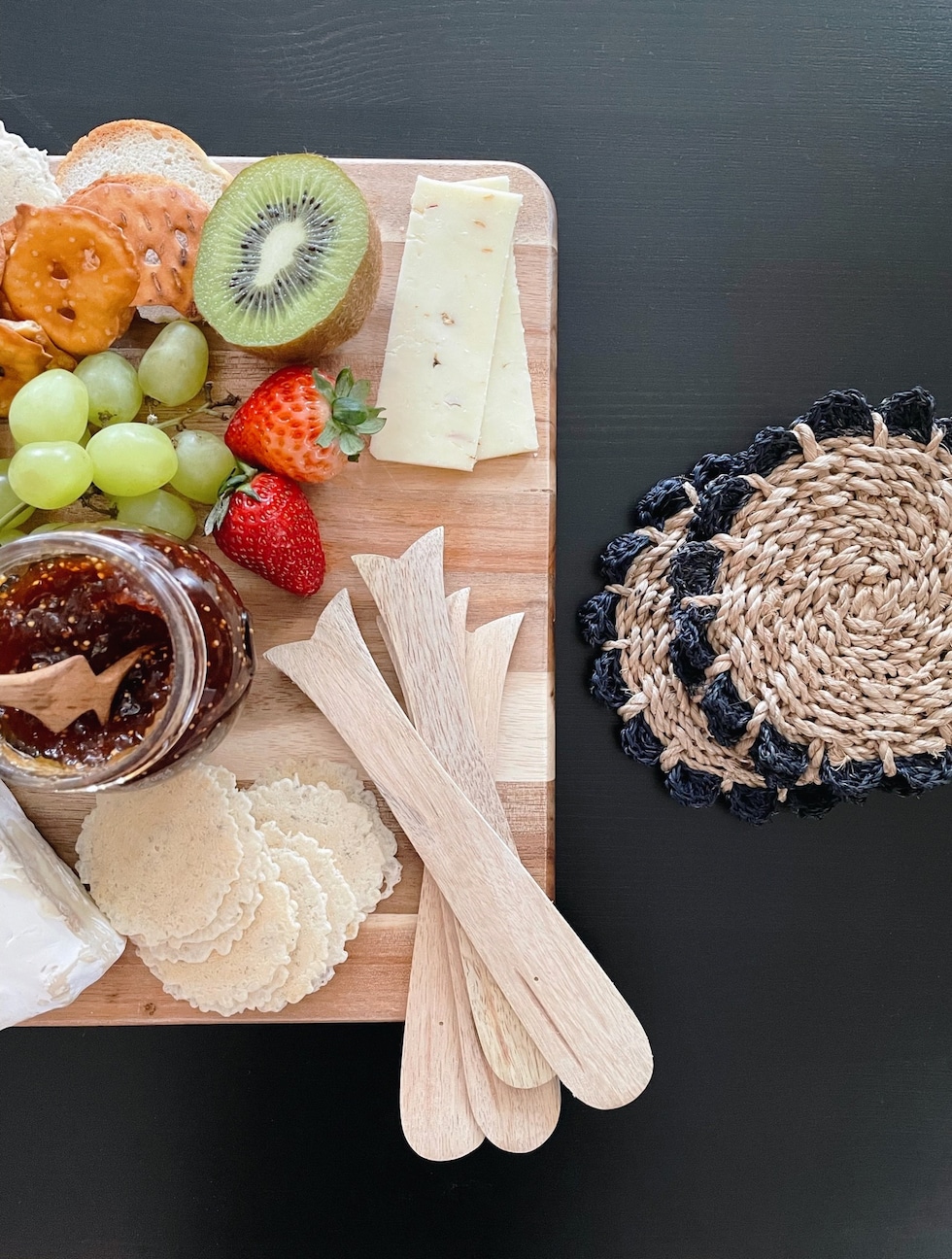 Pictured above (click links for details): Wood Whale Spreaders, Handwoven Coasters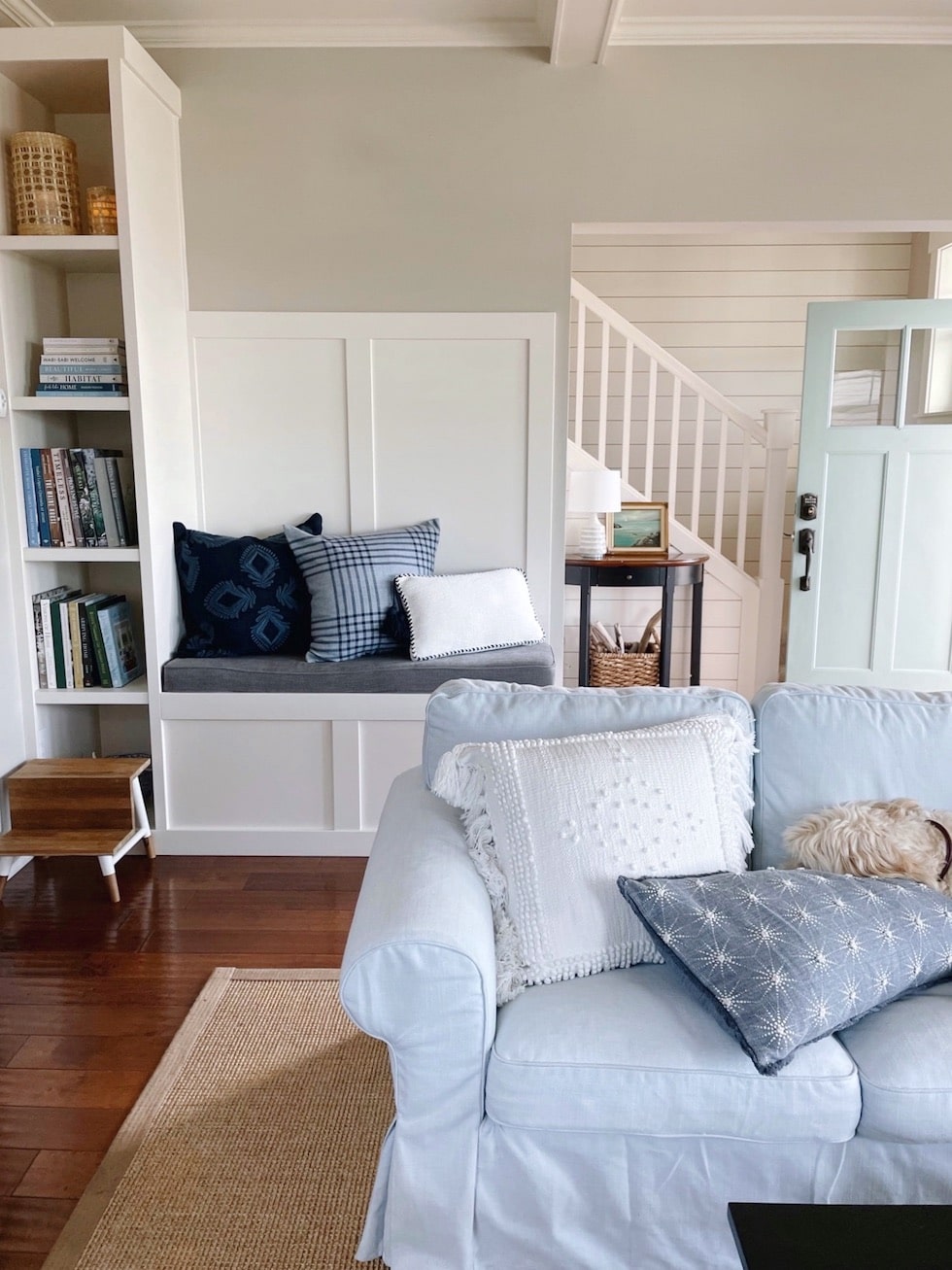 I can't wait to share more ideas and spaces in our new home. Thank you for sharing in our excitement and being here for this new chapter in our lives. You can find all of the accessories I mentioned in this post below, and don't forget to check out Serena & Lily's quick ship options so you can pull your home together in style before the holidays!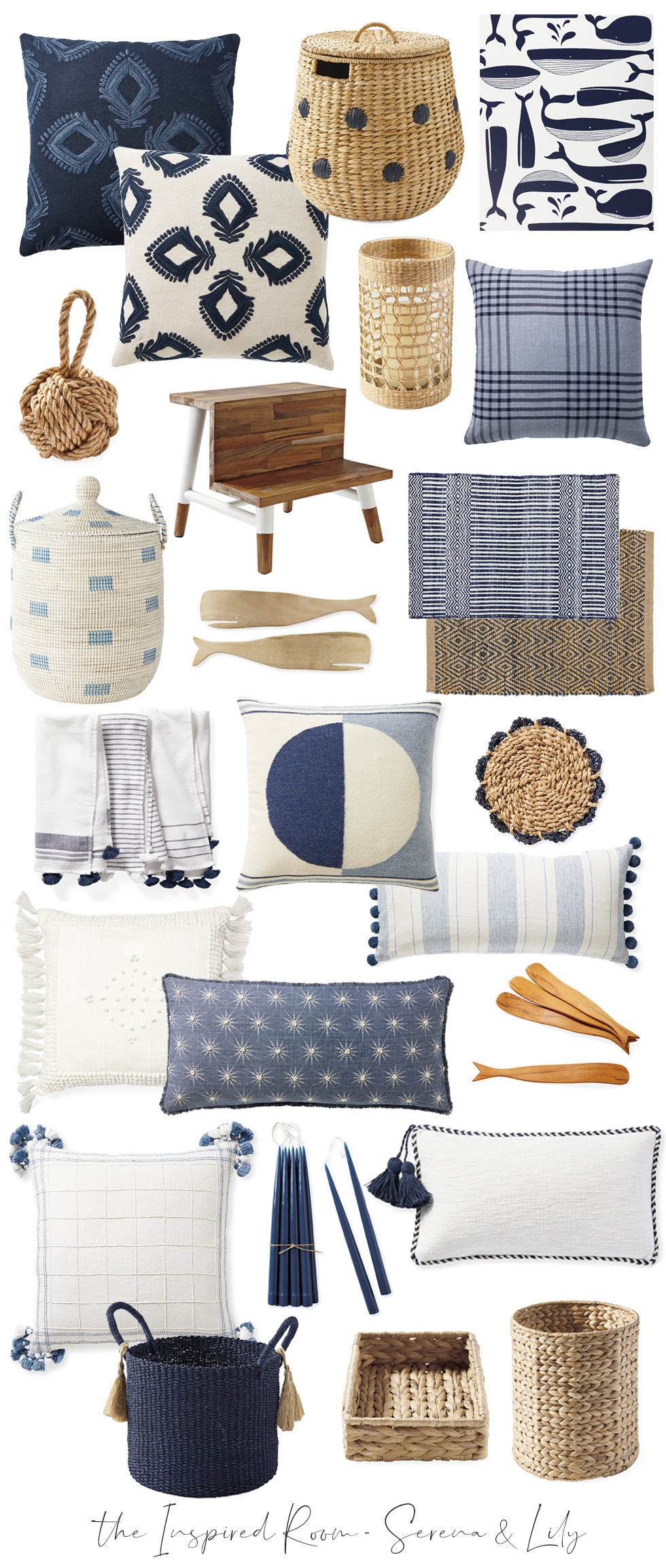 Happy home*making!
Sources (Scroll and click the thumbnails below for details, and see link list below):

Pom Pom Corner Subtle Plaid White Pillow
Blue and White Woven Lidded Basket
Round Rattan Mirror (two color options and two size options)
Glass and Seagrass / Palm Leaf Woven Vessel (multiple sizes)
Handwoven Coasters (two color options)
Blue and White Embroidered Starburst Pillow
Textured White Pillow with Fringe Trim (indoor/outdoor)
Geometric Blue and White Alpaca Wool Pillow
White Woven Lumbar Pillow with Blue Braided Trim and Tassels
Blue and Linen Embroidered Pattern Pillow
Navy Basket with Raffia Tassels
Navy Polka Dot Woven Lidded Basket (also comes in white)
Wood Whale Spreaders (set of 4)
Blue Taper Candles (set of 10, several color options)
Blue and White Guest Towels (assorted patterns set of 3)
Wood and White Dip Dyed Leg Stools (two sizes)