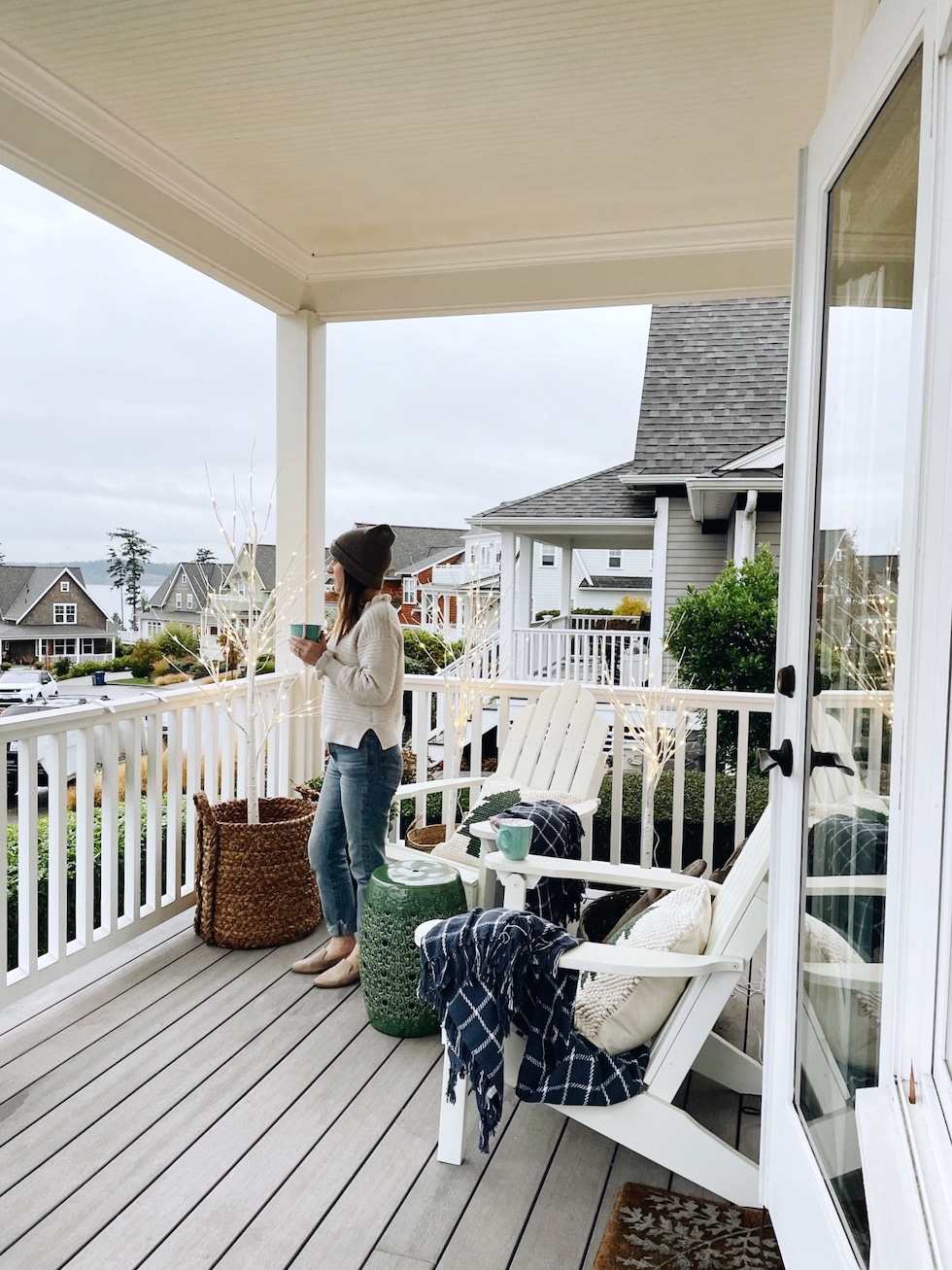 Thank you Walmart for sponsoring this post!
I try to keep everything as simple as I can at our house during the whole holiday season. I'll share more about what "simple" means to me in this post, but my porch is one example of what I think of as simple decorating. I shopped online at Walmart, so it was really easy to pull together a cozy look that will serve us well from now through the holidays.
Our last home had two very small covered porches, just big enough to keep guests from getting completely drenched while ringing the doorbell on a rainy day. Those porches were cute and fun to decorate, too, but our new porch is big enough to sit on, or even hang out with a few people! YAY! That makes me happy so I wanted to make it a festive place to take in the view with a cup of coffee on a winter morning or to chat with a friend over hot cocoa.
Recently we added a bit of holiday sparkle for evenings with the three lighted birch trees around the seating area (they look soooo magical at night!), two navy plaid blankets to keep us snug whenever there's a chill in the air, and the woven tree pillows which winterized our Adirondack chairs (here are similar chairs). Our aqua mugs from Walmart are large enough to keep our hands warm as we sip our coffee or hot cocoa outside!
The birch trees have bases, but we put a couple of them in baskets, like this one and this dipped white basket.
This porch was simple to put together, it's decorated just enough to feel cozy and inviting while festive enough to be worthy of the holiday season. Of course, your interpretation of what is simple or festive enough for your home might be different than mine, and that's how it should be!

There is a lot of inspiration online these days that can make you feel like you either don't do enough, or you decorate too much. Don't let anyone else add stress to your life or rain on your holiday sparkle! I hope the inspiration and suggestions this post will inspire you and encourage you to do whatever brings YOU joy.
I've found that shopping at Walmart makes it SO simple for me to prepare for the holidays. It's really a one stop shop no matter what your decorating or hosting plans are. My goal for our Christmas decor is to decorate just enough to make our home and holiday feel special, magical and memorable, but not so much that I'm overwhelmed by all of the stuff around me or the process of preparing or tearing it all down.
My holiday decorating process begins with choosing a few key areas of my home that I'd like to see a little festivity (a mantel, staircase, door, porch or table, for example). Then I start with ONE of those spots and give it a simple holiday touch. I can move onto another space or stop any time. I can always come back later to add more to any space, but I rarely do. Once it's done, I am happy with the simple touches. It's just enough for me! The right amount of decor for you might be different every year, depending on how you feel, the state of your home or life, and what you have going on that season. Give yourself permission to keep it simple, or do more if the inspiration strikes!
I think the best method is to decorate is to do whatever brings you happiness and peace in this season. Every season of life is a bit different, so honor the one you're in right now and do what you can do to feel more present in it. I'll share more about this in a future post!
Holiday decorating doesn't have to be complicated to be festive! I rounded up some more great decor finds below!
Sources (click links below for details):
---

---
Snowflake White Cast Iron Stocking Holders – Set of 2
Wood Bead Garland – Set of 2
Cable Knit Pom Pom Stocking – Set of 2
Natural Seagrass Christmas Tree Collar
Metal House Christmas Tree Ornaments – 3 Pack
Artificial Fir Non-Lit Christmas Tree
Knit Christmas Tree Pillow (multiple color options)
Lighted Birch Trees (set of 3 in varying sizes)
Find more ideas here in Walmart's Holiday Home Lookbook!