We officially closed on the sale of our previous home and moved here a little over seven weeks ago. I'm so glad we are here and got somewhat settled in time for Christmas! There are still lots of things we plan to do around the house, and definitely still boxes to unpack and things to organize, but we'll talk more about all of that in the new year! For now, I'm focusing my attention on making the house cozy and festive for Christmas.
It's going to be a bit different holiday than in years past, with our recent move to this home and our son living on his own now and both of our girls in different cities. Empty nester life! We are just figuring out what everything will feel like here, but change is fun in its own way, too.
We have been having fun decorating our porches, mantel and staircase railing with lights and greenery. I can't wait to show you! Last week I posted our simple mantel as it was on Thanksgiving, but soon after I got inspired to add greenery and lights. I am a fan of simple festivity. I still want to see the magic and wonder of Christmas in our home, but I don't want to be overwhelmed by too much or excess stuff. It can be hard to find that balance this time of year, especially in a smaller space.
I'll share our updated mantel in a future post but today I wanted to show you our cozy little entry way!
We decided to use faux cedar garland on our stair railing. I wanted it to last all season long (and be mess free!). I found this beautiful faux cedar garland here earlier this fall. Unfortunately it's been out of stock for awhile but if it ever comes back I'll let you know because it would be a good one to buy early for next year! I love it because it's so soft, lightweight and easy to work with, plus it will be easy to store. (Here's a boxwood version of the garland I have, and a jasmine version if you're interested in other varieties).
There are many different ways to hang garland, but I love how this turned out. It's perfect for our cottage vibe. I tied it up with string and this charming black and white ribbon and then added a little wired metal star garland to give it a little magic. It feels so fun and whimsical, in a still simple way. I know I'll have a lot of fun decorating this staircase in future years, the possibilities are endless!
(My metal star garland is sadly out of stock, but here's a star garland with a similar look…this mini ornament garland is adorable too!).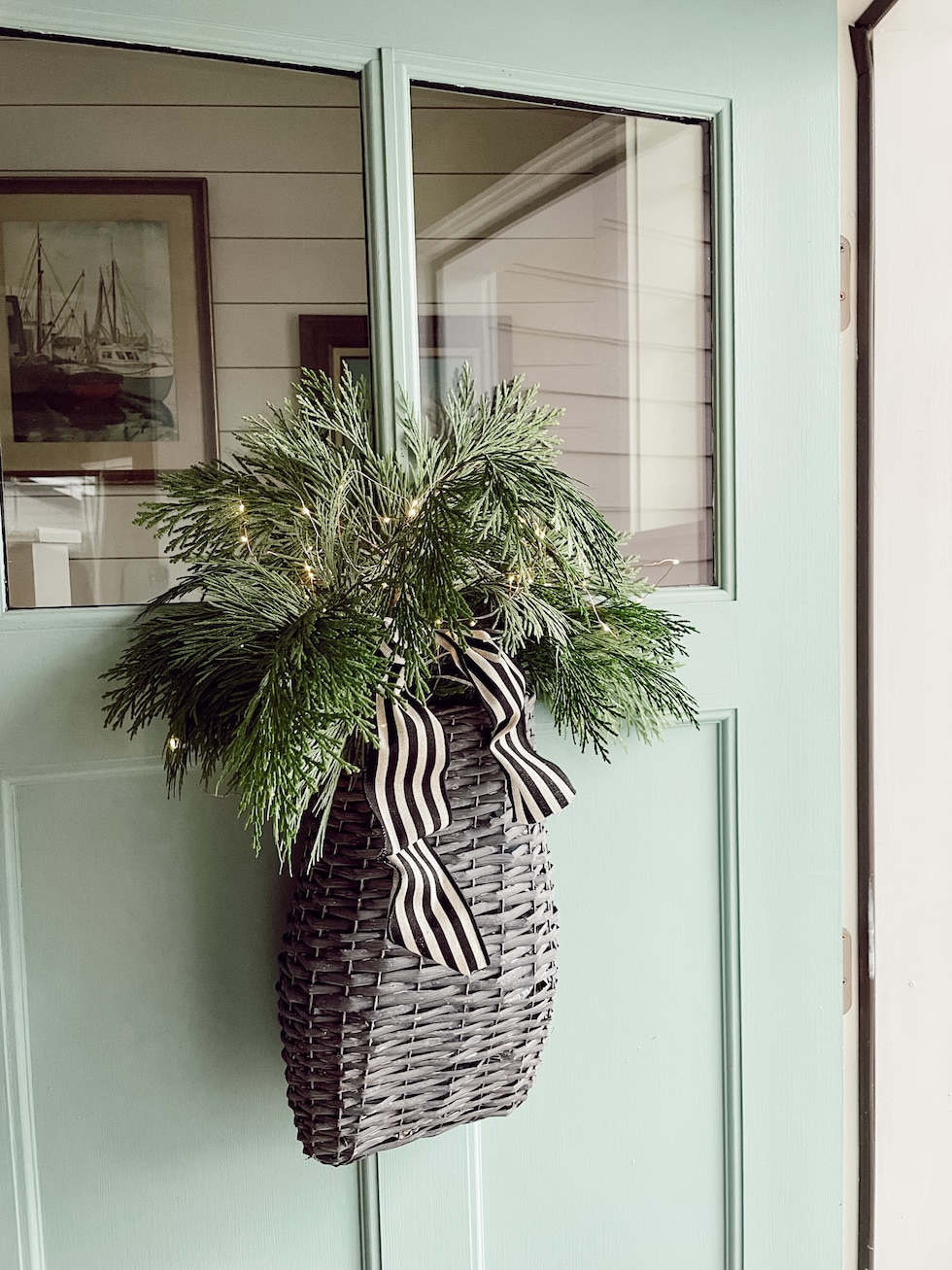 We have some cedar trees in our backyard so I cut fresh garland to put in our door basket and a few other spots around the house. And I ordered fresh cedar garland for our porch, too. It smells so good!
Thanks for stopping by, I'll share more of our Christmas house in upcoming posts!
---
Scroll and click below for details on sources (and similar sources):
---