Scenting my home for the season has always been one of my simple joys! I absolutely love this seasonal ritual. It's a little thing, but it really does uplift my spirits as I immerse myself in the joys of a new season. This week I started swapping out my cozier fall and winter scented soaps, household cleaners, room sprays, and diffuser blends to create a more uplifting spring mood every day!
My home doesn't have to have a heavy scent, most of the time I just like it to smell light, fresh and clean (as it should on a spring day!). I love to customize my household cleaner every season or when I make up a new bottle, as well as make my own room sprays and pick out diffuser blends for the day.
Of course, if you know my story (or read my book Dwelling) you know I always like to add a disclaimer to first clarify the types of scents I use in my home. I used to use all kinds of packaged products, room sprays and candles with synthetic toxic ingredients and preservatives. They were often filled with perfumes designed to make them smell like the the season, so along with the cute packaging I was always tempted to buy them for our home!
Sadly I thought by using those products I was enhancing the mood of our home, but in fact they were harming my health (and my mood!) the process. Ever since I learned how terrible those scents were and saw the direct impact they had on our health, I've been using these pure essential oils made from real plants (with no added toxic ingredients). They are amazing, I highly recommend them!
You can browse the site and order anything you'd like with my link here (my referral is #3731456), no kit or recurring order requirements.
The oils I use are not like the synthetic scents or other compromised scented "oils" you might be familiar with, these smell like real plants! My body craves the pure plant essences now and I can always tell when any toxic scent is in a product. I feel more peaceful and joyful around plants and pure plant oils. They truly benefit my health and well-being as well as make our home smell wonderful!
Below are a few of my favorite spring recipes you can use for making scented household cleaner, adding to a diffuser or scented sprays, as well as some toxin-free household soaps and products I always have in my home for spring.
I use and love Thieves Household Cleaner, which smells delicious as is, but sometimes I like to customize the scent with some essential oils! If you haven't used Thieves Cleaner yet, it's the best toxin free option I've found. It's a concentrate so you only add a capful to a spray bottle with some water and each bottle of cleaner ends up only costing $1!
Lemon has always been one of my favorite scents in spring, so I look forward to putting the lemon hand soap by every sink! It smells so fresh minty and sweet, and it is moisturizing, too. It's extra luxurious when you use it in a foaming pump (the individual hand soaps come in a foaming pump or you can get a refill size and fill up your own!).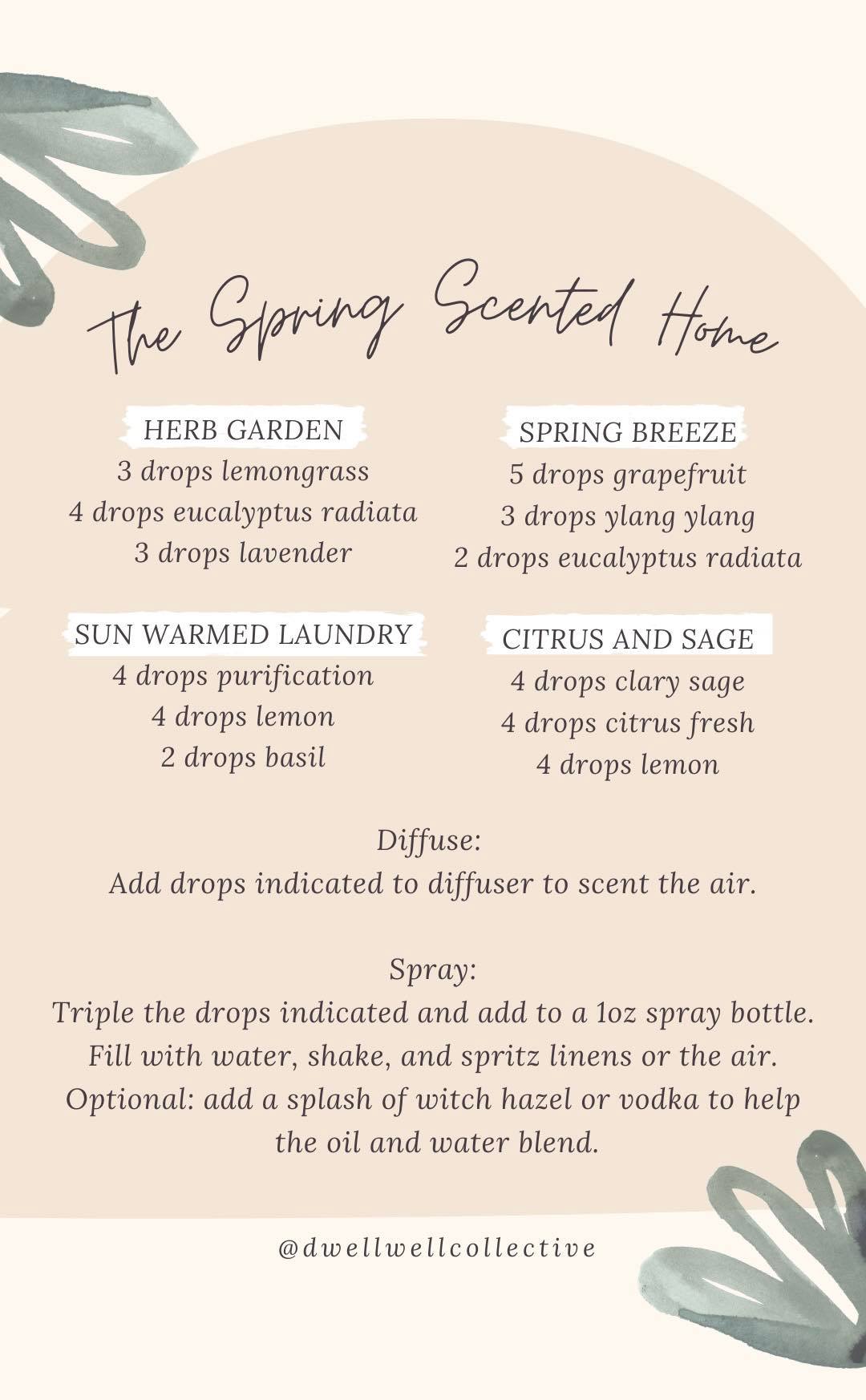 These spring blends are perfect for your diffuser or linen & room sprays! I don't miss toxic scented candles or plug ins one bit. Plus diffusing is more affordable and fun to customize! I get all my essential oils from here–they are the best!
I also love using this essential oil blend in my diffuser and it's perfect if you like to customize the scent of your household cleaner or a room spray. I add it to my Thieves Household Cleaner Concentrate when I mix up a new bottle to boost the citrus scent for spring. So good!
I love the oils in this limited time Spring Break Bundle! It's on sale for 30% off until March 23rd. It's a great way to get started with quality oils and scenting your home for spring! The ceramic diffuser (that you can get on its own or in the bundle) is gorgeous and is nearly identical to one they sell at Anthropologie (but at a much lower cost than the Anthro one!).
My referral ID is 3731456. Be sure to use it at checkout to get access to my Dwell Well Collective community resources. You'll get lots more diffuser blends, free downloadable recipe cards, pretty printable labels for your bottles, and more! You can now become a part of our community simply by creating a free account with my link and referral ID (no order requirement).
---
---
Questions? Text me at 503-805-6457 or email me at [email protected] if you have any questions or trouble ordering!
---
Preparing pretty room sprays and diffuser blends or making up a bottle of my household cleaner with a fresh scent is one of the ways I slow down to savor the season as well as a way to find more joy in caring for my home.
I hope you feel inspired by these scented seasonal rituals, too! Happy almost spring!
---
---
Questions? Text me at 503-805-6457 or email me at [email protected] if you have any questions or trouble ordering!
Follow Dwell Well Collective on Instagram for more natural home inspiration.
---