Small outdoor space – inspiration via My Domaine
Happy Monday! Hope you all had a great weekend. I'll admit I didn't watch the Superbowl (heh, anyone else?), but if you did and your team won, HOORAY!
Our side yard project is just barely getting underway, but it's great to see things starting to happen! The space for the patio has been dug out and the framing for the steps has begun. I've been so excited to give you an update of some of our plans for this space. Today there should be more progress made, so I'll keep you posted on the latest.
If you are just catching up, we are working on some landscape updating to our driveway and a side patio area, you can see my past posts here!.
See the before photo of the area, above. This was before we bought the house, looking from the back of the house towards the front yard. It was a little choppy.
Before
A beautiful brand new house is being built next door, so there is a lot of building and construction going on right now between their home and our exterior projects. It was good timing to do our project, though, because the fencing that will be built on a new retaining wall between the two houses can all tie in together as a finishing touch to our little courtyard-like area.
And as long as we were planning on all this concrete work in the side yard and garage driveway, we thought to ourselves, WHY NOT add an extra driveway, too? Funny how these projects, grow, right? There just happened to be a perfectly flat area near our other driveway (just outside our side yard, with access to the street, see below) for an extra parking spot. In a busy city, that's GOLD. We are lucky, our street is actually exceptionally quiet, with no traffic at all, and has plenty of parking, but you can always use another spot for parties or parking an extra vehicle.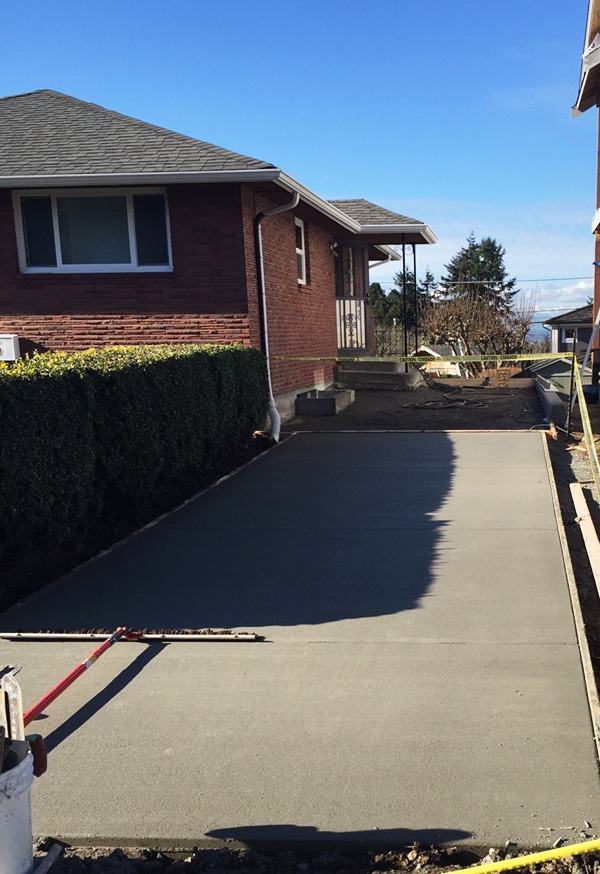 Since our main driveway is at a slope towards a lower level garage, we will also enjoy having a perfectly flat space to pull up and unload groceries into our kitchen. This was previously just a place for weeds to grow, so the driveway will be less work for us and overall a more attractive area, too. To soften the hard edges between the fence and the driveway, we'll be adding a couple of pots with trees or some other greenery. There will be a short fence to the right of the driveway.
Jenny Wolf / Photo by Emily Gilbert
At the end of our new driveway will be a new gate and a fence (the inspiration we chose for the gate is above). The gate will spring shut and be locked for safety, yet it will be so convenient to be able to load groceries and things into the house.
The plan for the side yard area is to first and foremost make it safe for people and pets (it will be fully enclosed by a new fence and gates to the front and backyard). A new concrete patio will be poured. I will draw out a plan with measurements for you, along with one for the kitchen remodel, soon. I know that will help you to better visualize the space and plan!
When we remodel the kitchen (scroll through all my kitchen inspiration so far here), we envision this fairly small outside area to be a natural extension of that space. We picture a convenient place to BBQ, a comfy spot to sit and watch the sunsets, or a quiet space to sip coffee on a warm summer morning! I'm also planning on planting a small "kitchen garden" in pots since this space will be so easily accessed from the kitchen!
We are rebuilding new safer concrete steps, with a handrail and built-in lights for safety. As you can see, there isn't a ton of room here, but the new patio area at the top of those steps will make much better use of the small space. And the steps will be so much easier to navigate than the set up we had before. Once the patio area is enclosed by a tall fence and gates, it will feel much more private, too!
The new house next door is quite large, but will be beautiful, so I'm really excited about it being my neighboring house. Their lower level windows are smaller and high up, so privacy won't really be an issue in our space. The fences will be set up on a cement retaining wall between our houses, which will enclose the space nicely!
We decided to add inset lights to be installed on the side of a low cement planter wall that will be right next to our steps. I also plan to add string lights for sparkle and ambience at night!
Our side porch will be updated with new post columns and and a railing on one side (similar to the railing design, above). We will be adding copper caps to fence posts, too! A snazzier light fixture will replace a security light by the door that is not functioning, and of course, at some point, we'll be painting the brick to be more 'cottage-like' (and adding our DUTCH DOOR!).
BHG
This is the inspiration photo for the double gate that will be between the side yard patio (at the end of the new steps) and the backyard, as a way to keep our dogs corralled in the patio area in muddy weather (there will also be an enclosed dog potty area accessible from the side yard so they can go in and out without running all over the entire yard), or vice versa as a way to keep them safe in the backyard if we are loading things from the driveway into the house.
We won't actually add the arbor, though, (although it's so charming, perhaps we will find another place for one like it!) because we don't want to obstruct the view of the water and sky in any way from the upper side patio.
The double gate will not only be functional and a super cute new feature in the yard, but it will be nice to be able to have both gates wide open for entertaining and ease of access.
Eventually my goal is that the design updates we make in this area will carry through to complement the front exterior and interior as well, creating an inviting house with cohesive character, inside and out. That is my dream, anyway. All in good time!
I will share updated photos as soon as the concrete is poured! It's going to be fun to see this little area take shape with more function, character and style. I think it will inspire me all the more in designing the inside of the house, knowing this charming courtyard area is right outside the kitchen!
More details to come!