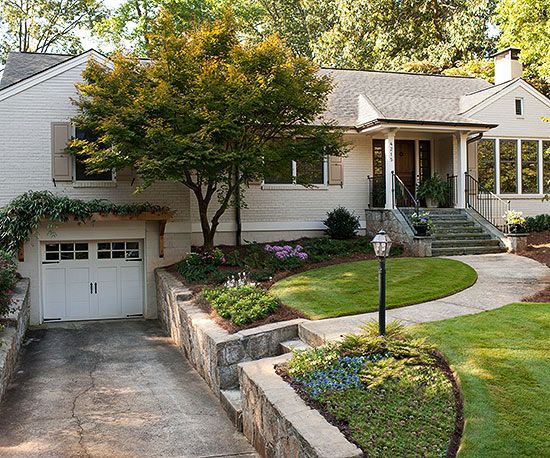 inspiration from Better Homes and Gardens
Greetings! I meant to post yesterday, but time got away from me. Projects and ideas are happening so fast around here, I have tons to share so I need to keep up or you'll get behind!
If you are just catching up or new around these parts (did you know that 60% of my readers are new to the blog?), I've already shared several of our vision posts for the interior rooms in our new house (scroll through the previous posts here), as well as inspiration for new gates in our side yard, located just outside the kitchen. While I'm really excited about working on the inside, the outside of our house is going to get a little facelift, too. In fact, a few of our projects are already underway!
This is the humble little exterior of our 1950s house, in a photo taken shortly before we moved in. It's a small one story brick ranch style home with a basement, a pretty common type of house (although we do have a great mix of styles in our area from quality new construction and remodeled homes from the 1920s, 30s, 40s, and 50s). This particular style of house is not one I'd normally pick out of a neighborhood as my favorite, but because it's such a good solid house and sits on a nice sized lot (for Seattle) with a beautiful view (among other reasons we like it!), we knew we could make this house our home.
My goal for the exterior is to give her some curb appeal. The cute house from Better Homes & Gardens at the top of this post has inspired me with what she could become! As you might remember, we had to start most of our bigger projects on the exterior of our home because (besides her 1950s facade that is just begging for a new fresh look) she had a 1950s sewer that had holes in it, so it was high time for a repair.
Many of the best home remodeling stories seem to start with something rather unfortunate, don't they? Ours certainly does.
It all started with the sewer …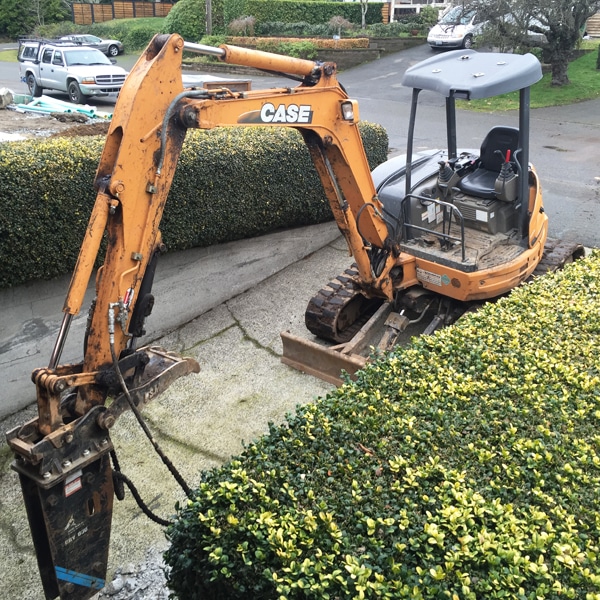 Our sewer line runs under our driveway, which meant our cement had to be dug out in order to do the updating of the sewer. Since our driveway was pretty cracked anyway I didn't feel too bad about repaving it. Besides, the garage door wasn't able to fully shut because the drain system for the steep driveway was previously located inside the garage. And since the garage door was always open a crack to accommodate drainage, it was like a WELCOME HOME SIGN to any neighborhood rodents looking for a warm dry place to curl up for the night.
Y'all know that arrangement didn't make me happy one bit. I worried and fretted about that possibility for the past few months while we were making arrangements to replace the sewer. As my luck would have it, we indeed had a furry rodent in the garage a couple of weeks ago. I thought I was going to CRAWL OUT OF MY SKIN when my husband told me he caught a giant rat in his trap. My dad and sister thought it was hilarious and texted me photos of disgusting rodents 24/7. I wasn't amused.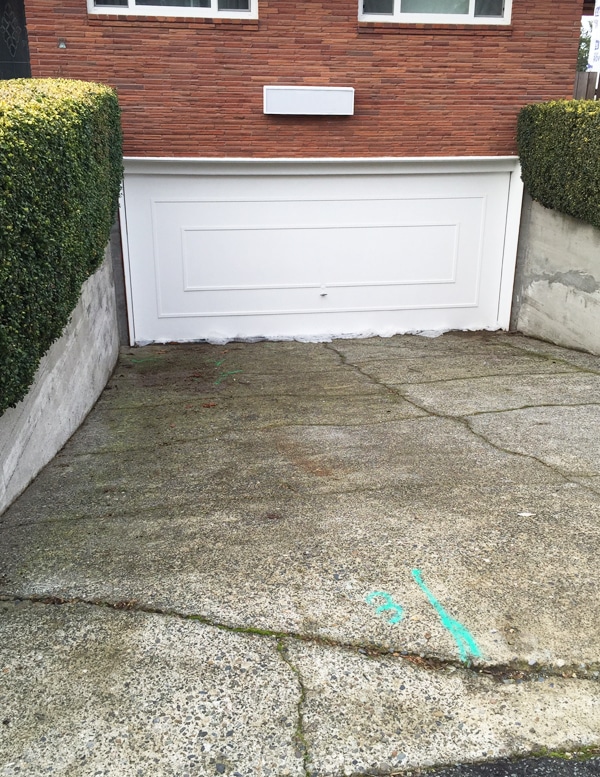 Driveway before
If you look close at the above before photo of our driveway, you'll see our lame attempt under the garage door to keep the rodent out…clearly bubble wrap isn't a deterrent.
Anyway, the rat is a goner now and I'm happy to say our new drain and repaved driveway have been installed and the garage door is now closed off to future rodents. They also were able to make the driveway a little less steep, so all in all it was a worthwhile project!
Here are some photos of the driveway in progress this week! It's not anything super fancy, but it has laid a nice foundation for us to move on to the prettier details.
There is little that is more thrilling to me as a home-lover than the sound of home improvement! As always, one project leads to the next, so as long as we had a contractor available with the machines and tools to rip out the driveway (conveniently, our contractor is also building a house next door so the home improvement bug is definitely spreading far and wide), it was a good time to rip out the crazy cement blocks in our side yard, too. The blocks were an accident-waiting-to-happen. If you missed my post about that space, catch up here! I'll share our entire design vision for the side yard, and the latest progress on that project this week, too.
But besides catching you up on our driveway project, I wanted to start talking about our visions of curb appeal for the exterior of our house. While it would be really fun to be able to do something more significant right now, our makeover to the exterior (besides the new driveway and side yard) will be mostly easy cosmetic updates.
I'll be sharing many more posts with our ideas, inspiration photos and dreams of possibilities, but today we can at least get our creativity flowing by talking about some of the easiest ways to update a house that could use a little curb appeal.
The most significant update we are planning on in the (hopefully) near future is that we will be painting or lime washing the brick exterior. I know that idea might upset some of you purists, and others of you will be elated and relieved to see this home transformed. I have nothing against brick houses, I have seen some really lovely brick homes that I wouldn't choose to paint. I know painting brick can be a divisive topic, but no matter what side you are on, the important thing is that our house and her family will be very happy with her new look!
I'll gather up inspiration photos of painted brick houses and charming cottages to share with you in an upcoming post. But for now, below, imagine if our house was painted!
I have visions of paint, shutters, window boxes, a trellis above the garage, a new porch, refreshed landscaping, updated lighting and other charming details.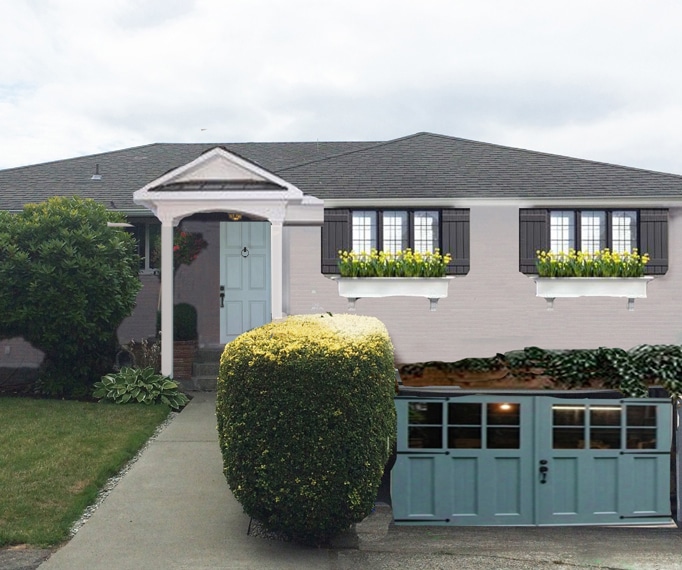 Excuse our Photoshop skills, but we had fun giving our house some character and new features, just imagining possibilities! By the way, we didn't try different landscaping in these mockups, just left it as is and had fun with the house features. Clearly some new landscaping would help, too!
You really can transform the look and feel of a house in big and small ways, with a little reimagining. We may or may not end up with these exact ideas, but it is fun to dream. I'll have lots more inspirations photos for the exterior, soon. 
We cannot wait to transform our home to a more modern cottage style outside with a touch of farmhouse inside. She'll still be the same ol' 1950s girl at heart, just more spunk.