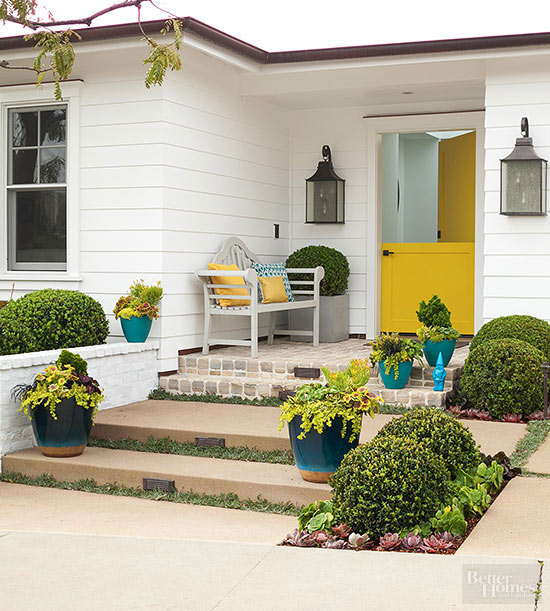 Dutch door entry via BHG
We have dreams of our 1950s brick house evolving to the more updated modern cottage vibe she wants (she, meaning the house, that is, ha!) inside and out. So to get that under way, we need to take care of some functional elements to make the cosmetic updates really shine. You know how I feel about putting "lipstick on a donkey," as hard as it is to wait for the pretty finishing elements like lighting, paint, cute doors and accessories, you have to get the foundation right for those details to make sense.
As I mentioned awhile back, our new house had one big drawback for buyers, it needed a sewer repair. UGH. Nothing says FUN TIMES like spending a fortune on a pipe that goes underground to carry sewage, right? I mean, just imagine the lovely sewer inspiration pictures I could feature so you could pin on your Pinterest boards! This is a BLOGGER'S DREAM PROJECT<< NOT. But not to worry, I won't subject you to too many sewer pics, :) but I will show you the project and driveway once it's done.
The good news is, I think I've found a silver lining to this sewer project, thanks to the domino effect we have a much more enjoyable project just beginning.
Because we will have to haul tons of concrete away when we work on the sewer through the driveway, it makes sense to remove and replace our crazy side yard concrete and scary steps at the same time.
Behold the following before pics.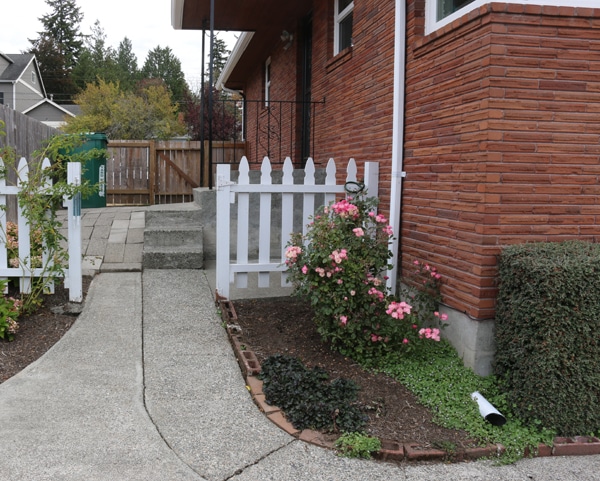 This area is quite a hazard for people and dogs, and not the most practical features to have right outside the kitchen or leading to the backyard.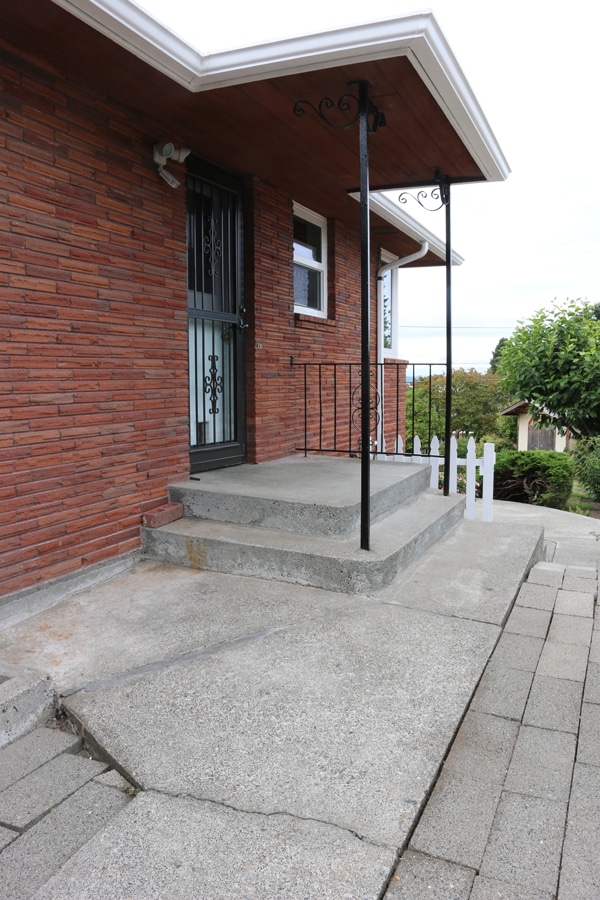 See what I'm saying? Not the safest or most practical. And weird.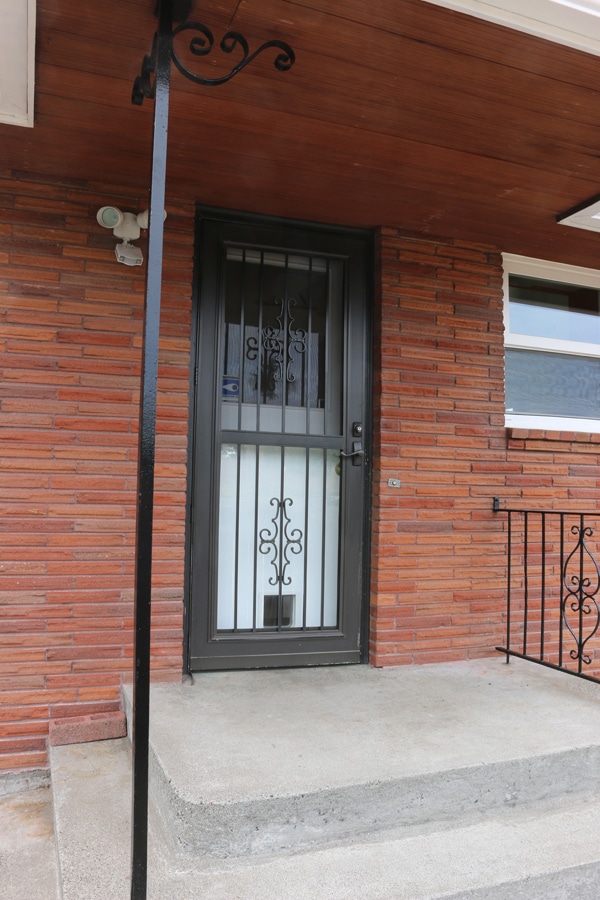 This side yard is right outside our kitchen door, the one pictured above is where envision a Dutch door (remember the inspiration for the Dutch door in the kitchen, via this post? This is the exterior shot of that same door). I'm dreaming a lot about that Dutch door. :)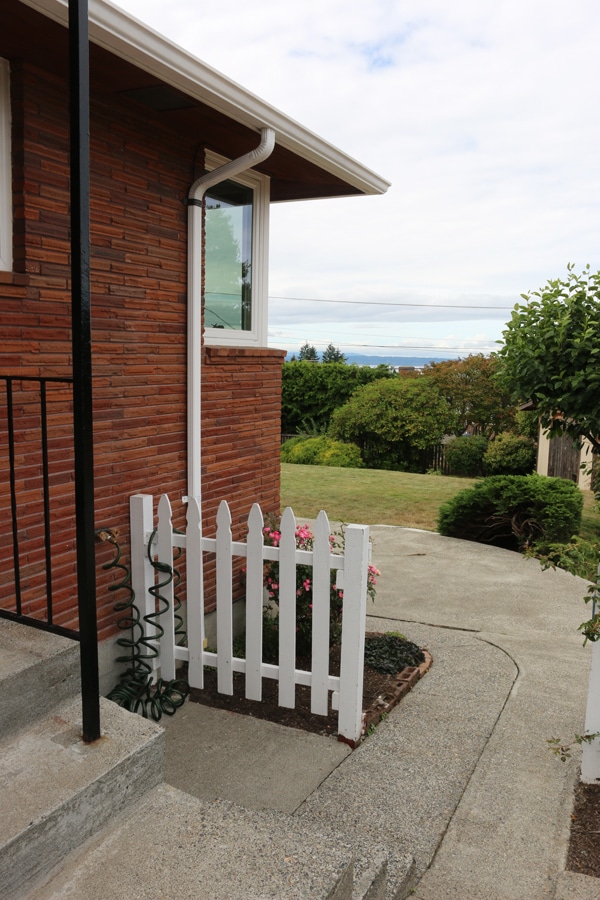 Now there is another related project that also jump started our plans (in true domino fashion) for this project, our neighbors are building a brand new house! It's going to be beautiful. Part of their project plans involved a retaining wall and a brand new fence between our properties. Ever since we moved in, their property has been torn up as a part of their build project, so we've had to live with a bit of resulting chaos in our yard.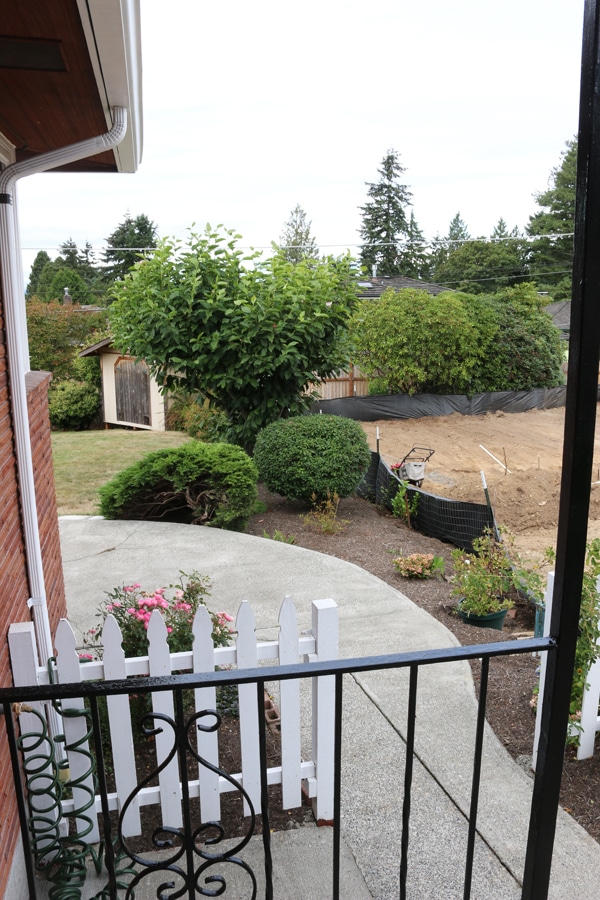 Because there is currently NO fence between us, after we took this photo we had to pile up outdoor furniture and other barriers around our patio and between our houses as a temporary fence (where that leaning wired fencing and plastic version was for awhile) in hopes of keeping our dogs safe when they go in out to our yard :(. It's been difficult keeping them in this past few months, and I really hate how messy our yard has looked! Obviously, it's been pretty ugly out there. I'm sure other neighbors think we are hoarders, or something. It definitely looks like it.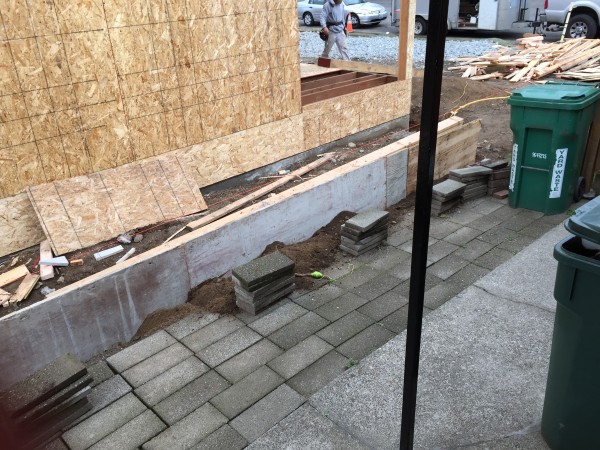 Just recently, the next door neighbors installed the short cement retaining wall between our two properties and soon (I hope!) a six foot fence will be built on top of that. Their project is a bonus for us, as it will give us a nice new border for our little side yard so when our own cement, new steps and gate are built, it will be a fun place for potted plants, but also a functional space for recycling and possibly our BBQ grill.
We even are considering having a small "doggy potty" area, so in the winter time our pups won't run around in the bigger backyard mud when it is raining out. They can simple go out the kitchen door, take care of business, and come back in.
I also dream of string lights between the house and the fence, because string lights in a backyard and side yard are ALWAYS a good idea.
Here are a few pretty side yard inspiration pictures I've been looking at (not necessarily what we will be doing, ours will likely start out more simple and functional) but just because it is fun to dream of the possibilities!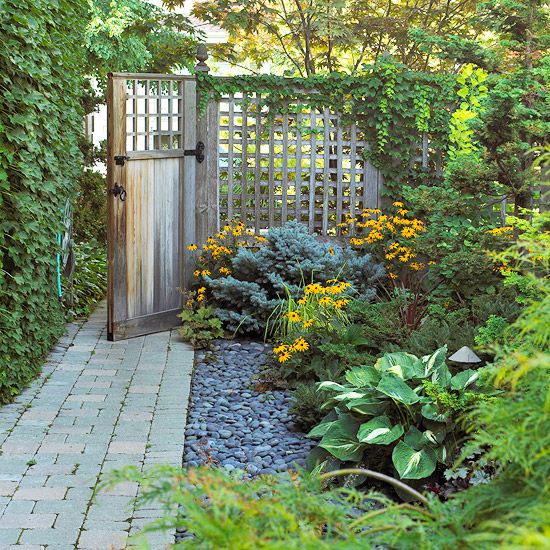 BHG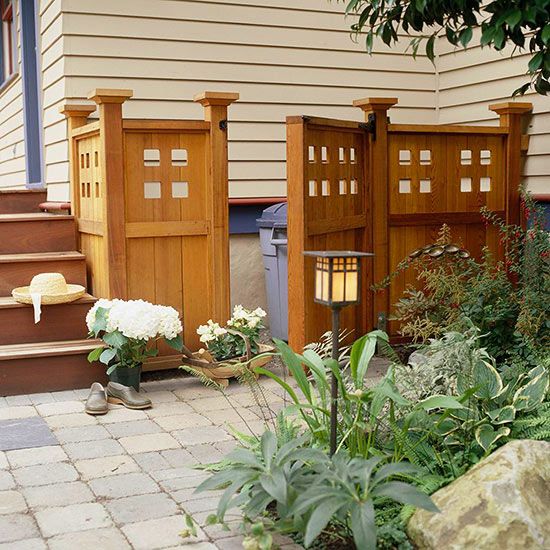 BHG (nice solution for concealing trash cans!)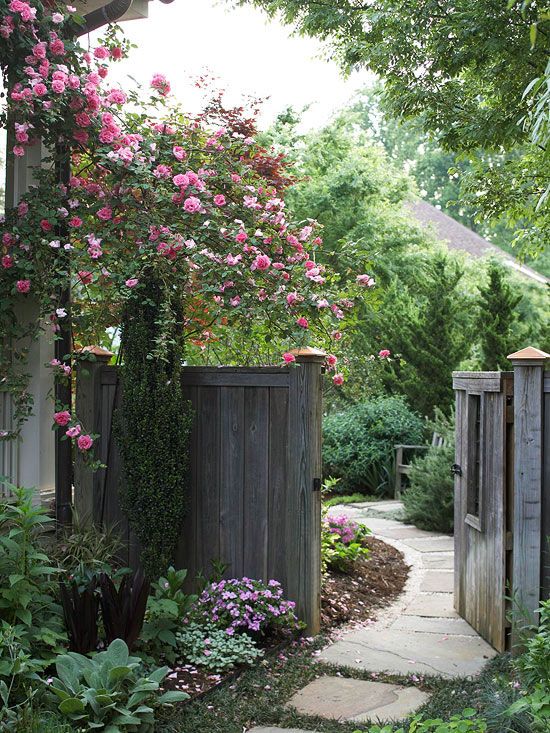 BHG
Even though we'll be working on the side yard (and sewer), I'm still proceeding ahead with fun plans for INSIDE the house. Over the holidays I had a BRAND NEW idea for our kitchen that I haven't yet shared. :) I cannot wait to tell you about it and start posting our inspiration pics and plans.
I'll be updating you on the twists and turns in our current ideas, the latest dining room thoughts, the living room project we want to tackle next, our bedroom paint update and of course, I will continue to show you around the house and rooms we haven't yet discussed.
If all goes according to my plans, it is going to be a very fun year for house projects! How about you, do you have some fun projects in the works? Tell me about them!
Related Posts:
My Previous Backyard Tour (pea gravel patio, flagstone and secret garden)
Our Seattle House Tour Video (the before)
How to Add Personality to a Small Outdoor Space (our guide on eBay)