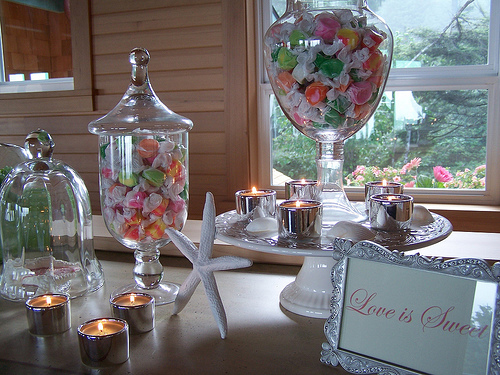 My daughter and I did our best to find simple ideas to create a fun and beautiful wedding for her on a very tight budget.
One of our favorite things was the candy bar! We set it up right in the hub of the reception so it served both as a decoration and a focal point destination for sweets. We bought the candy from local beach candy shops and mixed into the decor the "love is sweet" frame as well as starfish (for the beach theme) and framed photos of the bride and groom. Of course, we coordinated the candy colors with the wedding colors.
Sticky tack is your friend if you want starfish to stick up and not slide down.
We used muffin papers for people to put their jelly beans in as they walked around.
Not shown in these photos was a big basket of cute bagged candy that served as party favors for guests.
This sweet idea would be fun for any party, graduation or event!
Did you see the behind the scenes of the wedding cupcakes? Click HERE.
Are you new here and want to read who this wedding was for? Welcome! Click here!
Want to see what this beach house looked like just weeks before the wedding? Click here!