I love my bloggy friends.
And I love parties. And I love the idea of getting together with bloggy friends to have a party. And when you decide to get together with your bloggy friends to party for 31 days in a row, you know you are going to have a good time.
So who is hosting this bloggy bash and what is it all about? My BBF Nester gathered up some awesome ladies to share 31 days of inspiration during the month of October, each on their own blogs and with their own 31 day theme!! (by the way, the blogger photo arrangement was stolen borrowed from My First Kitchen and because I stole it and Darcy's button arrangement above, none of the photos correlate to the buttons. Sorry, that would have been awesome but I'm not that technically savvy.)
I'm inviting YOU all, my bloggy friends, to have the best October EVER! It will be one GIGANTIC 31 day party. All you have to do to enjoy this event is visit the participating blogs (listed below) throughout October!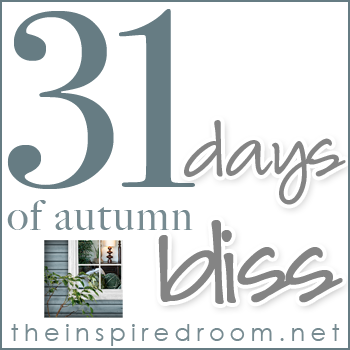 I'm so excited to be hosting 31 Days of Autumn Bliss here on The Inspired Room! I love the idea of being deliberate and purposeful about living an authentic but beautiful life and savoring every blessing we have. So I am (theoretically, lol) going to find 31 short and sweet ways to SAVOR EVERY SINGLE DAY OF OCTOBER.
Oh my fall goodness it is going to be an AMAZING October with 31 ways to bring autumn bliss and fall warmth to our homes and plenty of inspiration for the holidays ahead!
Don't worry, as promised I am still kicking the season off with our 3rd annual Fall Nesting Party on September 8th (you will link up inspiring ideas and fall decor to get us going on the season) but then hold onto your stocking caps because that is only the tip of the fall goodness around here! Think I'm overdoing fall? Think of it this way, fall is NOT LONG ENOUGH as it is! I'm just going to savor it for 31 days!! Live each fall day to the fullest!

So visit these awesome ladies and their blogs TODAY to hear about their 31 Day focus and then hang out with us in the month of October for this big bloggy bash!
Sandy Coughlin – Reluctant Entertainer –
31 Days to Stress-Free Entertaining
Darcy – Life with my 3 Boybarians –
31 Days to a Better Photo
Jen – Balancing Beauty and Bedlam –
31 Days to More with Less
Melissa Michaels – The Inspired Room –
31 Days of Autumn Bliss
Emily F – Chatting at the Sky – 31 Days of Grace
Kendra – My First Kitchen – 31 Days to an Inspired Table
The Nester – Nesting Place – 31 Days to a Less Messy Nest
Emily – Remodeling this Life – 31 Days of Living Simply

The 31 Day concept was inspired by Pro-blogger, who has a great ebook (Click here to view more details and how to order) on how to dramatically improve your blog in 31 days! You MUST get this inspiring e-book if you are a blogger! Your blog will thank you for it and you will be a much more confident and successful blogger. This is an affiliate link, but I only recommend things I believe in!