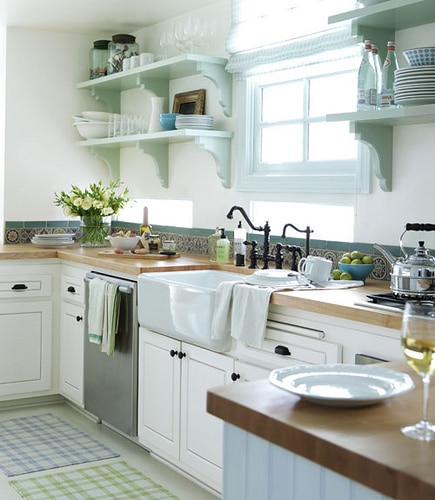 This probably won't be much of a surprise, but I'm a white cottage kitchen lover. My last kitchen was white, but my new one is natural wood. I very well might change my kitchen at some point, but what I will change it to remains a mystery to me. I know I love white, but I also love colored kitchens. I had one kitchen where I painted my cabinets green, and it was lovely.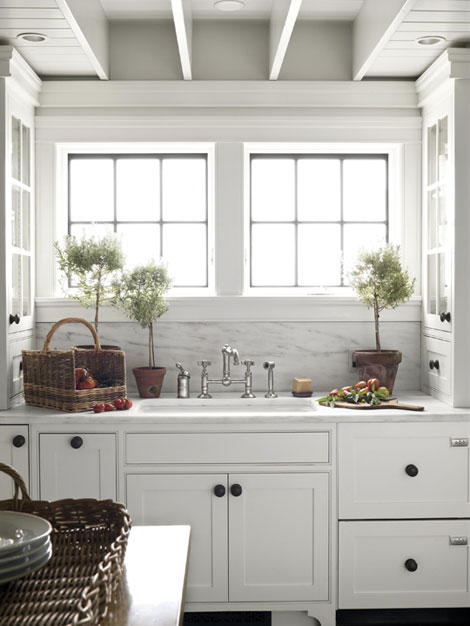 I've noticed I'm also inspired by black knobs in a kitchen. When I look at many people's kitchens, I seem to noticed mostly nickel or silver pulls. I don't know what it is about me and contrasts, but I just love the look of black and white. I have done quite a few posts on white kitchens, but I've even done posts on kitchens with personality.  I've done a post about striped rugs in white kitchens.
Finding Inspiration
Lots of things inspire me! That is what this blog is for, after all, right? I love sharing inspiration every day. But FINDING inspiration from the past posts can be tough if you don't know where to look.
Say you wanted to find something you saw on my blog awhile back, how could you find it?
You can go to the archives, that is one option that might help. But I have added an even more detailed way to possibly pinpoint exactly what you are looking for. I thought I better tell you how since it could be easily overlooked!
I have a new Google search bar in my upper right sidebar (you'll have to click over to The Inspired Room if you read this blog via RSS or email).
In the search box, just type the word or words that apply to what you are looking for.
Decorating with red, colored walls, bedrooms, Valentine's Day, Decorating with Swine...whatever you might be looking for. I can't promise you'll find exactly what you need, but you just might find fun and inspiring things you didn't even know you wanted to read!
Note: Sometimes the search pulls up reader comments that may not apply to the content of the post, so don't get discouraged if you see the word "blue walls" in a search result and it was really just a commenter talking about her blue walls.
But a lot of times, if I've written about it or mentioned it, the search can find it. I've been playing with it and it is pretty fun to see what I've been talking about for three years of my life. Google is amazing like that. It remembers everything you ever say.
And to think I've only scratched the surface of things I WANT to talk about! I feel like I'm just getting started! I love blogging!
Let me know if the search bar works for you! I might need to tweak some posts so they'll be more easily found.

What haven't I written about yet that I could cover in 2011?
What are you inspired by that might be fun to talk about here?