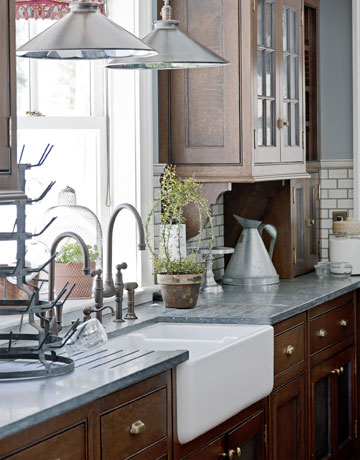 House Beautiful Farmhouse Kitchen
I have always loved beautiful natural wood furniture and cabinetry. Yes, that is probably not the most popular statement in a day when most people are "lightening up." But I like wood when it is beautiful.
My love of dark wood started back when I was little and dreamed of living in a big old English Castle behind gates.
Yes, I know, usually I talk more about white kitchens and white cabinets. It is about time I give natural wood cabinets their fair share of love!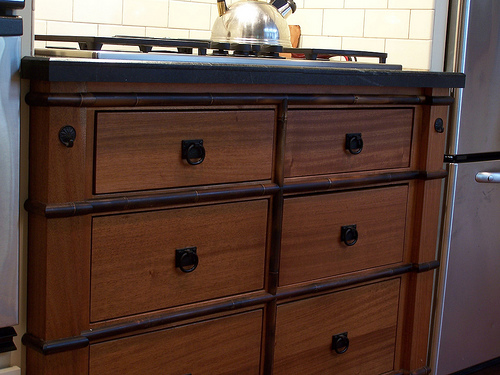 My wood cabinet from my last kitchen
In my previous kitchen (photo above), I mixed up our mostly white Shaker style cabinetry with this mahogany wood cabinet trimmed with bamboo and added the soapstone counter on this cabinet to contrast with the subway tile and then the Brazilian cherry wood counters in the rest of the room. You can find the story of that house here.
I love the contrasts and mix of materials, so white with dark always looks beautiful to me!
If I was going to design a kitchen around primarily wood cabinets, I'd balance out the potential darkness and heaviness with white subway tile, a white farmhouse sink, and beautiful soft blues, greens and metals. Just like in this kitchen! Put all those elements together and you have a warm family farmhouse style kitchen. In certain houses, this darker kitchen would work much better than white cabinets would.  It is all about what is appropriate for your home and lifestyle.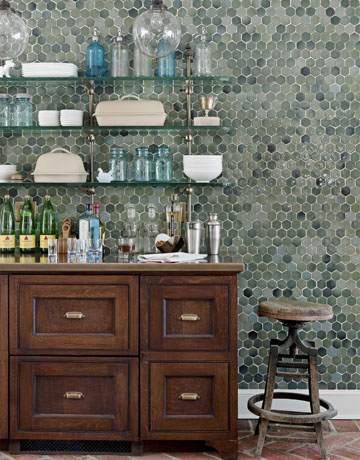 Wow, that wall of tile is AH-MAZING. The color combo of the tile is so beautiful behind that dark bar cabinet.
This kitchen has so many different elements and materials all in one room, which some people might not like (or be afraid to try), but it really gives it that "pulled together over time look" that still looks current in an old world way. :-)
The various materials give the room a lot of visual interest. Notice the different styles of lights, different metals, different tiles, stone counters and brick flooring. I love the mix of textures!
Sometimes I think we play it too safe with our decorating, it is kind of fun to be a little more daring and mix things up a bit. I like to see something unexpected, something complex and more interesting to look at.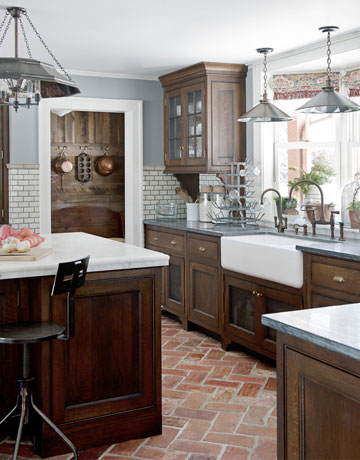 See more of this kitchen at House Beautiful!
In other news and the whole reason I started to surf the internet and stumbled upon these images today (because I'm easily distracted), I have about 20 projects going on around my house right now —  I work on more than one room at once because I am insane, have decorating ADD and cannot just complete one room at a time. Maybe that is why I like rooms that "evolve over time" because it is the only way I know how to work. I'm weird.