As I've mentioned before, I sometimes struggle a wee bit with decorating choices for my own home because I have a split personality (among other issues, heh heheh). I like happy fun decor, but I always want to keep things tasteful!  But then if it is too tasteful or everything matches perfectly, the design feels predictable and impersonal to me.
How do you find that happy medium and what does that look like?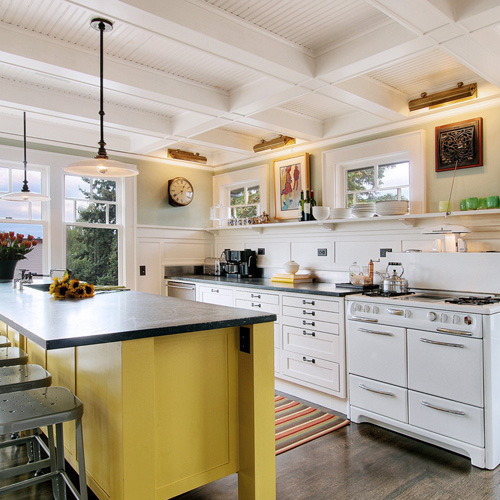 I don't want to go overboard on fun or personality because I definitely don't want to get silly and tacky. I just want to add in a bit of fun. I'm sure everyone will have their own definition of what is tasteful fun and what is tacky, but I guess we just have to work that out for ourselves! No judging, that is the beauty of having your own home to decorate. YOU get to decide what you like and that is what really matters.
I showed pictures the other day of yellow kitchen islands, including the kitchen in the home I'm featuring today. Thanks for all weighing in with your thoughts on yellow islands, whether they are your personal favorite or not!
While part of me wants to think I could do something that fun and bold with color in a kitchen (it is only paint, right?), another part of me is kind of practical and would think to play it safe and use yellow on a chair instead.
My safe practical side and my fun throw caution to the wind side don't always agree right away on exactly what to do. Ha! I try to let them battle it out until we can find the happy medium.
Because of my own quest to find that balance, I love when I find houses that seem to make sense of that inner struggle and are able to showcase both tasteful personal style AND fun all in one house. Maybe I'm not crazy after all for wanting that!
I think this home I'm featuring today is a nice balance (Jas Design Build). The architecture is gorgeous, which helps a ton in keeping the house in good taste. A bit of fun in pattern, color and style keeps the house youthful and personal, but it is grounded with more serious elements like dark floors, natural wood and bits of black. They definitely made some bold choices with their colors but I think that is what makes it work! It isn't predictable or expected.
This house definitely helps keep me inspired to move forward with what I love and what really fits with my own personal style! My office is done (to be revealed soon!) and I'm starting to put together a plan now for the colors and furnishings in the rest of the house! I'm very excited about seeing how the whole house will come together! More on that soon!
Do you ever have an inner personal style struggle when you are making decorating decisions for your home?
Want to create a home you can't wait to come home to? I can help with that!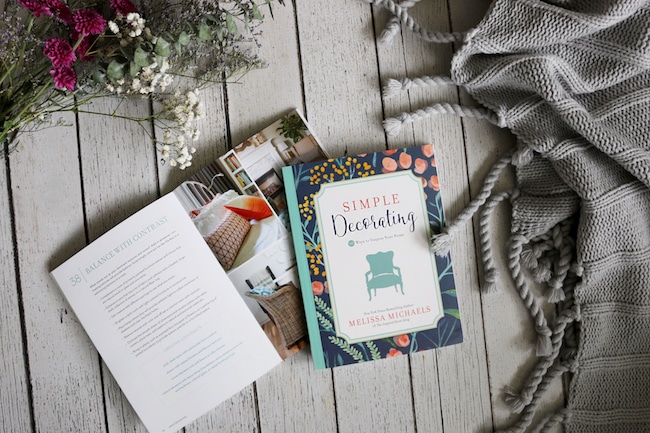 Grab your copy of Simple Decorating at Amazon or Barnes and Noble!
Jump-start your style and refresh your home with budget-friendly and practical ideas from my book Simple Decorating! You'll learn to embrace your style, reimagine your spaces, and transform hard-to-love areas into favorite destinations.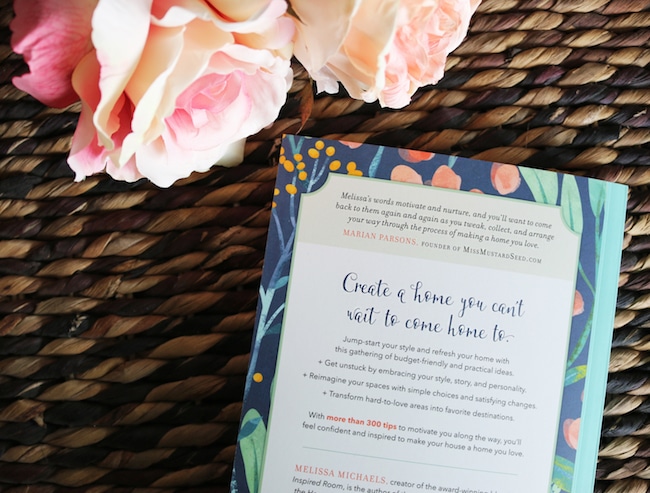 Order Simple Decorating at Amazon or Barnes and Noble